When I think of the pangoccioli and the scent of those delicious fluffy chocolate chip sandwiches back as a child, I used to eat the Mulino Bianco Pangoccioli with great gluttony. As an adult, when I discovered the pleasure of cooking, I completely stopped eating biscuits or packaged snacks, both as a matter of health and as a matter of taste. I also confess that I had somewhat forgotten the existence of the drip panthen my husband confessed to eating a whole packet of them at work and I decided to try making them at home. So I googled how to make pangoccioli and tried various recipes, but none convinced me completely, so I decided to experiment until I found the absolutely perfect homemade pangoccioli recipe! I soft pangoccioli you get are quite similar to the originals, but really much better and healthier.
.
Pangoccioli recipe: Ingredients for 24 chocolate chip rolls
570 g 00 flour

125 g tap water

125 g of whole milk

125 g caster sugar

125 g dark chocolate chips

1 large egg (+ one yolk for brushing), preferably yellow

50 g butter from centrifuged cream

10 g fine salt

10 g honey

7 g dry brewer's yeast
How to make homemade pangoccioli in 8 steps
Step 1: Preparing the Ingredients for the Pangoccioli Recipe
Put the chocolate chips in the freezer, where they will remain until you use them. This step is essential to prevent them from melting in the heat of your hands and/or in the oven during baking. Take the two eggs out of the fridge. Weigh 125 g milk and 125 g water into the same container and mix with a spoon. Weigh 50 g butter and cut it into cubes, then leave it at room temperature to soften.
Step 2: prepare the yeast
The leaven is a pre-dough which is used to shorten the overall rising time and give a special flavour to these fluffy loaves. Normally it is prepared with just flour, lukewarm water and yeast, but to give it an extra boost I added honey. Besides, we sommeliers have learnt this well with classic method sparkling wines: yeasts are real gluttons!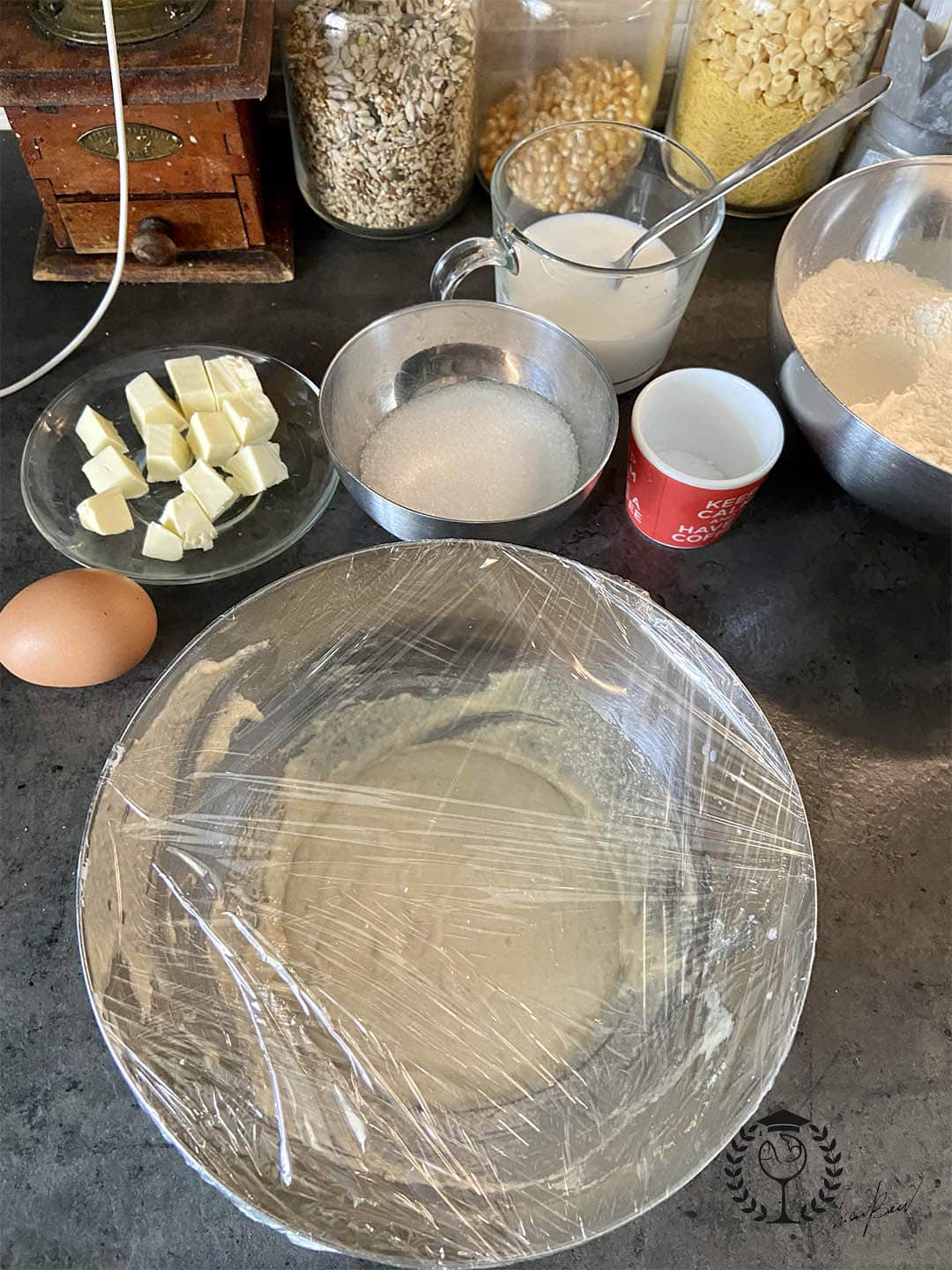 Put 100 g of flour and 100 g of the water-milk mixture you will take from the total in a bowl, then add the honey and yeast and mix with a fork until you get a batter. Cover with cling film and leave to rest at room temperature until it doubles in volume and forms many small bubbles. It will take one to two hours, at my house with 20 °C it took 1½ hours to look like the picture.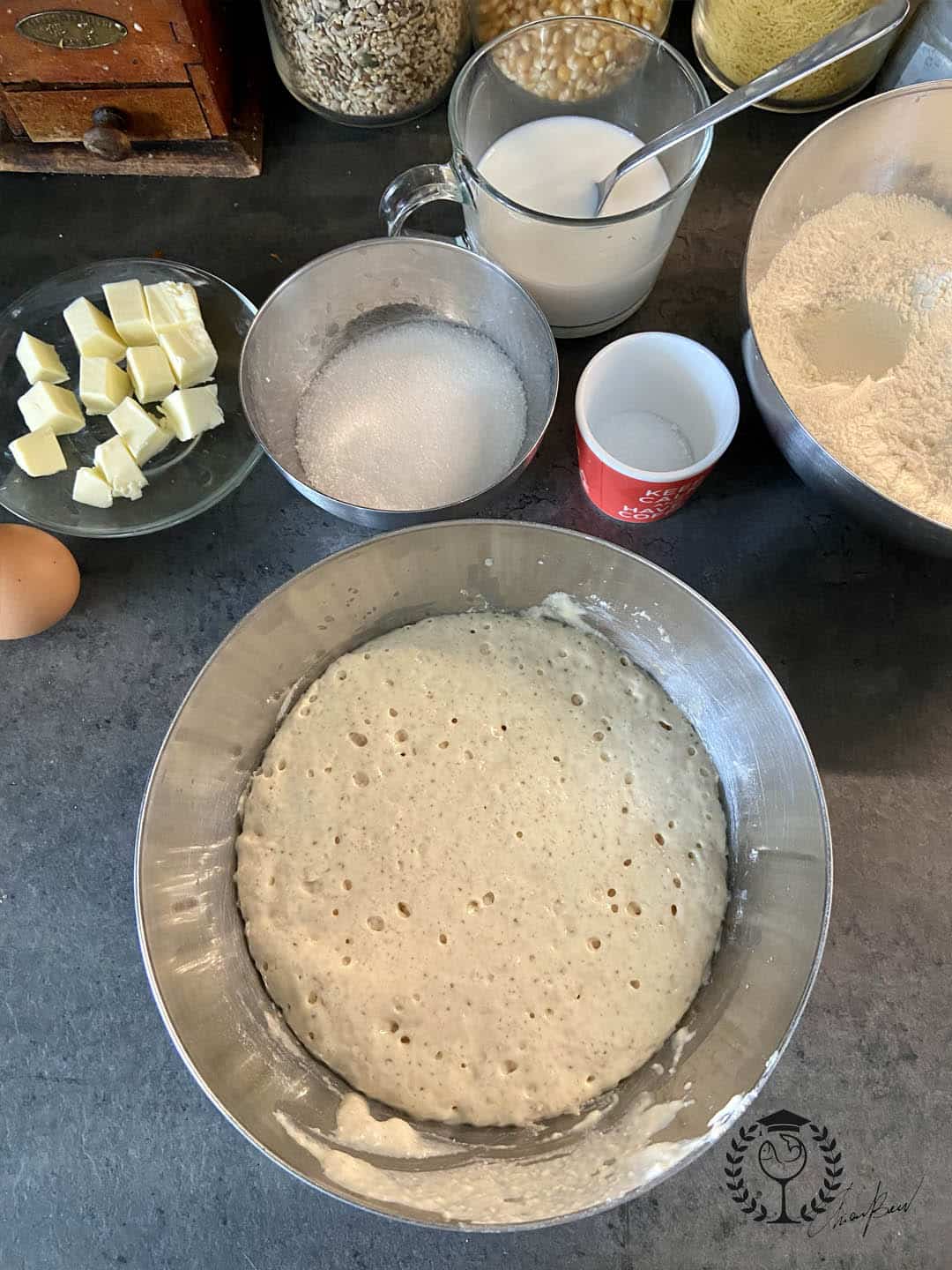 Step 3: Prepare and add liquids
In a bowl, whisk the leftover water-milk mixture (150 g) and the whole egg for a few seconds, then add the mixture to the yeast and mix with a whisk until you get a kind of homogeneous batter.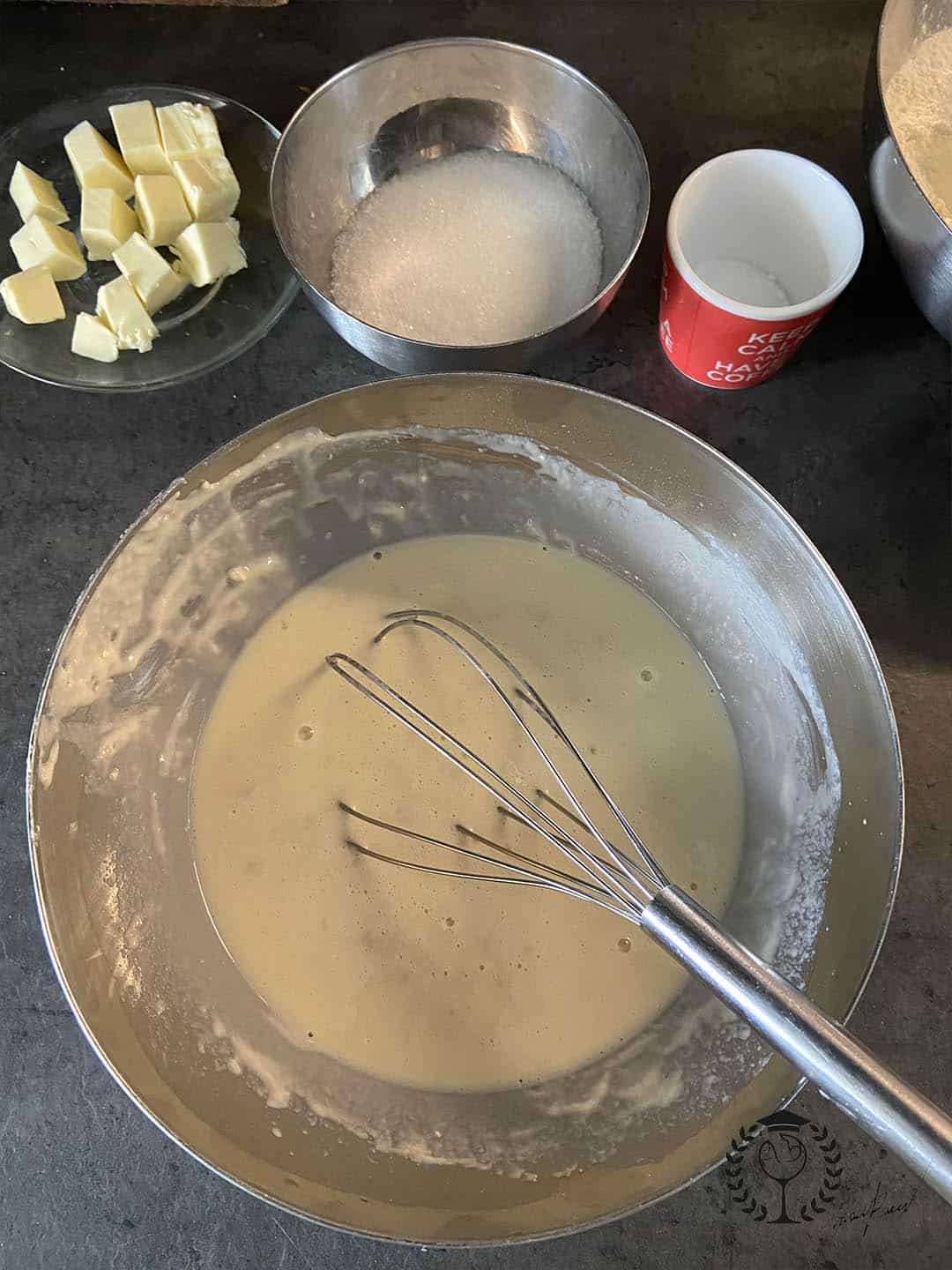 Step 4: Add Solids
Add sugar and beat with a whisk. Add 450 g flour and mix with the help of a spoon or fork. Transfer the dough to the work surface and knead for a few minutes until you have a smooth ball. Add the butter cubes, one at a time, and continue kneading until it is completely absorbed into the dough. Keep the leftover 20 g of flour aside and use it only if the butter cannot be completely absorbed, a little at a time. Beat the dough vigorously on the work surface to give it strength whether you knead by hand or with the planetary mixer, say 3 or 4 times in total kneading time. Varies from flour to flour, you may need all or just a sprinkling more! Add salt and continue kneading for 10 minutes, either by hand or with the hook of the planetary mixer.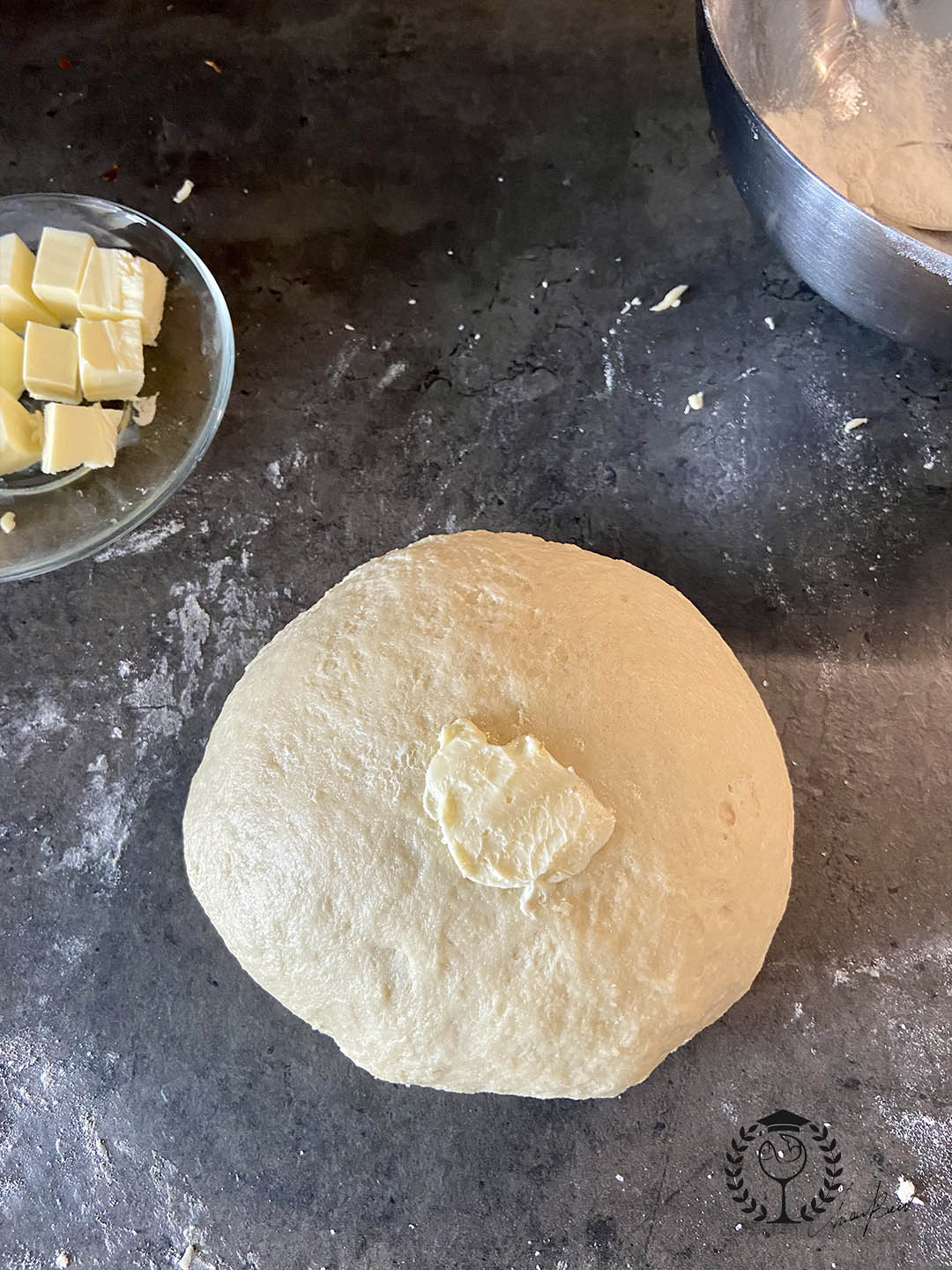 Step 5: Add chocolate chips and... be patient!
Take the chocolate chips out of the freezer and add them to the dough, then knead them quickly with your hands so they don't melt. Butter a high-sided bowl and gently lay the ball on the bottom. Cover with cling film.
Forget your dough until it triples in volume (it will take 3 to 4 hours depending on the temperature in your house!).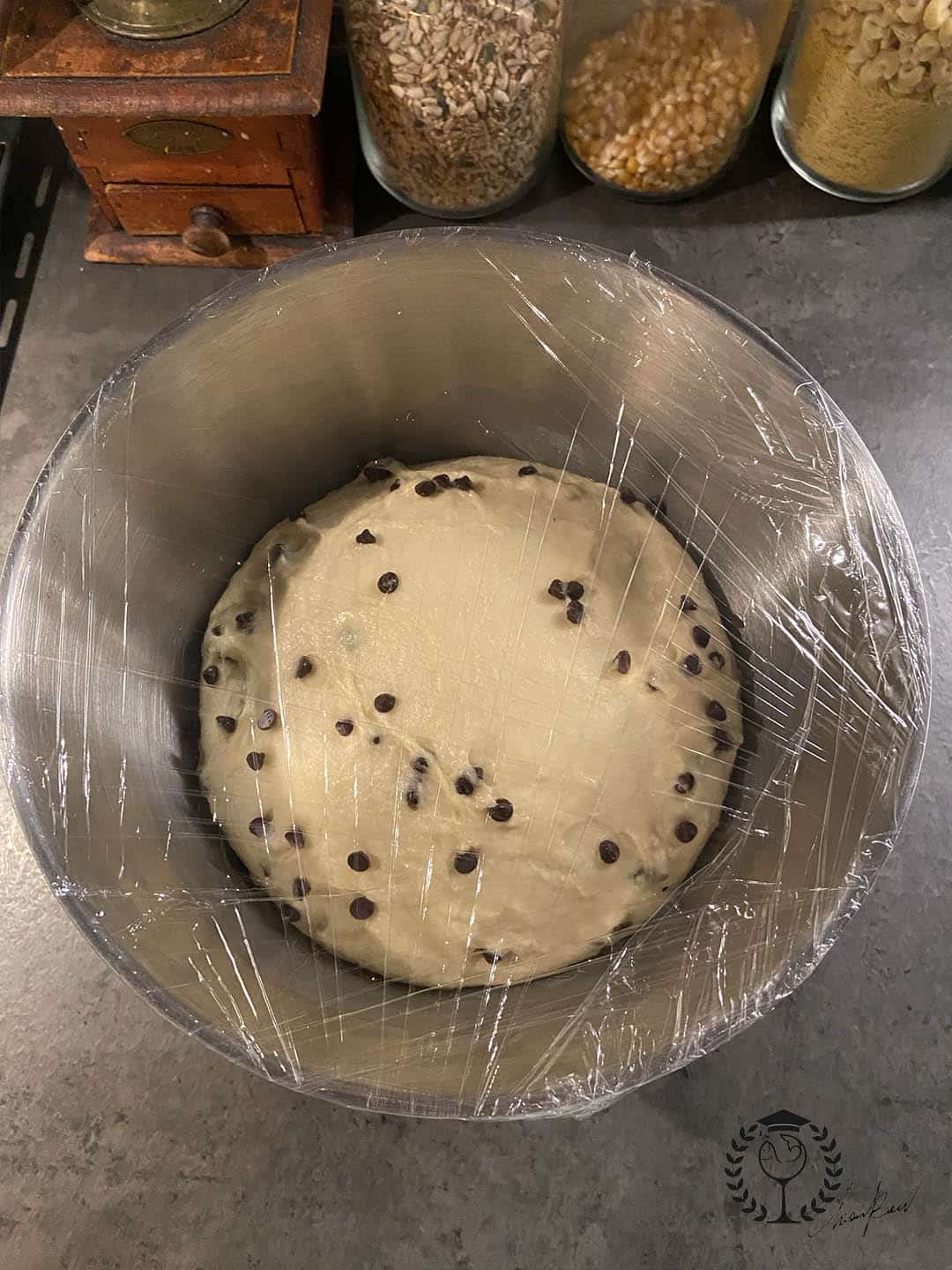 Step 6: folds, folds and more folds!
Take the dough gently out of the bowl, place it on the perfectly clean work surface and fold the dough twice as in the photo.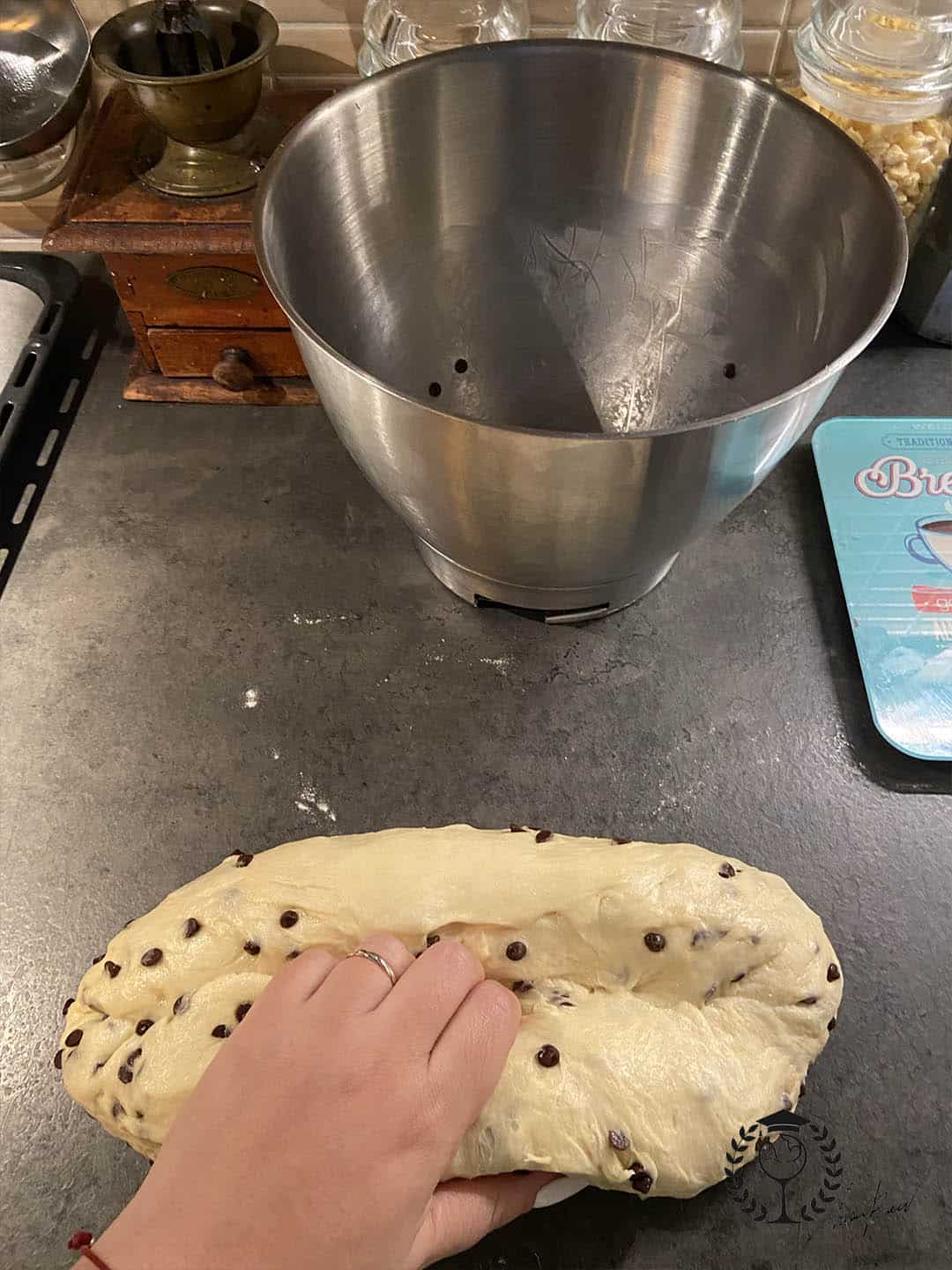 Let it rest covered in the bowl for 20 minutes to an hour depending on how much time you have, then take it out, fold it twice more and it's ready!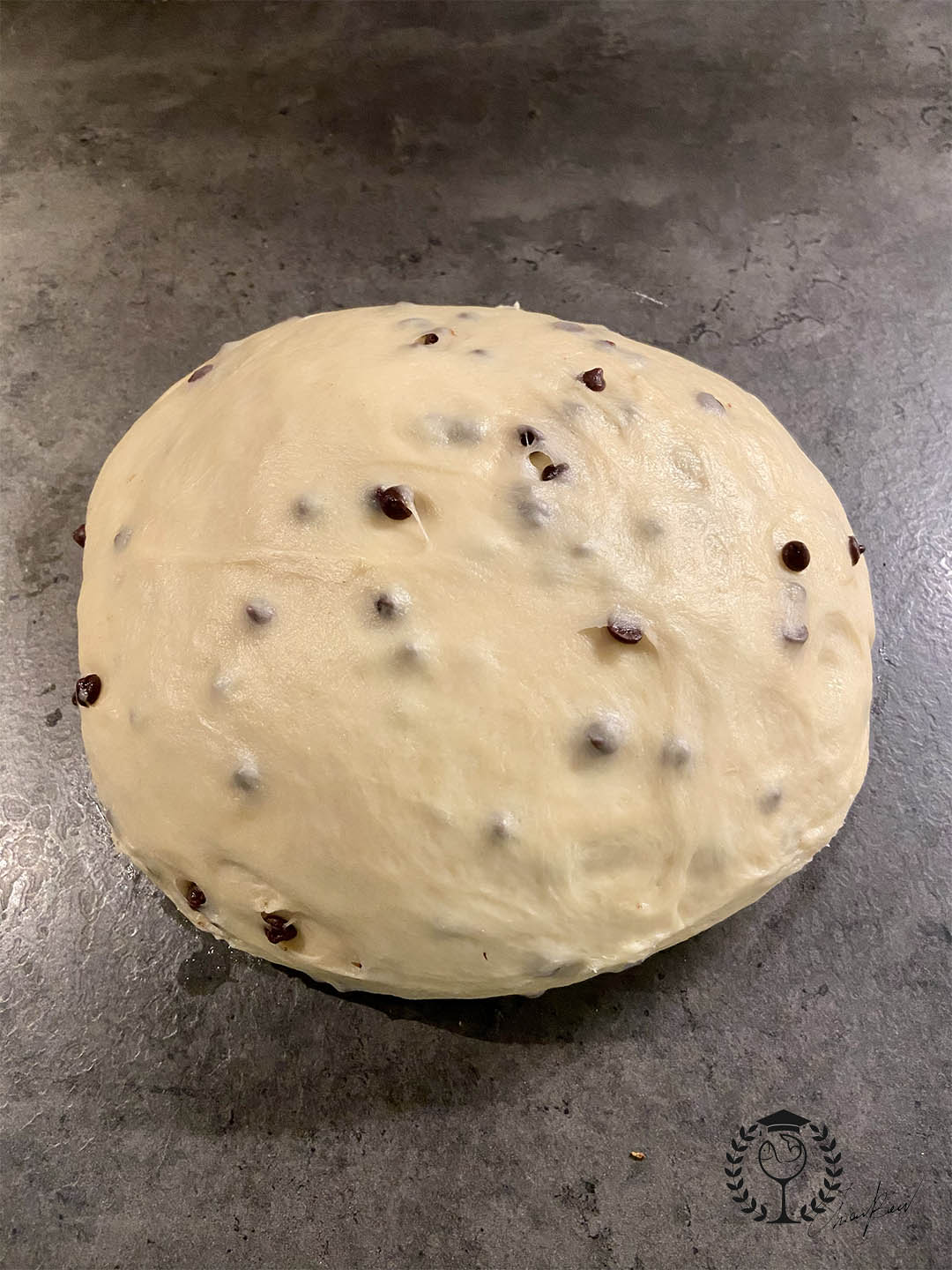 Step 7: Shape the Pangoccioli!
Now proceed to cut the dough into 24 rolls of about 45 g each. Keep the scales next to you to weigh the dough and check that they are all similar weights so that all the buns are cooked evenly. Translated: if a bun is 40 g or 50 g it's OK, if it's 35 g or 60 g it's not! If you cut a piece too small or too large, add or remove some dough. Line the baking tray with baking paper.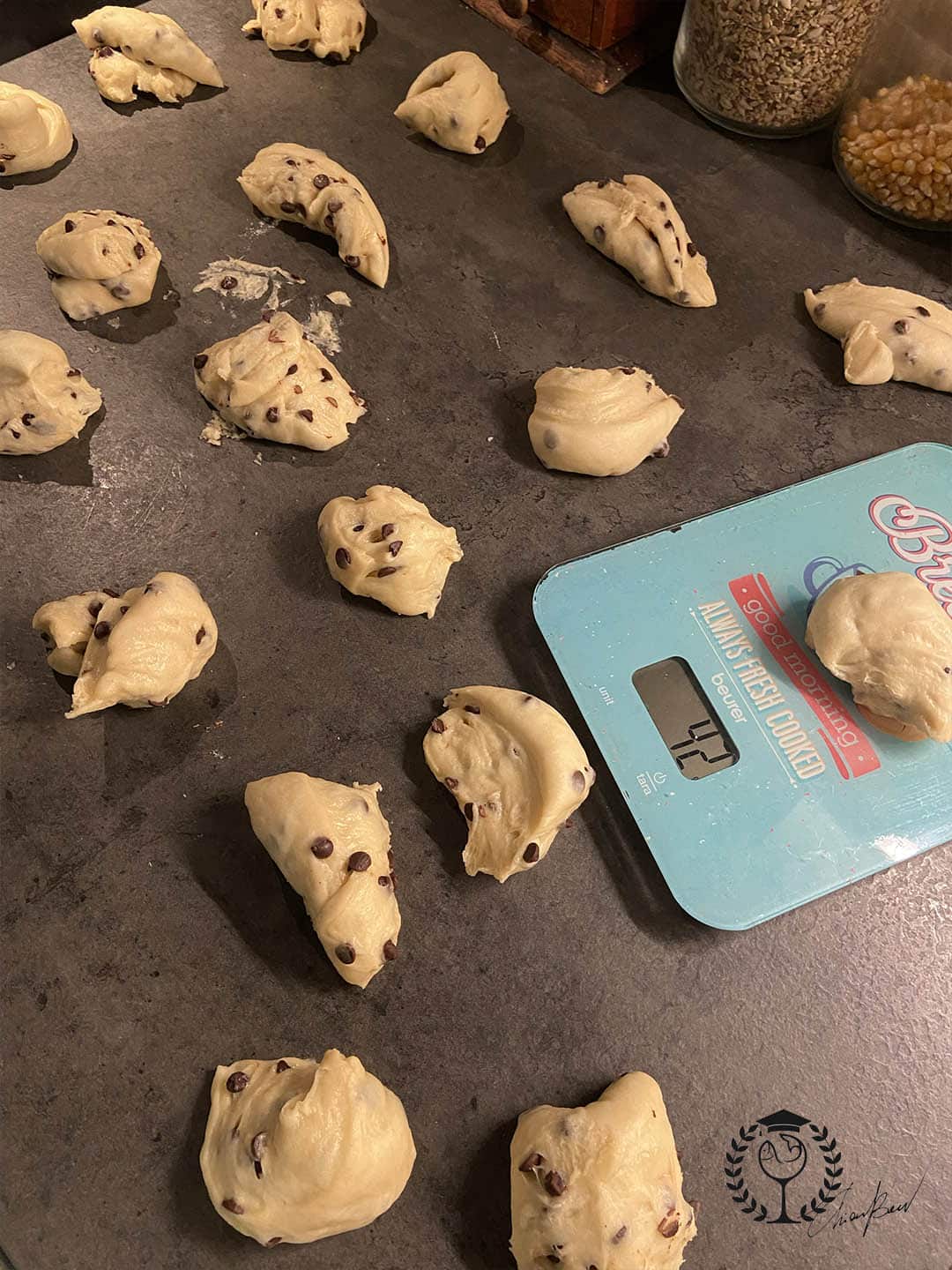 Shaping the sandwich into a smooth round shape is much more difficult to write than to do: you basically have to crush the morsels you cut and shape the edges by folding them all towards the centre as in the photo.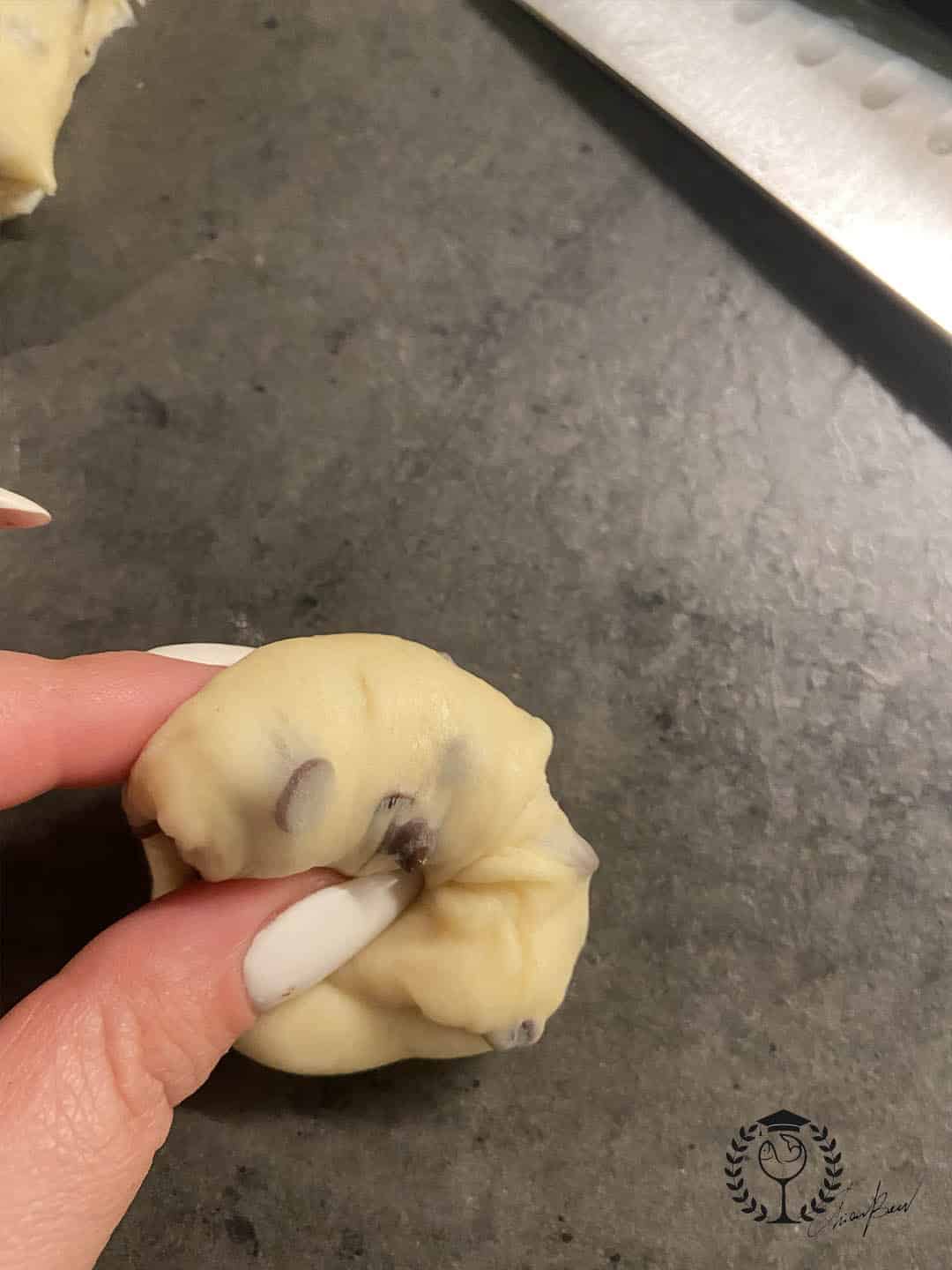 Rotate the loaves between the palms of your hands, which you hold against the work surface to give them a round shape.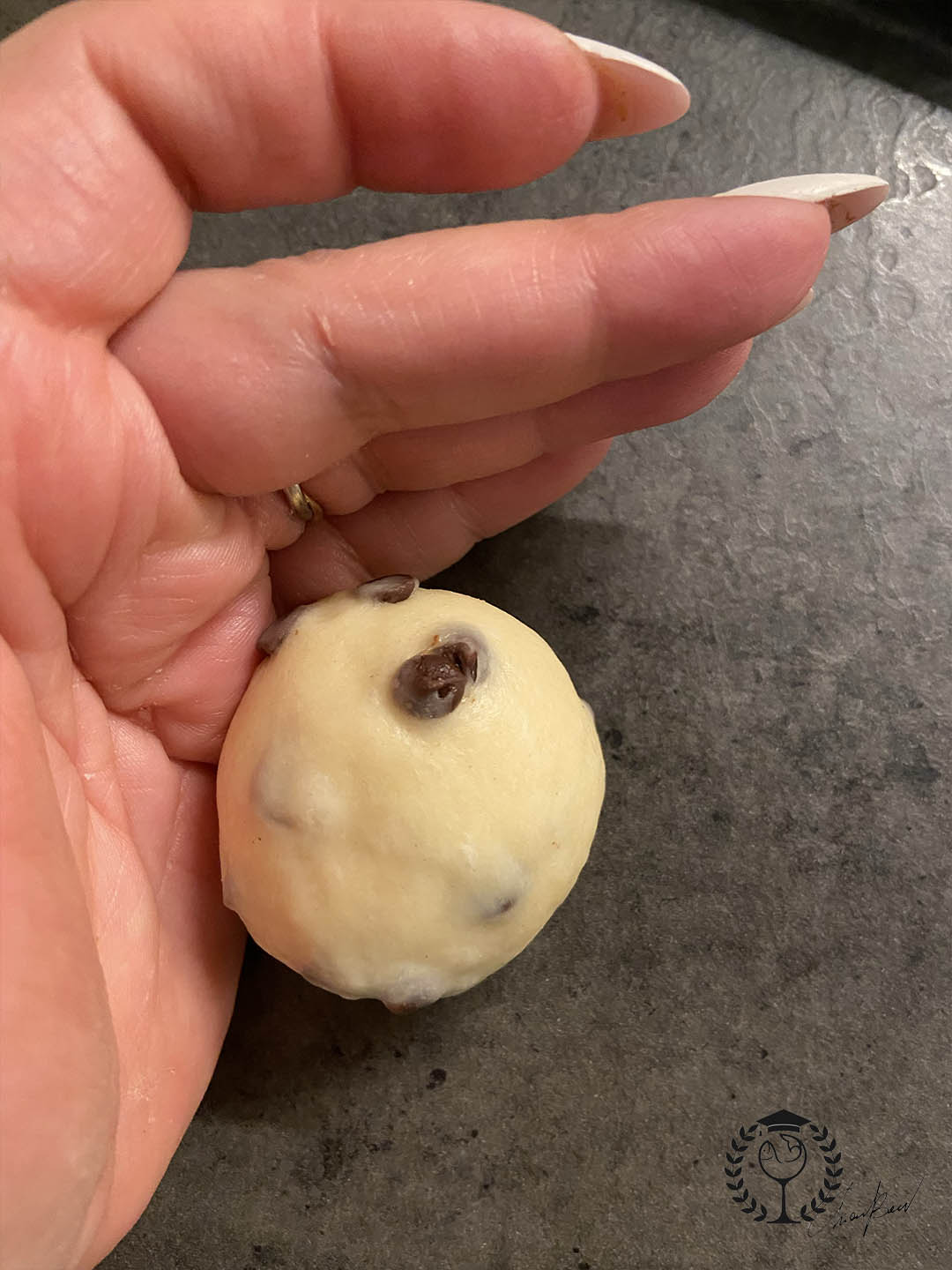 Place the sandwiches in the baking tin well spaced out, each standard oven tin will fit 12 sandwiches arranged in 3 rows of 4 sandwiches each.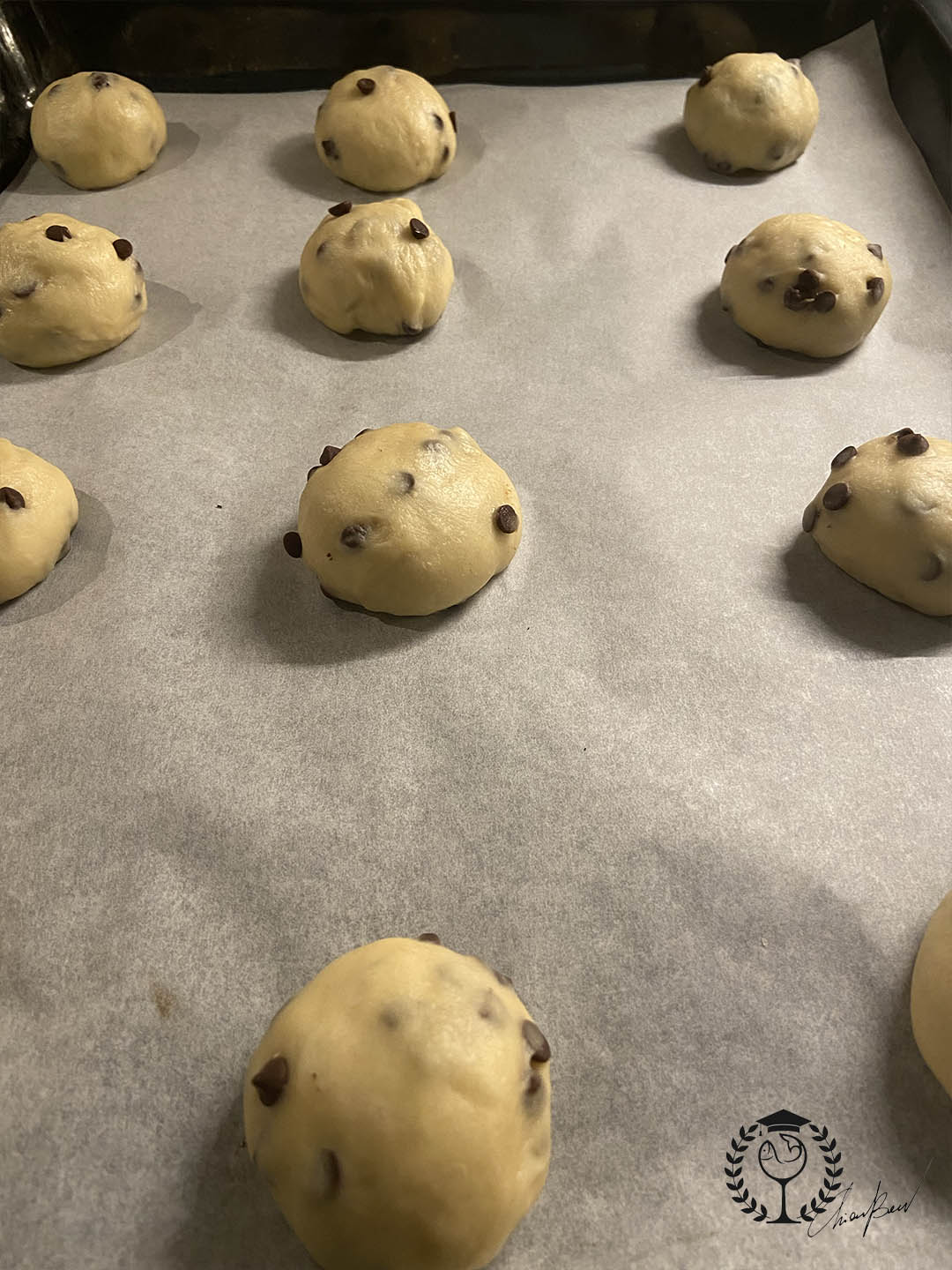 Step 8: Brush the Pangoccioli and bake them!
Turn on the static oven at 180 °C and heat it up. Open an egg and separate the albumen and yolk. Beat the yolk. If you like, you can add a teaspoon of whole milk to dilute the flavour of the yolk a little. Don't overdo the milk or it will run and spoil the look of the sandwich! Brush the buns carefully making sure to cover them on all sides so that they are shiny after baking. Bake for 15 minutes.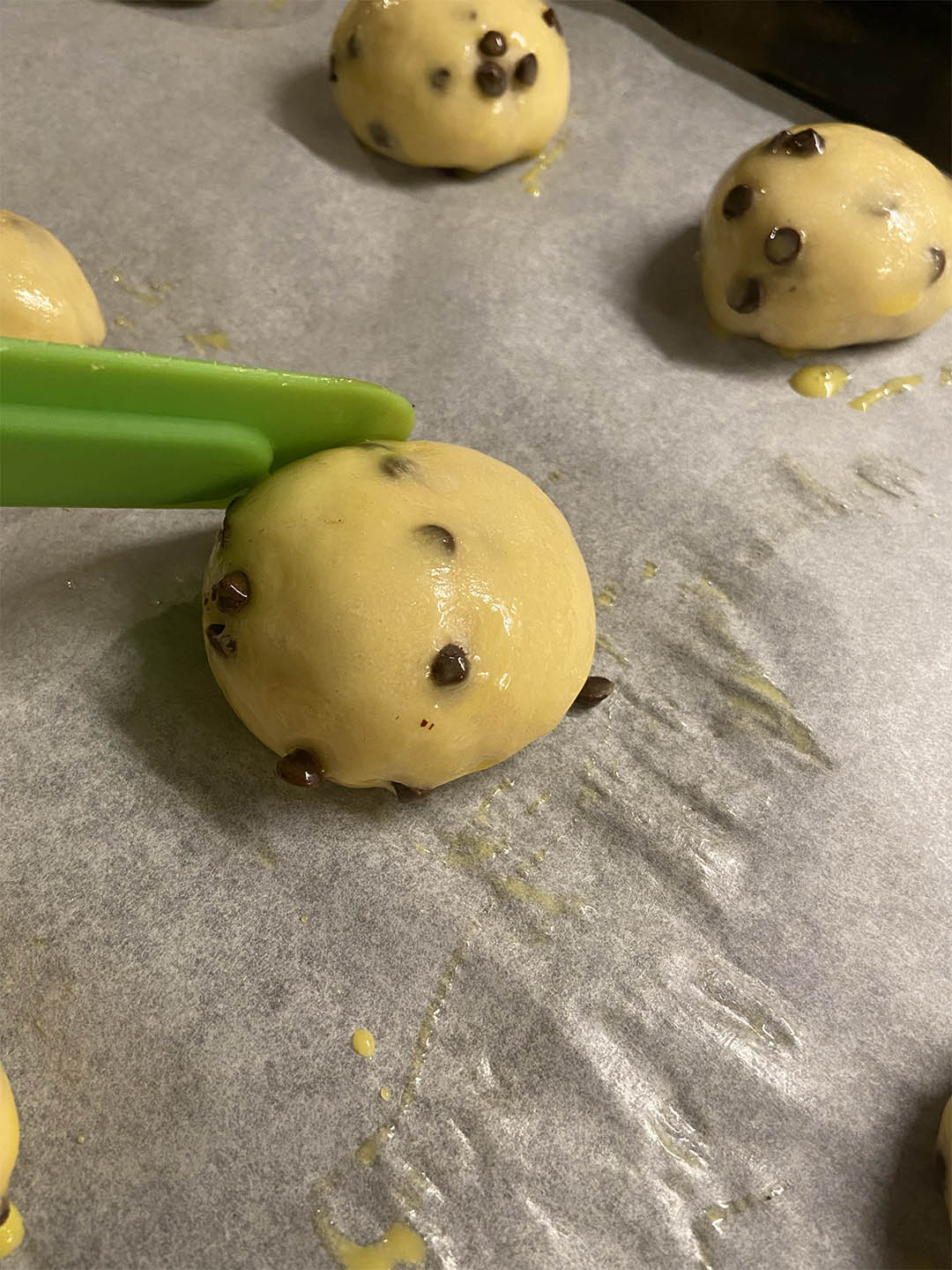 At this point it is not certain that all ovens bake the same... so instead of doing the classic toothpick test I suggest you tear into a bun and see if it is cooked just right! If it is, put them to cool in a grid like this. The use of the grill is essential to allow steam to escape and prevent the sandwiches from becoming mushy!
I recommend baking twice because it is not ideal to open the oven during baking and by baking both pans at the same height you have more control over the baking time.
If this pangoccioli recipe you liked it subscribe to my newsletter so you don't miss any of the content on this blog, or scroll down the page to look at the final result and find out what I combined with it...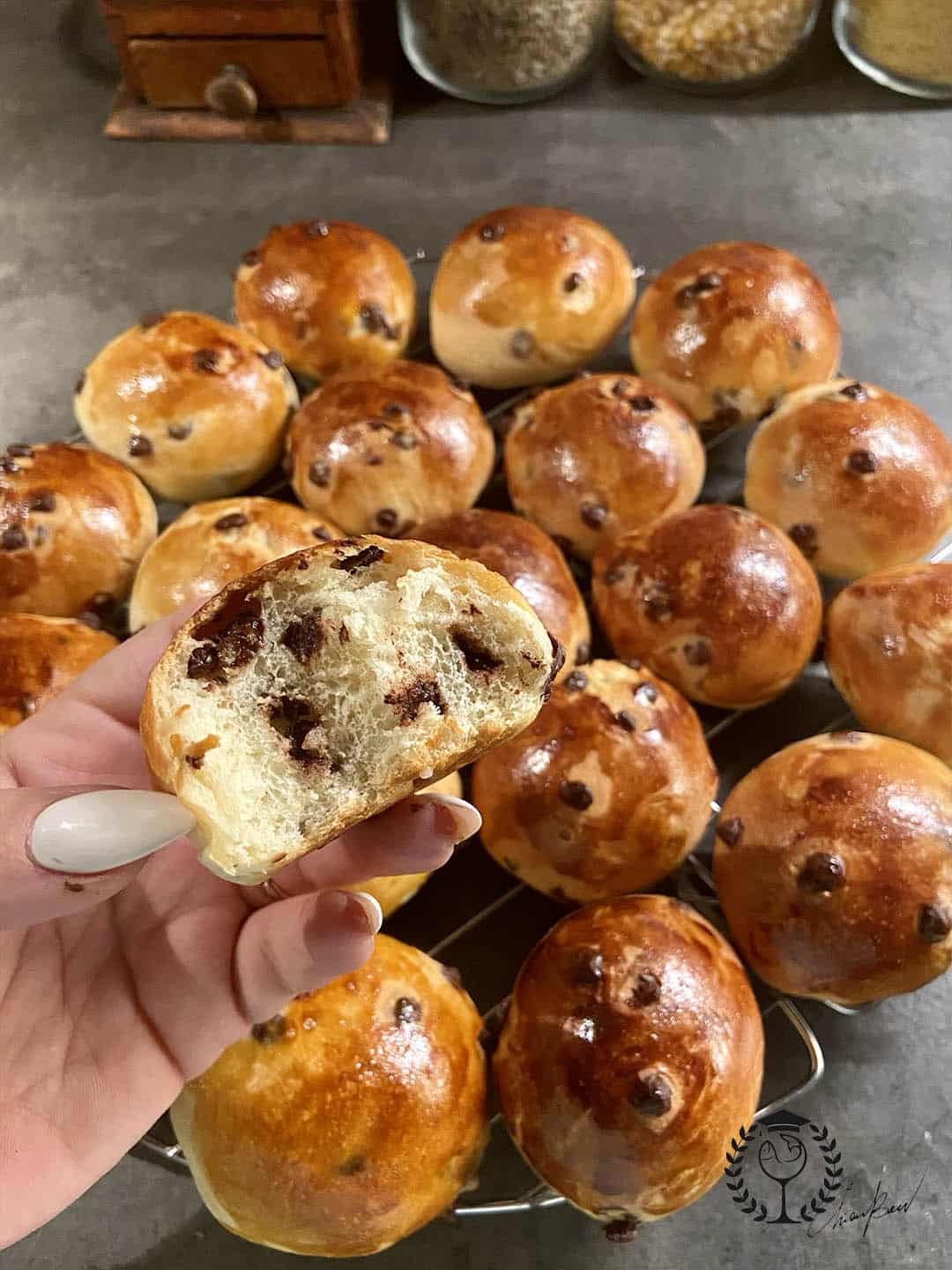 You can now buy my book dedicated to aspiring sommeliers and winelovers or scroll down the page to continue reading the article.
Book 'Sommelier: the Illustrated Manual' Special Edition 2022
All my notes on wine and food in one book.
Pangoccioli: what goes with them?
Pangoccioli and... chocolate in a mug! I know, I know... you were expecting a sweet wine weren't you? Although this remains a wine blog, today I need some comfort food that will bring me back as a child, to the days when I was really carefree. I've just seen images of the Russia-Ukraine war that left me speechless... I can't believe that in 2022 and with a pandemic still going on, Russian President Vladimir Putin is trying to steal the history and identity of the Ukrainian people... and what's more, with Russia's condition!
The sentence then: 'For all those from outside who will try to interfere: Russia's response will lead to consequences you have never experienced' froze my blood. The Ukrainians are looking to the West, they may not be ready to join the EU today, but it is only a matter of time and Putin's willingness to bomb Kiev and start a war for his desire to annex Ukraine to Russia with justifications that are neither in heaven nor on earth makes my heart cry.
After cooling for 45 minutes on the grill, place them immediately in an airtight container or a well-sealed plastic bag. Air is the biggest enemy of this soft pangoccioli recipe! I can't tell you how long they keep because my husband munches them rather quickly... let's just say that today is Thursday night and I'm aiming to have breakfast until Sunday morning! Taking bets on whether I will succeed....
a chocolatey hug to you and to all Ukrainian citizens, indeed to all European citizens!
Cheers 🍷
Chiara
P.S. Scroll down the page to leave me a comment! If you try the recipe for these soft pangoccioli always in a comment post a photo... I'm curious to know what you think!