Starting a new year with a toast (or rather two) and a little reflection that has its roots in my 2021 horoscope is now a tradition for me. I find it very nice to start from the previous year, looking if the expectations have been aligned with the results. In my article "2020 horoscope: what do we uncork to celebrate the turning point?"I wrote while tasting the Radicale di Bellenda:
THEhoroscope 2020 taurus he says that I have practically all the planets in favor and that this indicates a year full of changes, capable of crossing out the whole list of my intentions, as long as I do not postpone anything. He says that in 2020 I will meet the right person for me, and in fact the day before yesterday I "formalized" my new relationship and thought, for the first time in my life, that I have a boyfriend that I would not change a single comma. The 2020 horoscope says that I have to make couple and work plans because it will be a revolutionary year, radical. He says I have to fly high because I will enjoy everything it takes to achieve everything I dream of and also the right opportunities. Hell, but I want to believe it! In fact, I will do my best to make it so! In December 2020 in summary I will be happily engaged, thin and more famous than Ferragni, perfect! Now I immediately uncork a good wine to celebrate!😎 😍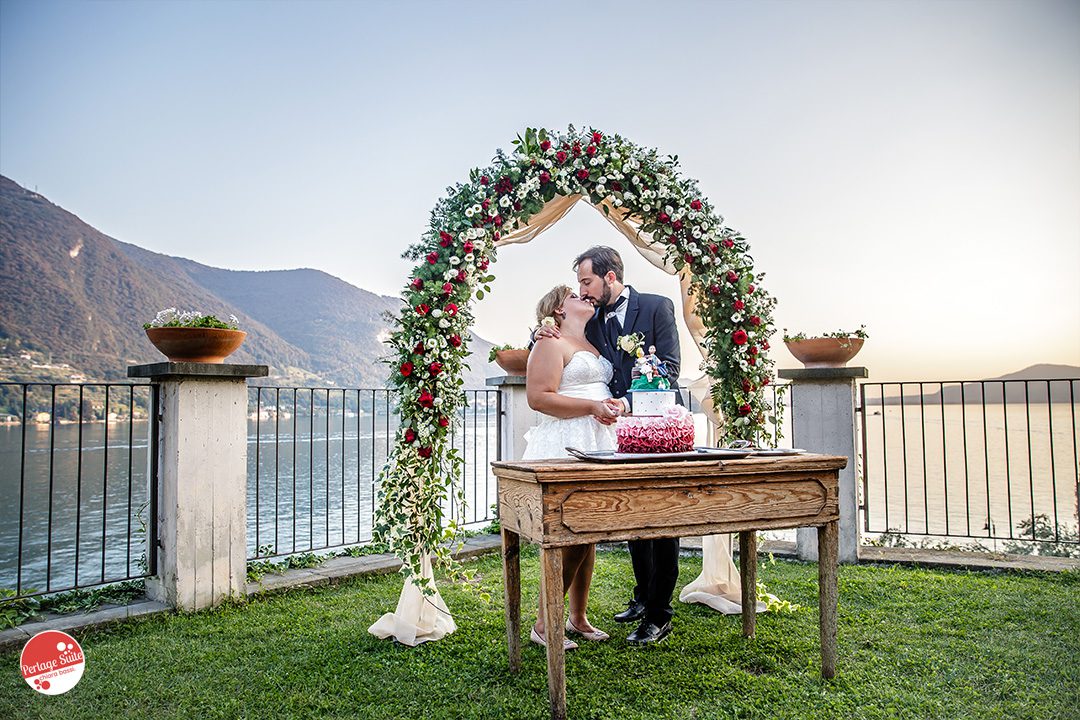 Horoscope 2021: let's see what actually happened in 2020 ...
Am I happily engaged on January 1, 2021?
It was January 5, 2020 when I wrote those words and if they had told me that I was going to get married this year I would have laughed for 10 minutes straight. My best expectation was to be happily engaged, certainly not a disruptive love that culminated in a marriage after 9 months (of which almost 8 of cohabitation ...)! Yet it happened. And even those who enjoyed chatting thinking it was a shotgun wedding was denied ... since in my belly currently there is only my beloved boeuf bourguignon! Except for a really radical change in which I honestly do not believe at all I never wanted children and never will - and my husband knows it - so ours was really a marriage of love! Francesco is my soul mate and I always think so, even when I would spill the boeuf bourguignon on his head! 🤣
Am I thin on January 1, 2021?
Um ... no! In fact, I lost 8 kg for the wedding, but I'm still far from my ideal weight. In my defense I remember that I live in Lombardy and the quarantine has certainly not helped! My good resolution for 2021 will be to reach 65 kg by 31 December and know that for New Year's Eve I will publish a photo with my feet on the scale so ... from 8 this evening I start the only diet that suits me: intermittent fasting. Until now it is the only diet that is compatible with my character and my work ... and the only one that has ever given me results! He says in 32 weeks I'll be 65 kg… I'll give myself 20 more weeks to be safe so I'll show you the results next New Year! 🤣
Am I more famous than Ferragni on 1 January 2021?
Um ... almost come on! 🤣 After all, I don't know if the stars predicted the pandemic! But 2020 was still an important working year because I made crazy decisions both for my blog and for the third (and last) edition of my book "How to become a Sommelier" which I will publish on May 8, 2021 on the occasion of my birthday! And anyway my wine blog has grown a lot this year despite the disaster affecting the restaurant sector then the balance is however positive! A sign that interest in wine is not decreasing ... indeed it is growing! And purchases in e-commerce are growing so this is the time to invest in a great little online shop. At this proposal I remind you that I am also a web developer, so you can send me an email to build together a beautiful showcase for your food and wine products capable of selling anywhere 24/24, even while your cellar, shops or restaurants are closed!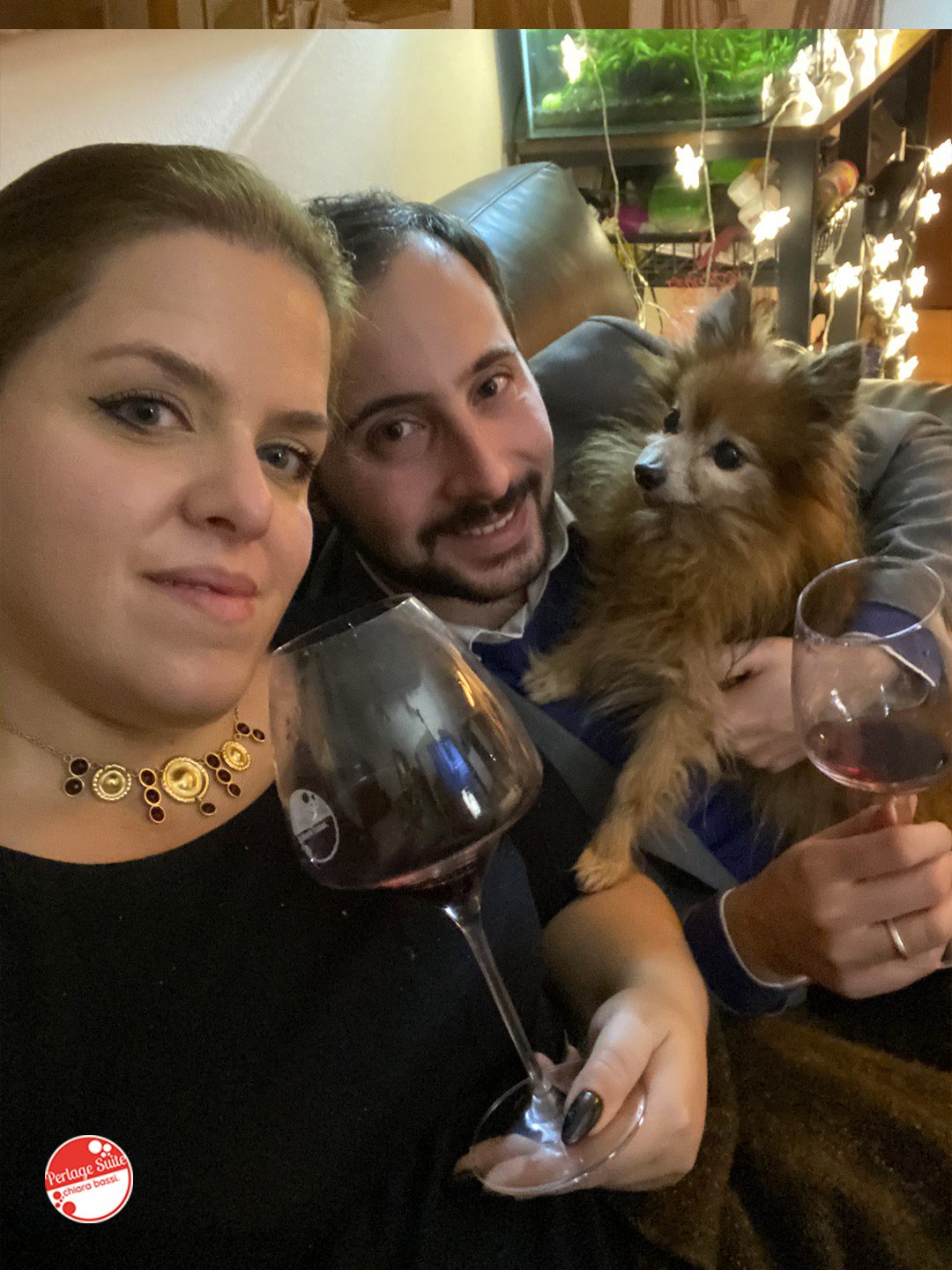 What does the 2021 horoscope say for those born under the sign of taurus?
Taurus horoscope 2021 says it will not be a very lucky year. But I never believed in luck. I believe in dreams that become ideas and ideas that become actions. And I believe that actions combined with the ability to correct the shot when needed are the key to any success you desire.
The 2021 horoscope says that we of the bull this year will live on a roller coaster, between peaks of happiness, obstacles, unexpected events and failures. And a nice "these caps" do not we put it? This is life, a wonderful alternation of joys and sorrows. The real luck is that we write the script of our life.
Personally, 2020 ended in the best possible way: I cooked for the first time one of my strong points for my husband Francesco: boeuf bourguignon by Julia Child (click HERE for the original recipe photo) e I paired it with Podere Casanova's Vino Nobile di Montepulciano (which I had already written about HERE). The year didn't end as I thought: I planned to watch the fireworks over the lake at midnight from our bedroom terrace and then make love while sipping the .G of Le Vigne di Alice, Conegliano Valdobbiadene Prosecco Superiore 2015 disgorgement 2018 (any reference to events that could have happened is purely coincidental) instead at 23 pm my husband was astonished on the sofa. The boeuf bourguignon has spread it out. 😅
Two toasts that I absolutely recommend you do ...
Nobile di Montepulciano DOCG wine 2016 Podere Casanova
It has a beautiful intense and impenetrable ruby ​​red, consistent. The nose is elegant and fine, with notes of black pepper, almond, orange peel, wood, cinnamon sticks and mountain pine. In the mouth it is very pleasant, very elegant, very soft, with a good structure and well-blended tannins. In the mouth it has a long spicy finish. An extraordinary Vino Nobile di Montepulciano, exactly in my strings.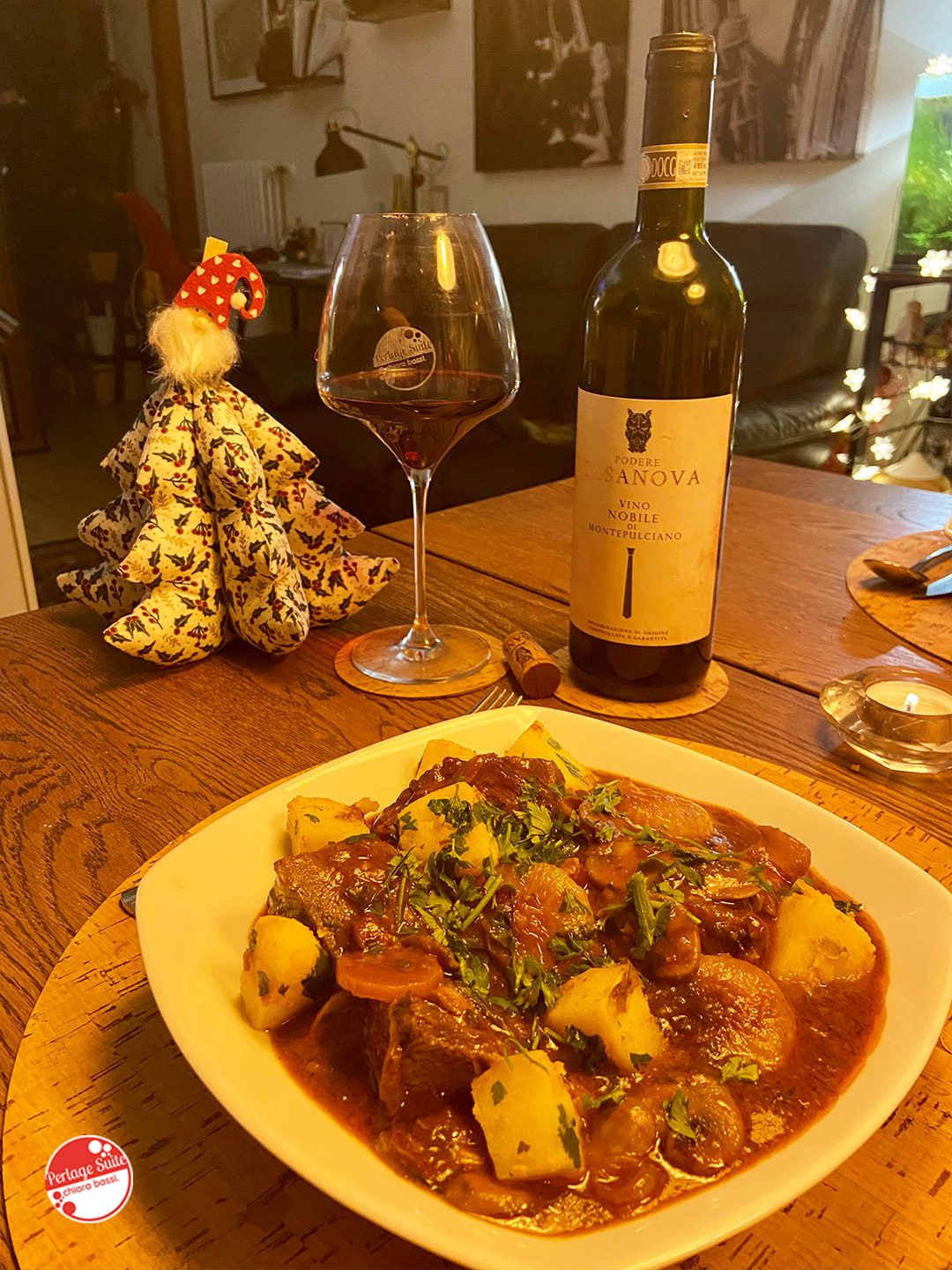 .G Valdobbiadene Prosecco Superiore DOCG 2015 Alice's Vineyards
I've talked about this wine so many times that it's almost boring. I chose the 2010 vintage first for our wedding, then for one romantic evening in the bathtub during our honeymoon in Matera. I find the .G a true masterpiece, the living demonstration that the classic method vinified prosecco has unsuspected potential.
Brilliant straw yellow with green gold reflections. The perlage is fine, numerous and persistent. The nose is very pleasant, with notes of ripe pear, lemon jam, fresh almond, dill and cumin. In the mouth it is coherent, very fresh, savory with an even more citrus, saline and aromatic herb flavor. Long finish and great drinkability.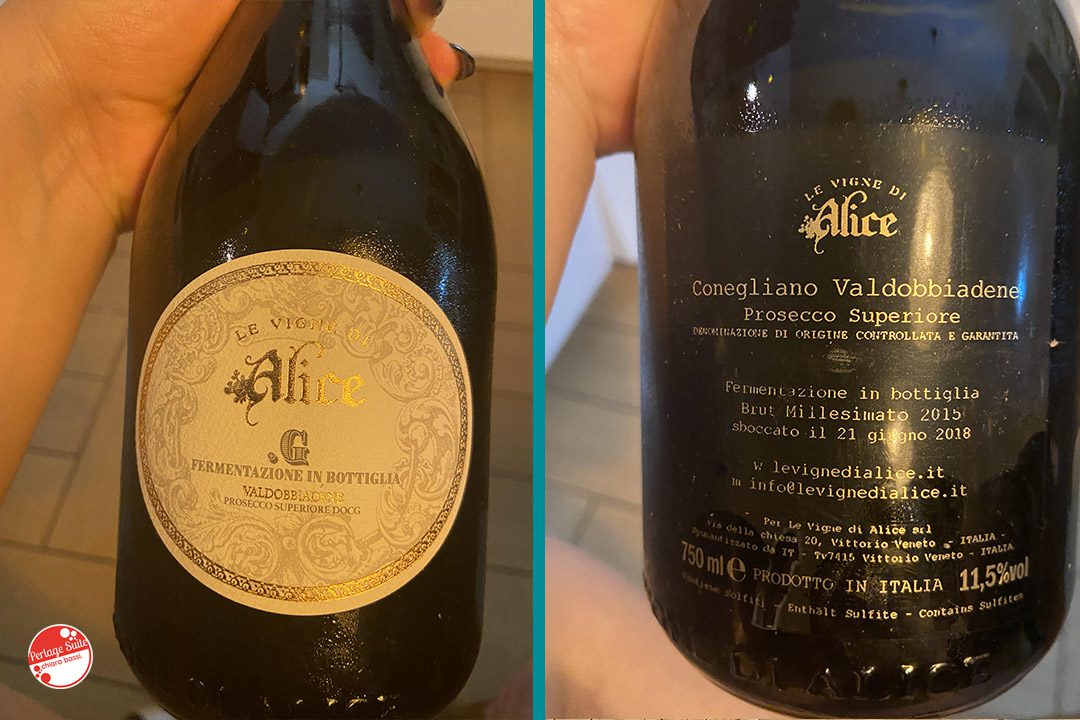 What about January 1, 2021?
For us it started even better because Francesco gave me a great idea: to recycle the leftovers from last night's Boeuf Bourguignon to prepare a pasta for lunch. Man, why didn't I think about it before? I added it to the Julia Child's original recipe because the result is really fantastic! To prepare my "paccheri alla Bourguignon"Just melt a knob of butter in a pan and add the leftovers at room temperature (2 or 3 chunks are enough). While the salt water for the pasta is boiling, with a fork or pestle, mash the pieces of meat that are so tender that they fray. Cook the paccheri and keep them al dente, in the meantime add 1 ladle of cooking water to the sauce. Drain the paccheri and add them to the pan with the sauce, put a knob of butter and mix thoroughly. Turn off the heat as soon as everything is well blended. In combination, of course, I recommend Podere Casanova's Vino Nobile di Montepulciano 2016!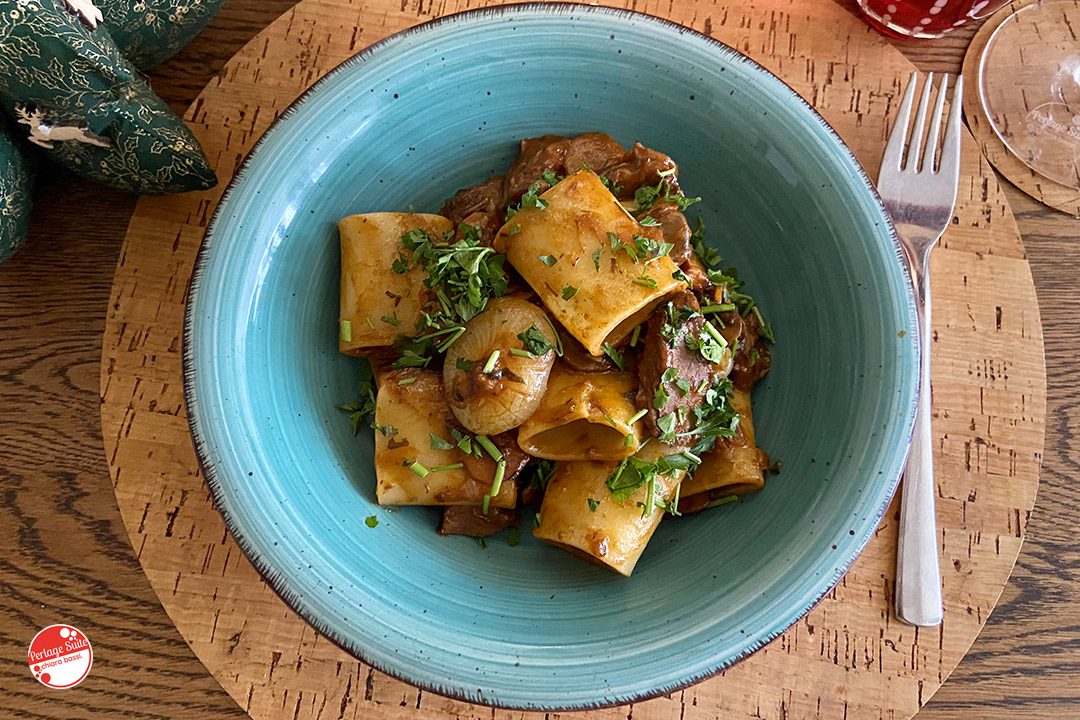 I can't wait to visit them personally with my husband and my best man, Marina Tagliaferri of the Agorà press agency.
I wish you a year full of happiness, success and great uncorked bottles!
Cheers 🍷
Chiara
How to become a sommelier
Everything you need to know about wine in one book. The manual is designed for all aspiring sommeliers, but it is also very useful for "already sommeliers" who want to revise, for winelovers who want to start giving concrete foundations to their passion and for sector operators who want to earn more by learning both managing the cellar of their restaurant and selling the right bottle to their customers.
II Edition: 1 December 2019 - format 16,5 x 24 cm, 430 black and white pages, ISBN 978-88-943070-8-5 [ON SALE]
I Edition: 31 October 2018, format 16,5 x 24 cm, 300 black and white pages - ISBN 978-88-943070-1-6
COMPLIMENTARY, only for those who buy my book on Perlage Suite, a copy of the First Collector's Edition of my Sparkling Wine Guide "500 Bubbles in 500", cover price € 25,30.