The 13th Congress Identità Golosewhich took place in Milan from 4 to 7 March 2017, had extraordinary exponents of international cuisine throughout the days. To my recollection, the last time I had a fever I was 5 years old. In fact, it seems fitting that this time it should be me, and here I am, with a fever of 40 for more or less a week, where I alternate between moments of lucid wakefulness and moments of great sleepiness. On Sunday morning, 5 March, I was feeling better, I tested my fever and it was OK, so I took advantage of Dad to have him drop me off in front of the MiCo (Milano Congressi in Zona Fiera) so as to catch as little cold as possible. As agreed with the MAGENTAbureau (always great at handling everything) I found my press accreditation in the dedicated space, a pity only that there is no badge holder like they give you at the Vinitaly. I actually didn't get one last year either, but I forgot about it and didn't take one with me (it's a bit inconvenient to pull out your pass every time you enter and leave a hall...). But let's talk about serious things now!!! 😉
Sunday 5 March 2017
Paul Pairet and immersive dining in Shanghai: genius or madness?

I have not yet decided whether to frame the Chef Paul Pairet as 'genius' or 'madman', but the mere fact that I am wondering about it is significant. Surely, of all the conferences I have attended during my day at Identità Goloseis what I appreciated the most. Paul Pairet is not there 'because he has to be there' or just because. Paul Pairet is not there with the air of the arrived one who can do everything. Paul Pairet experiments with three different dishes, one in particular with extraordinary technical difficulty, and performs it live to perfection.
Before I show you the dishes in the lesson, I want to take a step back and tell you who Paul Pairet is, born in 1964, a Frenchman with a non-French, but cosmopolitan vision of cuisine. First noticed by Alain Ducasse who wanted him for the Cam at Ritz Carlton in Istanbul, he quickly managed to position the hotel restaurant among the city's top restaurants. Then in 2005 came the Asian 'call' and moves to Shanghaibut it is only in the 2012 opening Ultraviolet, a restaurant with an innovative concept capable of creating a multi-sensory space around a single table where 10 guests share not only the 20-course menu but music, images, sounds and even smells that enhance and narrate the dish. Ultraviolet's dining room is ascetic, without furniture, without paintings, without a spectacular view of anything. The restaurant room has been specially designed and built as a hi-tech space: 360° wall projections, multi-channel speakers, dry scent projectors and UV lights. A customised atmosphere is created for each dish with lights, scents, sounds and images. Chef Paul Pairet's desire is to break down the limits of the traditional restaurant, with the logic of the mother who "puts the family to the table" when it is ready and does not contest whether she has cooked the pork, and for when she has cooked it. In this way, times are marked out by the chef and cooking is perfect, in an ideal of perfection that the traditional restaurant cannot achieve by definition. In practice, Paul Pairet decides for himself what his guests will eat and serves them 22 courses in succession. This certainly allows a very high degree of control over the ingredients, which are released from a fixed menu and can be of the highest quality.
Personally I consider Ultraviolet in Shanghai an extremely fascinating experimentI absolutely agree with the 22 'surprise' courses, which the chef cooks because he feels like cooking with the wonderful raw materials he has found! I am less convinced, however, by the aseptic ambience of the psyco experience: all these sensations 'external' to the dish in my opinion distract the guest from the dish. I agree with Paul Pairet: the perception of a dish is influenced by a lot of external factors, including the memories we are able to associate with it. As a layman, however, I consider this whole outline a stretch, but I would really like to experience this to get a true view of this outrageously original restaurant.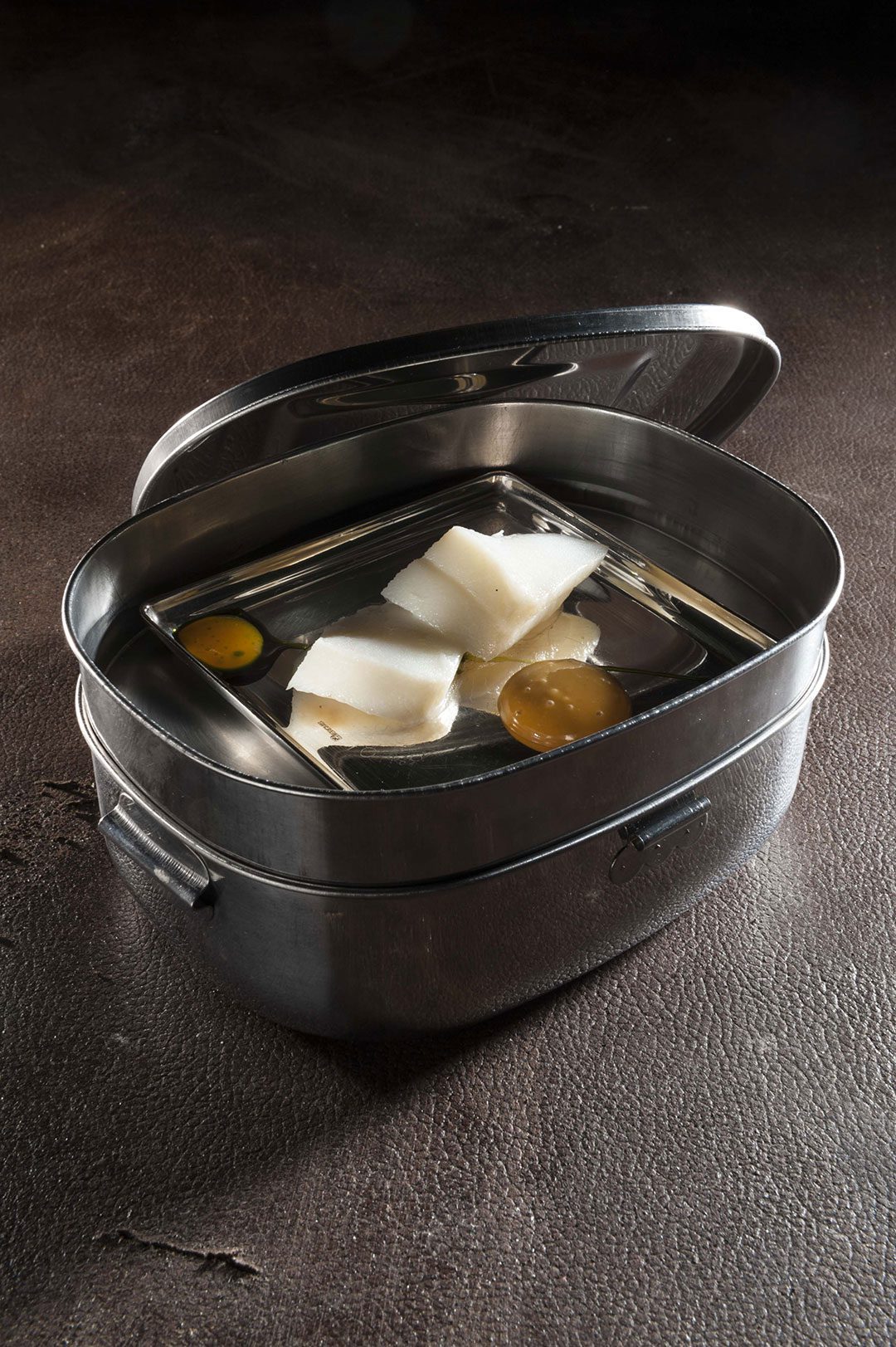 Cod fillet cooked at 52°C in jelly: a truly spectacular preparation! The cod actually looks very simple, but having witnessed such precise cooking makes me imagine a truly amazing taste!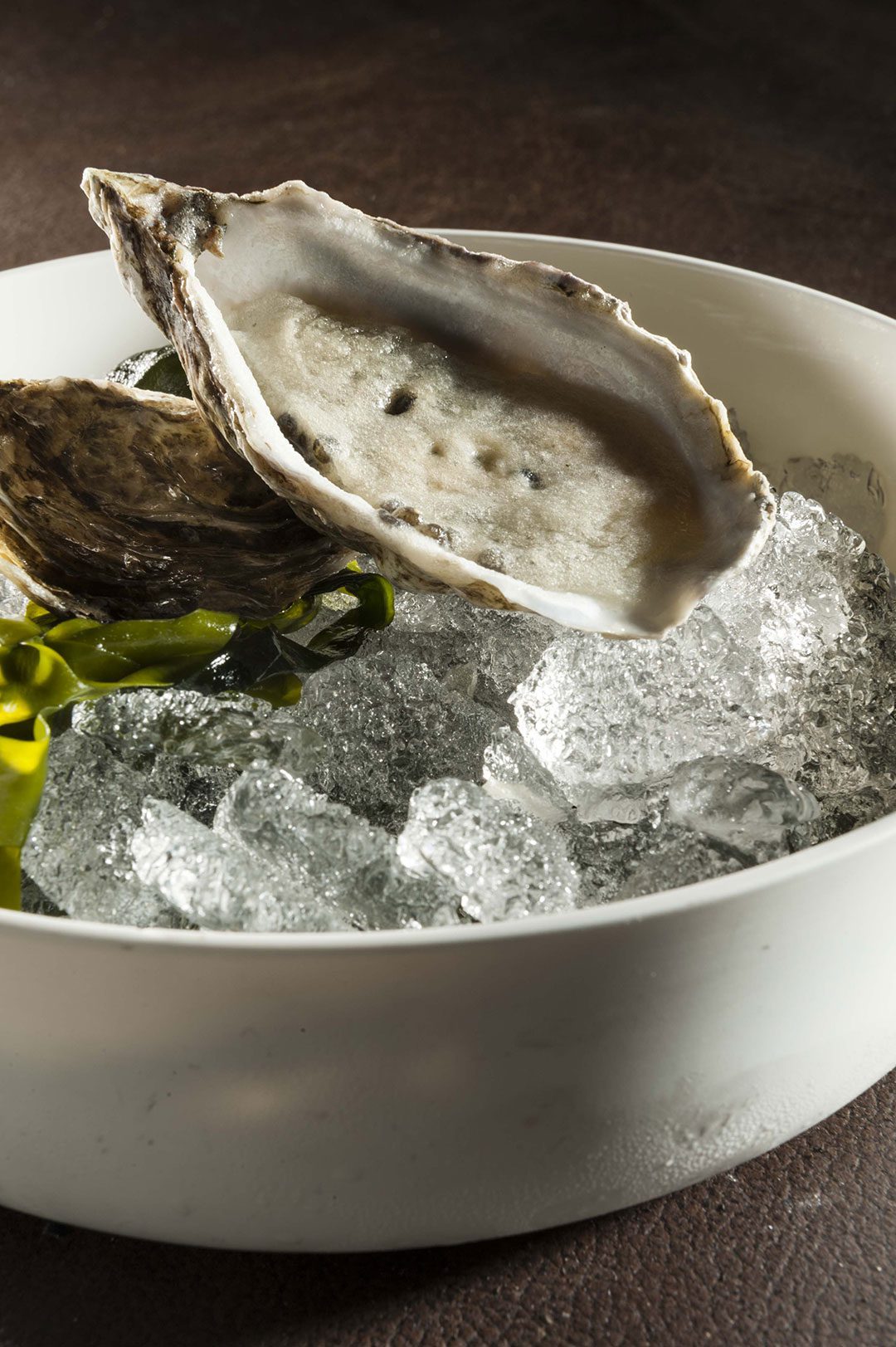 This oyster looks innocent, but it is not: its preparation is very fascinating, thanks also to the nitrogen that brings it to a cold temperature and creates a sorbet, a granita with seawater siphon and the oyster 'touched' in soy).
The last dish shown (though we did not follow the preparation of this one like the other two) is also a provocation: tomato and mozzarella reinterpreted for the Italian public. Chapeau!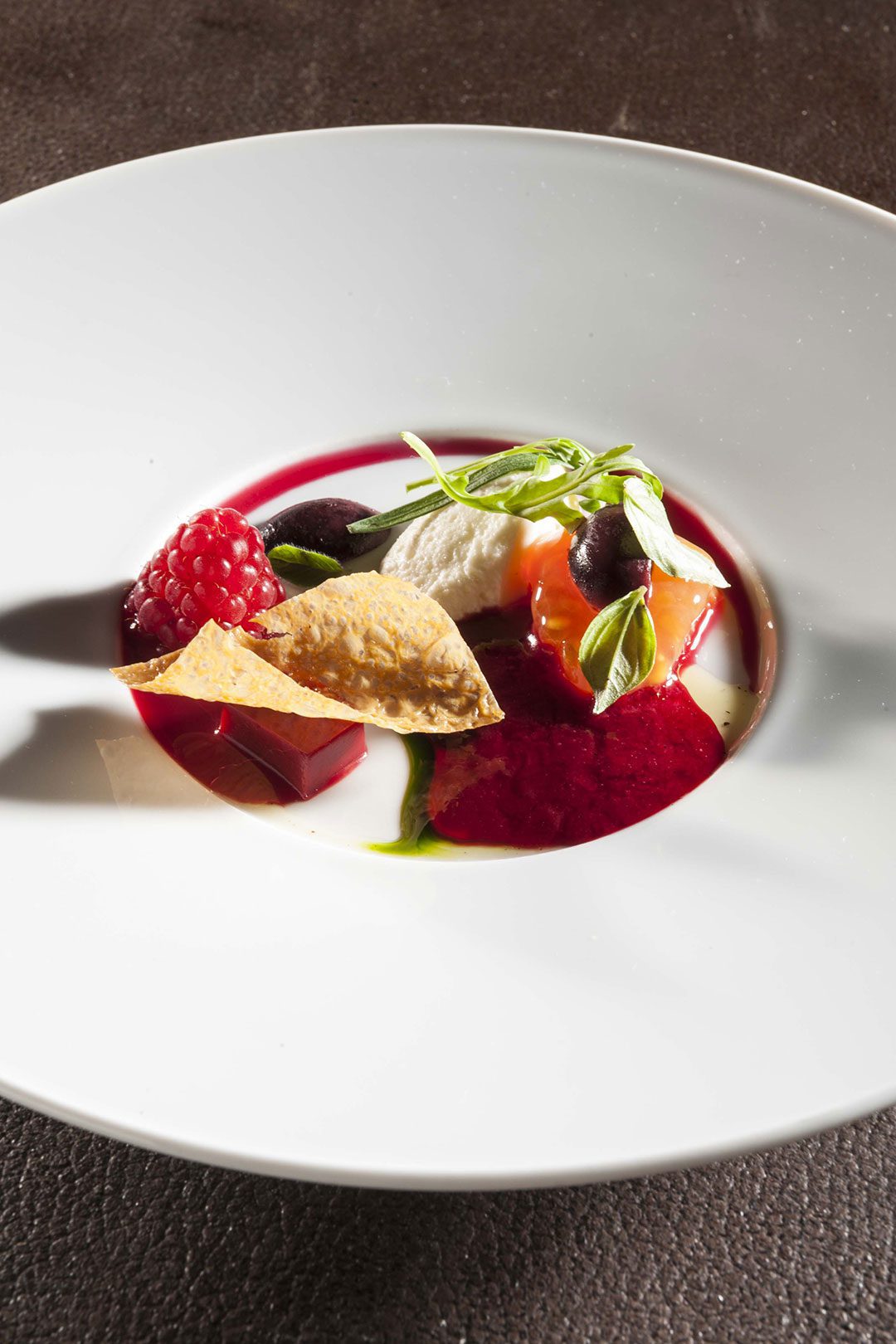 Chef Paul Pairet awaits you at the Ultraviolet Restaurant in Shanghai… but don't expect to book normally over the phone: nothing is known about this restaurant, neither the number nor the address. To make a reservation you have to send an email to info@uvbypp.cc and introduce yourself to Mr&Miss Bund: there they blindfold you and 'escort' you in a limousine to the club! Yes, it's brilliantly insane 😀
.
Cristina Bowerman and Guido Berlucchi: a daring but excellent pairing!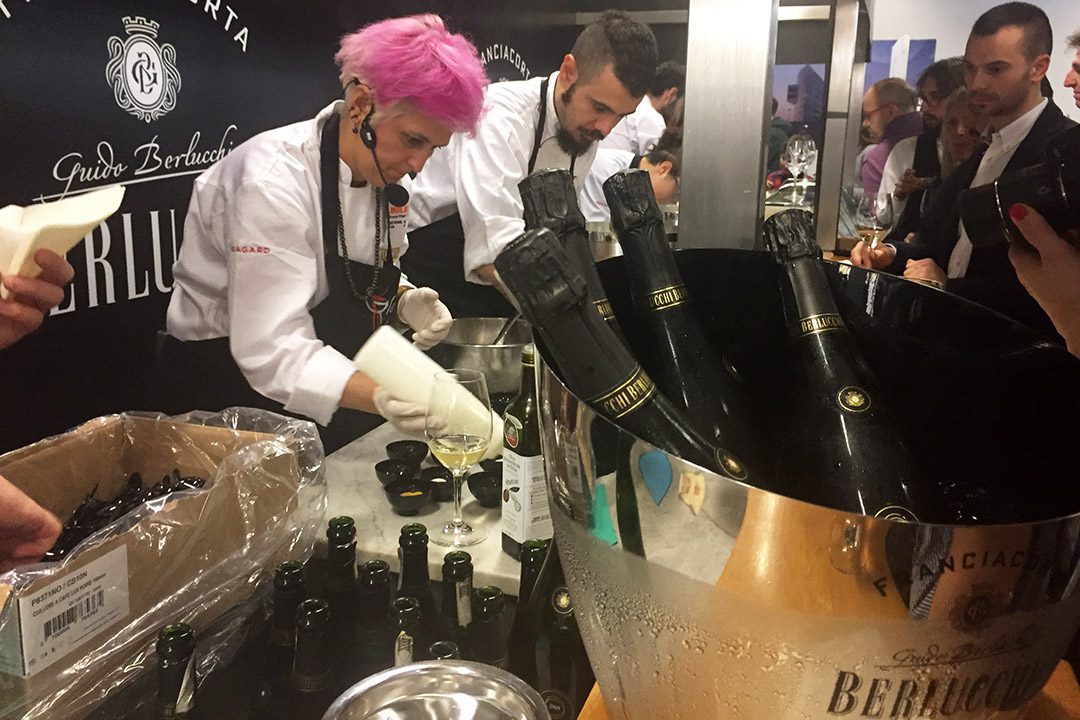 Cristina Bowerman is a woman, mother, nerd, entrepreneur and star chef. And for this reason I already like her: there are not many women in the Michelin star firmament! If we then add a 'gourmet' kitchen in Trastevere where only English is spoken... well, goodbye clichés! It may be that I know the Berlucchi 'women' (and well, the men too), but I am certain that this association is not by chance: Cristina Bowerman is very much in line with the philosophy of the Guido Berlucchiand especially with the Franciacorta presented: the '61 Brut Nature 2009! The fingerfood pairing was daring but delicious, raviolini with parmesan fondue and black pepper... I could have sworn I smelt a hint of cocoa bean in it. Like the '61 Brut Nature 2009 it is a soft, elegant and enveloping flavour... and I also liked the pairing very much because the bubbly stemmed the Parmesan to perfection. That I really like this Franciacorta DOCG by Guido Berlucchi you know by now, I have spoken about it on several occasions and HERE find the complete tasting!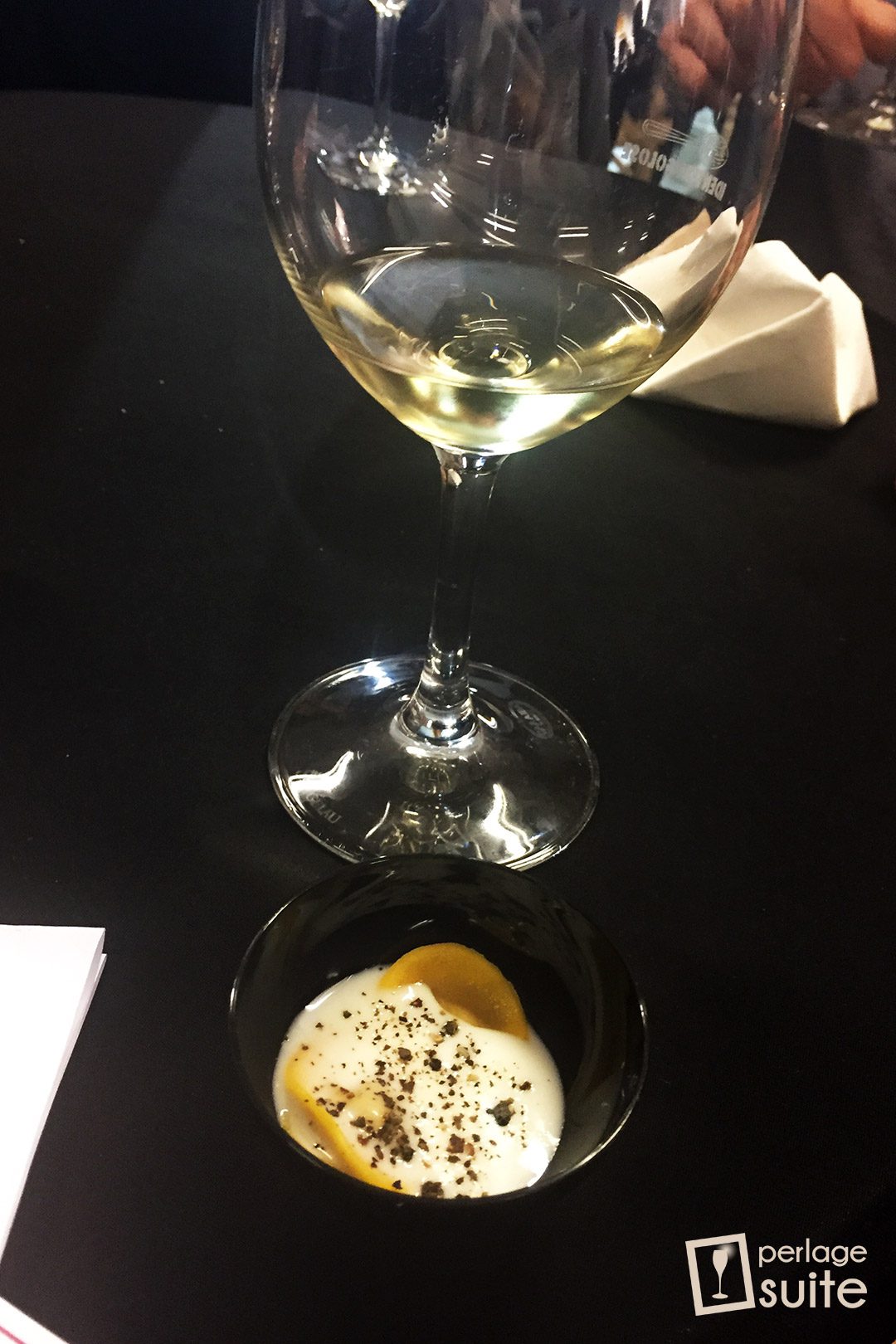 Cristina Bowerman She is a woman, or rather a starred cook to be kept 'under control' because I am sure she will give us great satisfaction. I hope to visit her soon in her restaurant in Rome, maybe I'll take the opportunity to kill two birds with one stone and go there with my best friend who lives right there... hoping to eat the pigeon of Cristina Bowerman because the combination with peanut butter on his menu really inspires me! 😉
.
Davide Oldani: Kick-off for the new D'O in Cornaredo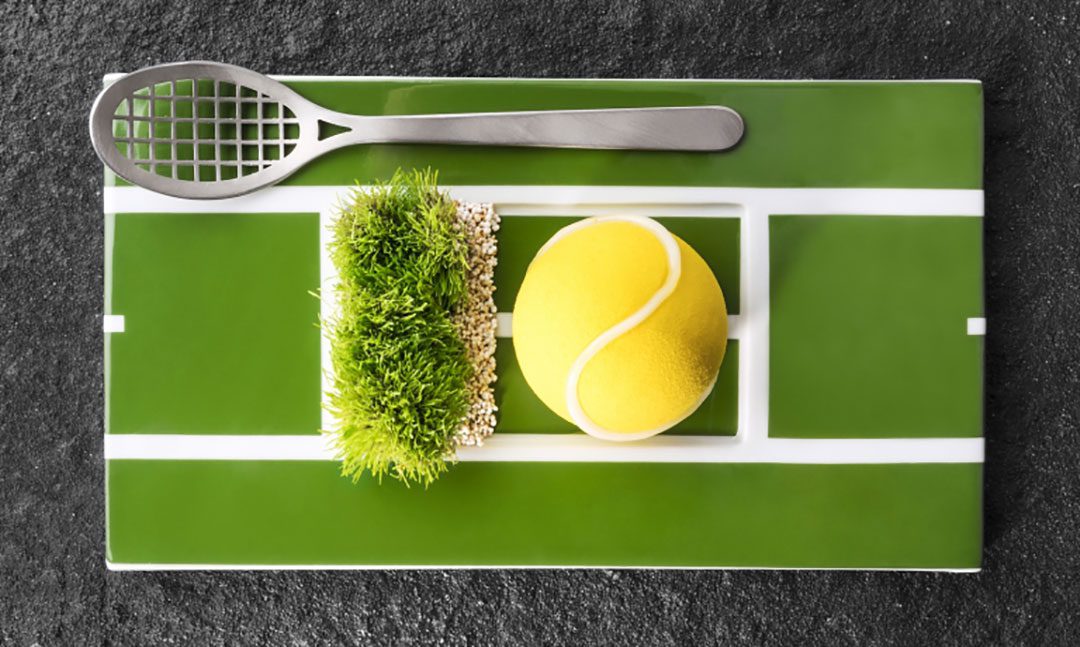 That I really like chef Davide Oldani I have said many times. At Identità Golose 2017, however, he managed to amaze me under all expectations! In Sala Gialla 3, in collaboration with the Maison de Champagne Ruinarta press event was held: Milano da bere. As a reminder of the fabulous 80s, in which I was also born, here is a dish that particularly struck me: Battuta d'Inizio. I played tennis for 20 years. I loved the sport above all else... and I never thought I'd eat a tennis ball 😀 This dish I found absolutely brilliant, from the flavour to the presentation. A sweet-not-sweet mousse of gorgonzola stemmed with goat's ricotta, fresh cream and maybe even a bit of mascarpone (I found a roundness to the palate typical of this cheese) with a heart of apple and pear chutney, enclosed in a cocoa butter ball coloured yellow with a hint of saffron. Beside the ball teff shoots reminiscent of that 8 mm grass on which the best international tennis players, dressed strictly in white like that puffed amaranth, shoot the world's most famous opening serve: Winbledon. And how not to get excited? Paired with the Maison de Champagne Ruinart's Blanc de Blanc: a burst of acidity that dribbles to perfection with the delicate softness of the mousse, to which it lends notes of roasted coffee, brioche and candied citron. I loved this pairing and found it even more apt than the next.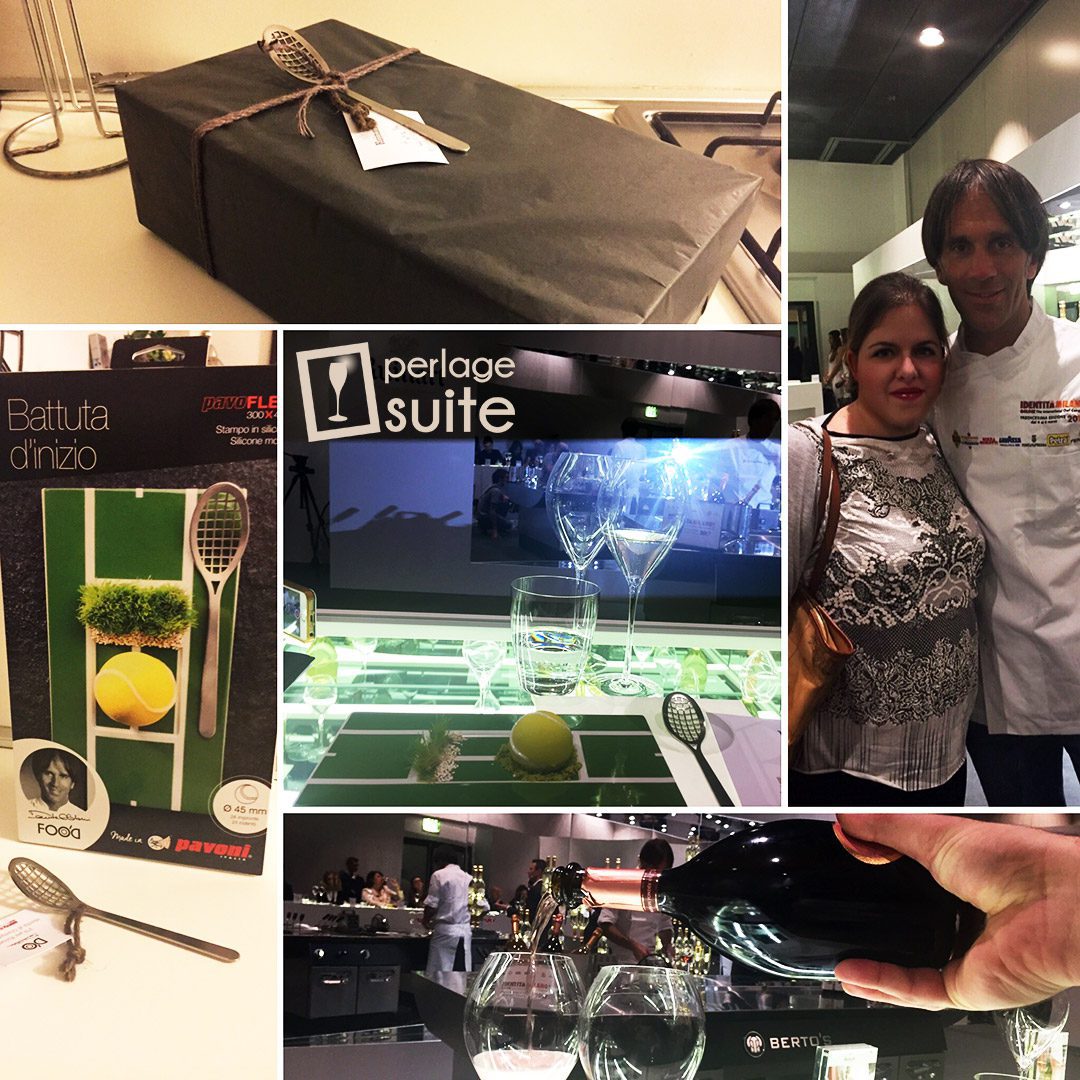 Imagine my delight at receiving as a gift an elegant package containing the mould to make 24 tennis balls and the spoon/racket at home! I gave the beautiful mould of Peacocks to dad: if anyone can manage to make these exquisite balls at home, it's him, since he is a pastry chef who has failed (and his patience and meticulousness help a lot...)! ?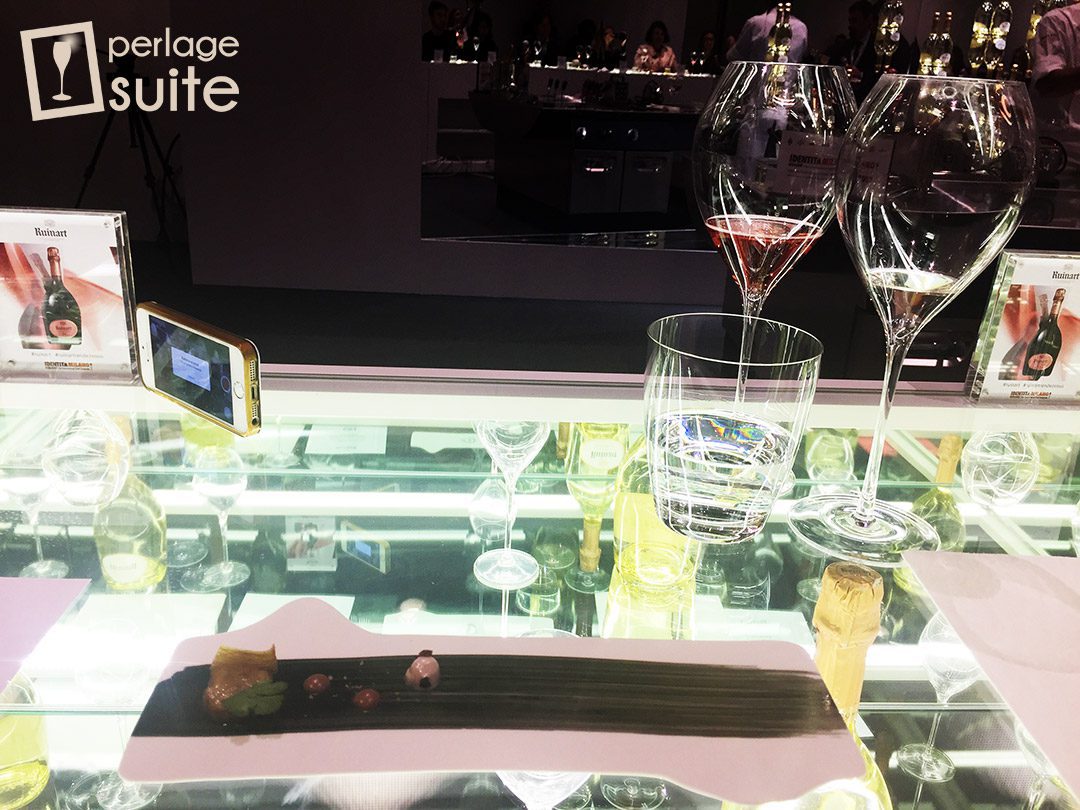 Here is 'Slip the banana peel', another ingenious dish in its solid simplicity, to be eaten by licking thanks to the special plate designed by Davide Oldani himself. And as the undisputed co-star, Champagne Ruinart Rosé, where the intense expression of the aromaticity of pinot noir and the elegance of chardonnay from 2 different vintages come together to create a truly interesting blend. The colour is beautiful: an intense onion skin matured thanks to the complicity of Pinot Noir vinified in red, added for a 18% during blending. A choice that is certainly also good for the structure! The nose is a riot of aromas of good intensity: black cherry, ginger, bergamot and turmeric glide over a pleasantly acidic palate. The pairing is successful with Davide Oldani's 'Scivola la peccia di banana', where the overripe banana is combined with an olive mousse... and as you lick it, you have an incredible sensation of soft and pungent aromaticity on every spot of the tongue.
.
Pellegrino Bros: an 'off-planet' blood sausage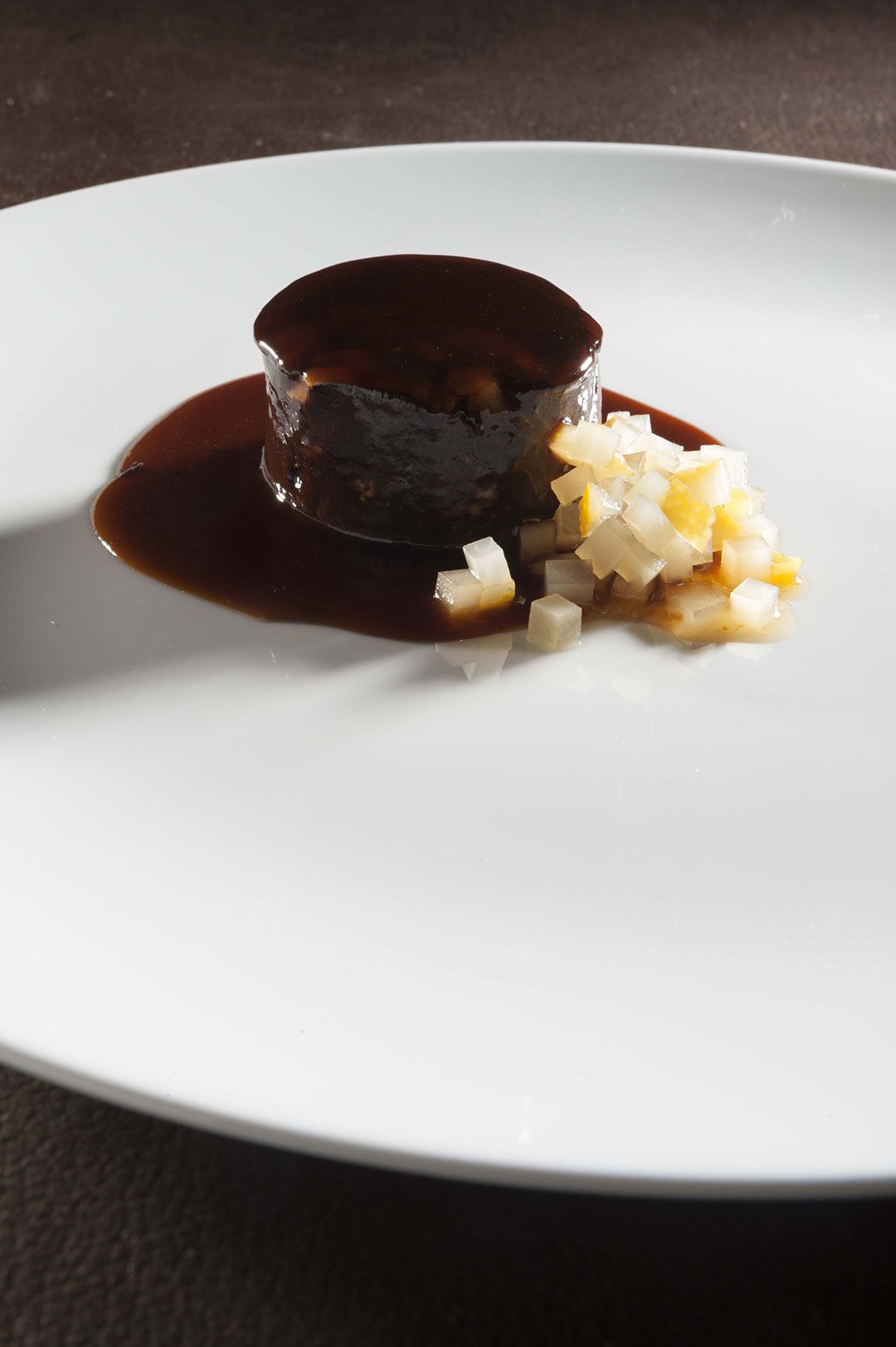 You know when you have an opening before doing something and you squeeze into the last chair in a hall to wait for the time? Here is my discovery of the Pellegrino Bros It went exactly like this. While I was waiting for Heinz Beck's speech and interview I had an hour or so free... Although there are also interesting stands, the heart of Identità Golose remains the chefs' congresses and so I looked at what was in the various rooms and chose these very young people from Salento! I was very pleased to see Isabella Potì, the beautiful Italian-Polish girlfriend of Floriano Pellegrino, who is Sous Chef and Pastry Chef in the restaurant, masterfully prepare this sanguinaccio... great dexterity and cold-bloodedness for a girl of just 22! Floriano and Giovanni have repeatedly said that there are no starred restaurants in Lecce, and bringing the first Michelin star to their hometown is the goal they are working towards. I was not among the lucky ones in the first row who tasted this dish they learned from a true master of black pudding... but I can only wish the best to these young guys full of talent and desire to run at supersonic speed!
"We only take qualified interns because we don't want to insult or slaughter people but give them important responsibilities. And we only take foreign interns, no Italians: if we can't travel now, at least we take the trip to the kitchen. You want to put a Peruvian teaching you how to make a ceviche perfect?"

Floriano Pellegrino, Owner & Chef Pellegrino Bros, class of 1990
..
Heinz Beck: 'What you have never seen, you find where you have never been'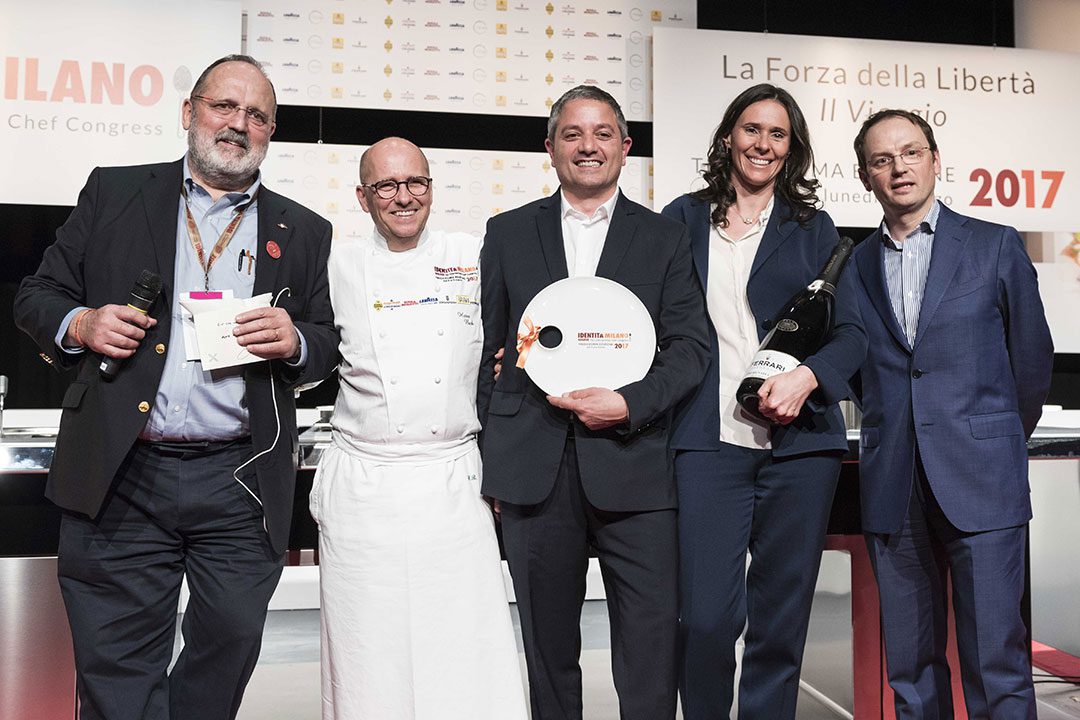 A wonderful phrase, which alone expresses the theme that is so dear to this multi-starred chef of German origin, who has been in Rome 53 years of which 23 have been spent there with his Palermo-born wife Teresa. Italy is his longest stop, he has never lived anywhere else for so long (the place where he has lived for the longest time, after Rome, was for just eight years) and it is in Italy that he hopes to remain, although he does not know his destiny beforehand. Since 2006, La Pergola Rome Cavalieri, his restaurant with a priceless view of the Roman skyline, has had three Michelin stars.
At Identità Golose Heinz Beck gave an extraordinary lecture on the importance of education in the primordial relationship between man and food. To do so, he chose to prepare, together with his collaborators Roberta Merolli and Giovanni Solofra, a bagged sandwich as if it were to make a journey to the other side of the world.
A stimulating environment, consisting of places, but above all of people capable of helping you grow, is a great starting point. Not getting stuck in an environment of comfort that prevents us from aspiring to rise as people and as goals is the first step to reaching the top. Dream, experiment, dare. Always.
"It is not the place that marks you the most, it is the environment that marks you. The environment around you must be productive and must be an environment of growth. You have to travel to increase knowledge, because it is culture that distinguishes us from the animal. The more we travel, the more we elevate ourselves inside and the more we can give to others. My goal is to surround myself with people with great ideas who can give a lot to others, always improving."

Interview with Heinz Beck
In 2017, the issue of malnutrition is increasingly central to living in a healthier and more equitable world. In third world countries people die from a lack of food, and in western countries people die from an abundance of toxic food. Culture is key to overcoming the inequalities between these worlds, through the choice of sustainable food that respects every human being on Earth, and living a better life.
"We have to consider several aspects of the world that are fundamental: first of all the lack of resources that is becoming a bigger problem, then malnutrition, not in terms of not eating, but of the bad nutrition of the Western world. We get older and older, but getting old is good if we are autonomous, if we don't need carers or doctors. If we have to age badly, it is better to live a few years less but in full health. Nutrition, that which is done sensibly respecting concepts of lightness, digestibility and healthfulness, is becoming more and more important for this economically strong world that feeds badly."

Interview with Heinz Beck
Knowing that Heinz Beck is also a fellow sommelier at AIS Roma, I couldn't help but ask him how his experience at AIS has influenced the development of his wine list. The focus was on finding the intruder among the big names in order to dare increasingly avant-garde and rewarding pairings.
"Everyone does his own cooking, to which it is essential to match a balanced wine cellar. Of course it must contain big names, but it must focus above all on unusual wines that go perfectly with one's food. Do you want to put the pleasure of discovering a food-wine pairing with a wine that is outside the box and outside the usual names?"

Interview with Heinz Beck
I have made travelling the theme of my life: I love travelling, especially alone, because nothing teaches you to be mentally independent like living far away from your friends and family. I love everything to do with travelling: from bags with maps by the very Italian Alviero Martini, to cameras with which to immortalise moments and places. Even as a child, I loved leafing through the Atlas to discover new places, always imagining new journeys. The thing I am most interested in doing with the money I will earn in my life is travelling, 'hunting' for art, history, extraordinary wines and colourful orchids around the world.
'The first piece of advice I can give a young cook is to get a good grounding in Italian cuisine and then leave, because nothing trains you more than an experience abroad. Abroad you are confronted with a completely different reality where you have to stand on your own two feet and be a man, without family or friends. The where depends on the person, whether he feels more a European country or overseas. What is important in this choice is the will to find oneself, following one's own tastes and aptitudes. For example, it is pointless to go to Japan if you hate sushi or rice. But the country is not important, every country has positive and negative aspects. The things that really count are the journey, the autonomy, the independence and above all the willingness to learn."

Interview with Heinz Beck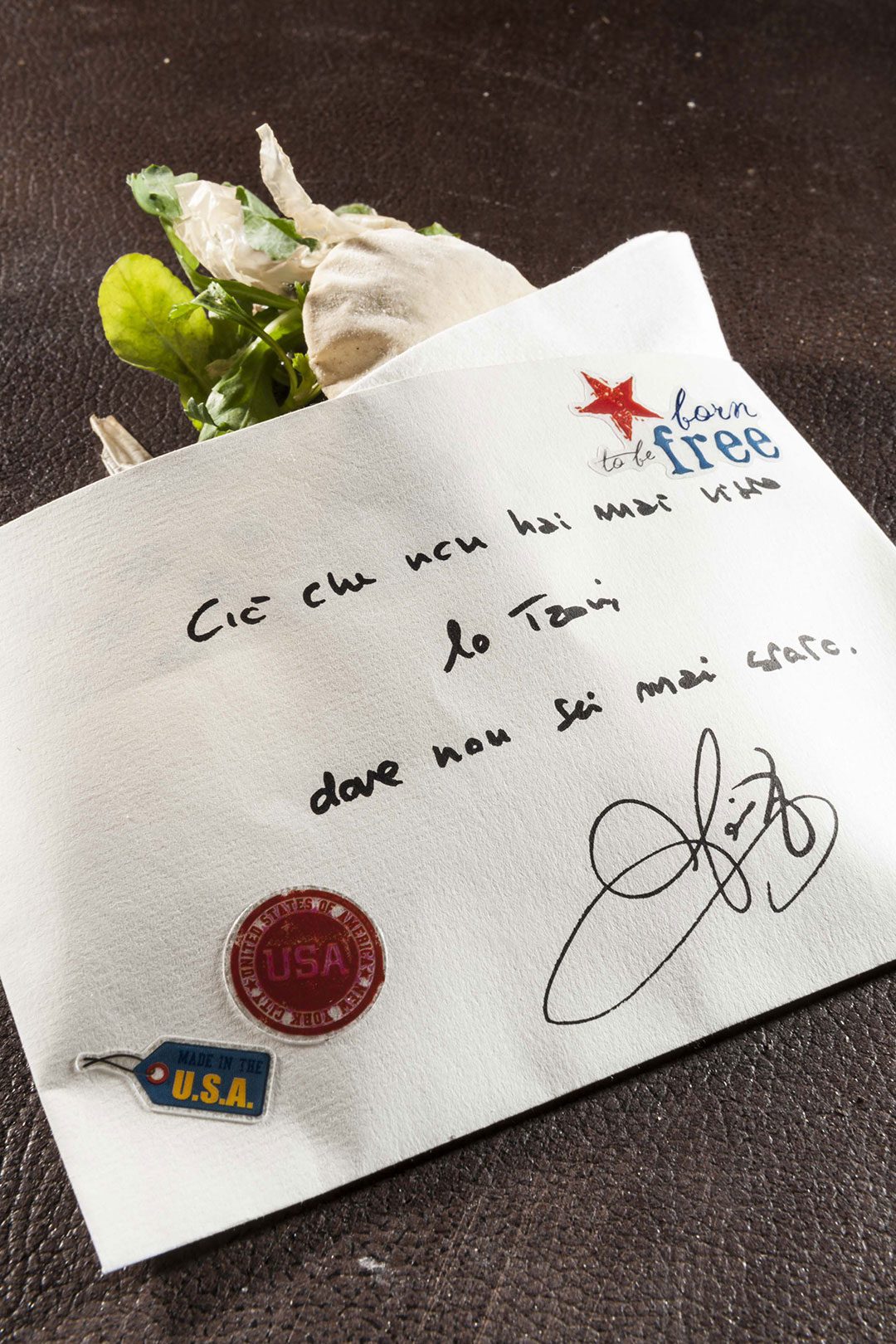 Finally...
I wanted to end the day with Scabin, but shortly after finishing Heinz Beck's interview my fever came back and so we went home. The event I was really sorry to miss was the one at Cantine Ferrari, partner of Identità Golose, which had chefs Massimo Bottura and Umberto Bombana as guests, welcomed by Matteo Lunellipresident of the Ferrari Wineries. I had already organised everything, but on Monday I had a fever of over 40 and I just couldn't go out... phew! But I hope to make up for it soon, at least with a visit to the Cantine Ferrari...
Until next year!
Chiara
P.S. Have you been to Identità Golose? Which conferences did you attend? What was the dish or the chef you liked the most? Tell me in a comment! 😉
P.P.S. Thanks to Brambilla and Serrani for the wonderful photographs (where I did not take them, I used theirs!).