For a wine blogger organize a wine themed wedding is a dream. It is said that brides get excited when they wear the right dress ... well I got excited when I chose the right wines, indeed when they chose me! I started with the preparations with 3 solid certainties: the groom would be Francesco, the ceremony would be civil and the location would be Castello Oldofredi in Monte Isola. The rest would have come by itself ... and indeed it did, so much so that in less than 1 month I prepared everything!
Ah, okay, I had another solid certainty: that my wedding dress would be short! The idea of ​​going to the bathroom in 3 with 2 having to keep my dress on gave me goosebumps. Worse there was only the dirt of the train with a ceremony in the garden, especially if it had rained until recently!😅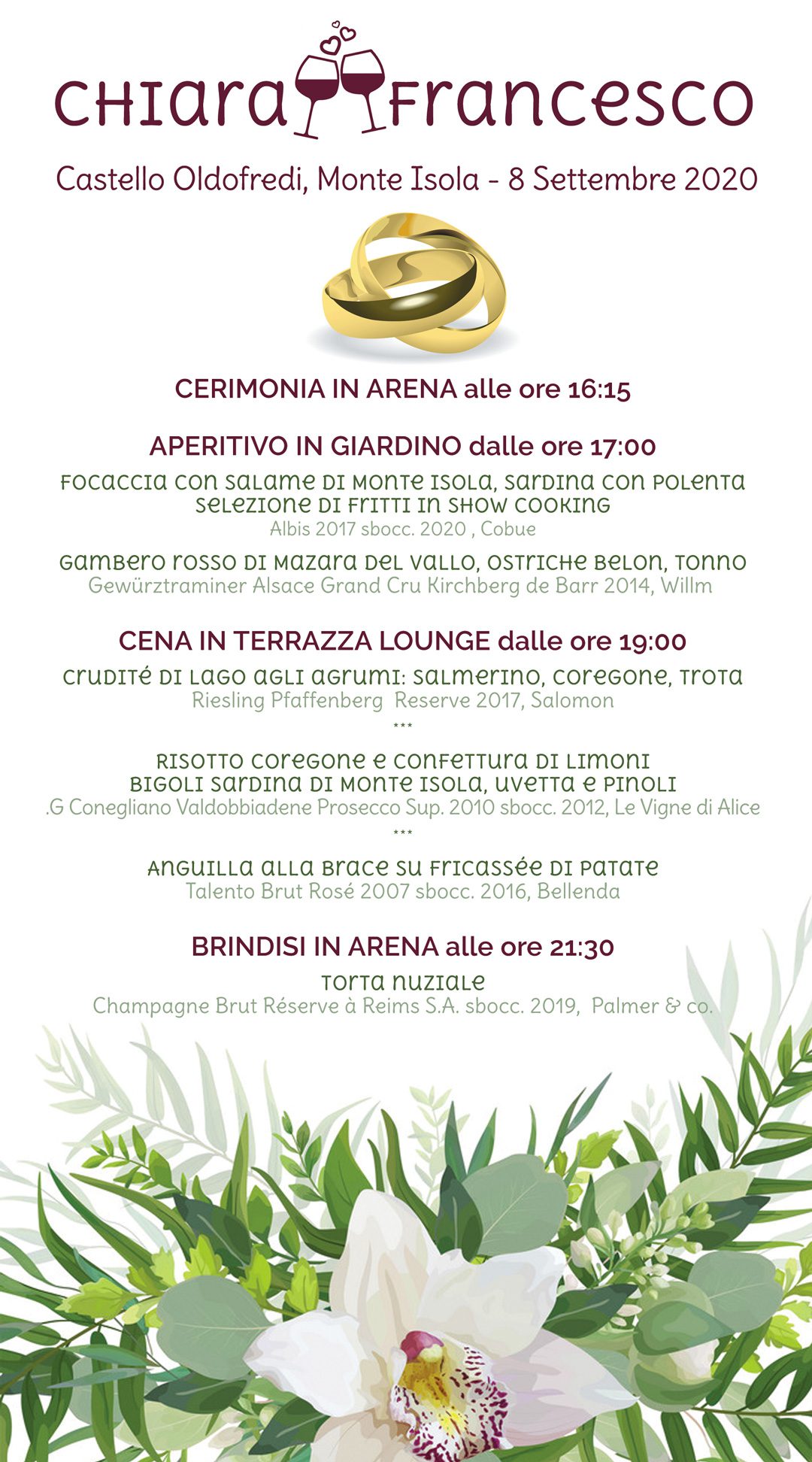 Simona Agnesi was my talented event planner who coordinated me with all the staff of Castello Oldofredi and managed to satisfy my every need. The first was the possibility of bringing the wines and not using those from their cellar. The second was to create a tailor-made menu for these wines that had the fish of our beloved Lake Iseo as its focus. There are many prejudices about lake fish, from the earthy taste to the stringy texture. Living here I got used to eating it very often and it has nothing to envy to sea fish ... well apart from shrimps and oysters! 😅
Wine-themed wedding: our menu
On the side you can see the menu that I have made to find on the blue glass placemat for each guest. The only thing that is "out of tune" was the first portion of the aperitif, with the focaccia with salami and fried vegetables in show cooking, but having two guests who did not eat the fish I did it especially for them, then they went on to dinner with the vegetarian menu.
Although it is not a menu of one hundred and eleven thousand courses - which I can't stand - I must say that I arrived at the eel that didn't even fit a pin. To the delight of our Pomeranian Paco who ate at least half of it. I just tasted the beautiful wedding cake and I couldn't get close to the single-portion dessert buffet, but my cousin Marco who ate several told me they were delicious!
On the other hand, I found the place for wine from start to finish! 😂😂😂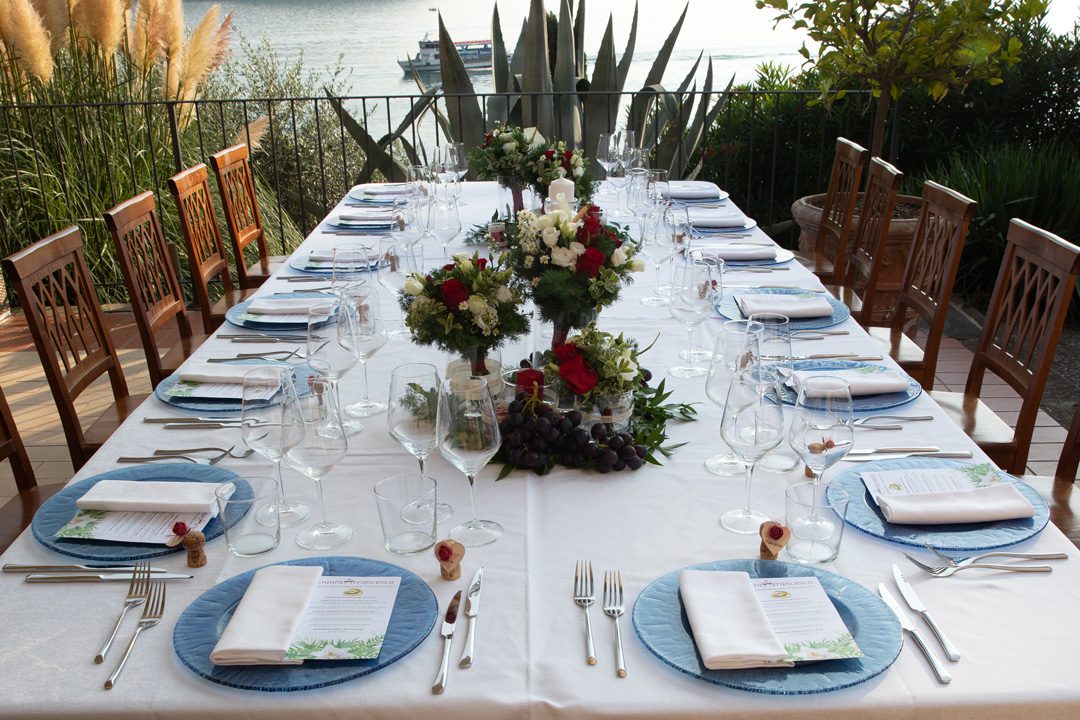 Wine-themed wedding: aperitif in the garden
First half: Focaccia with Monte Isola salami, sardine with polenta and a selection of fried foods in show cooking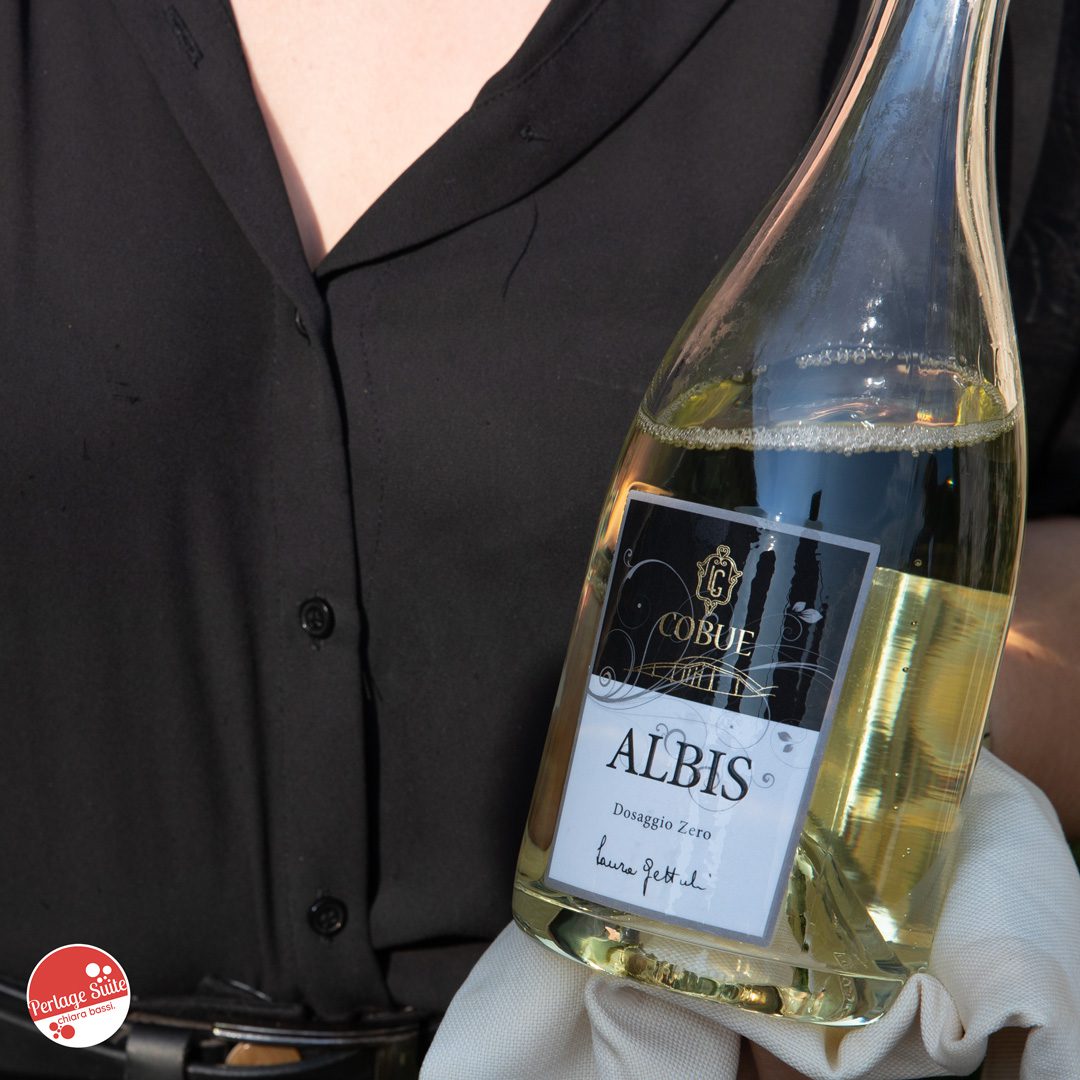 Albis 2017 disgorgement 2020 by Cobue
The first wine I said yes to it was a very fresh and very drinkable sparkling wine, perfect for degreasing fried foods in show cooking and enhancing Monte Isola's dried sardine with polenta and Monte Isola salami. It is about Albis Dosaggio Zero from the Cobue winery a classic vintage method obtained from groppello grapes, a native red grape variety of Lake Garda. After spending at least 24 months on the lees, it is aged in the bottle for another 6 months and put on the market.
It has a beautiful bright straw yellow with a fine and very numerous perlage that forms an evanescent foam. The nose is complex with notes of white flowers that are enriched with pink pepper and wild strawberries and then fade into a pleasant hint of hazelnut. In the mouth it is crunchy, very fresh, vertical and pleasantly savory.
Albis di Cobue has a good structure and splendid drinkability that make it perfect to accompany a dinner of shellfish or white meats from appetizer to second course.
Second half: Red prawn from Mazara del Vallo, Belon oysters and tataki tuna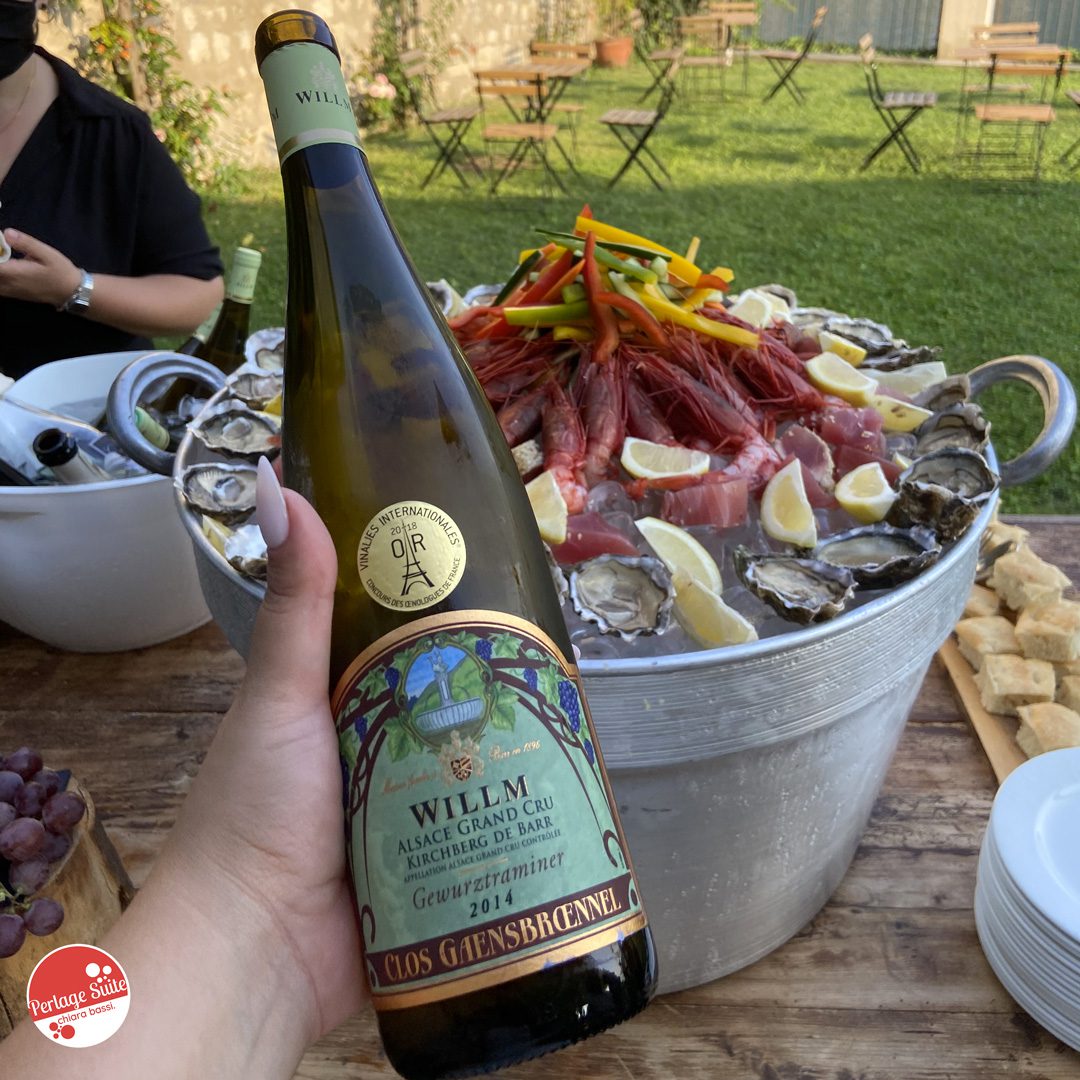 Gewürztraminer Alsace Grand Cru Kirchber de Bar Clos

Gaensbroennel

2014 from Willm
Unexpectedly this was the most successful wine and of which not a drop is left ... not that much of the others are left!

🤣 After all, it is impossible not to fall in love with this wine, capable of conquering the most profane palate as well as the most experienced one! Willm is a winery that was founded in 1896 near Strasbourg and some of the few walled vineyards in Alsace including clos Gaensbroennel which literally means duck fountain and owes its name to the fountain immediately outside the wall surrounding the plants. This wine is made from old vines in the Kirchberg de Barr Grand Cru and is produced only in exceptional vintages.
It has a beautiful intense and brilliant, consistent golden yellow color. The nose is intense, broad, elegant and wonderful with notes of date, candied citron, passion fruit, dried fig, both fresh and dried rose, vanilla, macadamia nuts and white pepper. In the mouth it is consistent, elegant, fresh, soft and structured with a well-balanced sugar residue. Great persistence between spice and passion fruit. Perfect wine also for meditation, it excels with crustaceans by concordance or oysters by contrast.
Wine-themed wedding: dinner on the lounge terrace
Crudité of lake with citrus: char, whitefish, trout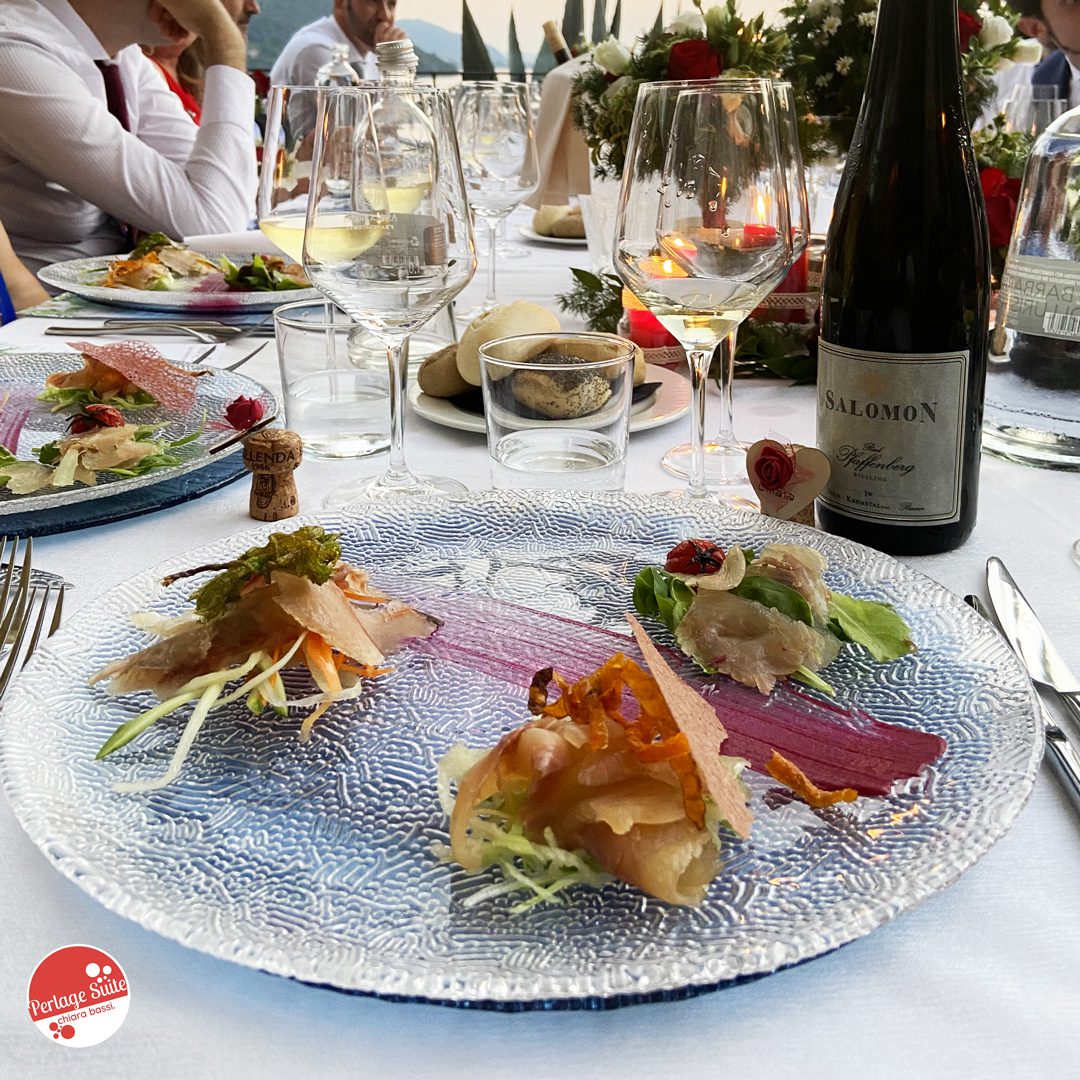 Salomon's Riesling Pfaffenberg Reserve 2017
Each of us has a weakness ... and riesling is mine.
I always like it, but this one by Salomon particularly struck me when I tasted it at the
National event of Pellegrini SpA at Villa Caroli Zanchi
- Stezzano (BG) in October 2019. Here, this together with Willm's previous one is one of those wines that I marked my heart's agenda. I have tasted many rieslings all of excellent quality, but this ... this ...
😍 The Salomons have been producing wine since 1792 in the ancient cities of Stein and Krems in an area with a particular soil that rests on metamorphic rocks of gneiss and granite.
It has a beautiful bright straw yellow. The nose is very elegant with notes of pink grapefruit, apricot and hydrocarbon. In the mouth it is consistent, fresh, very savory and with a good structure. Endowed with great persistence, it is perfect drunk today but I am sure it would be exciting in ten years or so. It goes beautifully with raw lake fish marinated with citrus fruits that enhance its citrus scents on the one hand and balance its unscrupulous flavor with their sweet tendency.
Whitefish risotto with lemon and bigoli jam with Monte Isola sardine, raisins and pine nuts
.G Conegliano Valdobbiadene Prosecco Superiore 2010 disgorgement 2012 of Le vigne di Alice
Gentlemen, I love Cinzia. You know a perfect woman? Stylish, intelligent, with healthy values, great taste and an extraordinary entrepreneurial talent? Here she is. 😍 Cinzia has only one flaw: if you discover her wines then you have to drink only either hers or those of her husband and send all the rest of the prosecco in circulation for a ride. Or they almost tell me, it's a pity that I have hardly tasted the other one yet. It was the year 2016 and I believed that the Prosecco area - whether it was top, bottom or side - only churned out bubbles to gargle before bed. Then by chance at Vinitaly 2016 I come across a beautiful stand, I fall in love with the integral PS method e for the first time I taste this .G 2010. I die, rise again and fuck off a ton of prejudices about glera serenely inculcatami by mass speculation. Here's why the .G 2010 disgorging 2012 was that yes I screamed in the throes of a mad oenological orgasm. In other words Cinzia found my .G before my husband.
I have tasted thousands of bubbles in my life, including a row of Champagne worth hundreds if not thousands of euros which I must say have particularly excited me. But this Prosecco Superiore remains my favorite bubble in the world, my absolute podium. I am happy that the other wine that my guests liked the most along with Alsace Willm was just that.
It has an intense and brilliant golden yellow with a very fine, numerous and persistent perlage. The nose is amazing to say the least. Elegant, full and full of wonderful evolved notes. Dried fruit, pastry, saffron, toffee, walnuts, amaretto, sweet licorice and mint honey are recognized. In the mouth it is creamy, consistent, balanced and very long.
I'm sorry it's finished and I thank Cinzia infinitely for giving me the last 6 bottles as a wedding gift. If in doubt, I took the last bottle with me on my honeymoon in Matera and drank it with my husband in the jacuzzi of our suite combined with an exquisite amberjack tartare. However, I recommend that you also try the following vintages of .G and prefer the old disguises: you'll see, never a name was more appropriate!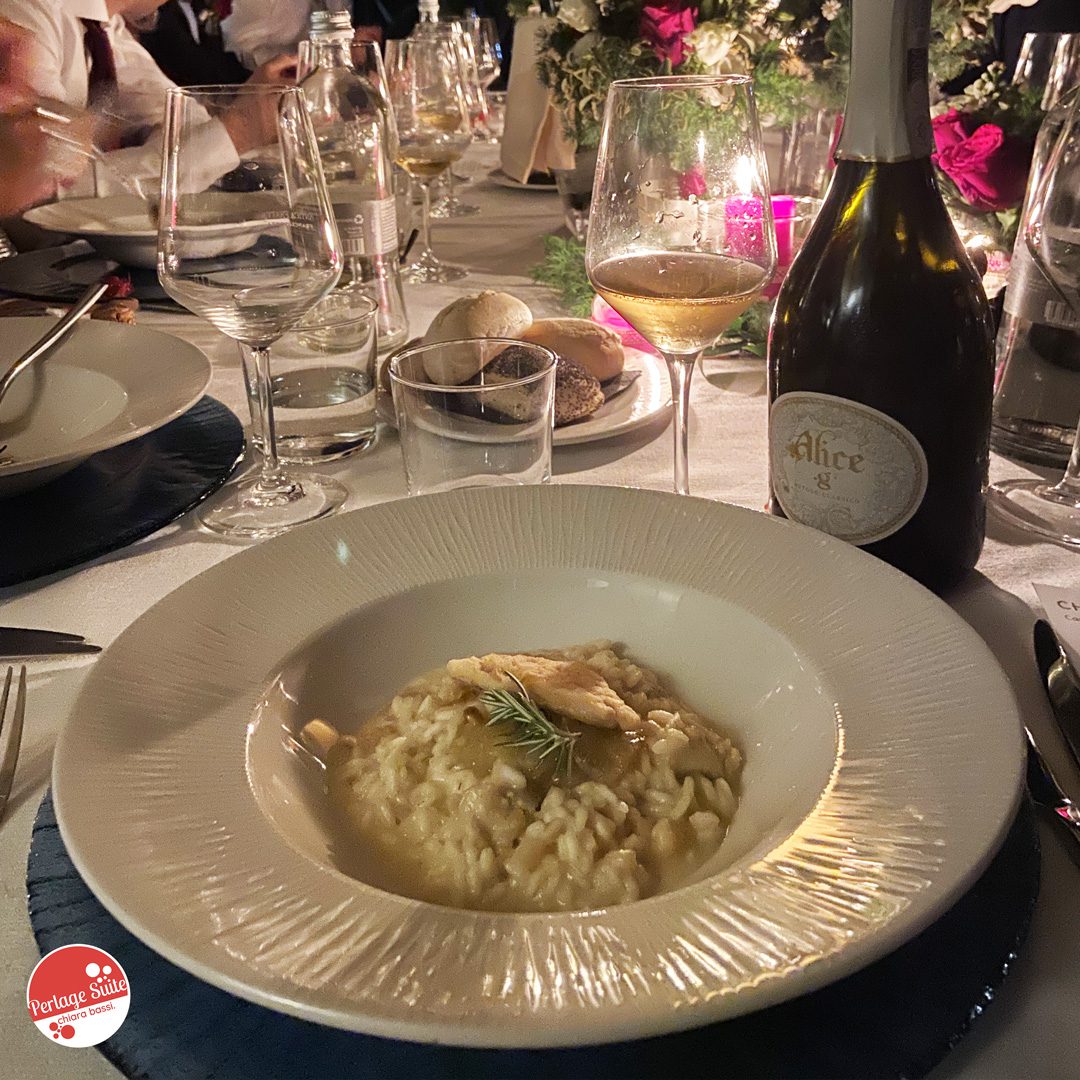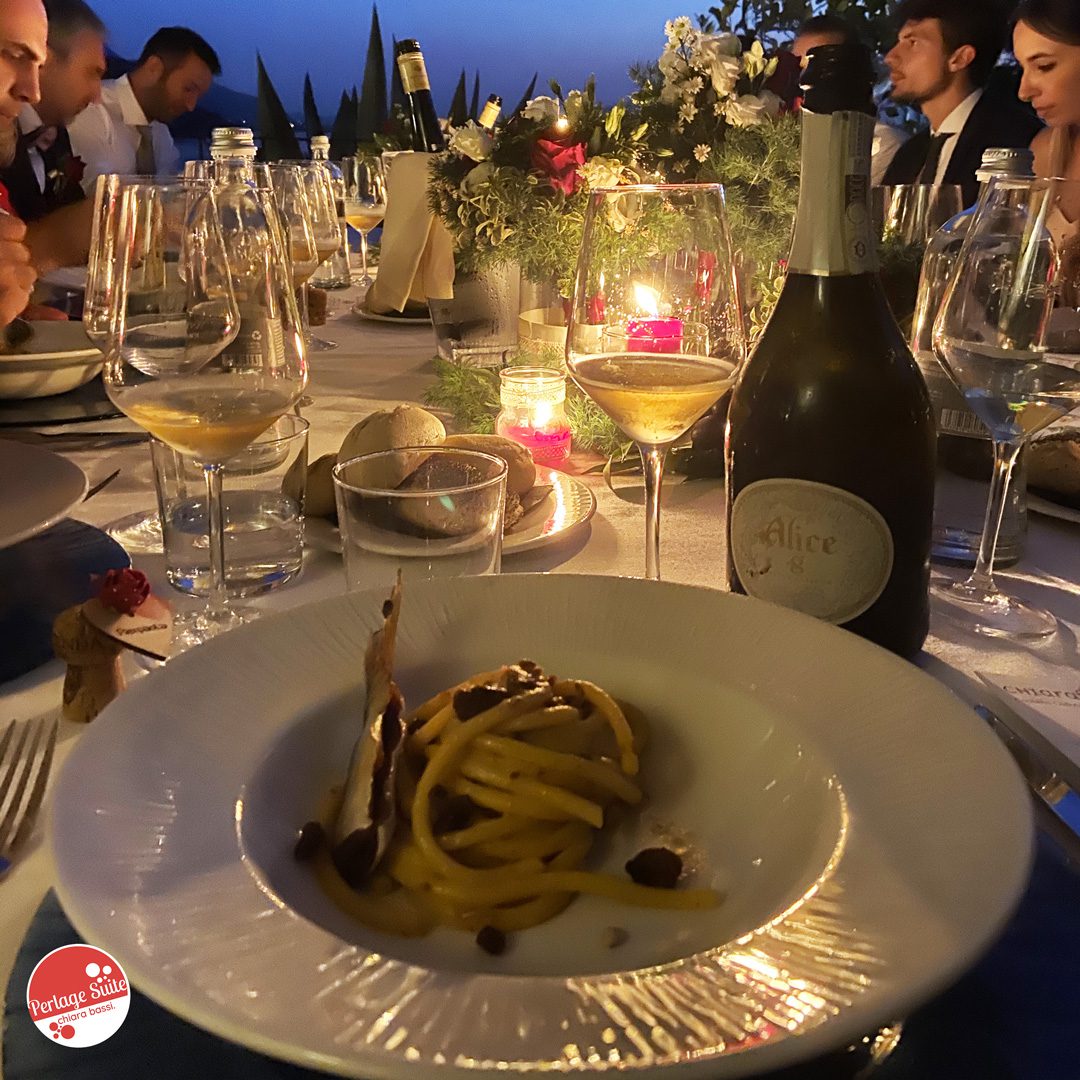 Eel marinated with herbs cooked on the grill on a potato fricassée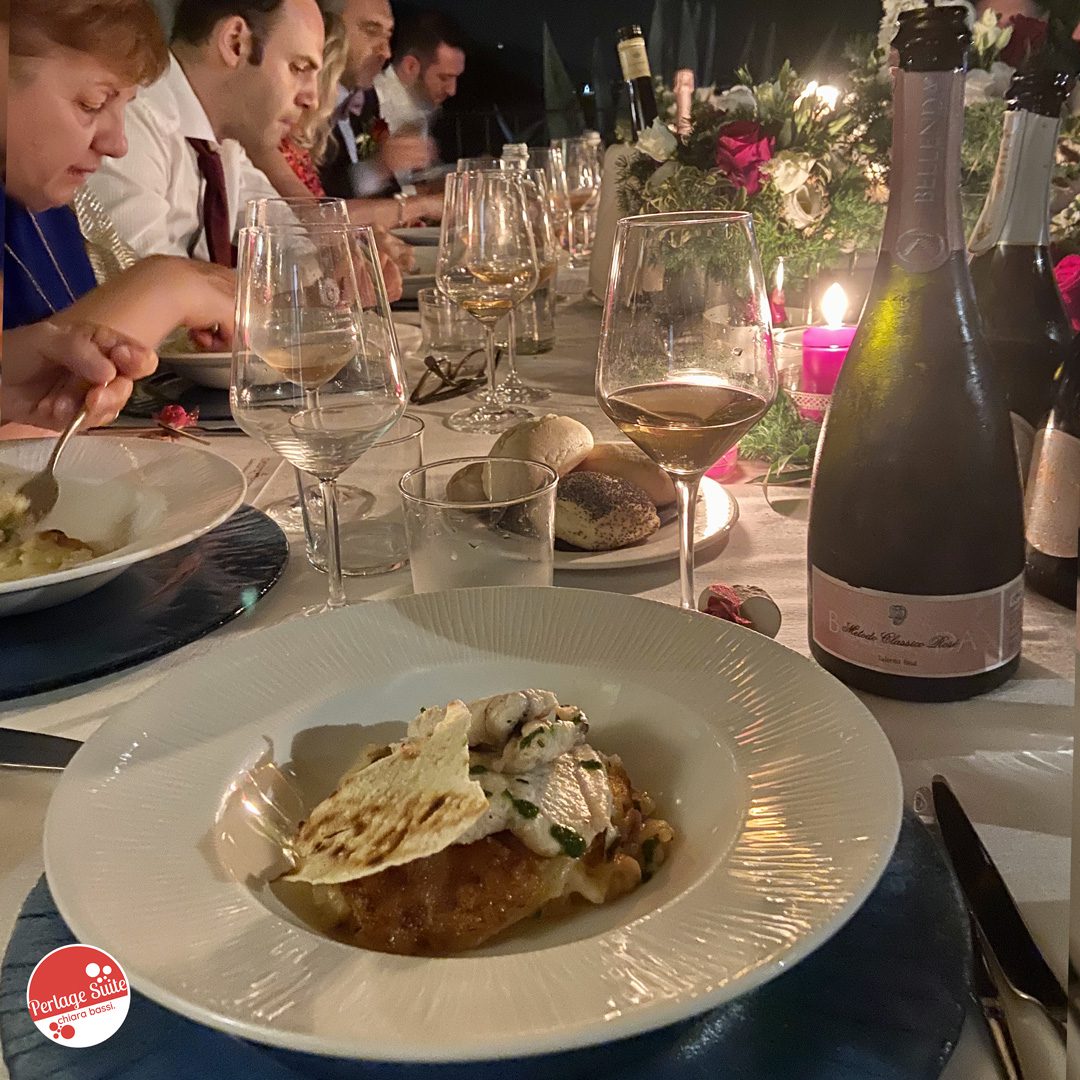 Talento Rosé 2007 disgorgement 2016 Bellenda
You know when I wrote you a little while ago that if you discover Cinzia then you only have to drink her Prosecco or that of her husband? Here, in fact, Bellenda is the cellar of her husband, the dear and brilliant Umberto Cosmo. I told you about his Rural Method and its Radical until exhaustion, but the wine to which I said yes for our wine weddings is a recent discovery that made me make, a rosé made from pinot noir grapes capable of making even the most snobbish sommelier fall in love.
Obtained from pure pinot noir grapes from the Moro vineyard, it spent 9 years on the lees and was disgorged 4 years ago. Pure perfection at an outrageous price.
For the tasting and pairings I invite you to watch the video, but I anticipate that with our grilled eel it was absolutely divine.
Wine-themed wedding: toast in the arena
Wedding cake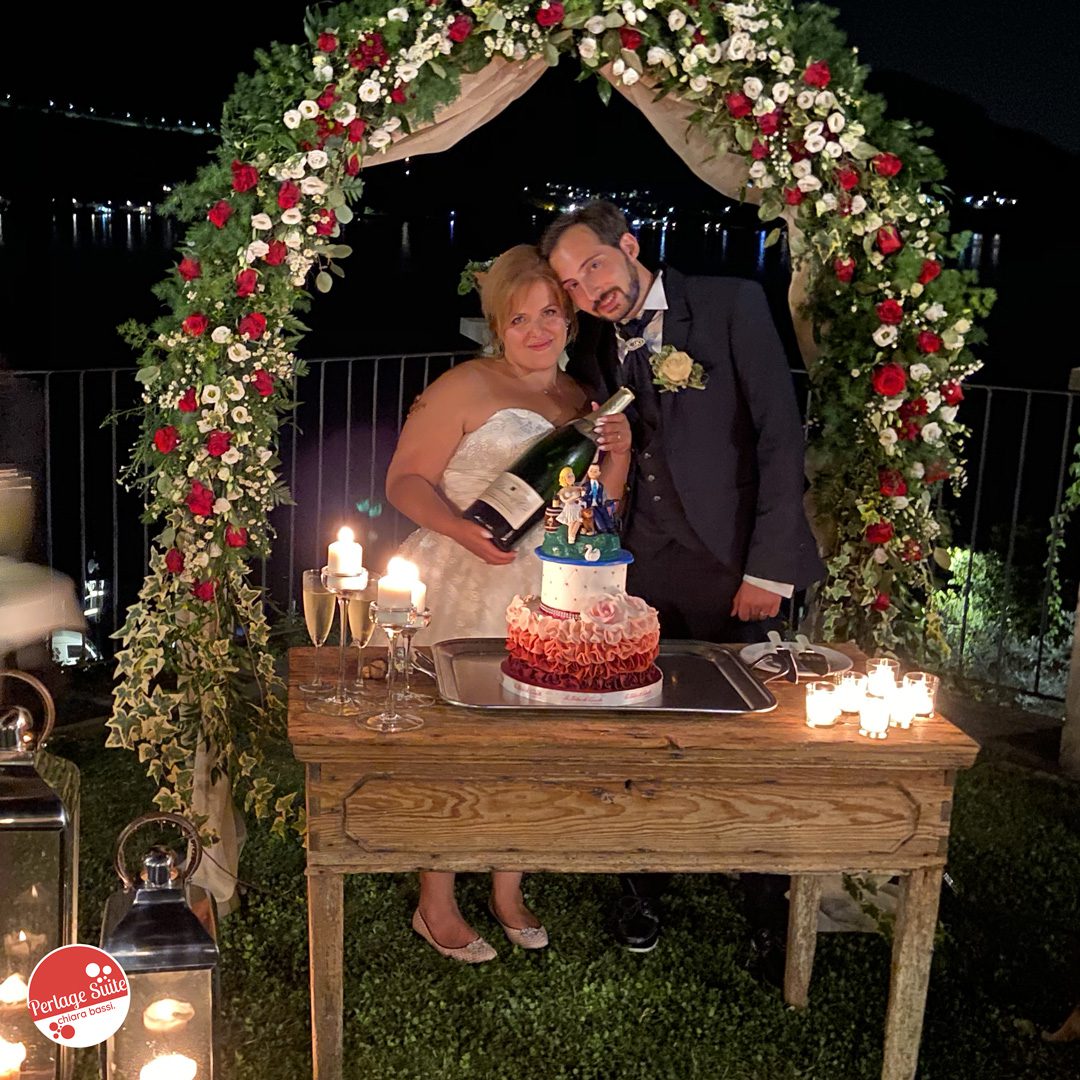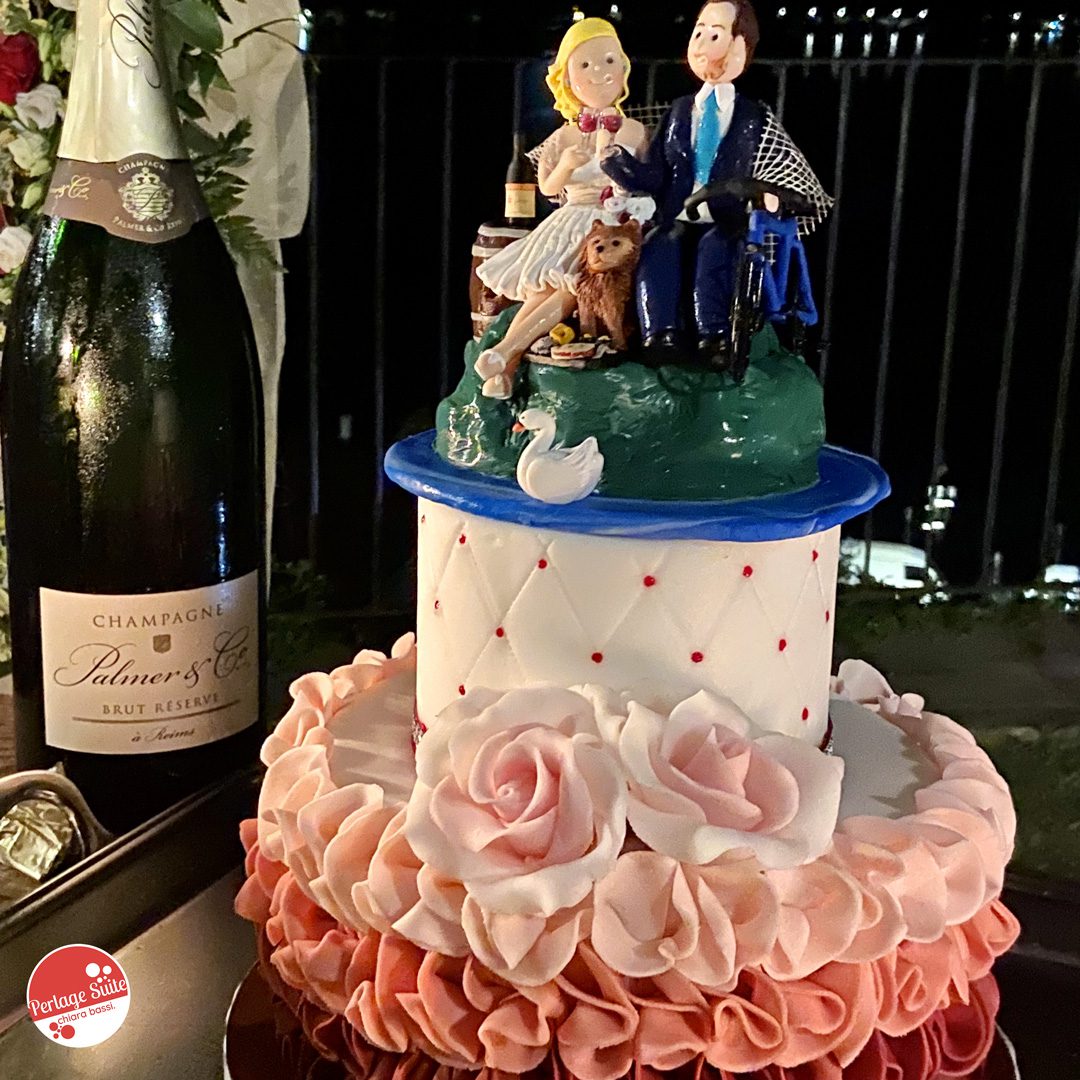 Champagne Brut Réserve à Reims SA disgorgement 2019 by Palmer & Co
This Jeroboam bottle of Champagne - which I also used as a dedication book by having my guests write a little thought with a chalk marker - had a reckless experience in the middle of the lake. In practice, that fool of the courier instead of delivering it to the boatmen literally abandoned it on a pallet near the barge. That afternoon there was a terrifying storm and the box fell in the middle of the lake and luckily it floated. About the huge bottle? Of the wooden box? Well-kept packaging? Of the star? Anyway, those treasures of the barge boys managed to catch her the next day, they ferried her to the island and warned me… and so I went to get her. It was soaked, but intact! And perhaps even better after being rocked by the lake!
I know, I know… it is certainly not the perfect wine for the wedding cake if we want to think about combinations. However, I was perfectly aware that we were very full and there would be nothing else, so having a last toast with my guests based on Champagne seemed a must! If you remember I had been to the fabulous Modena Champagne Experience 2019 (Find my favorite tastings here) and I had tasted some terrific stuff ... and among the various companies there was a winery that I did not know presented by a professional with the most stylish eyeglasses I had ever seen, Alessandro De Salvia, called Palmer & Co.
It has a beautiful intense and brilliant straw yellow with a fine, numerous and very persistent perlage. The nose is broad and elegant with notes of lime honey, hazelnuts and jasmine flowers that fade into a delicious hint of butter biscuits. In the mouth it is coherent, very elegant, fresh and persistent. It has such a pleasantness to drink that even a Jeroboam was just enough for our delightful glasses.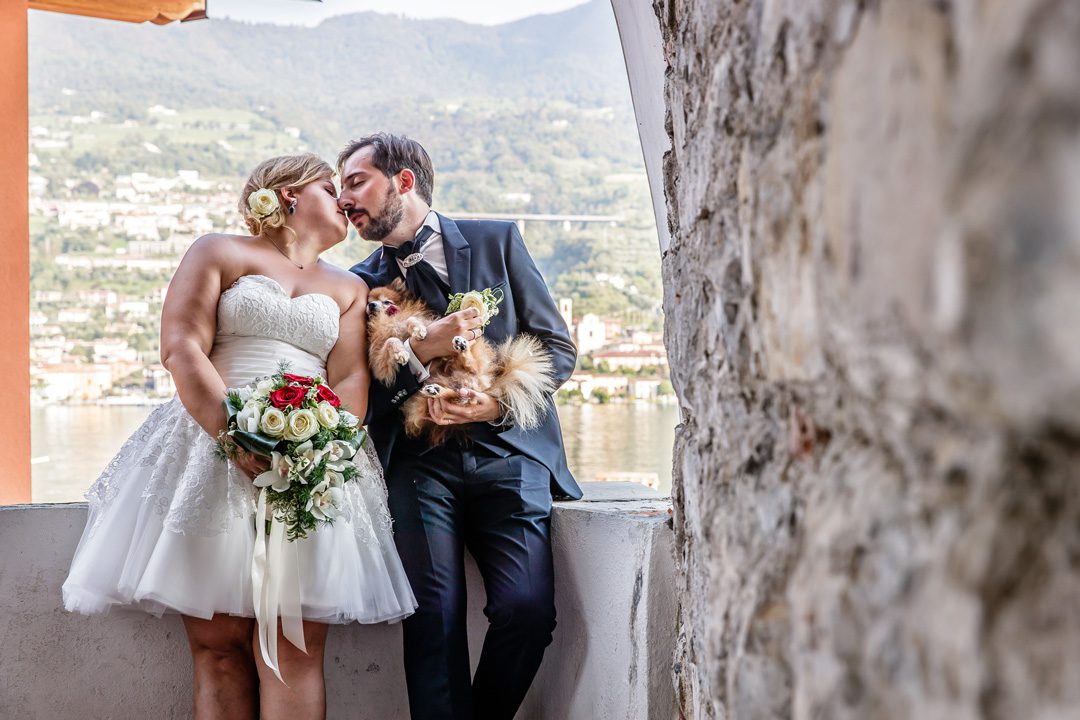 Heartfelt thanks to everyone for making our wedding special!????
Cheers ????
Chiara
How to become a sommelier
Everything you need to know about wine in one book. The manual is designed for all aspiring sommeliers, but it is also very useful for "already sommeliers" who want to revise, for winelovers who want to start giving concrete foundations to their passion and for sector operators who want to earn more by learning both managing the cellar of their restaurant and selling the right bottle to their customers.
II Edition: 1 December 2019 - format 16,5 x 24 cm, 430 black and white pages, ISBN 978-88-943070-8-5 [ON SALE]
I Edition: 31 October 2018, format 16,5 x 24 cm, 300 black and white pages - ISBN 978-88-943070-1-6 [SOLD OUT]
COMPLIMENTARY, only for those who buy my book on Perlage Suite, a copy of the First Collector's Edition of my Sparkling Wine Guide "500 Bubbles in 500", cover price € 25,30.