When I want to eat a good pizza I go to the Laguna restaurant in Iseo and for me it is one of the best pizzas on Lake Iseo. And I am an infinite pain in the ass with pizza, worse than with wine ... guaranteed! I live in Monte Isola where unfortunately pizza is - to be generous - inedible everywhere and when a few steps from home I find a pizzeria like this I am really happy! So when the owner of the Laguna Restaurant told me he took a trip to go to one pizzeria Rome (i.e. not to eat the spaghetti carbonara...) and made me the name of Seu Pizza Illuminati put a flea in my ear irresistible!
I booked about a month before, when my husband and I decided to spend a few days in Rome for our second wedding anniversary. I chose a table inside the restaurant because the area is ugly: we are in the midst of buildings that recall the outskirts of any city, in the anonymity of the "rear" of Porta Portese. The place inside is very nice and welcoming, even if the seats are really too close. Let's say they exploit every cm and with good reason: the place is full to burst!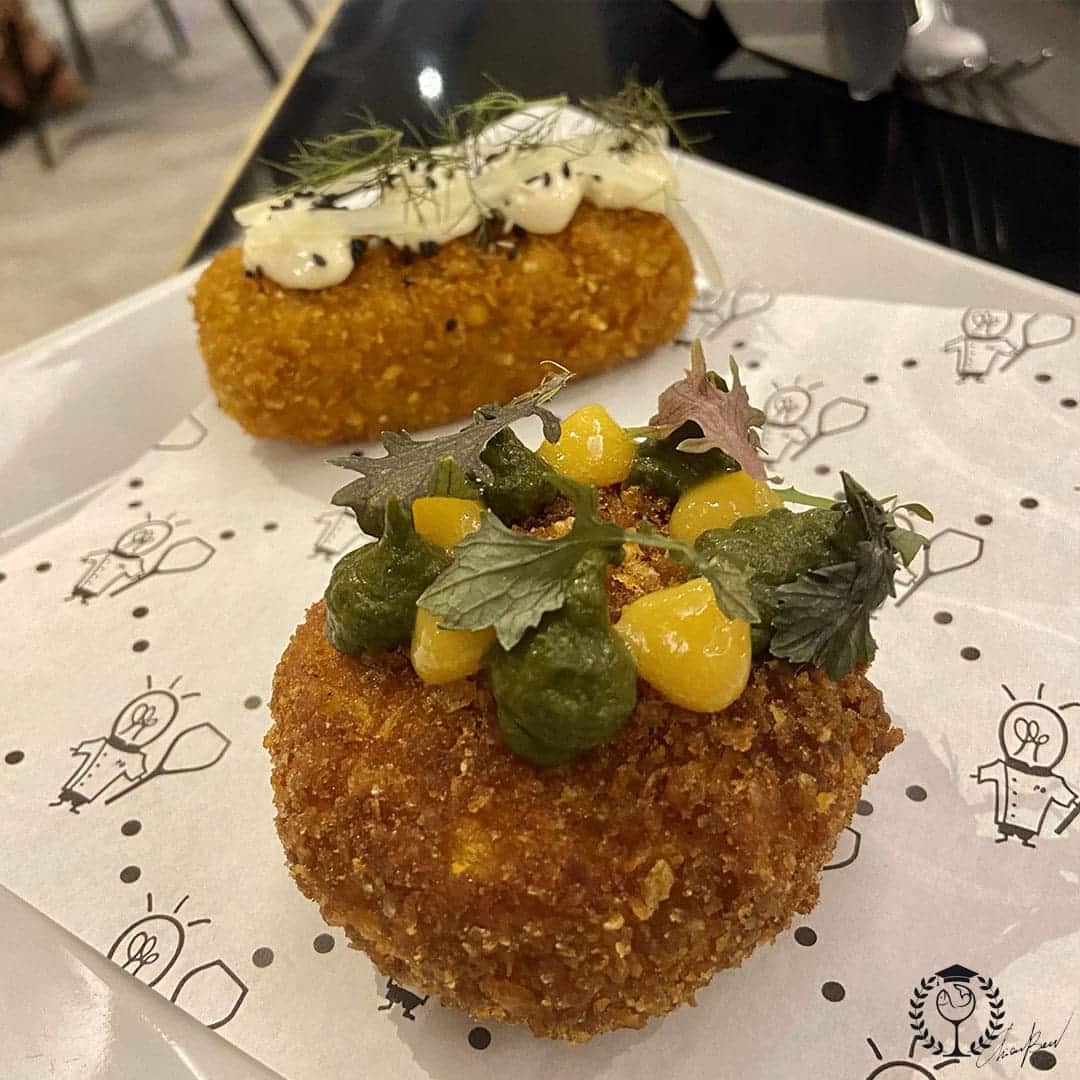 We sat down right away and found the dining room staff to be exquisite and very efficient. With joy I find craft beers: for me an indispensable complement to a successful evening in a pizzeria in Rome (or anywhere else). In particular I had an IPA beer (for a change) of the Castelli Brewery which I liked a lot, although I would have liked it even more hoppy. We choose two fried from the menu: the cod croquette (6 €) and the tataki tataki (7 €). Although I am a lover of cod (in the photo the spherical croquette) and appreciating the idea of ​​making a creamed cod croquette with potatoes, cream of sauteed spinach and citrus gel, I must say that the tuna croquette (the one with the shape stretched) wins hands down. Fresh tuna is marinated, fried and served with delicate honey and wild fennel mayonnaise: it is a delight for the senses.
Now you can subscribe to my newsletter or scroll down the page to continue reading the article!
I chose the Blackalà pizza (€ 17) with stewed cod with cuttlefish ink, buffalo mozzarella, cuttlefish ink chips, cuttlefish ink mayonnaise and shiso red (a medicinal plant also called Chinese basil). I found this brilliant pizza, not so much for the dough, but above all for the topping. Don't get me wrong: the pizza is delicious! Well alveolate and cooked to perfection, it has a melt-in-the-mouth rim and a slightly acidic flavor as I like it.
The idea of ​​the dressing and the visual impact, however, has an extra gear and this is what, in my opinion, deserves the trip! I have eaten other good pizzas… but I never even "suspected" a pizza with cod stew with cuttlefish ink. So congratulations!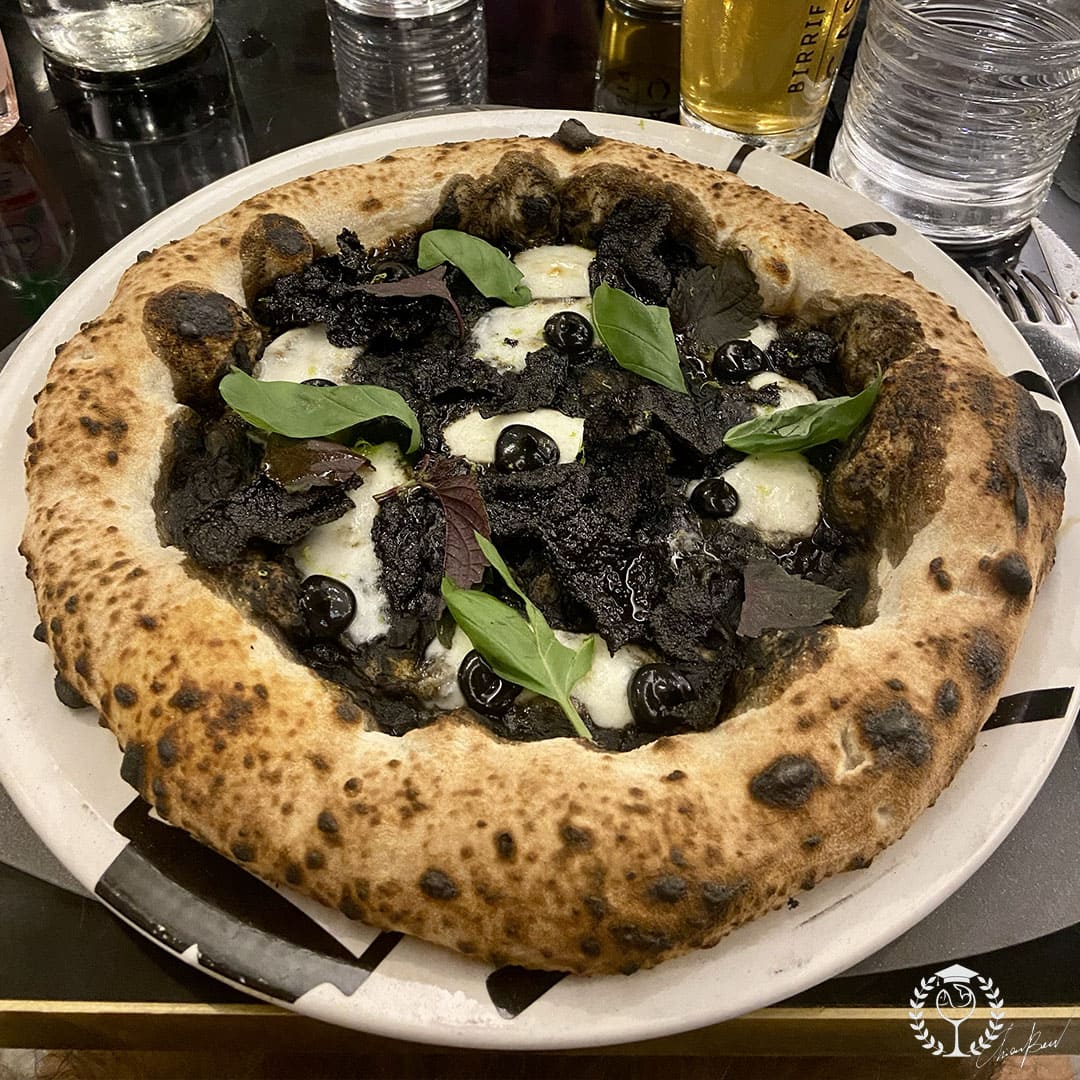 My husband, who would also eat octopus for breakfast, chose the Octopus, crusco and cherries (€ 17) with octopus stew, stracciatella, crusco pepper, cherry mayo and coral mizuna (or the red Brassica japonica, is a Japanese plant of the very decorative mustard family with a slightly pungent flavor). This pizza was also very delicious, so we split them exactly in half and enjoyed them both!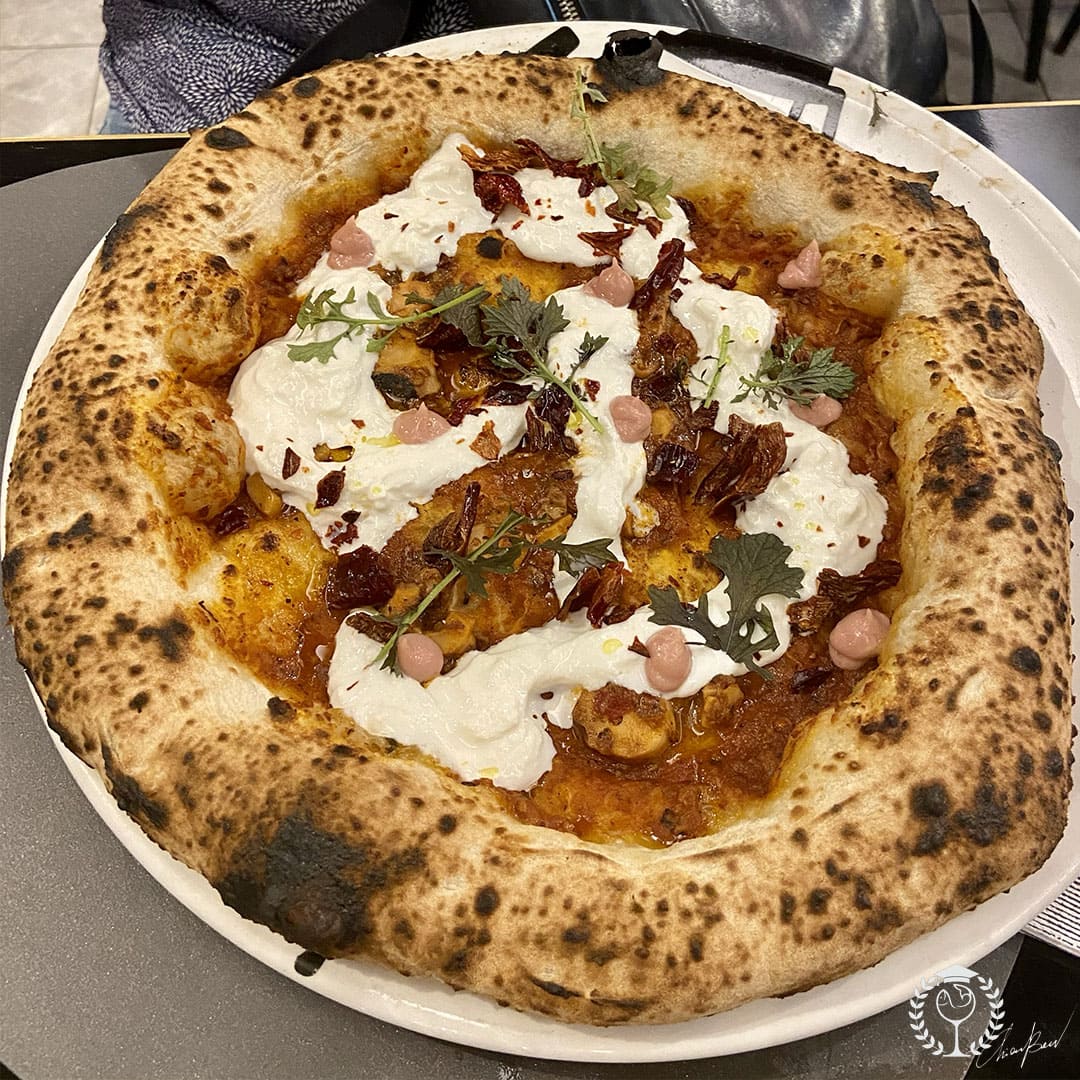 Despite being in a pizzeria in Rome and not in a restaurant, I found the tiramisu to be excellent. Maybe I recently ate one in the restaurant where we got married which did not strike me at all ... I was sorry to be full and to have tasted only a tuft!
The strong point of this dessert (which is actually called TiramiSeu on paper, € 6) is the Maldon salt cocoa crumble, which gives it a fabulous boost. Cocoa land and coffee gel complete the dessert ... good good good and perfect consistency!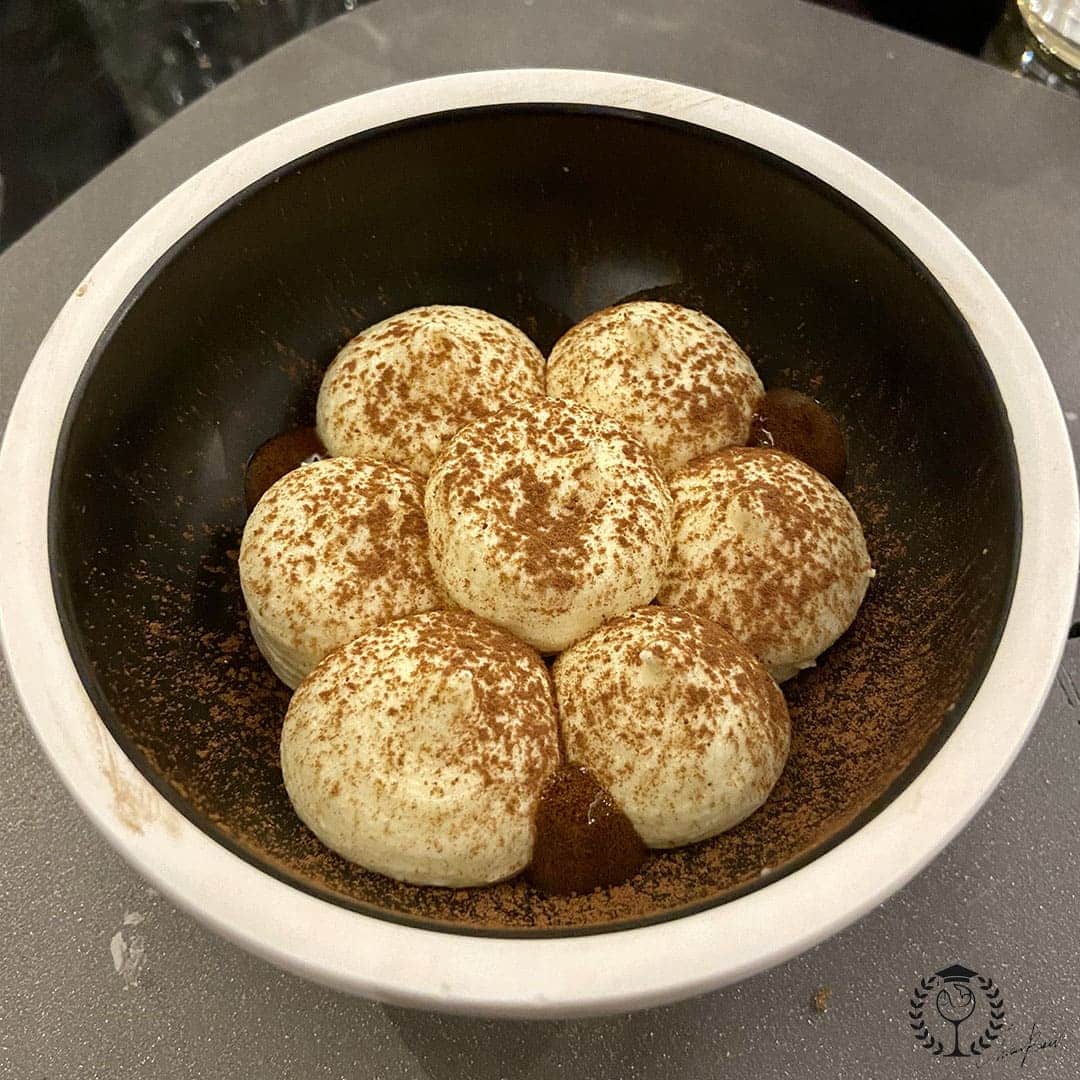 Now you can buy my Sommelier book: the illustrated manual or scroll down the page to continue reading the article!
Book "Sommelier: the Illustrated Manual" Special Edition 2022
All my notes on wine and food in one book.
COMPLIMENTARY, only for those who buy my book on this blog, a copy of the First Collector's Edition of my Sparkling Wine Guide "500 Bubbles in 500", cover price € 25,30. [While stocks last]
Finally the Roma Seu Pizza Illuminati pizzeria is pet friendly: after almost 14 km on foot my old Paco was lying on the chair for the whole dinner ... even if I would lie to you if I told you that he has not tasted the tuna of the croquette and the cod of my pizza!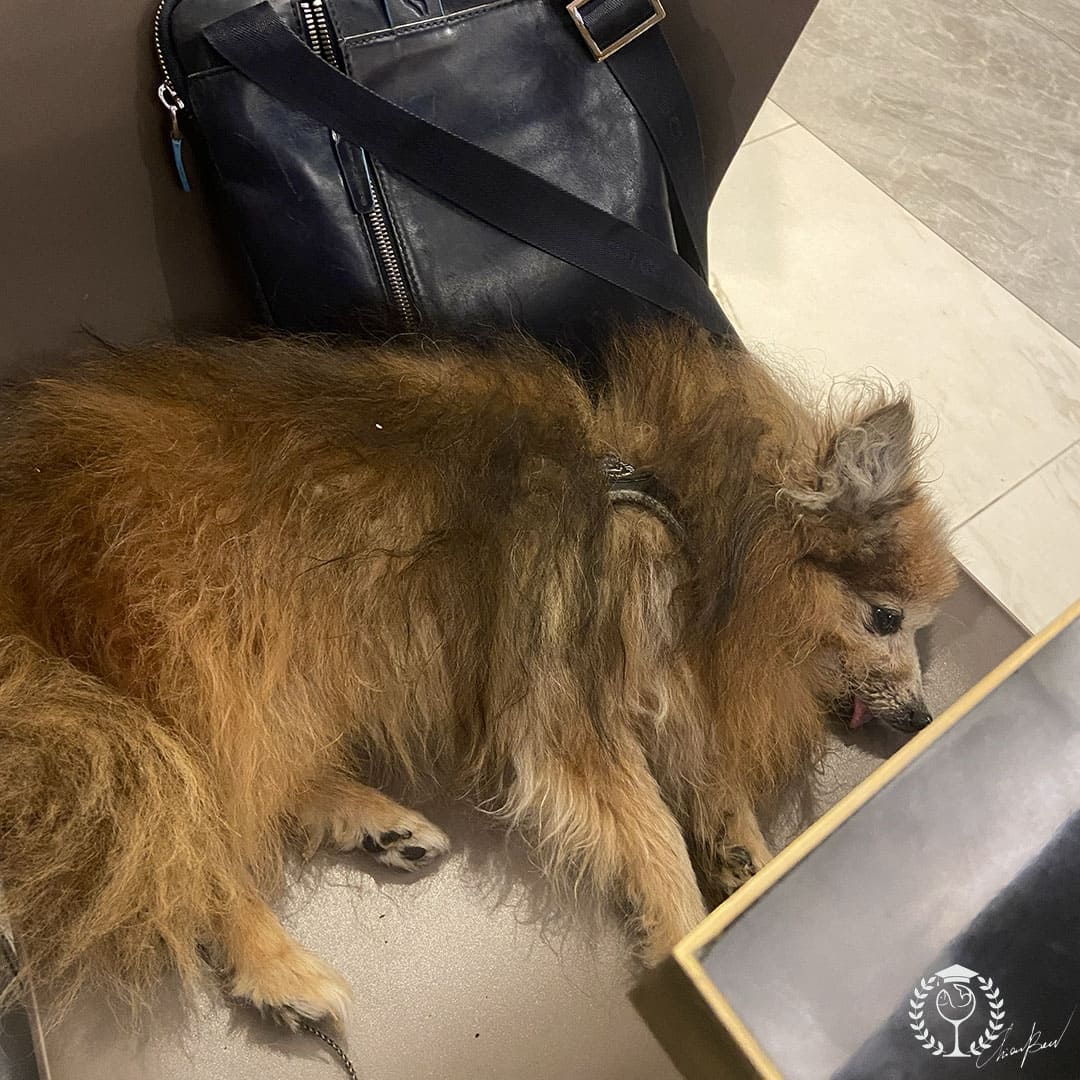 Since in a few days I start the LUISS master in food and wine journalism (what a thrill!) One thing is certain: one Friday evening for dinner I'm going to take back a Blackalà! The strength of Seu Pizza Illuminati for me is Pier Daniele Seu's genius in creating combinations that make pizza unique to him. I went to many extraordinary pizzerias, but I only tried these flavors here!
Cheers
Chiara