This is my most beautiful postcard and inaugurates a new section of my wine blog called 'Postcards from'. Here I recount landscapes, wines, food, emotions I have experienced in places that have stolen my heart, but also people, stories, problems. A postcard from the Sassi of Matera, with Love ❤️ because Francesco and I were in Matera for our Honeymoon last September. In this very complicated and chaotic year, we managed to get married and it was really beautiful. We had planned our honeymoon in Paris, so much so that this summer, while drawing up the programme for our trip with Francesco, I also wrote my first novel - Leonardo's sparkling wine you can buy on Amazon by clicking HERE - which tells a story of magical realism that I hope you will enjoy reading.
In a fascinating journey between fact and fiction that begins with her honeymoon in Paris, Chiara recounts the life of Leonardo da Vinci in a totally new key. Will Leonardo oust the famous monk Pierre Pérignon and win the title of discoverer of the classic method? What do the descendants of the kings of France have to do with it? And the Mona Lisa? What if the author herself was just a pawn in revealing one of the best-kept secrets in the History of Art? Leonardo's Sparkling Wine is the story of two young newlyweds searching for answers in the midst of a terrible pandemic as they discover that everyone has another life at their disposal.
Precisely because of the Coronavirus our flights to Paris were cancelled. I proposed to Francesco that we go to Matera, the city that had been able to steal the title of European Capital of Culture 2019. Everyone had told us it was beautiful and we had never been there.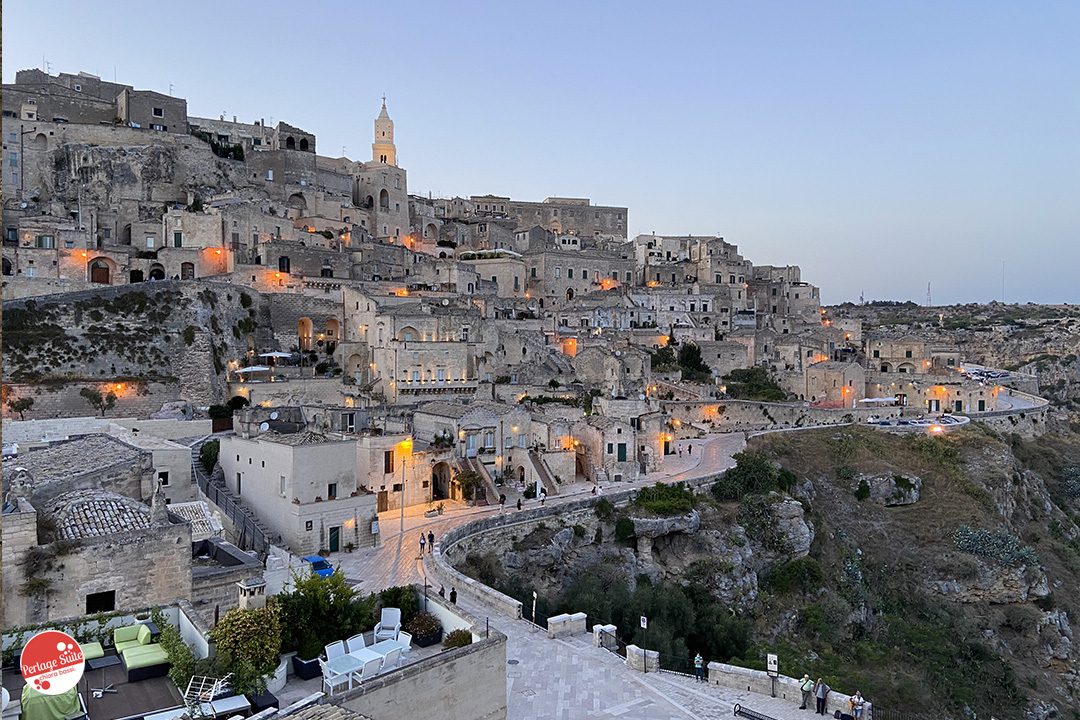 Matera is not beautiful. Matera is something more. The Sassi di Matera are set in the new town like gems shining in the setting sun, when evening falls and soft auburn street lamps light up and everything is tinged pink. A succession of small alleys and stairways that seem stolen from an old castle frame small houses carved out of the rock. There is no boundary between nature and the built environment. Every corner is a snapshot to be taken, you would like to capture every emotion blossomed among these stones to enclose it in a bottle to be uncorked every time you want to immerse yourself in its colours and scents. Matera teaches that sometimes chaos is the highest and most perfect form of order.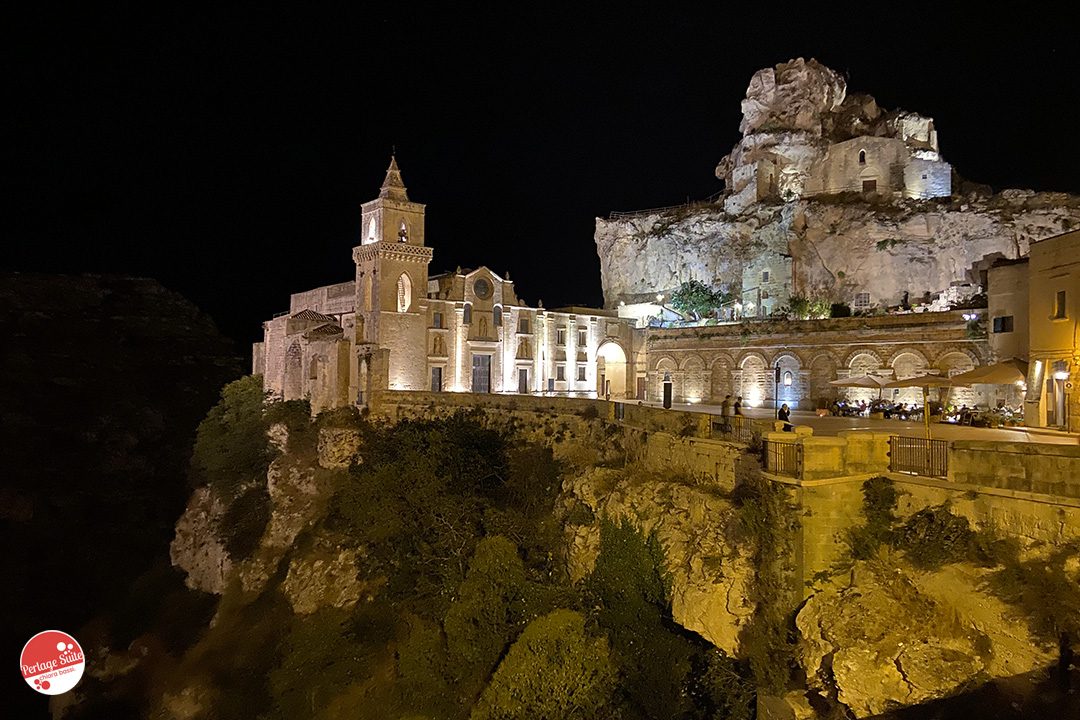 I walked holding my husband's hand, stealing kisses that were actually mine. I filled my iPhone memory with photos. Then one evening, in the Jacuzzi of our wonderful suite, I paused. My brain paused as the lavender and lemon salts gave off a discreet scent and my glass of .G Le Vigne di Alice 2010 disgorgement 2012 (read the full tasting here) had become almost mystical. I remembered a speech by my grandmother Mira who was trying to teach me that - sometimes - in life you have to be content in order to have something or someone beside you. I have never been content with anything or anyone and this approach has given me everything. Matera and that intimate evening, while my husband was sleeping in the four-poster bed a few metres away from me, was the squaring of the circle.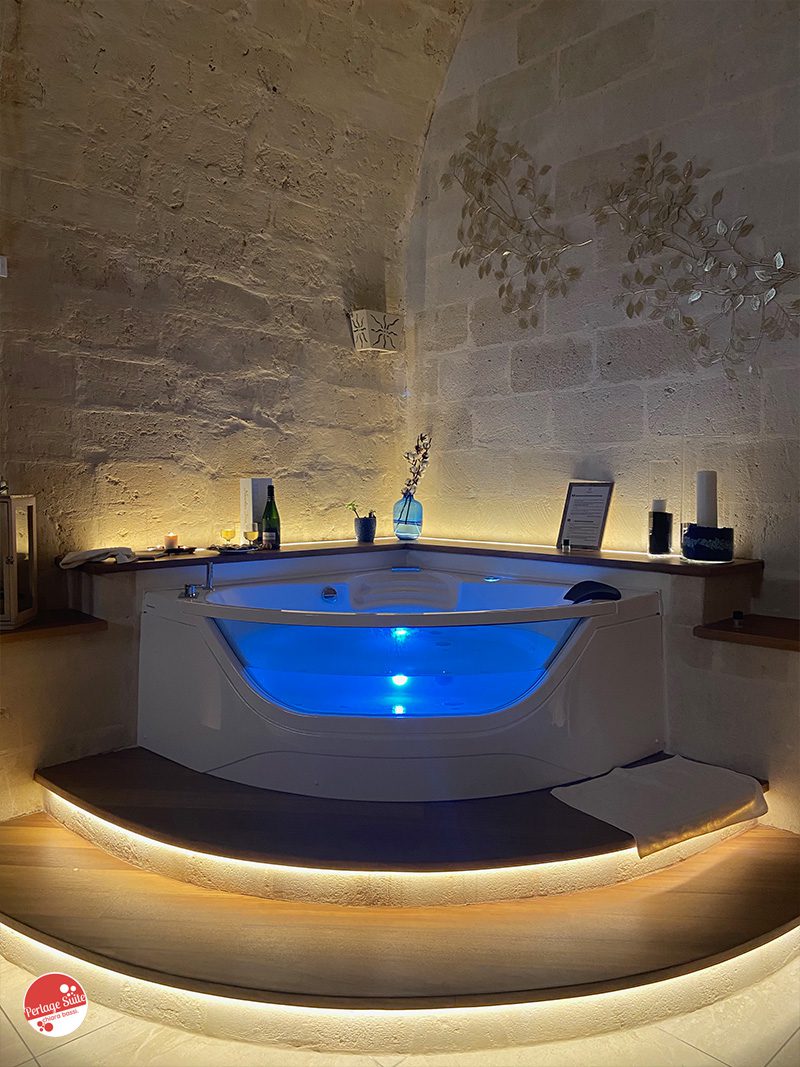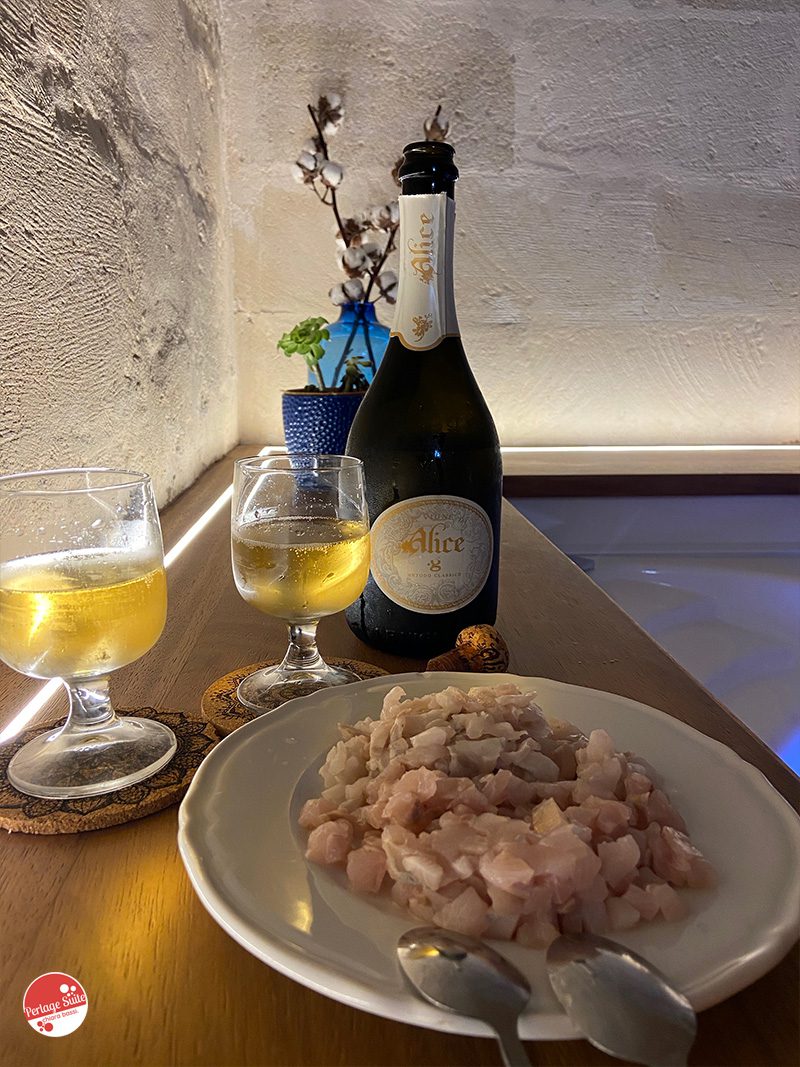 If you have never been there, pack a small trolley and leave, even if only for a weekend. If you have already been there, leave anyway and experience Matera once again.
Sassi di Matera: the ingredients for a perfect night
Sleep at least 1 night in the Sasso Caveoso in Matera, Residence Le Dodici Lune - suite number 25. I travel a lot for work and I assure you that you will not find a nicer room with better value for money anywhere else in Italy. The room is beautiful with a jacuzzi in the room, a four-poster bed, a wonderful bathroom, a well and every comfort. Pets are allowed: Paco, our old Pomeranian fox, had a wonderful time! Order at least 12 open French oysters at the De Salvo fish market and throw in some ready-made tartare as well: they come in trays that are very easy to open and serve, so perfect for a special night... I recommend amberjack, ombrine and pango. Francesco also loved the red shrimp and tuna... anyway, we tried them all and they were all excellent! They delivered them very close to the Residence and they also gave us some delicious Grom ice cream.
As for the wine... I had an ongoing collaboration with the Maison de Champagne Nicolas Feuillatte and I thought I would taste it right in the jacuzzi with the oysters and do the posts and stories on Instagram here. The Millésime 2010 Grand Cru is a truly excellent product that paired perfectly with the oysters.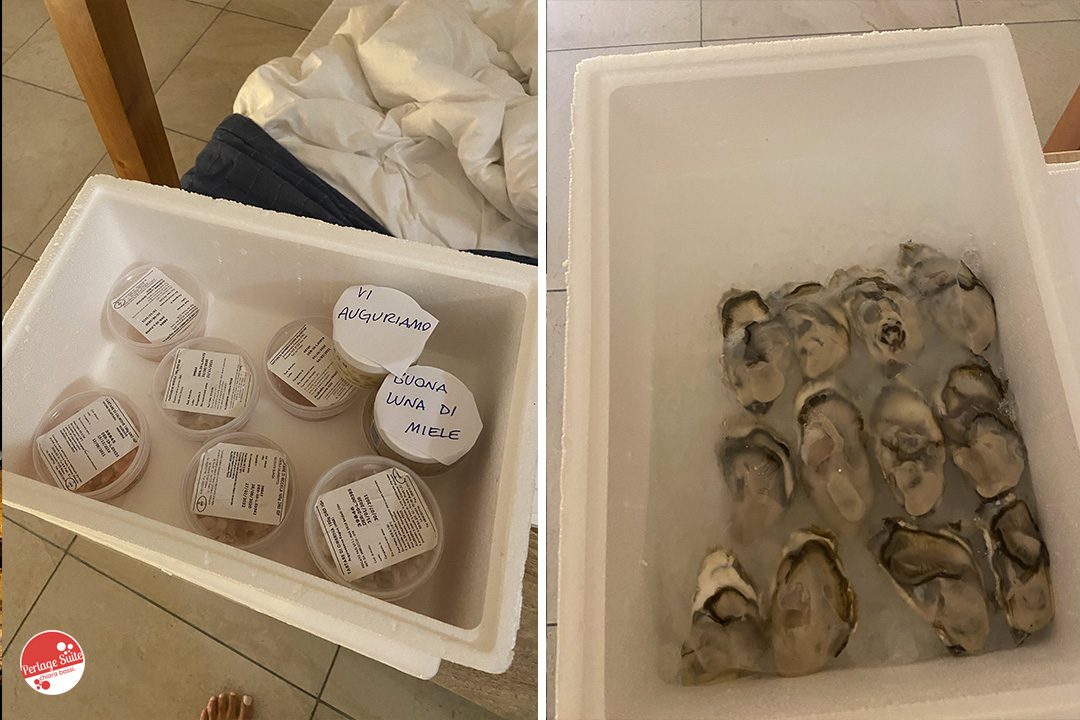 Sleep in the Sasso Caveoso, but don't forget to be enraptured by the charm of the Sasso Barisano. There I recommend a magical gastronomic experience in a restaurant that we loved, chosen by chance because of the wonderful view. La Nicchia nel Sasso It is open every evening except Sundays from 7 to 10 p.m. We actually sat down at 9.45 p.m. when a table with a panoramic view became free... but walking there was so nice that we didn't mind waiting... but I recommend booking! My two favourite dishes were the tartare of podolica with egg and the Medallion of Podolica (Entrecote), in puff pastry of Matera IGP bread, salad of crispy vegetables, cream of peppers, but I assure you it was all exquisite. The guy who served us was very kind. Excellent value for money, with main courses at 12€ -unbelievable- and a simple but respectable wine list that also includes one of my favourite wineries in Basilicata: Notary Cellars.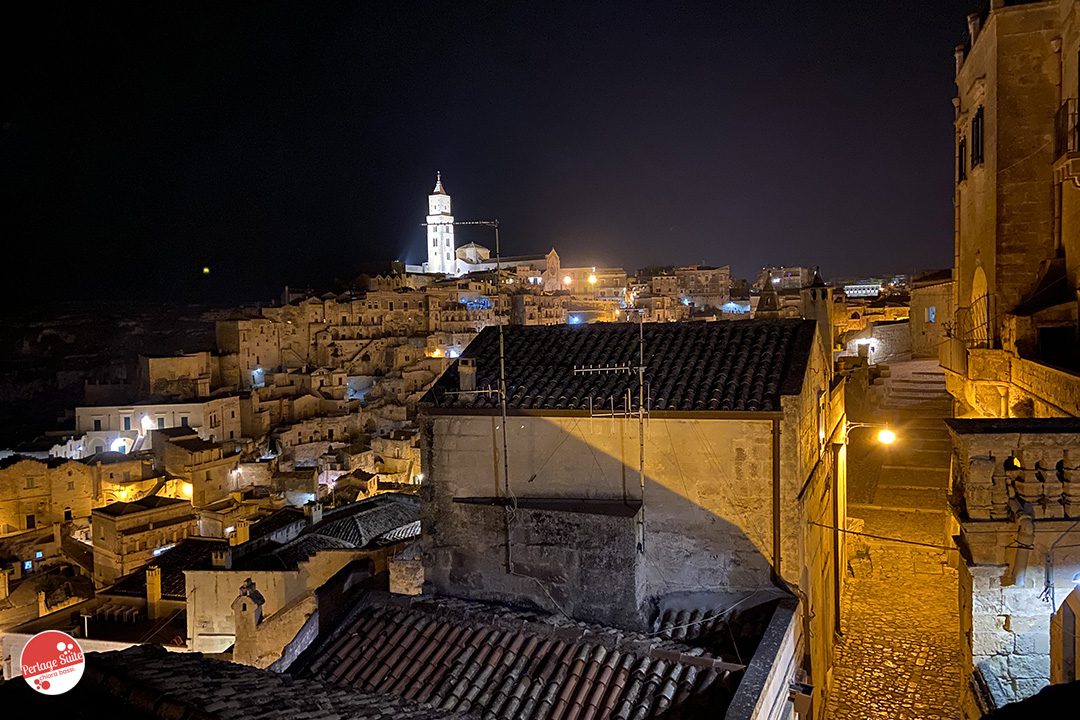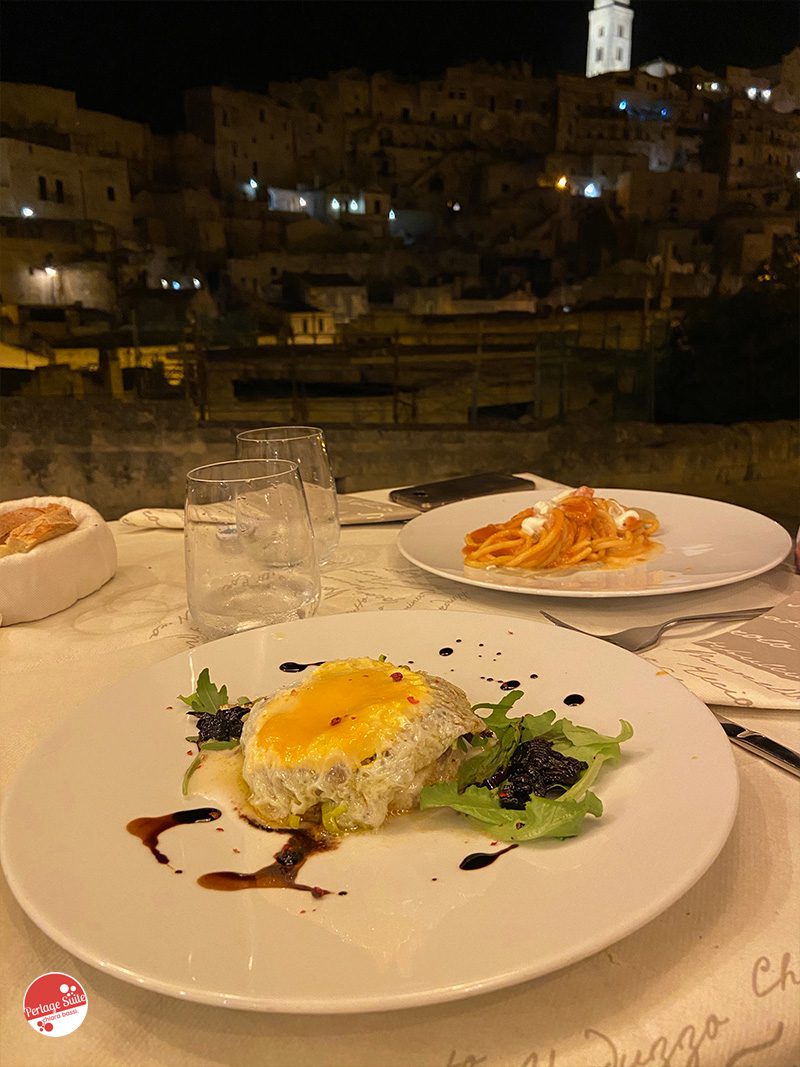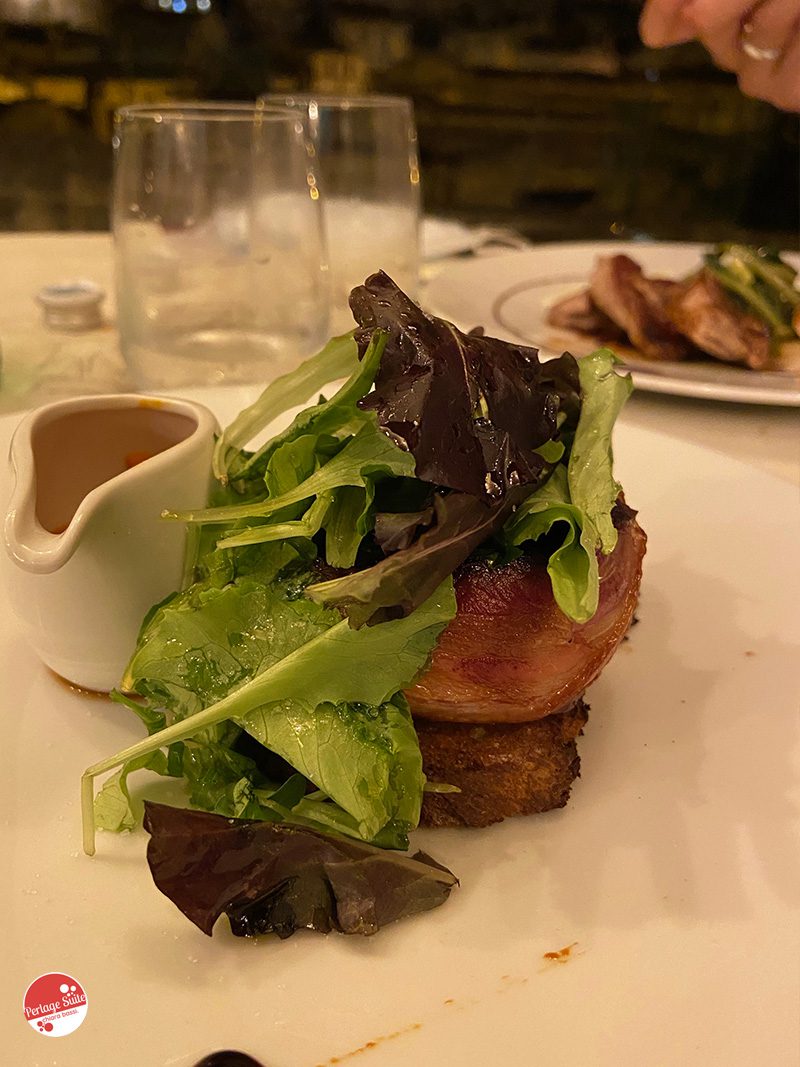 Have you ever been to Matera? What do you think? Scroll down the page and leave me a comment if you have something to do or a place to eat to recommend: Francesco and I have already decided that we will come back here to celebrate our first wedding anniversary too, even if only for 1 night!
Cheers 🥂
Chiara
P.S. I greet you with my favourite photo of our wedding on Monte Isola in the beautiful Oldofredi Castle. One detail has already become a beautiful painting in our living room.... ❤️