Before I talk about my personal experience at Gusto in Scena, I want to make a premise about Cucina del Senza, as food and wine critic Marcello Coronini calls it. Cucina del Senza is based on a philosophy that I share: I love cooking and I consider myself quite good at it... and I cook totally without salt (except for pasta water) and without sugar (except for certain desserts) and with very little fat (practically only raw). I agree that this type of cooking, besides being very healthy, is able to emphasise the taste of the raw material. If I have a good piece of meat, why do I have to make it taste like something else? Until recently I was almost completely raw and ate only raw meat, fish, fruit and vegetables without oil and salt. Then when I met Francesco I rediscovered the pleasure of braised beef with Barolo and tagliatelle with meat sauce and there I fell... 😀
I therefore wish Lucia and Marcello Coronini a lot of luck for their project to make Cucina del Senza known with a journey that will bring the culture of without to the general public with mini events in Italy and abroad.
Yesterday I was in Venice at Gusto in scena... stunning location the Scuola Grande San Evangelista... and I want to tell you about an event that, in my opinion, perfectly embodies the sense of the founder, namely the 'Marcello Coronini Promotion s.r.l.'. For goodness' sake, the effort to pass it off as a cultural event of great value for the city of Venice was there... even Councillor Simone Venturini opened the day with greetings from the City of Venice and a very touching speech on this 'Fuori Salone' called 'Fuori di gusto', which is so magically integrated into the urban fabric for its ability to involve the territory without self-referencing (??).
Everyone, and I mean everyone, who took the stage said that Gusto in Scena is the most important food and wine event in terms of culture thanks to the beautiful Haute Cuisine Congress.
Let's start with the basics... if you look up the word 'Congress' in the dictionary you will get roughly this result:
Congress = [con-grès-so]. s.m. 1. Official meeting of members or representatives of a party; 2. assembly of scholars gathered to discuss topics or problems of common interest.
Now, assuming that we are interested in point 2., the Gusto in Scena Haute Cuisine Congress should be a an assembly of scholars gathered to discuss topics or problems of common interest (read the cuisine of without). It may have been my idea, but I was expecting an exchange of ideas between the various chefs and pastry chefs who had been invited to talk about Cucina del Senza. And instead I found myself attending what seemed more like a political presentation of the candidates in the district elections (perhaps that's why they named Vespa as their patron??!!), where everyone basically had 30 minutes to advertise their restaurant. No, but let me get this straight... a normal visitor spent €120 (per day) to attend the press review of the new restaurants/pastry schools where the Patron talked about how good, beautiful and ingenious his way of working was?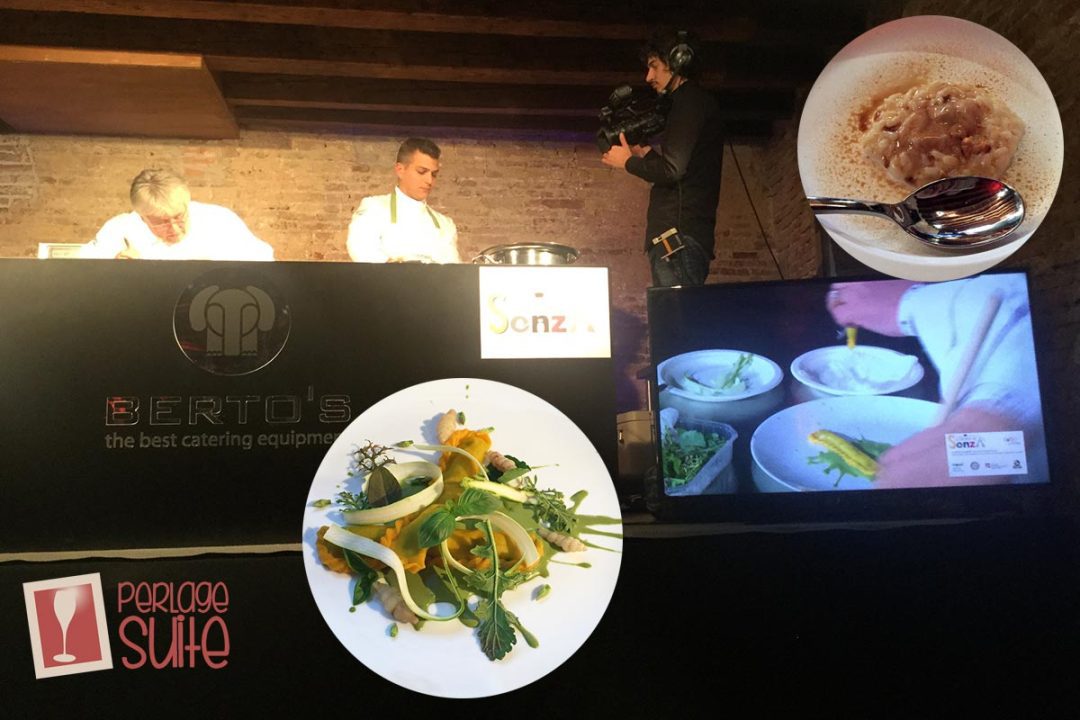 With the exception of the Chefs Herbert Hintner (his risotto with hazelnut cream and coffee drizzle and his opinions on vacuum packing and 'tired' food were excellent) and Paolo Teveriniall the others did nothing more than talk about their careers, projected videos of their new restaurant/pastry school and, in the last 10 minutes available (out of about 30) presented one or two dishes and/or desserts without salt, sugar and/or fat on screen or in the fully equipped kitchen... complete with a small taste of some to introduce their cuisine.
Am I wrong if I expect a Congress to have a series of speakers talking about the topic of the Congress, giving each other a chance to respond? without promotional videos of their new activity? Let us not forget that those present paid to attend the Congress and it seems to me that they should leave the day enriched by new opinions on the subject.
It is defined in various newspapers and also in their own publication 'At Gusto in Scena 2016, during 16 Masterclasses, chefs and pastry chefs attending the Congress illustrate innovative recipes they have created following the Rules of No and using modern low-temperature cooking tools'.
A Masterclass is a lesson (class) given by an expert (master) aimed at students of a particular discipline (in this case, Cucina del Senza) and are characterised by the fact that unlike a simple seminar where the audience is only allowed to ask the Master (read chef) questions, they are more interactive, i.e. participants are given the opportunity to cook with the expert and receive advice and demonstrations on the techniques used? (See also Masterchef...) Notoriously, a Masterclass has greater educational value and fewer participants precisely because it is so interactive in nature...
So it was already wrong to call it a Masterclass, the more appropriate name was 'Seminar' because I assure you that no one went to cook together with Igles Corelli or Ilario Vinciguerra... and we were a room full of people in the morning... and four lost souls at 6 p.m. when it was Chef Paolo Teverini's turn! And already this, alas, is an indication of how people reacted to a Masterclass that was not a Masterclass but a Seminar you learnt above all that you had to go and eat the dish at the beautiful Liberty restaurant in Gallarate by Ilario Vinciguerra... from him I learnt how beautiful the restaurant's 4,000-hectare park is, perfect for an outdoor event... or how important it is to eat a dish in his restaurant because in another place it is not the same... how romantic the atmosphere of the villa is and so on! Ah sure: he also showed us a video of how he vacuum-cooked the endive, then toasted it in a frying pan... combining it with a concentrated buffalo milk whipped with soya lecithin and put at the base of the dish with the endive on top, which has a bitter tendency, and then sprouts and roe for flavour (it had to be the dish without salt)... and then a video of the pasta cooked in a vacuum with mussels, clams and served with other raw fish and concluded by telling us that since we can't prepare it at home we can go and eat it in his fabulous Stile Liberty restaurant!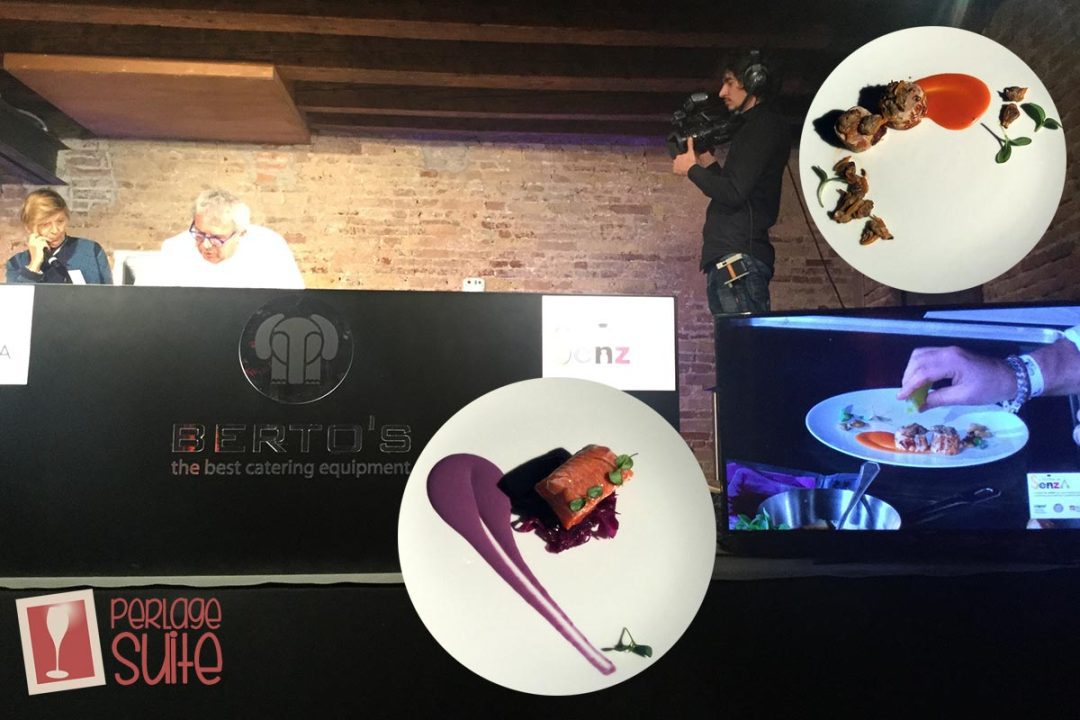 The format was that at the end 2/3 wines per dish were paired, with a ritual photo between the producer and the chef... then, if the wine producer was far-sighted, he would give his bottle to the chef (who, let's not forget, is a possible customer of the producer with his restaurant... who buys more than 2/3 bottles if his wine ends up on the menu) as it was a good excuse to introduce him to his product, if he was not so far-sighted, he would leave with the bottle in his hand! As he said Igles Corellihe is like Marchesi, he only drinks water! (Great chef, just back from 2 days in China learning a new technique to lift fish scales! I really appreciate the spirit of a chef who has seen 42 stars pass through his kitchen and still has the desire to learn at 60! And his 2 dishes with 4 ingredients in all were amazing...)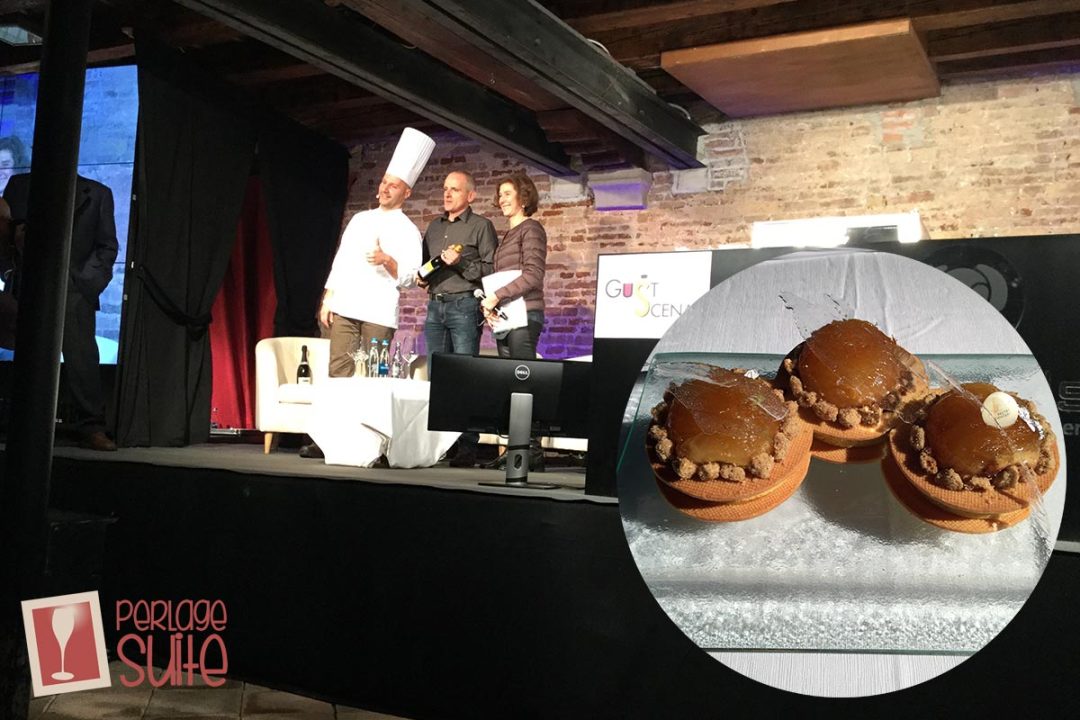 The confectioner Leonardo di CarloHe spent most of his time showing us his new Pastry Concept, the pastry school he recently opened in Conegliano, and self-referencing himself (which in my opinion he has absolutely no need of). But his Darvinist talk on pastry, alchemy and renewal really left something with me... so I thank him. Of all of them, with Bisetto and Hintner he is the one that made me think the most (And the pistachio mousse was really delicious!).
"It is not the strongest or the most intelligent species that survives, but the one that adapts best to change." Darwin
That is why it seems to me more like a Promotion of the various venues than a cultural debate. No one explained why Davide Bisetto's extraordinary veal was paired with a late harvest... yet we were there to learn, weren't we? Davide Bisetto, Oro Restaurant at the Hotel Cipriani in Venice was my discovery and I hope to visit him one day. His hand-beaten veal marinated with Mirin, Grappa Barricata, mousse of clam cooking water and hazelnut ash was immense. I thank him for this gastronomic experience that I will certainly remember... and as I told the lady sitting next to me, I hope to taste it one day with a white wine muffato!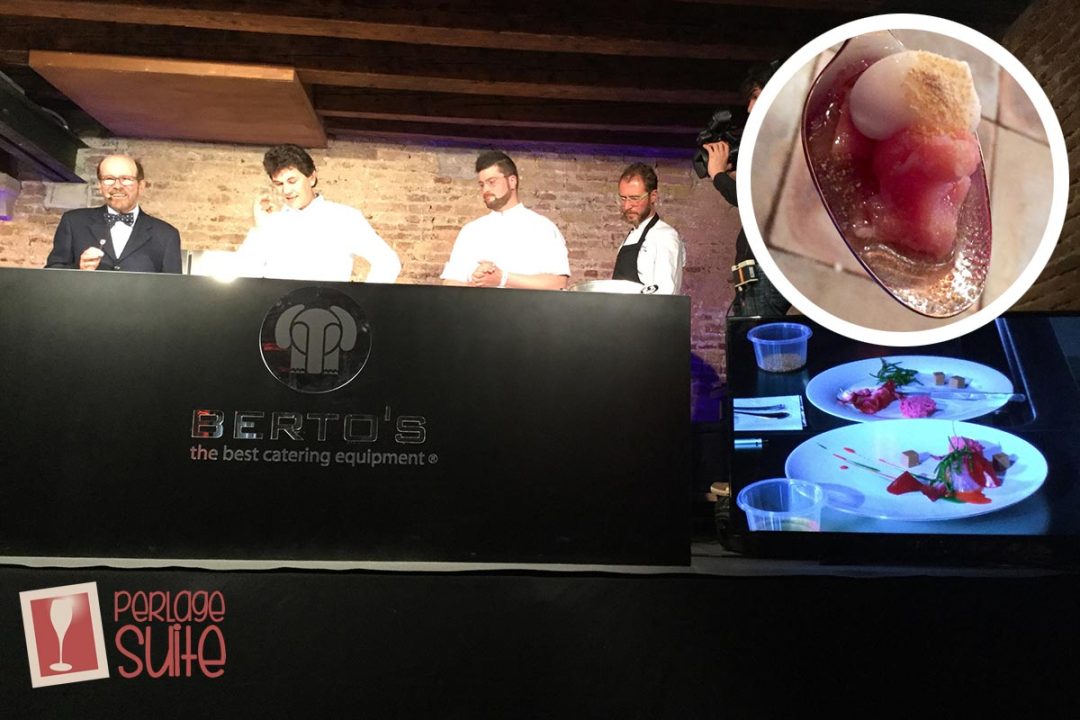 Dulcis in fundo the award ceremony of Bruno Vespa.
Here yes, a small premise is needed: when it comes to wine, I am never prejudiced. I do not care what I read on the label beyond the appellation and the year. For me, wine can bear the name of the most unknown than that of the VIP on duty, and I evaluate it for exactly what the goblet containing it tells me. I have no political prejudices also because I am absolutely apolitical and that's why I don't even go to vote and have no problem saying so. I don't watch Porta a Porta... and to tell you the truth I watch very little TV in general because I consider it mainly an instrument of mass control... in the end I only watch films on Iris and Rai Storia... so I consider myself totally neutral in my judgement!
"I really liked 'Raccontami', the Primitivo Riserva from the Futura 14 winery. Likewise Flarò, the rosé created to pay homage to the two great Italian tennis players Flavia Pennetta and Roberta Vinci, I did not like it at all. Thank you Bruno for letting me taste the Raccontami which, probably if it was not for your presentation I would never have tasted. I found it a fine wine, perhaps also thanks to VIP oenologist Riccardo Cotarella.
On 1 September 2015 I wrote this article Al Bano: the fashion for making wine between scandal and truth where I was certainly very hard on the well-known singer-songwriter Al Bano Carrisi. But I still maintain that, due to the growing interest in the topic of EnoGastronomy (just yesterday there was talk of more than 70 TV programmes where cooking is discussed) and the fact that it is awfully cool for the VIP/personage to give 'his' wine as a gift to friends, relatives and clients, there is a misuse of the term VIP followed by 'Winemaker by passion'.
In fact, the following are wine growers by passion: singer Al Bano Carrisi, singer Gianna Nannini, singer Ron, singer Gino Paoli, singer Sting, fashion designer Ferragamo, fashion designer Roberto Cavalli, footballer Andrea Pirlo, TV presenter Fabio Fazio, former F1 driver Jarno Trulli, Eataly owner Oscar Farinetti, Diesel owner Renzo Rosso, coach Alberto Malesani...
and now journalist and TV presenter Bruno Vespa is also a wine grower by passion.
It may be the fashion for wine... the diversification of investments... the possibility of reaching the general public less interested in the content of the bottle and more popularly in the content of the label (perhaps this is also why Bruno Vespa called himself popular and chose to call his wines base Vespa's Bruno e The White of the Vespas instead of giving its name to the top wine? Mind you, for me as a communicator, I find it a brilliant move: those who stop at the name of the wine are the same ones who do not have a very marked oenological culture and therefore are more likely to buy a basic wine by virtue of value for money... and as Bruno Vespa said at least 10 times yesterday, Il Bruno di Vespa costs nothing and is so good that it is also present at the Enoteca Pinchiorri...)
Let me be clear that I do not consider it a sin if a singer, a fashion designer or a presenter buys a vineyard or a masseria because they can afford this kind of investment... and because (perhaps some) love wine from the bottom of their heart. But far be it from them to call themselves passionate winemakers! If it is true that wine is first and foremost made in the vineyard, do I really see these VIPs getting their hands dirty in the soil day after day if I go for a tour of these estates? Or perhaps their loving care is delegated to equally VIP winemakers who are able to produce wines that border on sufficiency (and in the case of Vespa's Raccontami, produce a good product)?
Marcello Cremonini called it the surprise of the 2016 edition... already awarded by the Women of Wine Association, yesterday Bruno Vespa was honoured as Wine Man of the Year by the AEPA (Associazione Esercenti Pubblici Esercizi - Association of Public Establishment Managers), which is perhaps hoping for a media comeback and at least was able to show up at the event. In the press kit I received, Bruno Vespa's presence was described as 'From TV lounges to the vineyards of Manduria, or how to reconcile an intellectual profession with running a farm'... The lion on the plaque he received, however, is really beautiful! Bruno Vespa said that he is not an expert but a wine connoisseur as he drinks a glass of wine every meal, every day different. But I think the award for wine man of the year should go to any of those winemakers who are in the middle of their vineyards every day... who certainly don't have time to do other jobs because they really have to make wine!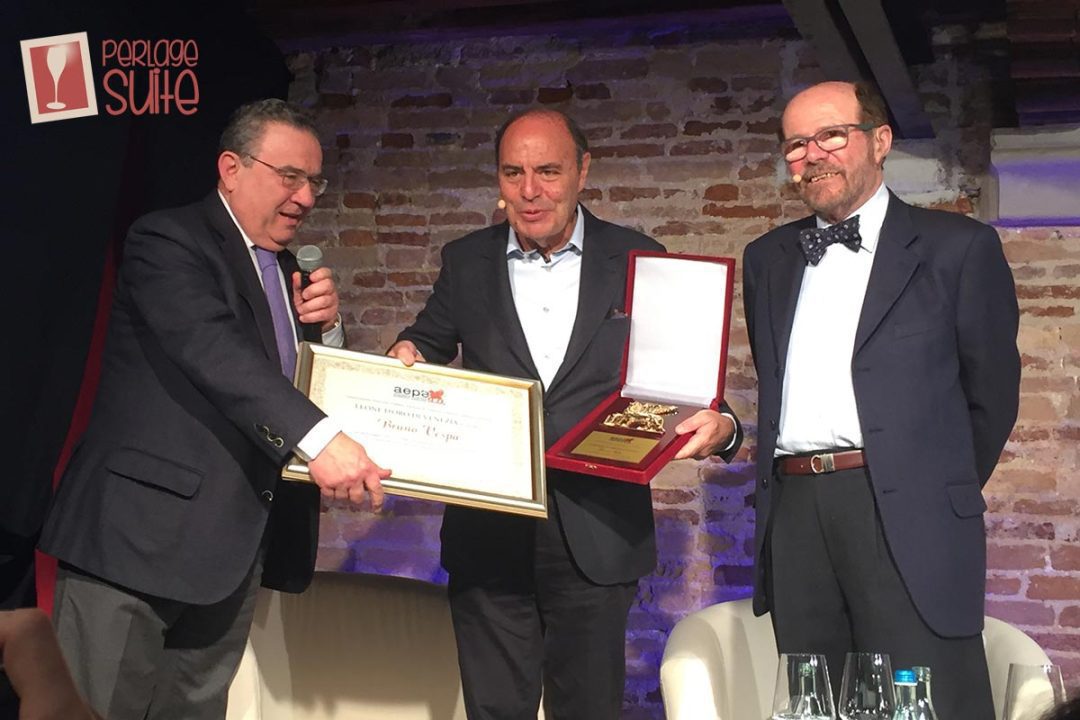 Bruno Vespa and Marcello Coronini talked about how the constant yawning we see on television on over 70 television programmes is bound to bring a crisis between the various programmes, and Vespa considers these rising stars of the kitchen to be bubbles destined to burst. I absolutely agree: a cook who can do a lot of television can hardly spend even 13-14 hours in his kitchen... but at the same time I think that television has greatly ennobled the cook's profession, which is made up of a lot of sweat, research, passion and study... even if the real image is really far removed from the one transmitted by television channels. Bruno Vespa spoke of when 20 years ago he was among the first to bring chefs onto television with a programme called La notte delle Stelle (The Night of the Stars) in which the new stars awarded by the Michelin Guide were announced in advance. I found Bruno Vespa's speech very self-referential, but I really liked it when he said that wine is music that does not have the barriers of language, like speech, to be understood.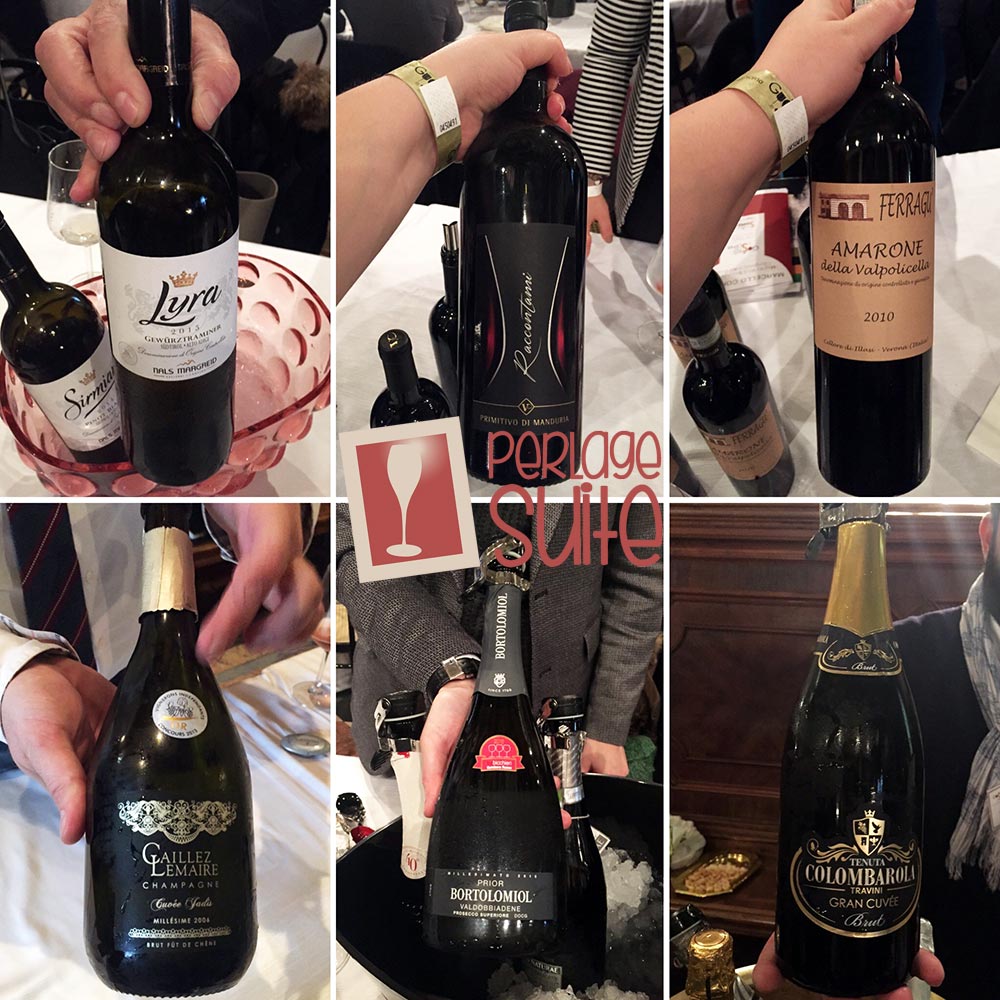 The manifesto of Gusto in Scena is really good, and Marcello and Lucia Coronini are good at holding the stage, interesting and exciting. And I am also convinced that if we have reached the eighth edition, there is plenty of substance. These remarks of mine are meant to be an invitation to correct the pitch of a format that starts off very well but has an executive decline that makes there is little response to expectations. The format of I Magnifici vini di Mare, Montagna, Pianura e Collina from Italy and abroad (a classification I share) for the format devised and patented by Marcello Coronini is well thought out, but in fact theand 150 labels were mostly from Veneto or Lombardy (out of 50 wineries/distributors in total, 18 wineries were from Veneto and 11 from Lombardy... for a total of over 90 labels out of 150... some regions were not even present such as Abruzzo, Basilicata, Campania, Umbria, Liguria... ) so I am not exactly clear on Marcello Coronini's selection criteria. The wines tasted I found some excellent, others very very ordinary... and great wineries I missed were Tenuta Sant'Antonio which, for my taste, churns out the best Amarones along with the famous Dal Forno, Allegrini and Latium Morini. I Magnifici Vini di Marcello Coronini was for me a tasting of Prosecco and Amarone in short, with a few classic methods... but I am not complaining: it allowed me to discover an Amarone that shows a lot of promise, and that is the one from Ferragù Carlo2010 vintage... an excellent Primitivo Riserva which is the Raccontami di Vespa, a fragrant and excellent prosecco which is the Motus Vitae by Bortolomiol, a discreet Tenuta Colombarola's Brut Grand Cuvée Metodo Classico piacentino and confirmed the Sfursat di Carlo Negri, l'Amarone di Masi and the Leclerc Briant Millesime Champagne 2006.
Seductions of Gorge was a gastronomy fair presenting a few dozen specialities based on the search for high quality products and the enhancement of the territory... the catalogue also spoke of gastronomic delicacies, rare and precious products... and the ready-to-cook vacuum-packed tortellini on display just didn't fit! Extraordinary instead theGoose from the Az. Littamè Slow Food Presidium... and memorable the strolghino di Culatello dell'Antica Corte Pallavicina.
There is work to be done, but with commitment and a bit of that humility that has perhaps been lacking, Gusto in Scena can really be placed on an international stage... so I ask Marcello Coronini less Promotion and more Education for the next edition.
See you soon,
Chiara