L'aglianico è un vitigno a bacca rossa coltivato soprattutto nel Sud Italia.
Synonyms and clones
Synonyms: agliatica, ellenico, gnanico/a, uva aglianica, uva dei cani, uva nera.
Cloni: aglianicone, aglianichello, aglianico femmina, aglianicuccia, aglianico mascolino, san severino, zerpoluso sono delle sottovarietà dell'aglianico con alcune caratteristiche comuni.
Aglianico: Caratteristiche
… della pianta
Appearance: leaf media, appena cuneiforme, pentalobata, con lobi poco accentuati; pagina superiore di color verde bottiglia, opaca, con nervature verdi e glabra; pagina inferiore verde chiaro, lanuginosa, con nervature sporgenti ricoperte da un fitto tomento, dentature irregolari. Petiole medio.
Maturation: III decade di settembre. Bunch di media grandezza, semplice o alato. Grape di grandezza media, sferoide. Peel di colore blu, con la buccia spessa e coriacea ricoperta di abbondante pruina. Pulp succosa e acidula di sapore semplice con succo incolore.
Productivity: molto abbondante.
Vigour: buona. Complessivamente facile da allevare grazie alla sua discreta adattabilità ai diversi sistemi di potatura e allevamento.
Resistance to adversity: resiste all'oidio, ma è sensibile alla peronospora. Alto rischio di marciume dell'uva se gli autunni sono umidi e/o piovosi.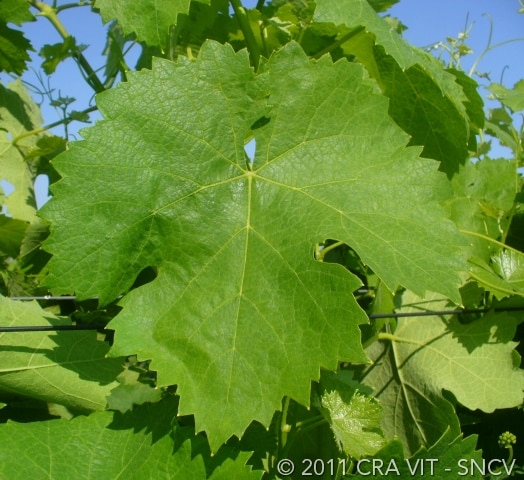 … del vino prodotto
Visual examination: rosso rubino profondo che tende al granato e diventa aranciato quando invecchia.
Olfactory examination: intenso, caratteristico, fruttato, speziato ed etereo. Note di marasca, prugna, viola, mandorla, pepe nero e cuoio.
Taste-olfactory examination: pieno, tannico, caldo, piacevolmente fresco, molto strutturato, asciutto e con una grande persistenza.
Cultivation zones
Italy: (zone idonee e consigliate) Molise, Puglia; (zone idonee) Abruzzo, Basilicata, Calabria, Campania, Lazio, Sardegna, Sicilia, Umbria.
World: nessuna.
Aglianico: Vini italiani DOCG e DOC dove è ammesso
DOCG: Aglianico del Taburno, Aglianico del Vulture Superiore, Taurasi.
DOC: Aglianico del Vulture, Biferno, Campi Flegrei, Castel del Monte, Cilento, Costa d'Amalfi, Falerno del Massico, Galluccio, Irpinia, Menfi, Molise, Penisola Sorrentina, Sannio, Savuto, Scavigna, Terre di Cosenza, Vesuvio.
Fonti:
© Ministry of Agricultural Food and Forestry Policies, National Catalogue of Vine Varieties.
© Bassi C., Sommelier: the illustrated manual, Cammeo DiVino, Monte Isola, 2022, pp. 130-131