La barbera è un vitigno a bacca nera molto coltivato in Italia che eccelle in Piemonte.
Synonyms and clones
Synonyms: nessuno. Sono presenti solo dei "pseudo-sinonimi" con aggettivi qualificativi come barbera dolce, barbera fina, barbera grossa, barbera nera.
Barbera: caratteristiche
… della pianta
Appearance: leaf pentalobata di grandezza media, pagina superiore glabra di colore verde cupo che si arrossa durante l'estate, con nervature verdi sfumate di rosso verso la base; pagina inferiore di colore verde chiaro molto tomentata, lembo piano appena bolloso e denti irregolari. Petiole medio.
Maturation: ultima decade di settembre, soprattutto primi di ottobre. Bunch piramidale compatto o sciolto a seconda delle condizioni ambientali e di coltivazione, con il peduncolo abbastanza lungo, spesso bruno o rossiccio. Grape di media grandezza, ellissoide. Peel di colore blu intenso, molto pruinosa, tannica e sottile. Pulp molto succosa, di sapore semplice, dolce e al contempo acidula.
Productivity: buona.
Vigour: relativamente abbondante e costante.
Resistance to adversity: resiste bene alle malattie crittogamiche, ma è molto sensibile alle gelate.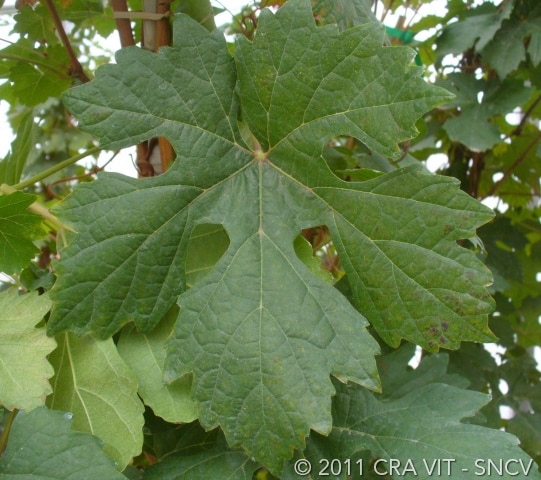 ... of wine produced
Visual examination: rosso rubino intenso con riflessi violacei quando è giovane.
Olfactory examination: fine e intenso, con note floreali, fruttate e vinose. Se affina in barrique ha note speziate e tostate marcate e una maggior complessità.
Taste-olfactory examination: fresco, caldo, morbido, tannico, alcolico, molto strutturato, equilibrato e persistente.
Cultivation zones
Italy: (zone idonee e consigliate) Piedmont, Sardegna e provincia di Belluno; (zone idonee) Abruzzo, Basilicata, Calabria, Campania, Emilia-Romagna, Lazio, Liguria, Lombardia, Marche, Molise, Sicilia, Toscana, Umbria e province di Padova, Treviso, Venezia, Verona, Vicenza.
World (in order of quantity): Italy; Stati Uniti (California: Central Valley, Sierra Foothills); Argentina (Mendoza).
Barbera: Vini italiani DOCG e DOC dove è ammesso
DOCG: Barbera d'Asti, Barbera del Monferrato Superiore, Nizza.
DOC: Alba, Albugnano, Barbera d'Alba, Barbera del Monferrato, Bonarda dell'Oltrepò Pavese, Botticino, Buttafuoco dell'Oltrepò Pavese o Buttafuoco, Canavese, Casteggio, Castel san Lorenzo, Cellatica, Colli Bolognesi, Colli d'Imola, Colli di Parma, Colli Piacentini, Colli Romagna Centrale, Colli Tortonesi, Collina Torinese, Colline Novaresi, Colline Saluzzesi, Gabiano, Gutturnio, Langhe, Monferrato, Oltrepò Pavese, Piemonte, Pinerolese, Rosso di Cerignola, Rubino di Cantavenna, San Colombano al Lambro o san Colombano, Sangue di Giuda dell'Oltrepò Pavese o Sangue di Giuda, Sannio, Valsusa, Riviera del Garda Classico.
Sources:
© Ministry of Agricultural Food and Forestry Policies, National Catalogue of Vine Varieties.
© Bassi C., Sommelier: the illustrated manual, Cammeo DiVino, Monte Isola, 2022, pp. 133-134