Il cabernet franc è un vitigno a bacca nera tra i più coltivati al mondo.
Synonyms and clones
Synonyms: Italy (cabernè); Francia (Médoc: gros cabernet, carmenet; Gironda: grosse vidure, cabonet; Vienne e Indre-et-Loire: breton; altri luoghi: véronais, veron).
Cabernet franc: caratteristiche
... of the plant
Appearance: leaf pentalobata di media grandezza e ben proporzionata. La pagina superiore è leggermente bollosa, con nervature appariscenti, glabra e di colore verde cupo opaco, con denti irregolari e pronunciati. Petiole di lunghezza media, glabro e di colore verde striato di rosso.
MaturationI and II decade of October. Bunch medio, lungo,  piramidale, alato e spargolo. Grape di media grandezza, sub-rotondo. Peel spessa e consistente di colore blu-nero e molto pruinosa. Pulp carnosa dal sapore dolce ed erbaceo, con un succo incolore. Masticando la buccia si sente un sapore molto erbaceo, vegetale, di peperone verde.
Productivity: abbondante, costante e di ottima qualità.
Vigour: notevole al punto da rendersi fondamentale una potatura lunga e ricca. Si adatta perfettamente a forme espanse di allevamento.
Resistance to adversity: normale.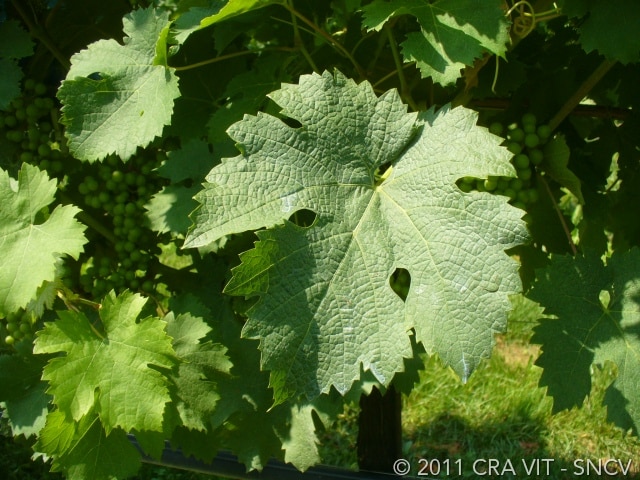 ... of wine produced
Visual examination: rosso rubino intenso con riflessi violacei ai bordi.
Olfactory examination: intenso e particolarmente erbaceo. Sentori delicatamente fruttati e speziati.
Taste-olfactory examination: intenso, secco, piuttosto strutturato e con una grande persistenza che richiama gli stessi sentori erbacei percepiti al naso.
Zone di coltivazione
Italy: (zone idonee e consigliate) Friuli-Venezia Giulia, Veneto, Sardegna, Tuscany e provincia di Foggia; (zone idonee) si coltiva in tutta Italia tranne in Valle d'Aosta e in Campania. In Italia molti confondono il cabernet franc con il carménère. Per distinguere questi due vitigni è necessario assaggiare l'acino: se ha un marcato sapore di peperone verde è quasi sicuramente carménère, in quanto molto ricco di pirazina, responsabile di questo gusto.
World (in order of quantity): Francia (Bordeaux: Saint-Emilion AOC; Valle della Loira Centrale: Anjou AOC, Bourgueil AOC, Chinon AOC); Italy; Stati Uniti (Central Coast; Columbia Valley; Napa Valley: El Dorado AVA, Fair Play AVA, Fiddletown AVA, Shenandoah Valley AVA; New York); Ungheria (Villany); Cile (Casablanca Valley; Maipo; Maule); Sudafrica (Stellenbosch); Spagna (Castilla-La Mancha; Catalonia); Canada (British Columbia; Ontario); Argentina (Mendoza); Australia (Adelaide Hills; Clare Valley; McLaren Valley; Victoria). Appena coltivato in Cina e Brasile.
Cabernet franc: vini italiani DOCG e DOC dove è ammesso
DOCG: Carmignano, Colli di Carmignano, Montello Rosso o Montello.
DOC: Alghero, Alto Adige o Südtirol, Arcole, Atina, Bagnoli di Sopra o Bagnoli, Barco Reale di Carmignano, Bolgheri, Breganze, Carso o Carso-Kras, Colli Berici, Colli del Trasimeno o Trasimeno, Colli di Parma, Colli Euganei, Colli Maceratesi, Colli Pesaresi, Colli Tortonesi, Collio Goriziano o Collio, Controguerra, Corti Benedettine del Padovano, Curtefranca, Friuli Aquileia, Friuli-Annia, Friuli Colli Orientali, Friuli Grave, Friuli Isonzo, Friuli Latisana, Friuli-Venezia Giulia, Garda, Garda Colli Mantovani, Lison-Pramaggiore, Maremma Toscana, Menfi, Merlara, Monferrato, Montecarlo, Montello – Colli Asolani, Montescudaio, Piave, Riviera del Brenta, Roma, Rosso Orvietano, San Ginesio, Sicilia, Trentino, Val d'Arno di Sopra o Valdarno di Sopra, Valdadige, Valdichiana Toscana, Venezia, Vicenza.
Sources:
© Ministry of Agricultural Food and Forestry Policies, National Catalogue of Vine Varieties.
© Bassi C., Sommelier: the illustrated manual, Cammeo DiVino, Monte Isola, 2022, pp. 135-136