Il calabrese è un vitigno a bacca nera.
Synonyms and clones
Synonyms: nero d'Avola, calabrese nero, calabrese dolce, calabrese d'Avola, calabrese pizzutello, calabrese pizzuto.
Calabrese: caratteristiche
... of the plant
Appearance: leaf grande, orbicolare e intera. Ha la pagina superiore di colore verde cupo e opaco. La pagina inferiore è di colore verde chiaro con nervature verdi aracnoidee. I denti sono irregolari, poco pronunciati e con margini base larga irregolari. Petiole corto, di grossezza media e aracnoideo.
Maturation: I e II decade di settembre. Bunch medio, conico, con una sola ala e grosso. Grape medio, ellissoide od ovoide e regolare. Peel  bluastra. Pulp succosa dal sapore semplice, con un succo incolore. 
Productivity: regolare.
Vigour: notevole, richiede una forma di allevamento ad alberello basso.
Resistance to adversity: buona.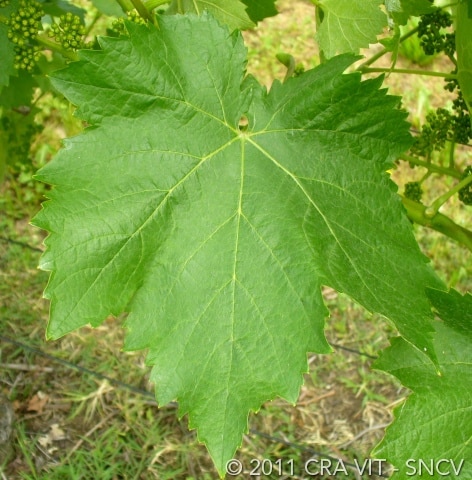 ... of wine produced
Visual examination: rosso rubino intenso, quando invecchia vira al granato.
Olfactory examination: molto intenso, con profumi di ribes, marasca, prugna, ciliegia sotto spirito, iodio e pepe nero. Nelle migliori espressioni ha anche eleganti note balsamiche e terrose. Invecchiando acquista note di vaniglia, rabarbaro e rosa essiccata.
Taste-olfactory examination: intenso, caldo, fresco, molto strutturato, con un tannino fine e un grande equilibrio. Molto persistente.
Cultivation zones
Italy: zone idonee e consigliate: Puglia, Sicily; zone idonee: Abruzzo, Calabria, Lazio, Sardegna, Toscana, Umbria.
World: nessuna.
Calabrese: vini italiani DOCG e DOC dove è ammesso
DOCG: Cerasuolo di Vittoria.
DOC: Alcamo, Bivongi, Contea di Sclafani, Contessa Entellina, Delia Nivolelli, Eloro, Erice, Mamertino di Milazzo o Mamertino, Marsala, Menfi, Monreale, Noto, Riesi, Salaparuta, Sambuca di Sicilia, Santa Margherita di Belice, Sciacca, Sicilia, Siracusa, Terre di Cosenza, Vittoria.
Sources:
© Ministry of Agricultural Food and Forestry Policies, National Catalogue of Vine Varieties.
© Bassi C., Sommelier: the illustrated manual, Cammeo DiVino, Monte Isola, 2022, pp. 138-139