Il cannonau è un vitigno a bacca nera ampiamente diffuso in alcune zone d'Italia e in Francia.
Synonyms and clones
Synonyms: (Italy) alicante, tocai rosso, vernaccia nera e vernaccia di Serrapetrona; (Francia) grenache.
Cannonau: caratteristiche
… della pianta
Appearance: leaf media, reniforme e orbicolare, tri-pentalobata con la pagina superiore glabra, di colore verde brillante. Ha la pagina inferiore verde giallastro, glabra o con rari peli sparsi. La dentatura è abbastanza regolare. Petiole medio o quasi corto, mediamente grosso e glabro.
Maturation: III decade di settembre, I decade di ottobre. Bunch medio, serrato o semi-serrato, conico o cilindro-conico. Grape medio, rotondo o sub-rotondo. Peel sottile e consistente di colore nero-violaceo, molto pruinosa. Pulp sciolta dal sapore neutro, con un succo leggermente rosato.
Productivity: abbondante e abbastanza costante.
Vigour: media. Sistemi di allevamento a media espansione e potatura corta.
Resistance to adversity: resiste bene al freddo e al marciume, resiste discretamente bene all'oidio, ma è sensibile alla peronospora.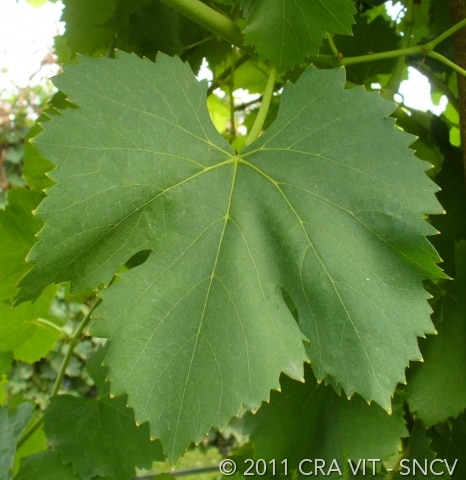 ... of wine produced
Visual examination: rosso rubino, tende al granato dopo un breve affinamento.
Olfactory examination: intenso, fruttato, appena floreale. Affinando la frutta in confettura diventa sotto spirito e acquista eleganti note speziate ed eteree.
Taste-olfactory examination: intenso, avvolgente, molto alcolico, mediamente tannico, abbastanza fresco e molto persistente.
Cultivation zones
Italy: (zone idonee e consigliate) Sardegna; (zone idonee) Abruzzo.
World: nessuna.
Cannonau: vini italiani DOCG e DOC dove è ammesso
DOCG: nessuno.
DOC: Cannonau di Sardegna, Mandrolisai.
Sources:
© Ministry of Agricultural Food and Forestry Policies, National Catalogue of Vine Varieties.
© Bassi C., Sommelier: the illustrated manual, Cammeo DiVino, Monte Isola, 2022, pp. 138-139