Il carmenere è un vitigno a bacca nera.
Synonyms and clones
Synonyms: (Italia) cabernet, cabernet nostrano, uva Francesca; (Francia) carbouet, carmenelle, grand carmenet, grand vidure.
Carmenere: caratteristiche
... of the plant
Appearance: leaf media, orbicolare e pentagonale. Lembo bolloso e margini revoluti. Seno peziolare a U talvolta con bordi sovrapposti. Petiole medio.
Maturation: medio-precoce. Bunch medio, cilindro-conico, alato e spargolo. Grape piccolo e sferoidale. Peel spessa e consistente, molto pruinosa e di colore blu-nero. Pulp succosa dal sapore erbaceo.
Productivity: medio-alta.
Vigour: average.
Resistance to adversity: sensibile all'oidio e alla botrytis.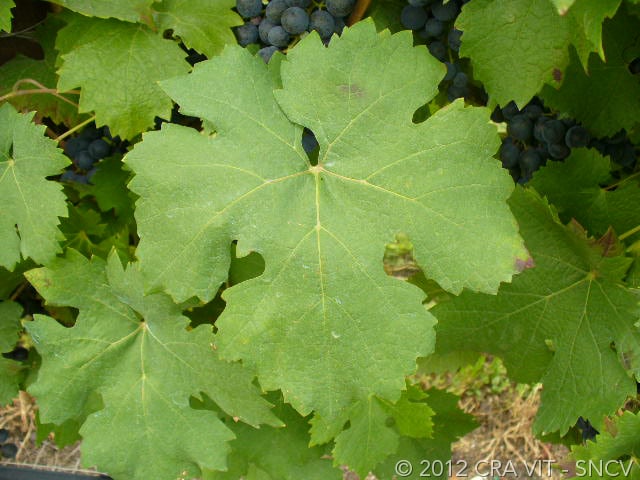 ... of wine produced
Visual examination: rosso rubino con riflessi violacei.
Olfactory examination: intenso, con una nota di peperone verde molto marcata. Si riconoscono anche sentori di ciliegia, pepe nero, mora e mirtilli essiccati.
Taste-olfactory examination: fresco, tannico, sapido, coerente con quel forte sentore di peperone verde e pepe nero, buona struttura e buona persistenza.
Cultivation zones
Italy: (zone idonee e consigliate) Veneto e Friuli-Venezia Giulia, ad eccezione della provincia di Trieste; (zone idonee) Lombardia, Toscana, Trentino; (zone in cui è in osservazione) Alto Adige, Emilia-Romagna.
World (in order of quantity): Cile (Aconcagua, Cachapoal Valley, Central Valley, Colchagua); Cina (Hebei, Jiaodong); Italy; Argentina (Mendoza); Francia (Bordeaux: Médoc); Stati Uniti (California, Washington); Brasile (Serra Gaúcha); Canada (British Columbia).
Carmenere: vini italiani DOCG e DOC dove è ammesso
DOCG: Montello Rosso o Montello.
DOC: Alghero, Arcole, Bagnoli di Sopra, Breganze, Colli Berici, Colli Euganei, Collio Goriziano o Collio, Corti Benedettine del Padovano, Curtefranca, Friuli Colli Orientali, Friuli Grave, Friuli Latisana, Garda, Lison-Pramaggiore, Merlara, Montello-Colli Asolani, Piave, Riviera del Brenta, Trentino, Vicenza, Friuli o Friuli-Venezia Giulia.
Sources:
© Ministry of Agricultural Food and Forestry Policies, National Catalogue of Vine Varieties.
© Bassi C., Sommelier: the illustrated manual, Cammeo DiVino, Monte Isola, 2022, p. 141