Chardonnay is a white grape variety and is the fifth most cultivated grape in the world.
Synonyms and clones
Synonyms: (Italy, Trentino) pinot giallo. France (synonyms correspond to local denominations: Burgundy, Côte d'or, Marne: chardenet, chaudenet, chaudenay, pinot blanc à Cramant, pinot blanc chardonnay; Champagne: épinette blanc; Indre-et-Loire: màconnais; Lorraine: aubain, auvernat blanc, auxois blanc; Jura: petit chatey; Morelot: noirien blanc, chardonay; Yonne: plant de Tonnerre; Savoy: petite Sainte Marie; Touraine: arnaison blanc. Germany: weiss klewner, weiss elder, weiss silber, weiss burgunder, später weiss burgunter).
Chardonnay: characteristics
... of the plant
Appearance: leaf of medium size, short or medium length, whole or trilobate. The upper page is medium green while the lower page is light green, both are hairless. Petiole quite short and medium large. Petiole medium.
maturation: I and II ten days of September. Bunch medium, pyramidal, winged and compact. Acino middle and obovoid. Peel medium thick, very pruinose and deep blue in color. Pulp juicy with a neutral flavor.
Productivity: regular and abundant.
Vigor: high, it adapts very well to different cultivation techniques.
Resistance to adversity: resists late blight well, but less well with botrytis and powdery mildew. Particularly sensitive to rot. It suffers from spring frosts and very humid areas (leaking, golden flavescence).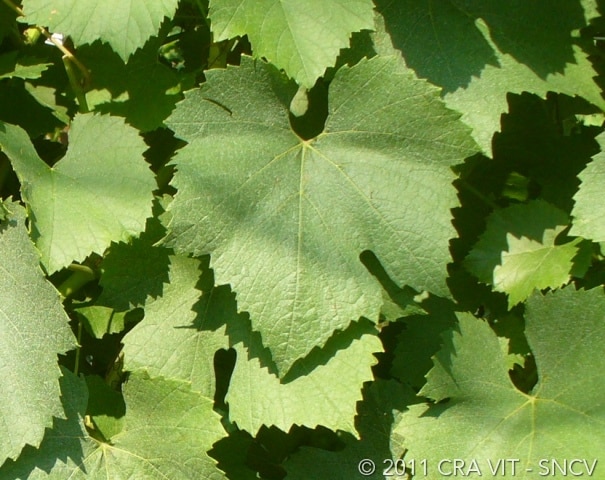 … Of the wine produced
Visual exam: more or less pale straw yellow.
Olfactory exam: delicate, with notes of vanilla, exotic fruit and more or less ripe yellow pulp fruit, banana and white flowers. In some areas it may have citrine scents of lemon or mandarin peel, even candied fruit.
Taste-olfactory examination: harmonious, slightly bitter, fresh and with a more or less marked structure depending on the winemaking and aging techniques. Soft and with an elegant persistence.
Cultivation areas
Italy: (suitable and recommended areas) Friuli-Venezia Giulia, Puglia, Sardinia, Trentino, Venetian; areas suitable: all of Italy except in Liguria and Campania.
World (in order of quantity): France (Burgundy: Chablis AOC; Champagne; Loire Valley; Languedoc-Roussilion: Limoux AOC); United States (California: Santa Barbara AVA); Australia (Adelaide Hills; Margaret River; Yarra Valley); Italy; Chile (Casablanca Valley, Limari Valley); South Africa
(Franschhoek; Elgin; Stellenbosch). Spain (Catalonia); Argentina (Mendoza; Patagonia).
Chardonnay: Italian DOCG and DOC wines where it is admitted
DOCG: Alta Langa, Colli di Conegliano, Franciacorta, Oltrepo 'Pavese Classic Method, Rosazzo.
DOC: Abruzzo, Alcamo, Alghero, Alto Adige, Aprilia, Arcole, Bagnoli di Sopra or Bagnoli, Bianco di Custoza or Custoza, Bianco di Pitigliano, Breganze, Brindisi, Carso or Carso-Kras, Castel del Monte, Circeo, Colli Altotiberini, Colli Berici, Bolognese Hills, Imola Hills, Trasimeno or Trasimeno Hills, Faenza Hills, Parma Hills, Scandiano and Canossa Hills, Euganean Hills, Macerata Hills, Martani Hills, Perugini Hills, Pesaresi Hills, Piacentini Hills, Hills Central Romagna, Tortonesi Hills, Ionic Tarantine Hills, Lucchesi Hills, Collio Goriziano or Collio, Contessa Entellina, Controguerra, Benedictine Courts of Padovano, Cortona, Curtefranca, Delia Nivolelli, Erice, Friuli Aquileia, Friuli Annia, Friuli Colli Orientali, Friuli Grave, Friuli Isonzo, Friuli Latisana, Galatina, Gambellara, Garda, Garda Colli Mantovani, Lake Corbara, Langhe, Leverano, Lison-Pramaggiore, Lizzano, Maremma Toscana, Menfi, Merlara, Molise, Monreale, Montello Colli Asolani, Montescudaio, MontiLessini, Oltrepo 'Pavese, Parrina, Piave, Piedmont, Pomino, Riesi, Riviera del Brenta, Salaparuta, Salice Salentino, Sambuca di Sicilia, San Colombano al Lambro, San Torpè, Sant'Antimo, Savuto, Scavigna, Sciacca, Sicily, Soave , Squinzano, Terra d'Otranto, Terre del Colleoni or Colleoni, Terre di Casole, Terre di Cosenza.
Sources:
© Ministry of Agricultural, Food and Forestry Policies, National catalog of vine varieties.
© Bassi C., Sommelier: the illustrated manual, Cameo DiVino, Monte Isola, 2022, pp. 142-143