Lo chardonnay è un vitigno a bacca bianca ed è il quinto vitigno più coltivato al mondo.
Synonyms and clones
Synonyms: (Italy, Trentino) pinot giallo. Francia (i sinonimi corrispondono alle denominazioni locali: Borgogna, Côte d'or, Marne: chardenet, chaudenet, chaudenay, pinot blanc à Cramant, pinot blanc chardonnay; Champagne: épinette blanc; Indre-et-Loire: màconnais; Lorraine: aubain, auvernat blanc, auxois blanc; Jura: petit chatey; Morelot: noirien blanc, chardonay; Yonne: plant de Tonnerre; Savoie: petite Sainte Marie; Touraine: arnaison blanc. Germania: weiss klewner, weiss elder, weiss silber, weiss burgunder, später weiss burgunter).
Chardonnay: caratteristiche
… della pianta
Appearance: leaf di grandezza media, di lunghezza corta o media, intera o trilobata. La pagina superiore si presenta di colore verde medio mentre la pagina inferiore si presenta di colore verde chiaro, entrambe sono glabre. Petiole abbastanza corto e mediamente grosso. Petiole medio.
Maturation: I e II decade di settembre. Bunch medio, piramidale, alato e compatto. Grape medio e obovoide. Peel mediamente spessa, molto pruinosa e di colore blu intenso. Pulp succosa dal sapore neutro.
Productivity: regolare e abbondante.
Vigour: elevata, si adatta molto bene alle diverse tecniche di coltura.
Resistance to adversity: resiste bene alla peronospora, ma meno bene alla botrytis e all'oidio. Particolarmente sensibile al marciume. Soffre le gelate primaverili e le zone molto umide (colatura, flavescenza dorata).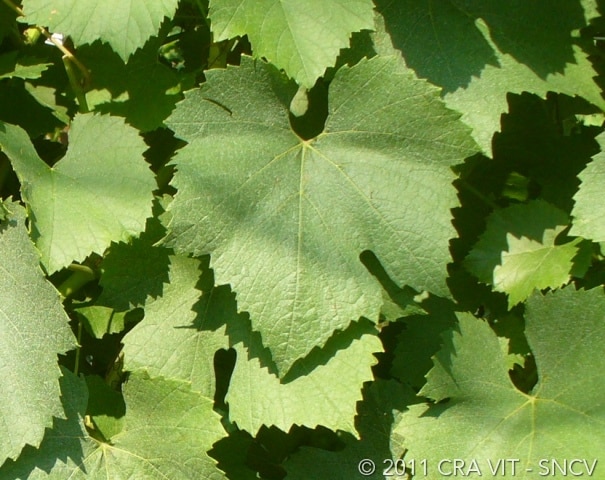 ... of wine produced
Visual examination: giallo paglierino più o meno scarico.
Olfactory examination: delicato, con note di vaniglia, di frutta esotica e frutta a polpa gialla più o meno matura, banana e fiori bianchi. In alcune zone può avere profumi citrini di buccia di limone o mandarino, anche candito.
Taste-olfactory examination: armonico, leggermente amarognolo, fresco e con una struttura più o meno marcata a seconda delle tecniche di vinificazione e affinamento. Morbido e con una elegante persistenza.
Cultivation zones
Italy: (zone idonee e consigliate) Friuli-Venezia Giulia, Puglia, Sardegna, Trentino, Veneto; zone idonee: tutta Italia tranne in Liguria e in Campania.
World (in order of quantity): Francia (Borgogna: Chablis AOC; Champagne; Valle della Loira; Languedoc-Roussilion: Limoux AOC); Stati Uniti (California: Santa Barbara AVA); Australia (Adelaide Hills; Margaret River; Yarra Valley); Italy; Cile (Casablanca Valley, Limari Valley); Sudafrica
(Franschhoek; Elgin; Stellenbosch). Spagna (Catalonia); Argentina (Mendoza; Patagonia).
Chardonnay: vini italiani DOCG e DOC dove è ammesso
DOCG: Alta Langa, Colli di Conegliano, Franciacorta, Oltrepo' Pavese Metodo Classico, Rosazzo.
DOC: Abruzzo, Alcamo, Alghero, Alto Adige, Aprilia, Arcole, Bagnoli di Sopra o Bagnoli, Bianco di Custoza o Custoza, Bianco di Pitigliano, Breganze, Brindisi, Carso o Carso-Kras, Castel del Monte, Circeo, Colli Altotiberini, Colli Berici, Colli Bolognesi, Colli d'Imola, Colli del Trasimeno o Trasimeno, Colli di Faenza, Colli di Parma, Colli di Scandiano e di Canossa, Colli Euganei, Colli Maceratesi, Colli Martani, Colli Perugini, Colli Pesaresi, Colli Piacentini, Colli Romagna Centrale, Colli Tortonesi, Colline Joniche Tarantine, Colline Lucchesi, Collio Goriziano o Collio, Contessa Entellina, Controguerra, Corti Benedettine del Padovano, Cortona, Curtefranca, Delia Nivolelli, Erice, Friuli Aquileia, Friuli Annia, Friuli Colli Orientali, Friuli Grave, Friuli Isonzo, Friuli Latisana, Galatina, Gambellara, Garda, Garda Colli Mantovani, Lago di Corbara, Langhe, Leverano, Lison-Pramaggiore, Lizzano, Maremma Toscana, Menfi, Merlara, Molise, Monreale, Montello Colli Asolani, Montescudaio, Monti Lessini, Oltrepo' Pavese, Parrina, Piave, Piemonte, Pomino, Riesi, Riviera del Brenta, Salaparuta, Salice Salentino, Sambuca di Sicilia, San Colombano al Lambro, San Torpè, Sant'Antimo, Savuto, Scavigna, Sciacca, Sicilia, Soave, Squinzano, Terra d'Otranto, Terre del Colleoni o Colleoni, Terre di Casole, Terre di Cosenza.
Sources:
© Ministry of Agricultural Food and Forestry Policies, National Catalogue of Vine Varieties.
© Bassi C., Sommelier: the illustrated manual, Cammeo DiVino, Monte Isola, 2022, pp. 142-143