Lo chenin blanc è un vitigno a bacca bianca.
Synonyms and clones
Synonyms: (Francia) bon blanc, capbreton blanc, cruchinet, gros pineau, pinot d'Anjou, pineau blanc, pineau de la Loire, plant de clair de lune, verdurant, gamay blanc, tite de crabe, rouchalin, rougelin; (Spagna) agudelo, agudiillo; (Sudafrica) steen. Qui è stata selezionata una varietà a bacca rosa.
Chenin blanc : caratteristiche
... of the plant
Appearance: leaf media, con lembo e lobi contorti. Pagina inferiore setolosa e aracnoidea sulle nervature, superficie a bollosità fine, verde scuro.
Maturation: lenta e tardiva. Bunch medio, piramidale, alato e compatto. Grape medio, ellissoide e regolare. Peel fine (adatta alla muffa nobile) e di colore verde brillante. Pulp succosa di sapore semplice.
Productivity: ottima.
Vigour: molto buona.
Resistance to adversity: sensibile alla muffa grigia e all'oidio, resiste bene alla peronospera. I grappoli sono sensibili alle scottature.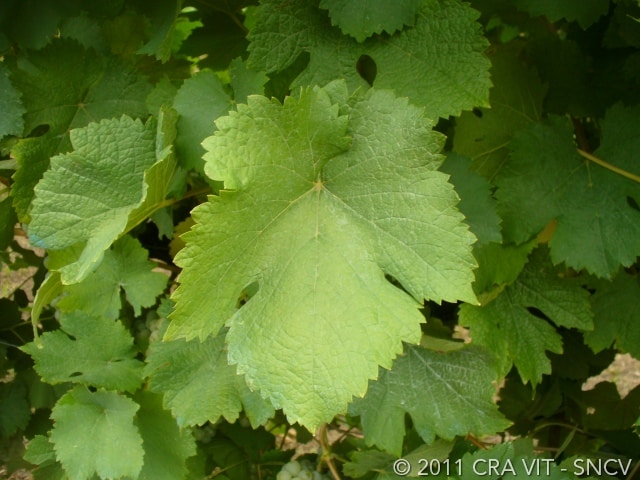 ... of wine produced
Visual examination: giallo paglierino carico che vira al dorato. Vira all'oro antico per i vini con un medio invecchiamento (fino a 8 anni) fino all'ambra per i vini di alta fascia con un lungo invecchiamento (oltre i 15 anni).
Olfactory examination: delicato, complesso e dolce, con note fruttate, floreali. Si possono riconoscere note di pesca matura, miele, melone, scorza di limone, mela, banana, gesso, affumicato, marzapane e zucchero di canna a seconda se è da dessert o secco e del terreno in cui è stato allevato.
Taste-olfactory examination: elegante, con una grande spalla acida, una buona struttura e una piacevole persistenza fruttata.
Cultivation zones
Italy: (zone idonee) Sicilia.
World (in order of quantity): Sudafrica (Paarl; Stellenbosch); Francia (Valle della Loira: Anjou AOC, Montlouis-sur-Loire AOC, Savennières AOC, Saumur AOC, Vouvray AOC); Stati Uniti (California: Central Valley, Sacramento Valley – Clarksburg AVA, Napa Valley – Mendocino AVA; Washington: Columbia Valley: Yakima Valley AVA); Argentina (Mendoza); Australia (New South Wales; Tasmania; Victoria; Western Australia: Margaret River, Swan Valley); Messico (Aguascalientes; Baja California; Coahuila); Spagna (Aragona; Catalonia; Navarra); Nuova Zelanda (Isola del Nord); Italy.
Chenin blanc: vini italiani DOCG e DOC dove è ammesso
DOCG: nessuno.
DOC: Menfi.
Sources:
© Ministry of Agricultural Food and Forestry Policies, National Catalogue of Vine Varieties.
© Bassi C., Sommelier: the illustrated manual, Cammeo DiVino, Monte Isola, 2022, pp. 144-145