Il dolcetto o ormeasco è un vitigno a bacca nera.
Synonyms and clones
Synonyms: ormeasco (unico ufficiale). Antichi: bignona, bignonina, dolsin, dolsin raro, dosset, dolzino, dolzin, uva del Monferrato, uva di Ovada, uva di Roccagrimalda.
Dolcetto o ormeasco: caratteristiche
... of the plant
Appearance: leaf medio-piccola, pentagonale, pentalobata, più larga che lunga, con seno peziolare a V molto aperto, pagina superiore glabra e pagina inferiore verde chiaro con leggero tomento aracnoideo. Petiole medio.
Maturation: seconda metà di settembre. Bunch medio-grande, piramidale molto lungo, alato (con 1 o 2 ali) e mediamente spargolo. Grape medio, rotondo, ma non costante né nella forma né nelle dimensioni. Peel fine, molto pruinosa e di colore nero-blu. Pulp succosa di sapore semplice molto dolce e gustosa con succo incolore.
Productivity: buona e regolare nelle zone dove si ambienta meglio, buona ma irregolare da tutte le altre parti.
Vigour: da modesta a media.
Resistance to adversity: molto resistente alle avversità atmosferiche. Sensibile invece alle malattie crittogamiche e alle tignole.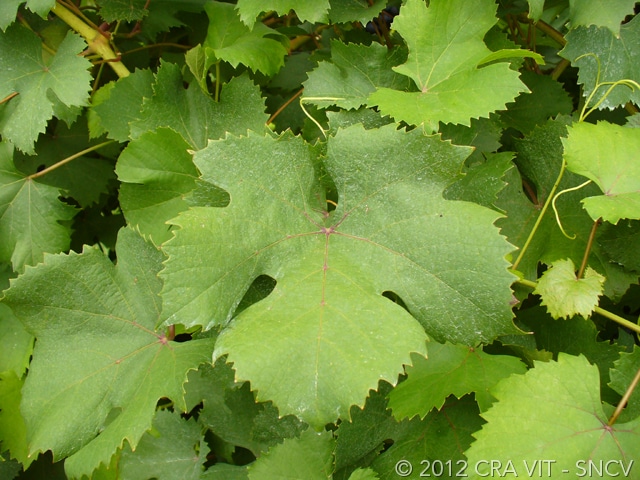 ... of wine produced
Visual examination: rosso rubino profondo.
Olfactory examination: intenso, più fruttato che floreale.
Taste-olfactory examination: fresco, caldo, leggermente tannico, abbastanza morbido, molto strutturato e con un lungo finale fruttato.
Cultivation zones
Italy: zone idonee e consigliate: Piedmont e Valle D'Aosta; zone idonee: Abruzzo, Emilia-Romagna, Liguria, Lombardia, Sardegna, Umbria.
World (in order of quantity): Italy; Stati Uniti (California: Lodi AVA, Mendocino County, Napa Valley AVA, Russian River Valley AVA, Santa Barbara County, Santa Cruz Mountains AVA; Oregon: Southern Oregon AVA, Umpqua Valley AVA); Australia (qui sono presenti alcune delle viti di dolcetto più antiche al mondo, piantate nel 1860 e ancora in produzione); Argentina (Mendoza); Nuova Zelanda (Isola del Nord: Matakana).
Dolcetto: vini italiani DOCG e DOC dove è ammesso
DOCG: Dogliani, Dolcetto di Diano d'Alba o Diano d'Alba, Dolcetto di Ovada Superiore o Ovada.
DOC: Colli Tortonesi, Dolcetto d'Acqui, Dolcetto d'Alba, Dolcetto d'Asti, Dolcetto di Ovada, Golfo del Tigullio-Portofino o Portofino, Langhe, Monferrato, Piemonte, Pinerolese, Pornassio o Ormeasco di Pornassio, Val Polcevera, Valsusa.
Sources:
© Ministry of Agricultural Food and Forestry Policies, National Catalogue of Vine Varieties.
© Bassi C., Sommelier: the illustrated manual, Cammeo DiVino, Monte Isola, 2022, pp. 146-147