L'erbaluce è un vitigno a bacca bianca caratteristico della zona di Caluso in Piemonte. Conosciuto soprattutto nella sua versione passita, è particolarmente interessante anche spumantizzato metodo classico grazie alla sua grande acidità.
Synonyms and clones
Synonyms: albaluce, bianc roustì, erbcalon, erbalucente bianca, erbalus, repcalon, uva rustia.
Erbaluce: caratteristiche
... of the plant
Appearance: leaf di grandezza media pentalobata con la pagina superiore di colore verde carico e glabra. La pagina inferiore, anch'essa glabra, è di colore verde più chiaro. Petiole di lunghezza media di colore verde e glabro.
Maturation: ultima decade di agosto. Bunch medio o grande (lunghezza 20-25 cm), cilindrico o cilindrico-conico, con una o due ali, mediamente serrato. Grape medio e sferoide, a volte deformato. Peel spessa, pruinosa, trasparente e di colore giallo-ambrato. Pulp croccante, non molto succosa, dal sapore semplice, acidulo e gradevole.
Productivity: irregolare, raramente abbondante.
Vigour: notevole, tanto da rendere bene allevato a pergola.
Resistance to adversity: resiste discretamente bene al marciume; è sensibile alle brinate e alle malattie crittogamiche, soprattutto all'oidio.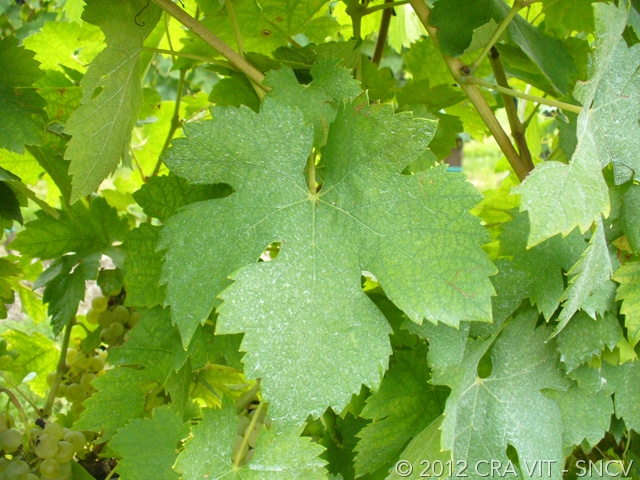 ... of wine produced
Visual examination: giallo paglierino con luminosi riflessi verdolini da giovane, oro nella sua versione spumante e oro antico nella sua versione passita.
Olfactory examination: intenso e caratteristico, molto aromatico, con note di erbe aromatiche, fiori di campo, scorza di limone.
Taste-olfactory examination: dotato di grandissima spalla acida, è elegante, asciutto, strutturato, con un lungo finale amaricante.
Cultivation zones
Italy: (zone idonee e consigliate) Piemonte; (zone idonee) Lombardia e Valle d'Aosta.
World: nessuna.
Erbaluce: vini italiani DOCG e DOC dove è ammesso
DOCG: Erbaluce di Caluso o Caluso.
DOC: Canavese, Colline Novaresi, Coste della Sesia, Piemonte.
Sources:
© Ministry of Agricultural Food and Forestry Policies, National Catalogue of Vine Varieties.
© Bassi C., Sommelier: the illustrated manual, Cammeo DiVino, Monte Isola, 2022, pp. 147-148