Il gamay è un vitigno a bacca nera.
Synonyms and clones
Synonyms: (Gamay Beaujolais) borgognone nero, gamay nero a succo bianco, piccolo gamay, gamay rotondo […]; (Gamay grigio) beurot, gamay bourot […]; (Gamay de Bouze) rosso di Bouze, rosso di Couchey […]; (Gamay de Chaudenay) teinturier de Chaudenay, gamay six-pièces […].
Cloni: sotto il nome gamay si raggruppano molti cloni che hanno in comune molte caratteristiche, tanto da utilizzare per lo più il nome generico.
Gamay: caratteristiche
... of the plant
Appearance: leaf media, quasi larga quanto lunga, orbicolare o trilobata, seno peziolare a V più o meno aperto, pagina superiore leggermente bollosa e pagina inferiore quasi glabra e entrambi i lati sono di colore verde medio.
Maturation: I e II decade di settembre. Bunch medio-piccolo, cilindrico, spesso alato e compatto. Grape medio o piccolo, leggermente ellissoide e regolare. Peel fine, ma resistente, mediamente pruinosa e di colore nero profondo. Pulp succosa dal sapore semplice.
Productivity: media e costante.
Vigour: average.
Resistance to adversity: sensibile all'oidio e alla peronospera.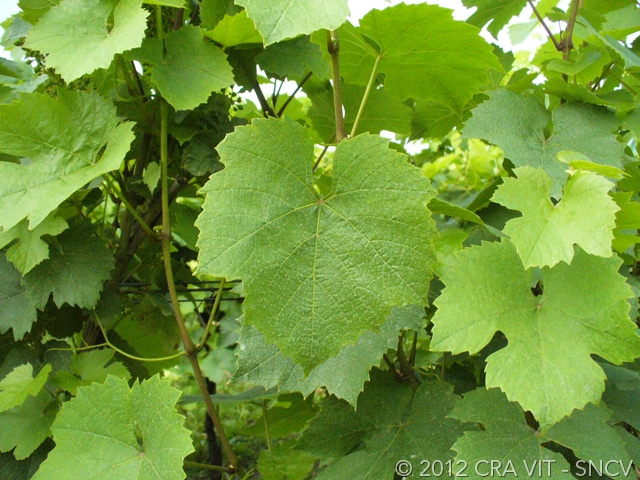 ... of wine produced
Non è adatto all'invecchiamento, ma eccelle se sottoposto a macerazione carbonica per elaborare vini tipo novelli di pronta beva.
Visual examination: rosso rubino con riflessi violacei.
Olfactory examination: intenso, fruttato e vinoso.
Taste-olfactory examination: asciutto, non molto strutturato, poco tannico, con una grande spalla acida, mediamente alcolico e di facile beva.
Cultivation zones
Italy: (zone idonee e consigliate) Piemonte, Valle D'Aosta; (zone idonee)
Emilia-Romagna, Toscana, Umbria, province di Udine e di Gorizia; (zone in cui è in osservazione) provincia di Verona.
World (in order of quantity): Francia (Beaujolais; Valle della Loira); Svizzera (Ginevra; Valais; Vaud); Canada (Ontario); Turchia (Marmara); Italy; Brasile.
Gamay: vini italiani DOCG e DOC dove è ammesso
DOCG: nessuno.
DOC: Colli del Trasimeno o Trasimeno, Valle d'Aosta o Vallée d'Aoste.
Sources:
© Ministry of Agricultural Food and Forestry Policies, National Catalogue of Vine Varieties.
© Bassi C., Sommelier: the illustrated manual, Cammeo DiVino, Monte Isola, 2022, pp. 149-150