La garganega o grecanico dorato è un vitigno a bacca bianca che dà risultati molto interessanti in Veneto.
Synonyms and clones
Synonyms: biancazza d'oro, garganega comune, garganega di Gambellara, oro, uva della Madonna.
Garganega: caratteristiche
... of the plant
Appearance: leaf media, quinquelobata, pentagonale e leggermente allungata, con seni laterali a V poco profondi e aperti. La pagina superiore è glabra, bollosa e opaca di colore verde chiaro. La pagina inferiore è aracnoidea, con nervature sporgenti, e di colore verde-grigio. Petiole medium and glabrous.
Maturation: II e III decade di settembre, I decade di ottobre. Bunch grande, lungo fino a 25 cm, cilindro-piramidale e piuttosto spargolo. Grape medio, sferoide e appena schiacciato. Peel fine, pruinosa e coriacea di colore giallo-oro carico che diventa anche color ambra se prende molto sole. Pulp sciolta di sapore semplice.
Productivity: abbondante e costante.
Vigour: notevole.
Resistance to adversity: buona.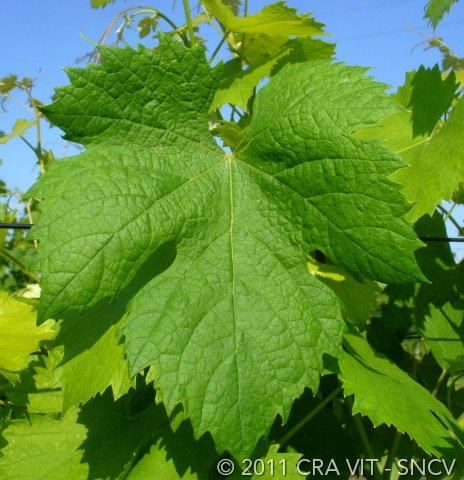 ... of wine produced
Vitigno molto adatto ad evolvere in bottiglia anche dieci anni, dove sviluppa intense note di frutto della passione e zafferano.
Visual examination: giallo paglierino quando è giovane, dorato sempre più intenso con il passare degli anni.
Olfactory examination: intenso, con note più fresche o più calde a seconda degli stili. Per lo più fruttato, sicuramente il frutto della passione, il limone (succo e scorza) e l'albicocca (anche in confettura) sono i sentori più puntuali.
Taste-olfactory examination: fresco, morbido, strutturato, equilibrato e con una buona persistenza gusto-olfattiva.
Cultivation zones
Italy: (zone idonee e consigliate) province di Padova, Verona e Vicenza; (zone idonee) Abruzzo, Basilicata, Emilia-Romagna, Lombardia, Molise, Puglia, Sardegna, Umbria; (zone in cui è in osservazione) Marche.
World: nessuna.
Garganega: vini italiani DOCG e DOC dove è ammesso
DOCG: Recioto di Gambellara, Recioto di Soave, Soave Superiore.
DOC: Arcole, Bianco di Custoza o Custoza, Colli Berici, Colli Euganei, Gambellara, Garda, Garda Colli Mantovani, Monti Lessini, Soave, Valdadige, Vicenza, Delle Venezie o in lingua slovena Beneskih Okoisev.
Sources:
© Ministry of Agricultural Food and Forestry Policies, National Catalogue of Vine Varieties.
© Bassi C., Sommelier: the illustrated manual, Cammeo DiVino, Monte Isola, 2022, pp. 150-151