La glera è il vitigno a bacca bianca con cui si produce il celebre vino Prosecco.
Synonyms and clones
Synonyms: serprino. Territoriali: prosecco, prosecco balbi, prosecco tondo.
Glera: caratteristiche
... of the plant
Appearance: leaf media, pentagonale, cuneiforme, trilobata o pentalobata. Seno peziolare a U-V con i bordi accavallati. La pagina superiore è bollosa e di colore verde chiaro opaco, mentre la pagina inferiore ha nervature verdi setolose e sporgenti ed è di colore grigio-verde. Petiole corto e glabro.
Maturation: prime due settimane di ottobre. Bunch grande, lungo fino a 25 cm, allungato, piramidale, alato e spargolo. Grape medio, sferoide. Peel giallo-oro sottile e pruinosa, abbastanza pruinosa e appena tannica. Pulp succosa di sapore semplice e dolce.
Productivity: buona, particolarmente elevata sui Colli Euganei.
Vigour: notevole.
Resistance to adversity: notevole resistenza alle malattie, ma è sensibile alla colatura e all'impallinamento. Leggermente sensibile alla siccità.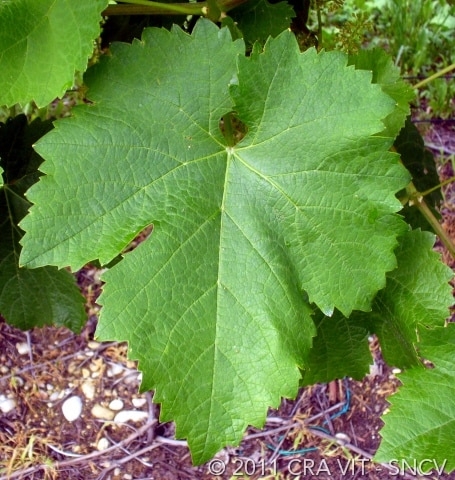 ... of wine produced
Vitigno capace di sorprendere soprattutto come spumante metodo classico, soprattutto con lunghi affinamenti. A seconda della vinificazione e dell'andamento climatico prende note che vanno dallo zafferano all'idrocarburo.
Visual examination: giallo paglierino tenue.
Olfactory examination: intenso e fruttato, con note di pera matura e fiori bianchi.
Taste-olfactory examination: sapido, fresco, morbido, citrino (soprattutto se col fondo) e con una discreta pseudocalorica, la persistenza può essere buona.
Cultivation zones
Italy: (zone idonee e consigliate) province di Belluno, Padova, Treviso, Venezia,  Vicenza e Udine; (zone idonee) province di Pordenone e Trieste, Sicilia.
World: nessuna.
Glera vini italiani DOCG e DOC dove è ammesso
DOCG: Asolo-Prosecco, Colli di Conegliano, Conegliano Valdobbiadene-Prosecco.
DOC: Carso o Carso-Kras, Colli Euganei, Montello-Colli Asolani, Venezia.
Sources:
© Ministry of Agricultural Food and Forestry Policies, National Catalogue of Vine Varieties.
© Bassi C., Sommelier: the illustrated manual, Cammeo DiVino, Monte Isola, 2022, pp. 151-152