Il grillo è un vitigno a bacca bianca.
Synonyms and clones
Grillo: caratteristiche
... of the plant
Appearance: leaf media, pentagonale tondeggiante, talvolta quasi orbicolare, quinquelobata e con seno peziolare chiuso con bordi sovrapposti oppure a V molto stretta. La pagina superiore è glabra e di colore verde intenso, non molto lucida, la pagina inferiore è di colore verde chiaro, con rari peli lungo le nervature. Petiole medium and glabrous.
Maturation: II e III decade di settembre. Bunch medio, cilindrico o conico, talvolta alato, spargolo o mediamente compatto. Grape medio o grosso, sferoide dal colore irregolare giallo-oro. Peel spessa, consistente e poco pruinosa. Pulp carnosa con succo incolore di sapore semplice.
Productivity: buona e costante.
Vigour: ottima.
Resistance to adversity: buona resistenza ai parassiti e al clima avverso, ottima resistenza alla siccità.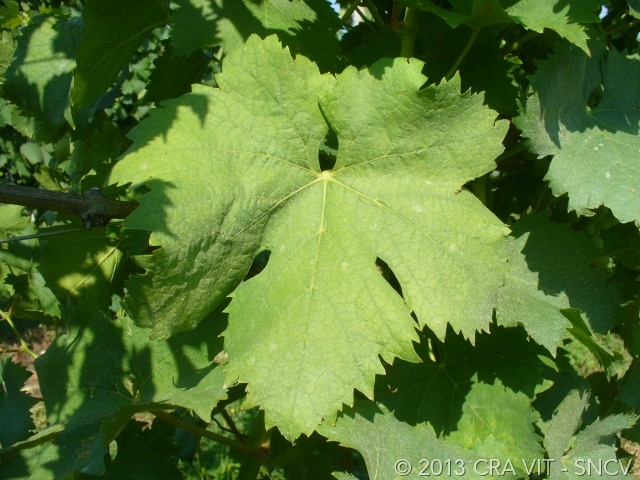 ... of wine produced
Si usa sia per elaborare vini bianchi fermi o spumanti, sia per la produzione del Marsala. I vini hanno un buon potenziale di invecchiamento.
Visual examination: giallo paglierino da scarico a intenso, sempre brillante.
Olfactory examination: intenso, fine, elegante con profumi che vanno dai fiori gialli agli agrumi, da freschi a canditi. Note minerali più o meno marcate.
Taste-olfactory examination: intenso, molto sapido, fresco, strutturato, con una pseudocalorica controllata e un finale discretamente lungo e citrino.
Cultivation zones
Italy: (zone idonee) Puglia, Sicilia; (zone in cui è in osservazione) Basilicata.
World: nessuna.
Grillo: vini italiani DOCG e DOC dove è ammesso
DOCG: nessuno.
DOC: Alcamo, Delia Nivolelli, Erice, Mamertino di Milazzo o Mamertino, Marsala, Menfi, Monreale, Salaparuta, Sicilia.
Sources:
© Ministry of Agricultural Food and Forestry Policies, National Catalogue of Vine Varieties.
© Bassi C., Sommelier: the illustrated manual, Cammeo DiVino, Monte Isola, 2022, p. 152