Il lambrusco di Sorbara è un vitigno a bacca nera.
Synonyms and clones
Synonyms: lambrusco sorbarese.
Lambrusco di Sorbara: caratteristiche
... of the plant
Appearance: leaf medio-piccola, pentagonale, intera o con tre lobi appena pronunciati, seno peziolare a U molto aperto e seni laterali superiori appena accennati. La pagina superiore è liscia e di colore verde opaco. La pagina inferiore è lanugginosa e di colore grigio-verde. Petiole medium and glabrous.
Maturation: fine settembre, primi di ottobre. Bunch medio, allungato, piramidale e con una sola ala, quasi sempre molto spargolo a causa della colatura. Grape medio e subrotondo. Peel spessa, consistente e di colore blu-nero. Pulp succosa dal sapore dolce.
Productivity: scarsa, ma relativamente costante.
Vigour: molto elevata.
Resistance to adversity: buona resistenza al marciume, alle tignole e al gelo, ma sensibile alla colatura e all'acinellatura.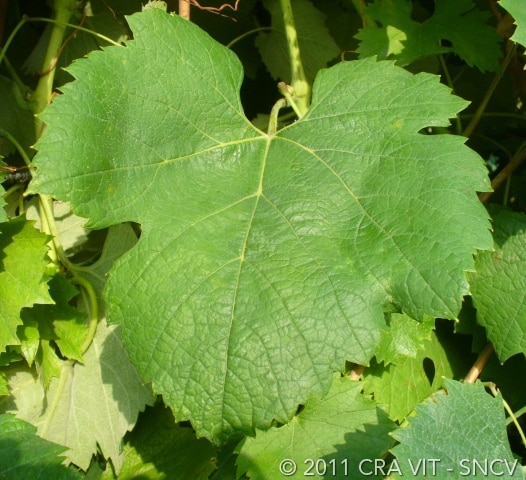 ... of wine produced
Visual examination: rosso rubino con riflessi rosa cerasuolo, quasi trasparente.
Olfactory examination: intenso e fruttato con un bouquet di lamponi, fragole di bosco e mirtilli essiccati.
Taste-olfactory examination: fresco, spesso con una spiccata acidità e morbido, sapido e non molto strutturato.
Cultivation zones
Italy: (zone idonee) Emilia-Romagna, Lombardia e provincia di Treviso.
World: nessuna.
Lambrusco di Sorbara: vini italiani DOCG e DOC dove è ammesso
DOCG: nessuno.
DOC: Lambrusco di Sorbara, Modena o di Modena, Reggiano.
Sources:
© Ministry of Agricultural Food and Forestry Policies, National Catalogue of Vine Varieties.
© Bassi C., Sommelier: the illustrated manual, Cammeo DiVino, Monte Isola, 2022, pp. 155