Il marzemino è un vitigno a bacca nera diffuso soprattutto in Lombardia e in Trentino.
Synonyms and clones
Synonyms: berzamino, berzemino (ufficiali). Altri: marzemina, marzemino gentile, marzemino d'Isera e marzemino d'Istria.
Marzemino: caratteristiche
... of the plant
Appearance: leaf media, pentagonale tendente al cuneiforme, trilobata, a volte appena quinquelobata. Seno peziolare a V con bordi quasi sovrapposti. La pagina superiore è glabra, opaca e di colore verde scuro. La pagina inferiore è feltrata e di colore grigio-verde chiaro. Petiole mediamente lungo, grosso e ricoperto di lanuggine.
Maturation: medio-tardiva, tra fine settembre e i primi di ottobre. Bunch lungo circa 20 cm, cilindro-piramidale con 1 o 2 ali, mediamente compatto. Grape medio, sferoide e di forma regolare. Peel sottile, ma consistente, molto pruinosa e di colore blu-nero. Pulp con un succo leggermente rosato di sapore semplice.
Productivity: buona e costante.
Vigour: ottima.
Resistance to adversity: molto sensibile all'oidio.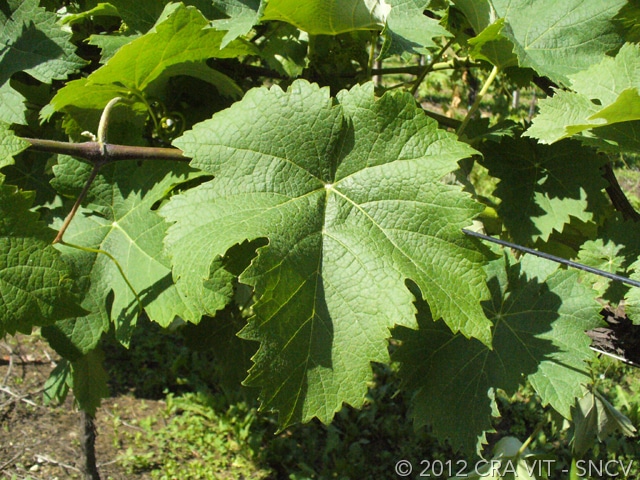 ... of wine produced
Visual examination: rosso rubino scuro con i riflessi viola.
Olfactory examination: intenso con note speziate, fruttate, floreali e balsamiche.
Taste-olfactory examination: secco, morbido, molto fresco, strutturato.
Cultivation zones
Italy: (zone idonee e consigliate) Abruzzo, Emilia-Romagna, Lombardia, province di Padova, Trento, Treviso e Vicenza; (zone idonee) province di Pordenone, Venezia, Verona e Udine, Sardegna.
World: nessuna.
Marzemino: vini italiani DOCG e DOC dove è ammesso
DOCG: Colli di Conegliano.
DOC: Botticino, Breganze, Capriano del Colle, Cellatica, Colli di Scandiano e di Canossa, Garda, Merlara, Reggiano, Terre del Colleoni o Colleoni, Trentino, Riviera del Garda Classico.
Sources:
© Ministry of Agricultural Food and Forestry Policies, National Catalogue of Vine Varieties.
© Bassi C., Sommelier: the illustrated manual, Cammeo DiVino, Monte Isola, 2022, pp. 157-158