Pinot bianco is a white grape variety.
Synonyms and clones
Synonyms: white burgundy, burgunder, pineau, weißburgunder.
Pinot bianco: characteristics
… Of the plant
Appearance: leaf medium, pentagonal, roundish and practically whole, petiole sinus open to U. The upper page is glabrous, bullous and of a glossy dark green color. The underside is arachnoid and dull green. Petiole short, medium, hairless and green in color with dark red streaks.
maturation: mid-September. Bunch small (about 12 cm long), cylindrical, often winged and compact. Acino small, spheroid, not too regular in shape. Peel thin and tender, slightly waxy, dotted and golden yellow in color. Pulp juicy and with a simple flavor, very sweet and not very acidic.
Productivity: discreet and regular.
Vigor: good.
Resistance to adversity: normal to powdery mildew and peronospera, but sensitive to attacks of rot.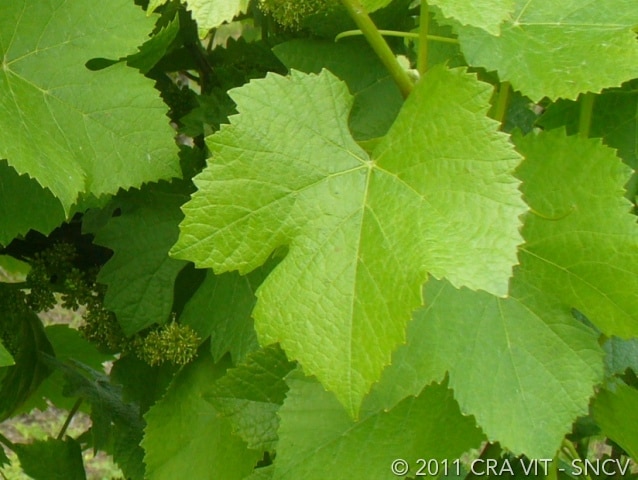 … Of the wine produced
Visual exam: more or less intense straw yellow color.
Olfactory exam: quite intense and fruity. Recognitions of almond, wet stone, pear, white peach, lemon peel.
Taste-olfactory examination: fresh, soft, alcoholic, structured and balanced.
Cultivation areas
Italy: (suitable and recommended areas) Friuli-Venezia Giulia, Piedmont, Puglia, Valle d'Aosta, and the provinces of Belluno, Padua, Trento, Treviso, Venice, Verona, Vicenza; (suitable areas) Abruzzo, Basilicata, Calabria, Emilia-Romagna, Lazio, Lombardy, Marche, Molise, Sardinia, Sicily, Tuscany, Umbria and the provinces of Bolzano, Caserta and Rovigo.
World (in order of quantity): Germany (Baden, Pfalz); Italy; Austria (Lower Austria: Niederösterreich; Styria: Steiremark); France (Alsace); Russia (Don Valley); Slovenia (Posavje).
Pinot bianco: Italian DOCG and DOC wines where it is admitted
DOCG: Colli di Conegliano, Franciacorta, Oltrepò Pavese Classic Method, Rosazzo.
DOC: Alto Adige or Alto Adige (in German Südtirol or Südtiroler), Arcole, Bianco di Custoza or Custoza, Bianco di Pitigliano, Breganze, Colli Altotiberini, Colli Berici, Colli Bolognesi, Colli del Trasimeno or Trasimeno, Colli di Faenza, Colli of Parma, Scandiano and Canossa Hills, Euganean Hills, Perugini Hills, Pesaresi Hills, Central Romagna Hills, Tortonesi Hills, Collio Goriziano or Collio, Benedictine Courts of Padovano, Curtefranca, Friuli Aquileia, Friuli Annia, Friuli Colli Orientali, Friuli Isonzo o Isonzo del Friuli, Friuli Latisana, Gambellara, Garda, Garda Colli Mantovani, Lison Pramaggiore, Lizzano, Merlara, Molise or Molise, Monreale, Montecarlo, Montello - Colli Asolani, Monti Lessini, Oltrepò Pavese, Piedmont, Pomino, Riviera del Brenta , Salice Salentino, Scavigna, Terre del Colleoni or Colleoni, Trentino, Trento, Val d'Arbia, Valcalepio, Valdadige, Valdichiana Tuscany, Valle d'Aosta or Vallée d'Aoste, Vicenza, Serenissima or Serenissima vineyards, Friuli or Friul i Venezia Giulia (in Slovenian language Furlanjia or Furlanjia Juliska Krajna).
Sources:
© Ministry of Agricultural, Food and Forestry Policies, National catalog of vine varieties.
© Bassi C., Sommelier: the illustrated manual, Cameo DiVino, Monte Isola, 2022, pp. 165-166