Il riesling renano è un vitigno a bacca bianca che eccelle in Alsazia, Austria e Germania.
Synonyms and clones
Synonyms: rheinriesling, riesling (ufficiali). Altri: gewürztraube, reno.
Riesling renano: caratteristiche
... of the plant
Appearance: leaf media, tondeggiante e trilobata, seno peziolare a V stretto con margini accavallati e seni laterali poco profondi. La pagina superiore è bollosa e di color verde intenso opaco. La pagina inferiore è aracnoidea e di colore verde chiaro. Petiole mediamente lungo, grosso e glabro.
Maturation: fine settembre. Bunch piccolo, cilindrico, un po' tozzo e compatto (se non si ha la colatura). Grape piccolo e sferoide. Peel mediamente spessa e consistente, puntinata e di color giallo carico. Pulp succosa di sapore speciale e leggermente aromatico.
Productivity: discreta.
Vigour: notevole.
Resistance to adversity: sensibile alla colatura e al marciume.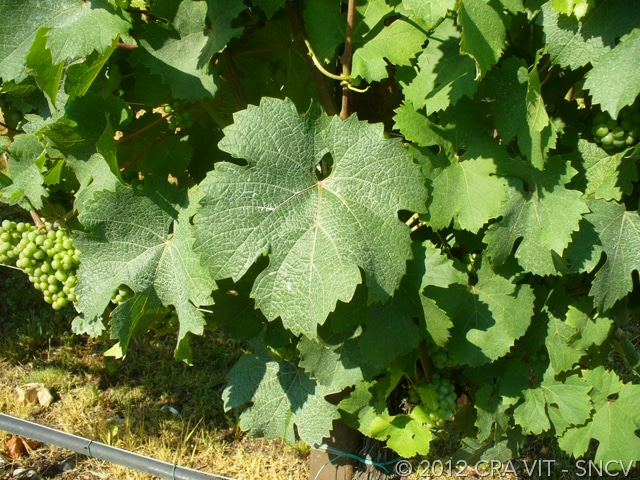 ... of wine produced
Vino bianco molto longevo che può affinare in bottiglia moltissimi anni.
Visual examination: giallo paglierino brillante da scarico a carico a seconda degli anni di affinamento in bottiglia.
Olfactory examination: molto intenso, fine ed elegantissimo. Tra i riconoscimenti spiccano idrocarburi, grafite, mela verde, lime, cera d'api e gelsomino.
Taste-olfactory examination: morbido, fresco, caldo, sapido, strutturato e molto persistente.
Cultivation zones
Italy: (zone idonee e consigliate) Piedmont, Trentino e province di Belluno, Gorizia, Padova, Pordenone, Treviso, Udine, Venezia, Verona, Vicenza; (zone idonee) Abruzzo, Alto Adige, Emilia-Romagna, Lazio, Lombardia, Marche, Molise, Puglia, Sardegna, Sicilia, Toscana, Umbria e in provincia di Caserta.
World (in order of quantity): Germania (Mosella; Pfalz; Rheingau); Stati Uniti (California; New York; Washington); Australia (Sud Australia: Adelaide Hills; Clare Valley; Eden Valley); Francia (Alsazia); Austria (Bassa Austria); Ungheria (Kunsag). Piccole produzioni in Nuova Zelanda, Canada, Romania e Italy.
Riesling renano: vini italiani DOCG e DOC dove è ammesso
DOCG: nessuno.
DOC: Abruzzo, Alto Adige o dell'Alto Adige (in tedesco Südtirol o Südtiroler), Colli Martani, Colli Tortonesi, Collio Goriziano o Collio, Friuli o Friuli Venezia Giulia (in lingua slovena Slovena Furlanjia o Furlanjia Juliska Krajna), Friuli Aquileia, Friuli Colli Orientali, Friuli Grave, Friuli Isonzo o Isonzo del Friuli, Friuli Latisana, Garda, Langhe, Merlara, Oltrepò Pavese, Riviera del Garda Classico, Trentino, Vicenza.
Sources:
© Ministry of Agricultural Food and Forestry Policies, National Catalogue of Vine Varieties.
© Bassi C., Sommelier: the illustrated manual, Cammeo DiVino, Monte Isola, 2022, pp. 170-171