Il syrah è un vitigno a bacca rossa.
Synonyms and clones
Syrah: caratteristiche
... of the plant
Appearance: leaf medio-grande, pentagonale, trilobata o quinquelobata e con seno peziolare ad U o a lira chiusa. La pagina superiore è quasi glabra e di colore verde medio opaco. La pagina inferiore è aracnoidea e di colore verde chiaro. Petiole medio-lungo, grosso e glabro.
Maturation: III decade di settembre. Bunch medio, talvolta alato, cilindrico, irregolare, allungato e semi spargolo. Grape medio-piccolo di forma ovale regolare. Peel tenera, molto pruinosa e blu. Pulp succosa con succo incolore o appena colorato, di sapore neutro, ma dolce e gradevole.
Productivity: abbondante e costante.
Vigour: buona.
Resistance to adversity: ottima al marciume.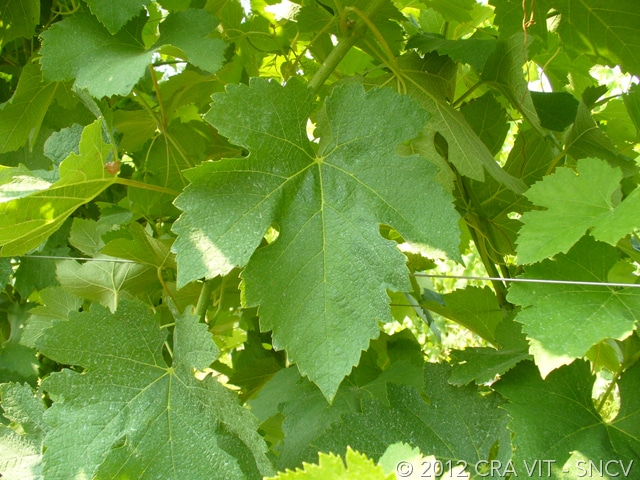 ... of wine produced
Visual examination: rosso rubino profondo con sfumature violacee.
Olfactory examination: intenso e fruttato, con piacevoli note speziate di pepe nero. Tra i riconoscimenti cioccolato bianco, mirtilli freschi, foglie di tabacco, confettura di gelsi neri.
Taste-olfactory examination: fresco, morbido, tannico, con una pseudocalorica importante e strutturato. Finale lungo.
Cultivation zones
Italy: (zone idonee e consigliate) Piemonte, Puglia; (zone idonee) Abruzzo, Basilicata, Calabria, Emilia-Romagna, Lazio, Liguria, Lombardia, Marche, Molise, Sardegna, Sicilia, Toscana, Umbria, Valle d'Aosta e provincia di Trento; (zona in osservazione) province di Bolzano, Padova, Treviso, Venezia, Verona e Vicenza.
World (in order of quantity): Francia (Languedoc-Roussilion; Provenza; Valle del Rodano); Australia (Sud Australia); Spagna (Aragon; Castilla-La Mancha; Catalonia; Valencia); Argentina (Mendoza); Sudafrica (Paarl); Stati Uniti (California; Washington); Italy; Cile (Maule; Rapel).
Syrah: vini italiani DOCG e DOC dove è ammesso
DOCG: nessuno.
DOC: Alcamo, Atina, Bolgheri, Colline Lucchesi, Contessa Entellina, Cortona, Delia Nivolelli, Erice, Maremma Toscana, Menfi, Monreale, Montecarlo, Monteregio di Massa Marittima, Piemonte, Riesi, Roma, Salaparuta, Sambuca di Sicilia, San Gimignano, Sicilia, Siracusa, Terratico di Bibbona, Terre di Pisa, Val d'Arno di Sopra o Valdarno di Sopra, Valdichiana Toscana, Valle d'Aosta.
Sources:
© Ministry of Agricultural Food and Forestry Policies, National Catalogue of Vine Varieties.
© Bassi C., Sommelier: the illustrated manual, Cammeo DiVino, Monte Isola, 2022, pp. 177-178