Il tempranillo è un vitigno a bacca rossa.
Synonyms and clones
Synonyms: (Spagna) cencibel e tinto fino nella provincia di Mancia, chinchillano ed escobera nella comunità autonoma dell'Estremadura, vid de Aranda nella provincia di Burgos.
Tempranillo: caratteristiche
... of the plant
Appearance: leaf grande, orbicolare, asimmetrica, più lunga che larga e con seno peziolare a lira chiusa. La pagina superiore è glabra e di colore verde scuro appena brillante. La pagina inferiore è cotonosa. Petiole medio, abbastanza sottile e con qualche pelo rado e corto.
Maturation: I decade di settembre. Bunch grande, lungo e alato, mediamente compatto. Grape medio e irregolare. Peel pruinosa e consistente di color nero-blu. Pulp carnosa con succo incolore e sapore erbaceo.
Productivity: ottima.
Vigour: average.
Resistance to adversity: sensibile alla botrytis e all'oidio.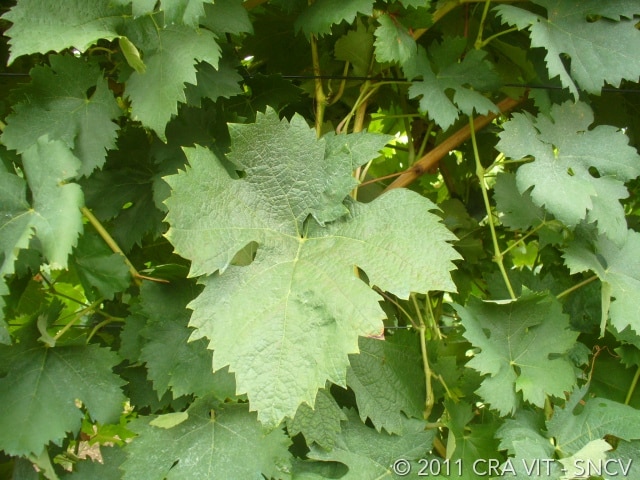 ... of wine produced
Vitigno "re di Spagna", ha una qualità molto variabile a seconda delle tecniche usate. Nelle sue massime espressioni il tempranillo viene vinificato in botte, è elegante e complesso e ha un potenziale di affinamento in bottiglia di oltre 20 anni.
Visual examination: rosso rubino intenso con riflessi granati.
Olfactory examination: intenso, molto fruttato, con note di ciliegia in confettura o sotto spirito, foglie di tabacco, cacao, erbe aromatiche, cuoio, cedro fresco o candito, fico secco, inchiostro, spezie, peperone e foglia di pomodoro.
Taste-olfactory examination: fresco, tannico, alcolico e con una grande struttura.
Cultivation zones
Italy: (zone idonee) Lazio, Sicilia, Toscana; (zone in cui è in osservazione) provincia di Bolzano.
World (in order of quantity): Spagna (Rioja; Ribera del Duero; Toro); Portogallo (Douro Valley); Argentina (Mendoza); Francia (Languedoc-Roussilion); Australia (Sud Australia); Stati Uniti (California; Washington); Messico (Baya California); Cile (Maule Valley); Italy.
Tempranillo: vini italiani DOCG e DOC dove è ammesso
DOCG: nessuno.
DOC: nessuno.
Sources:
© Ministry of Agricultural Food and Forestry Policies, National Catalogue of Vine Varieties.
© Bassi C., Sommelier: the illustrated manual, Cammeo DiVino, Monte Isola, 2022, pp. 140-141