Il trebbiano di Soave è un vitigno a bacca bianca da non confondere con il trebbiano "comune" che è il trebbiano toscano. Da questo vitigno, tra gli altri, si elabora un vino bianco famoso: il Lugana DOC.
Synonyms and clones
Synonyms: trebbiano di Lugana, turbiana (ufficiali). Altri: trebbiano di Verona, terbiana, turviana.
Trebbiano di Soave: caratteristiche
... of the plant
Appearance: Foglia media, pentagonale, orbicolare, trilobata, a volte quasi intera. Seno peziolare a lira stretto, spesso chiuso e con i lobi sovrapposti. La pagina superiore è di colore verde scuro, la pagina inferiore è lanugginosa e di colore grigio-verde. Petiole medio e aracnoideo.
Maturation: prima decade di ottobre. Bunch medio, allungato, piramidale, con una sola ala, piuttosto compatto. Grape medio, sferico. Peel abbastanza spessa e coriacea, di colore verdastro e molto puntinata. Pulp non del tutto sciolta, a sapore semplice e dolce.
Productivity: da media a buona e discretamente costante.
Vigour: notevole.
Resistance to adversity: sensibile all'oidio e al marciume.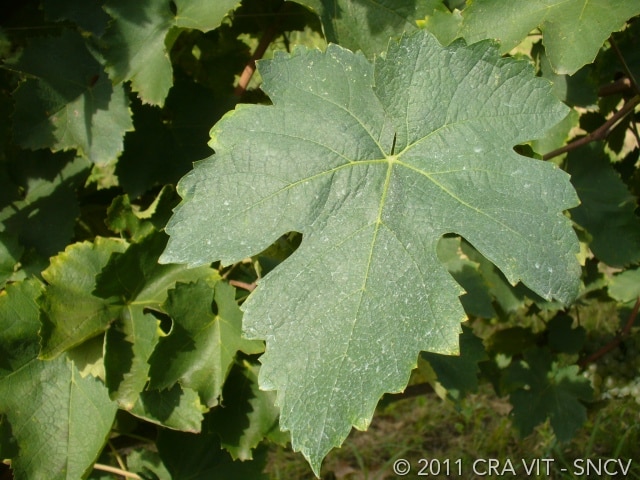 ... of wine produced
Visual examination: giallo paglierino da scarico a intenso.
Olfactory examination: abbastanza intenso, elegante e fine con note fruttate.
Taste-olfactory examination: fresco, morbido e abbastanza alcolico.
Cultivation zones
Italy: (zone idonee e consigliate) provincia di Verona e provincia di Vicenza; (zone idonee) Lazio, Lombardia.
World: nessuna.
Trebbiano di Soave: vini italiani DOCG e DOC dove è ammesso
DOCG: Recioto di Soave, Soave Superiore.
DOC: Capriano del Colle, Castelli Romani, Colli Albani, Gambellara, Garda, Garda Colli Mantovani, Lugana, Roma, Soave.
Sources:
© Ministry of Agricultural Food and Forestry Policies, National Catalogue of Vine Varieties.
© Bassi C., Sommelier: the illustrated manual, Cammeo DiVino, Monte Isola, 2022, pp. 181-182