Il verdicchio è un vitigno a bacca bianca autoctono delle Marche (Italia).
Synonyms and clones
Synonyms: verdello, verdicchio bianco, verduschia. Altri: verdone, trebbiano verde. Ci sono poi una serie di modi territoriali di chiamarlo con aggettivi qualificativi (es. verdicchio verde, verdicchio giallo, verdicchio stretto, verdicchio peloso…) che non possono essere considerati veri sinonimi.
Verdicchio: caratteristiche
... of the plant
Appearance: leaf media, trilobata o pentalobata, poco consistente, orbicolare o pentagonale, con seno peziolare ellissoidale chiuso con margini sovrapposti. La pagina superiore è bollosa e di colore verde quasi scuro. La pagina inferiore è cotonosa e di colore verde chiaro. Petiole lungo, schiacciato, mediamente grosso e glabro.
Maturation: prima decade di ottobre. Bunch medio o grande, conico, spesso alato, serrato o semi-serrato, compatto. Peel sottile, pruinosa e consistente di colore verde-giallastro. Grape medio, rotondo e regolare. Pulp sciolta o quasi molle di sapore semplice e zuccherino.
Productivity: scarsa e incostante.
Vigour: da media a ottima.
Resistance to adversity: sensibile all'oidio, al marciume, alla peronospera.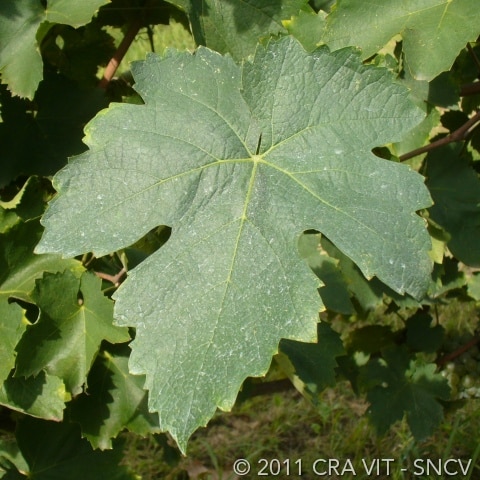 ... of wine produced
Un interessante vitigno che va saputo gestire per non eccedere nell'alcolicità e nelle note vegetali. Si presta bene anche alla spumantizzazione. Se sottoposto ad affinamento acquisisce interessanti note di salamoia.
Visual examination: giallo paglierino più o meno intenso con riflessi verdolini.
Olfactory examination: intenso, fine ed elegante con note fruttate, floreali, erbacee e minerali. Se sottoposto ad un affinamento in legno diventa piacevolmente complesso e si arricchisce di note tostate in cui spicca la mandorla.
Taste-olfactory examination: sapido, fresco, alcolico, morbido, persistente.
Cultivation zones
Italy: (zone idonee: Abruzzo, Calabria, Emilia-Romagna, Lazio, Marche, Molise, Puglia, Sardegna, Toscana, Umbria.
World (in odine di quantità): Italy; Brasile; Argentina.
Verdicchio: vini italiani DOCG e DOC dove è ammesso
DOCG: Castello di Jesi Verdicchio Riserva, Verdicchio di Matelica Riserva.
DOC: Colli Lanuvini, Colli Maceratesi, Colli Pesaresi, Controguerra, Esino, Marino, Montecompatri – Colonna o Montecompatri o Colonna, Velletri, Verdicchio dei Castelli di Jesi, Verdicchio di Matelica, Zagarolo.
Fonti:
© Ministry of Agricultural Food and Forestry Policies, National Catalogue of Vine Varieties.
© Bassi C., Sommelier: the illustrated manual, Cammeo DiVino, Monte Isola, 2022, pp. 182-183