Tonight I am writing to you on the fly my resolutions for this New Year 2016, as I take off a 2015 that was really hard to wear. I spent the first six months of the year hard, in a mental and physical state that would have destroyed anyone. Then, suddenly, due to a series of apparently negative "coincidences", I left the city where I lived for 9 long years and I realized a dream that I have carried with me since I was a child: to live in the house on the lake. I chose the lake in question because of its proximity to Franciacorta, a land that I love and on which I have beautiful wine projects. From the first day my wheel has turned here: Francesco, my partner, has been with me since that day… and knowing him made me question everything I thought about love for 30 very long years. Why am I sharing this reflection with you? Because I want to tell you, with all my heart, that if you feel like doing one thing, that if you have a dream that you carry with you from childhood ... don't be afraid to change your life. An essay Einstein said that if you walk the same road every day you cannot expect to arrive in a different place… so if you don't like where you live, who you live with or how you live… change your path. Whichever city you arrive at, it will be a different city than it is now. Hate it or love it if you can, but it's just a stage. If there is one thing I have learned in 2015 it is that you must be the captain of your vessel, and not be afraid to set sail from port or change course if necessary. Columbus would not have discovered any America by continuing to sail to Africa! This is my first "commandment" of this New Year 2016!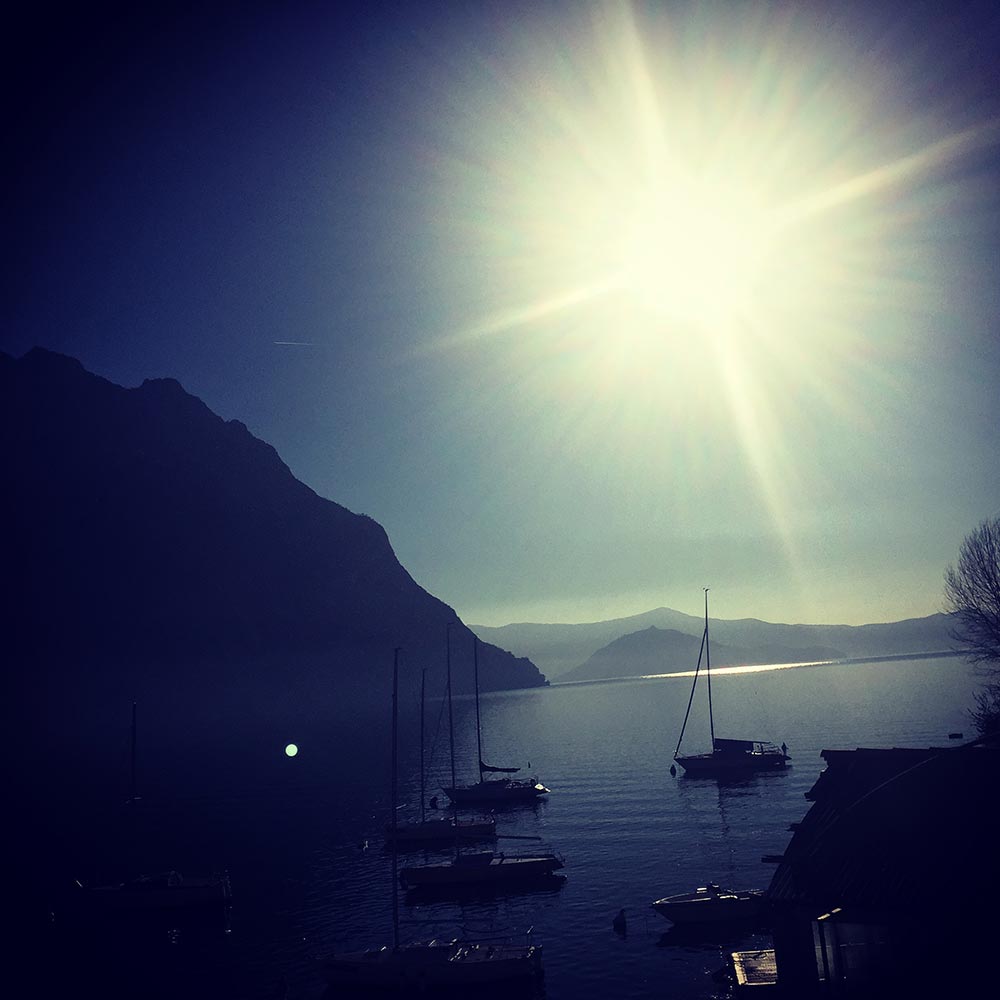 It is 23:51 pm on 31 December 2015 and the barrels and the colors of the fireworks are clearly reflected on the water. Notting Hill has just finished, and I am lying on the sofa with a nice blanket and a glass of extraordinary wine looking beyond the glass of my window on the lake, where every morning I have the pleasure of waking up looking at this extraordinary panorama. The wine I have chosen to end this 2015 so important is equally important: Amarone Riserva Lilium Est from Tenuta Sant'Antonio, 2004 vintage.
In 2004 I graduated, and it was the beginning of a life cycle that just this year I feel it has ended. Now I can look for my ENO happiness aware of having found what I was missing to feel a complete woman and I know that this 2016 will certainly be better because I will not be alone to face it. With my eyes on this impenetrable and very consistent ruby ​​red chalice, possessed by a strong scent of ripe cherry, by these spacings of anise, cinnamon, pepper and vanilla ... with a chocolate that barely leaves room for the strong smell of tobacco, I think that the road to happiness exists.
You can continue on your own if you are keen on it, or just change course. Now a warm, dry and soft liquid flows in my throat, perhaps a little savory, which is now 12 years old. I drank a lot of Amarone in my life, some really remarkable on the occasion of the presentation of the 2016 Vitae Guide in Milan… but Lilium Est is always special and that's why I decided to uncork it for this New Year 2016! Perhaps I prefer Campo dei Gigli for value for money (from the same winery). However, this Lilium Est, after being open for 4 days, really knows how to be loved. I have another bottle of Lilium Est 2004 that I have decided to open in a five-year period, when the wine will be 17 years old (exploiting its 20 year aging potential).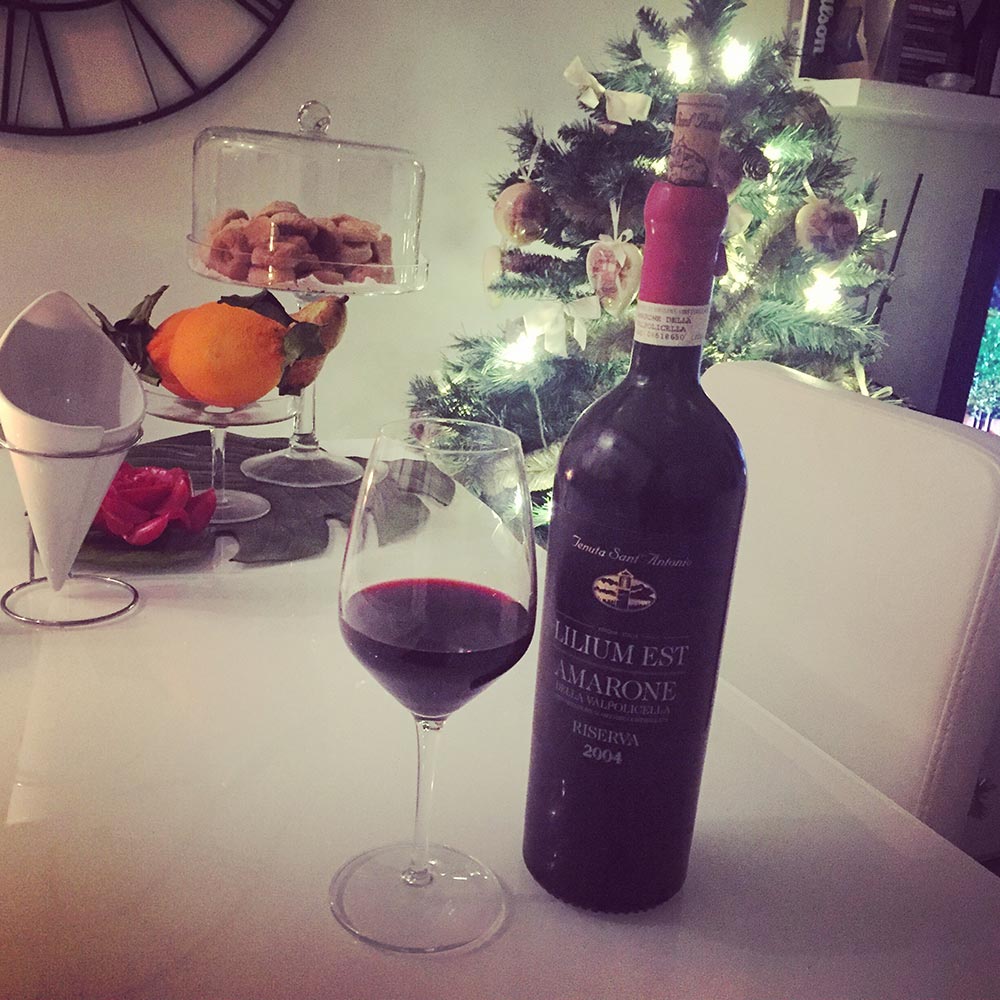 But let's not just talk about this New Year 2016, let's also talk about how I see myself in 5 years! By chance I have the to-do list in my hands… I share it with you to convince me to get on the right track from today!
THINGS TO DO BEFORE OPENING THE NEXT BOTTLE OF LILIUM EST:
Donate all the clothes I haven't worn for more than 3 years with the knowledge that even though I lose weight, I have changed tastes anyway (Except for the X's duster that my parents gave me in 2009 and which I wore very little because it is a size 40 ... but I promise to get back in before uncorking the next bottle!)
Keep your receipts and invoices in order because despite being the daughter of an accountant, I certainly did not inherit the organization of the office ... but from today everything changes, promise!
Building a "sensible" wine cellar where Franciacorta does not occupy 3/4 of the available places ... with 1/4 divided between important reds and extraordinary passito ... more variety in short!
Go for a nice calorie-burning walk along the lakefront once a day for at least an hour and not just to get to the Central Bar of Lovere to eat ice cream!
Lose 20 kg, of which at least 12 Kg in the thighs (read 6 kg thigh).
Eat more fruit and not just oranges in winter and apricots in summer (will it be a coincidence that I prefer wines with a citrus note and passito wines that taste like ripe apricots?)
Earn more and save almost everything (read don't drool over expensive bags, Madeira and Porto sold in triple digits and low-heeled ankle boots).
Do not work more than 12 hours a day but take the time to take care of my body and my spirit to feel more confident about myself.
Learn to do separate collection instead of despairing in front of all those little bins with colored bags (as long as someone explains to me why I can't throw cut FLOWERS where I throw edible FLOWERS ... or pumpkin FLOWERS ... or cauliflowers for example) .
Finish writing the GUIDE TO BECOME SOMMELIER and take the course to become an AIS taster… and pass the exam brilliantly!
I greet you with these 3 extraordinary phrases about life, which I hope you will remember every day of this new 2016:
Life is too short to waste it realizing the dreams of others.
Oscar Wilde
Life is a huge canvas: it spills all the colors you can on it.
D
Life is not measured by the number of breaths we do, but through the moments that leave us breathless.
Maya Angelou
Life is a wonderful gift: never miss a good glass of wine, a kiss from someone you love, a hug from a friend and a lunch with your family. Never be afraid of making mistakes, from an early age they "train" us not to make mistakes ... but don't give up! Making mistakes many times is the only way to get the result you want ... unless of course you do not overdo your CUL ... tura and catches us the first time!
Happy New Year 2016 #winelover 🙂
A hug,
Chiara
How to become a sommelier
All my notes on wine and food in one book.
COMPLIMENTARY, only for those who buy my book on this blog, a copy of the First Collector's Edition of my Sparkling Wine Guide "500 Bubbles in 500", cover price € 25,30. [While stocks last]