Yesterday, talking to a former high school classmate of mine, at one point the big question came up: "But what can I give to a sommelier?" I replied that it depends first of all on your relationship with the sommelier in question and on your spending budget because then ... find a nice sommelier gift it's really easy!
In short, Elena gave me the inspiration to write this article! Maybe reading it will find inspiration for the perfect gift for her new boyfriend… and maybe I'll inspire you too. And then ... if you don't have a boyfriend / girlfriend, a friend / a relative who can give you one of these gifts, you can always do it yourself 😀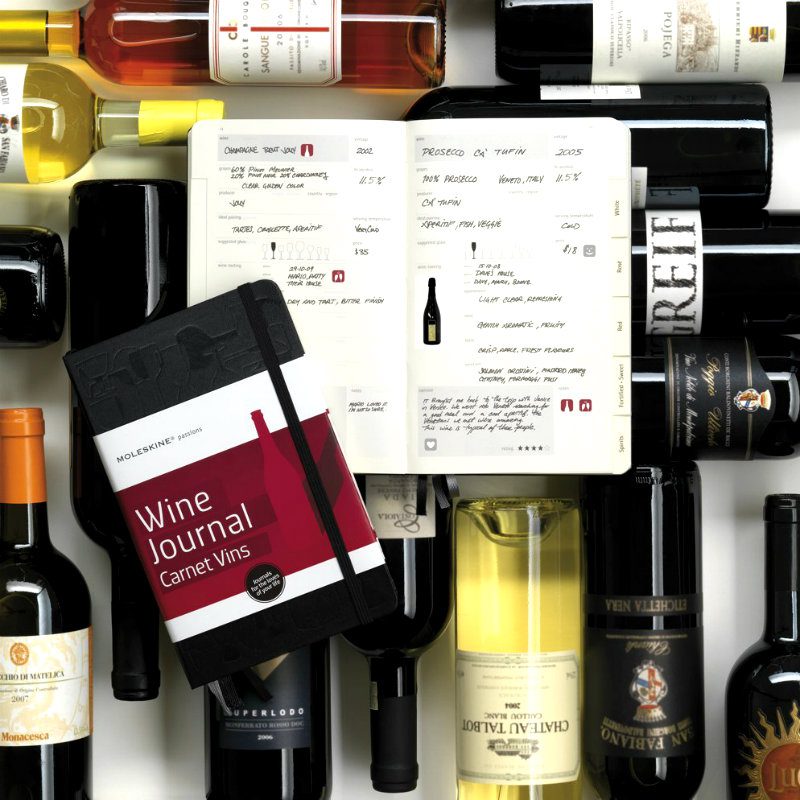 WINE JOURNAL - MOLESKINE Raise your hand if you don't have a not too technological sommelier as a friend! Or yes, even technological but… do you want to add the beauty of paper? I am a huge fan of Moleskine, the legendary notebook that has accompanied illustrious personalities of all time! And its version dedicated to sommeliers is truly wonderful! But beware that it is in English, don't be too nationalist! Imagine transferring your ideal cellar to paper. Fully punched cover, 3 ribbon bookmarks and double expandable internal pocket. 6 themed sections to complete: Sparkling wines, Whites, Rosé wines, Reds, Fortified / Sweets, Liqueurs, 6 notched sections to customize and 10 blank pages to insert notes and comments. 40 labels to use on the white notches, 150 with colored icons and 12 to customize the cover. 13 × 21 cm, 5 x 8 ¼, 240 pages of chlorine-free paper. Gorgeous! I saw it the other day at Buffetti's but then I decided to wait to buy it because on Amazon it costs 3 € less including shipping! Here is the link: Passion book - wines coastline about 16 €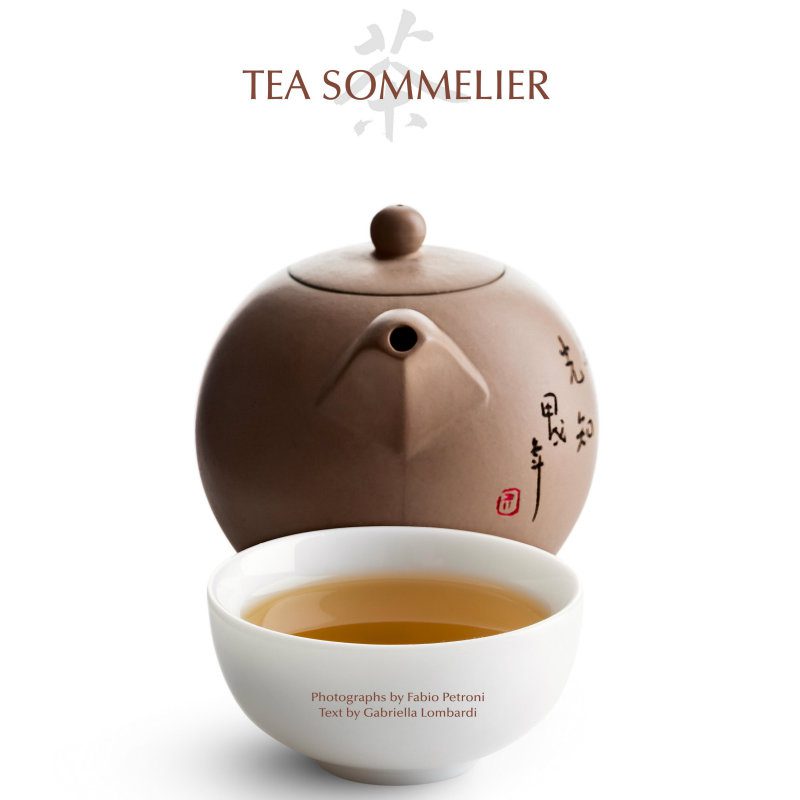 BOOK TEA SOMMELIER the sommelier must also be an expert in all drinks ... so why not take him on a journey through the rituals and culture of tea? A beautiful book that I was lucky enough to browse recently at a friend's house… with a photo and a very well-finished graphics just the way I like it! You will find aromas and combinations described with wisdom and professionalism! For the quality of the book and the finishes, the price is more than reasonable! Here is the link where to buy it: Tea sommelier. Journey through culture and tea rituals -

costs around 25 €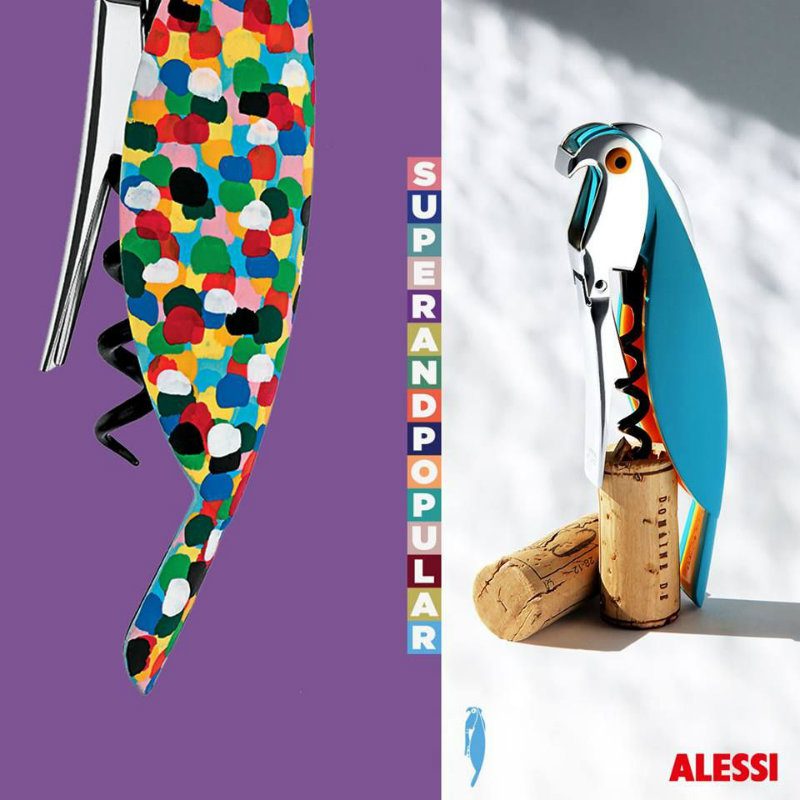 SOMMELIER PARROT CORKSCREW here, this is my favorite gift! Designed by Alessandro Mendini for Alessi, it is available in 4 versions: light blue, green, black and the hand-decorated Proust! Personally I recommend the Proust ... it is the most original and definitely stands out ... as well as the most precious (and costs like the others!) ... but they are all beautiful! (For me I'm also re-evaluating the blue ...) Speaking of price ... I took a look on the net: prices range from 30 to 60 € for the exact same product (Crazy!) And the cheapest seller (as almost always happens) it's Amazon! It costs even 6 € less than the official Alessi shop (but how do they do it ???) Here is the direct link to buy it, so I save you the effort of searching (if I were you here I would love me ... but I hope you tend to be less lazy than me ): Parrot by Alessi, Sommelier corkscrew in hand-decorated die-cast aluminum costs around 32 €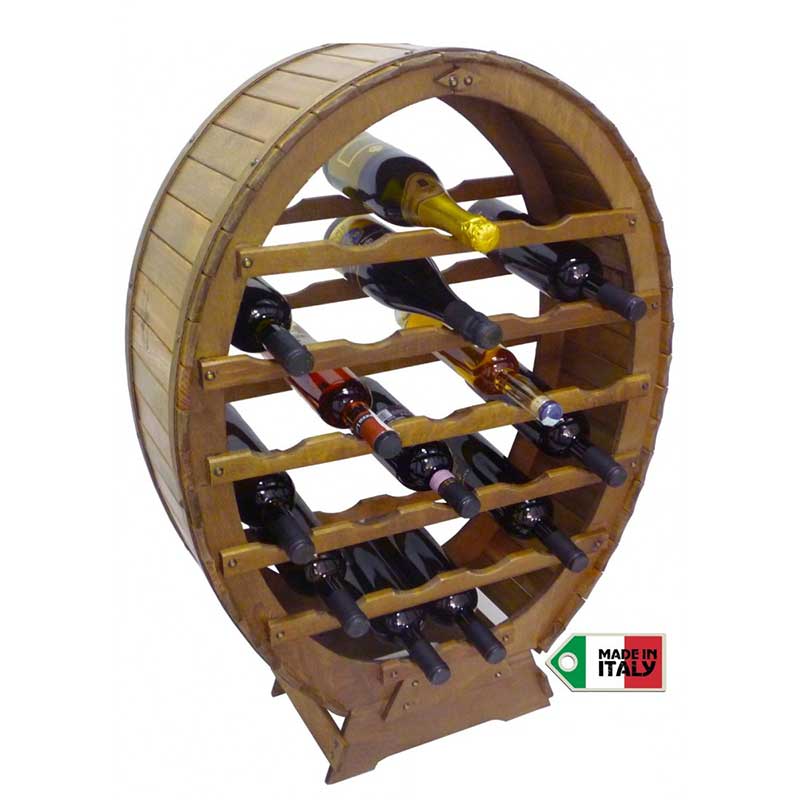 CANTINETTA BOTTE This cellar is really delicious… and I stress all made in Italy by professional artisans! The value for money is really great! It can hold 24 bottles and has small dimensions: about 60 × 90 cm! I have seen several on the internet and it seems to me the one with the best value for money. Here is the link: 24 wooden wine cabinet with wine rack placed in a barrel -

costs around 69 €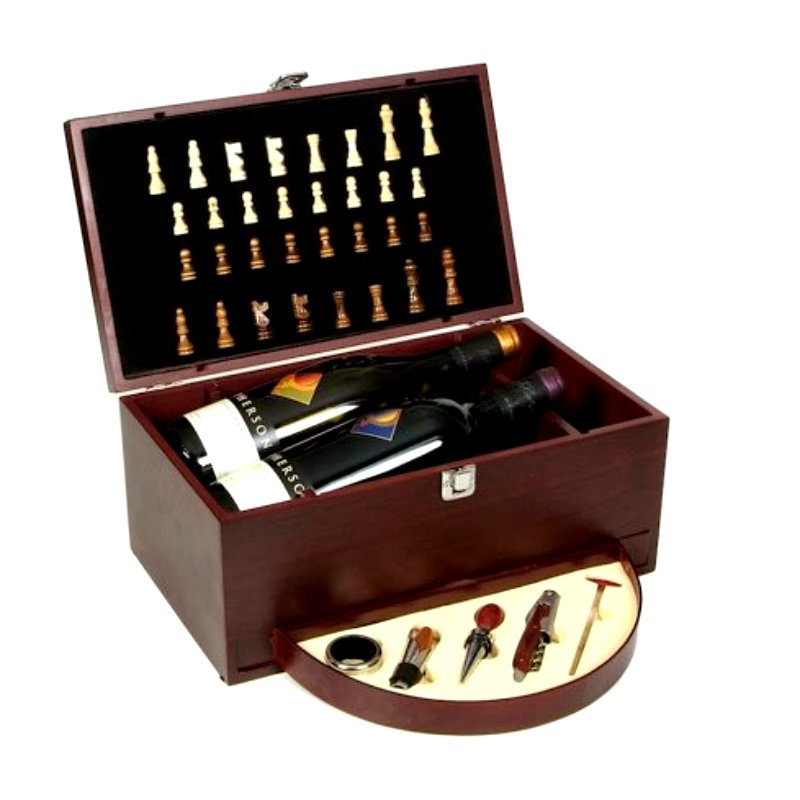 WINE AND CHESS, EVERYWHERE YOU ARE! If like me you love the combination of wine and chess, I propose a variant of the usual picnic basket ... or the sommelier's box! Sommelier set with 5 pieces to open your favorite wine wherever you are, space for two bottles… and chess! They certainly exist in many variations ... but I found this model only on Amazon! (If you are looking for it too and you find it identical on some other site at a cheaper price, do me the favor of linking it to me in a comment? Thanks!) Attention: the bottles are not included 😉 Here is the link: The case of the Grand Master wine and Chess Set -

costs around 75 €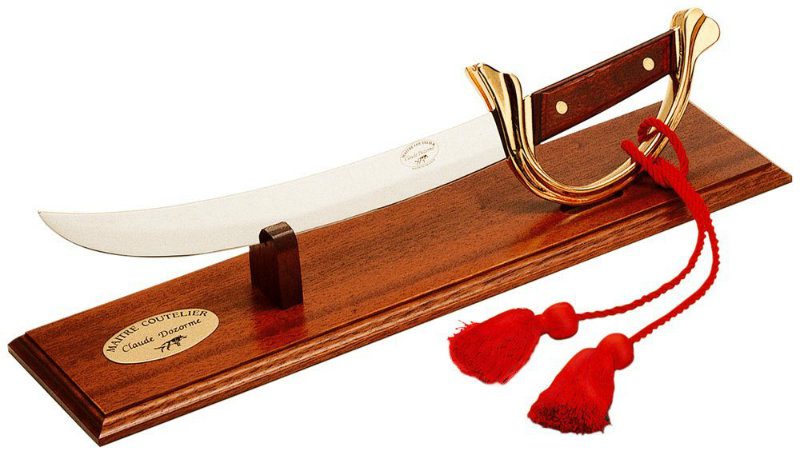 SOMMELIER SABER The saber to open sparkling wines and champagne cannot be missing from the wish list! On the net you will find all prices and all types ... I really like the line of Claude Dozorme a historical French company founded in 1902 by Blaise Dozorme, awarded with the logo Società del Patrimonio Oggi, the recognition of ancestral knowledge for techics in the cutlery sector. I emphasize that in a world where 99% of the products are made in China and the like, this saber is entirely made in France. It has the

steel ame (0,50% carbon, 15% chromium, 1% molybedene, 1% Vandium) easily reliable and with a hardness between 53 and 55 HRC. The but

nico is of brown foil, while the guard is gilded with pure gold 22 carat. Here is the link:

Claude Dozorme - Champagne saber, wood and gold color For those like me who have more modern tastes, there is an economic version of the same house totally in black. You do not expect the same quality as the first, but in general if we compare it to the price the ratio is still excellent! And on a white background it looks really good (but I would have painted the wooden base in black too!). You can watch it on Claude Dozorme - Champagne saber on oak base, color: Black - costs about 75 to 160 € depending on the model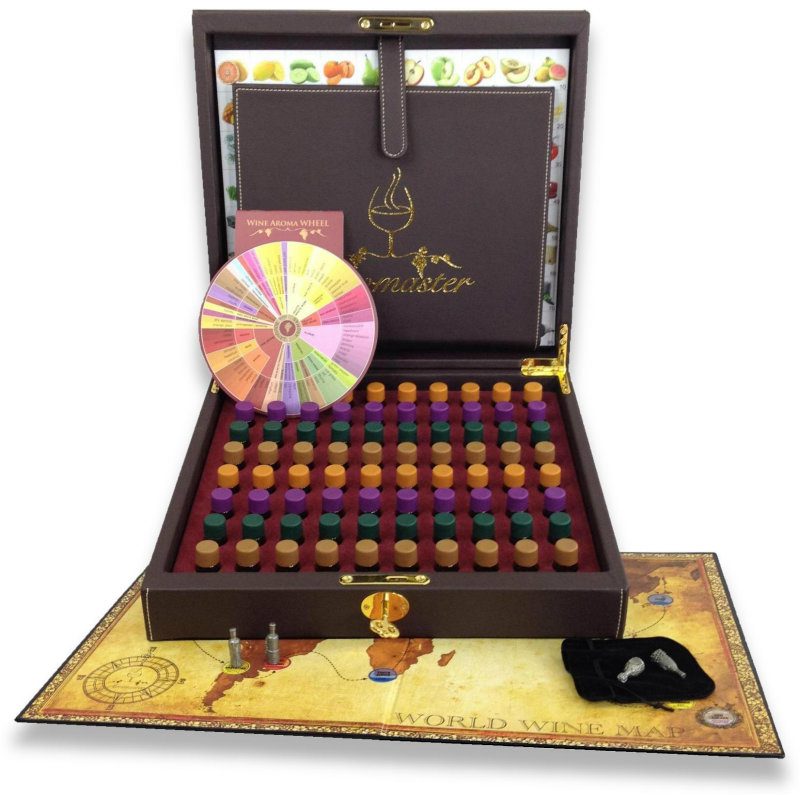 MAESTRO AROMI DEL VINO here ... this is a real cool! Forgive me for the imprecise language ... but when I saw it I couldn't resist! Many of us sommeliers ask ourselves "But how can I recognize hawthorn? And the honeysuckle? And the Litchi? " The answer is this kit that boasts the most complete aroma collection in the world (88 flavors including: lemon, lime, grapefruit, gooseberry, pear, apple, green apple, peach, melon, guava, pineapple, passion fruit, lychee , dried apricot, orange peel, banana, raspberry, black currant, strawberry, blackberry, cherry, plum, prune, honeysuckle, hawthorn, orange blossom, linden, jasmine, acacia, rose, lavender, violet, bell pepper, fennel, tomato, grass clippings, dill, thyme, fern, mint, hay, black tea, tobacco, black currant leaf, bay leaf, eucalyptus, iodine, flint, kerosene, bread, butter, caramel, chocolate, toasted, coffee, bacon, smoke, tar, vanilla, pepper, cinnamon, licorice, nutmeg, cloves, coconut, hazelnut, almond, oak, sandalwood, cedar, pine, quince, honey, soy sauce, leather, gravy meat, mushroom, truffle, moss tree, cork flavor, sherry, madeira, vinegar, nail polish remover, gum, onion, m ais, horse sweat) and a fun board game for all wine lovers! Also includes the book with the wine aroma wheel! Here, here the price is the real sore point: it starts from 310 € on the official Aromaster website to get to 345 € on Amazon! And I'll tell you more ... apparently you can see the convenience on the official website but it's not like that: Fedex shipping costs € 35 (Alas) so once again Amazon is convenient for you: it sells the same manufacturer directly and at the same price as the official website you have a much better and safer customer service and assistance. Here is the link: Master Kit of Wine Aromas - 88 Aromas -

costs around 345 € shipping included
Well, my search for sommelier gifts is over. I take this opportunity to remind you that on May 8th I am 30 years old ... and that if you want to make me a present of these it is welcome 😀 I'm waiting!
And remember…
"The greatest gift you can give him is not to share your wealth but to let him discover his"
A hug,
Chiara
Book "Sommelier: the Illustrated Manual" Special Edition 2022
All my notes on wine and food in one book.
COMPLIMENTARY, only for those who buy my book on this blog, a copy of the First Collector's Edition of my Sparkling Wine Guide "500 Bubbles in 500", cover price € 25,30. [While stocks last]