My intellectual honesty prevents me from saying - and writing - something I don't think ... so here I am telling you about the 4 wines of "Parade 2021" by Feudi San Gregorio. I anticipate that there is a gem you should try, and how! However, there is also a wine that did not convince me as I believe it is the "victim" of a vintage that is a little too hot. The preview reserved for the press was held on 11 May 2021 on Zoom and it was a well done experience, thanks to the excellent direction that had sent us everything we needed, from beautiful goblets with satin stems to wines.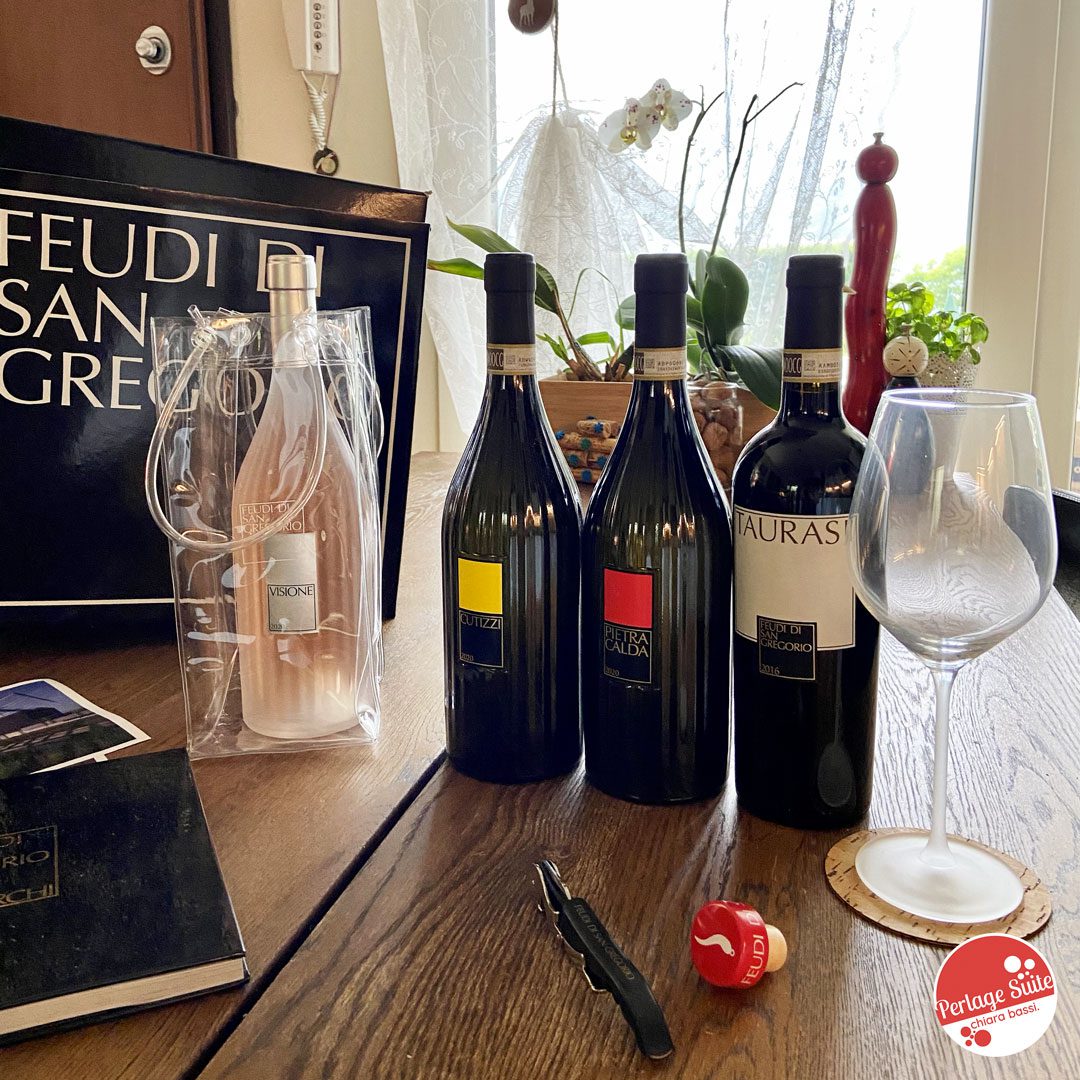 Feudi San Gregorio: Hot Stone 2020.
.
Tasting notes:
Brilliant straw yellow with greenish reflections. On the nose, notes of vanilla, apple, mandarin peel dipped in white chocolate, grechetto basil, oregano flowers. In the mouth it is warm, fresh, quite savory and round. Good drinkability, even if you feel a little alcohol.
Company Notes:
Fiano, a native variety of Irpinia that has also found space in other areas because it is a very plastic variety, resistant to plant diseases and with a thick skin. In some vineyards we make it mature until December to express the aromatic profile in a different way, without producing sweet wines. For its adaptability we find it in California, Australia ...
it is the most horizontal, least acidic and least vertical variety. Now it has just been bottled and needs a few months to express itself better.
Our style is to add as little as possible, 600 DOCG hectares, Feudi has 100 hectares plus other conferredoti.
The Feudi Studi project was a tool to get to know our territory better. Feudi is a company that works in a very large territory with many small contributors who often have better grapes than ours because they have older vineyards that give you the highest quality. Our strength is that there are hundreds of people who have small vineyards that manage them as a good family man in the best way. This heterogeneity means that when we make the cuts we also have 60-70 different types with different shades available for each type and this allows us to make a great product.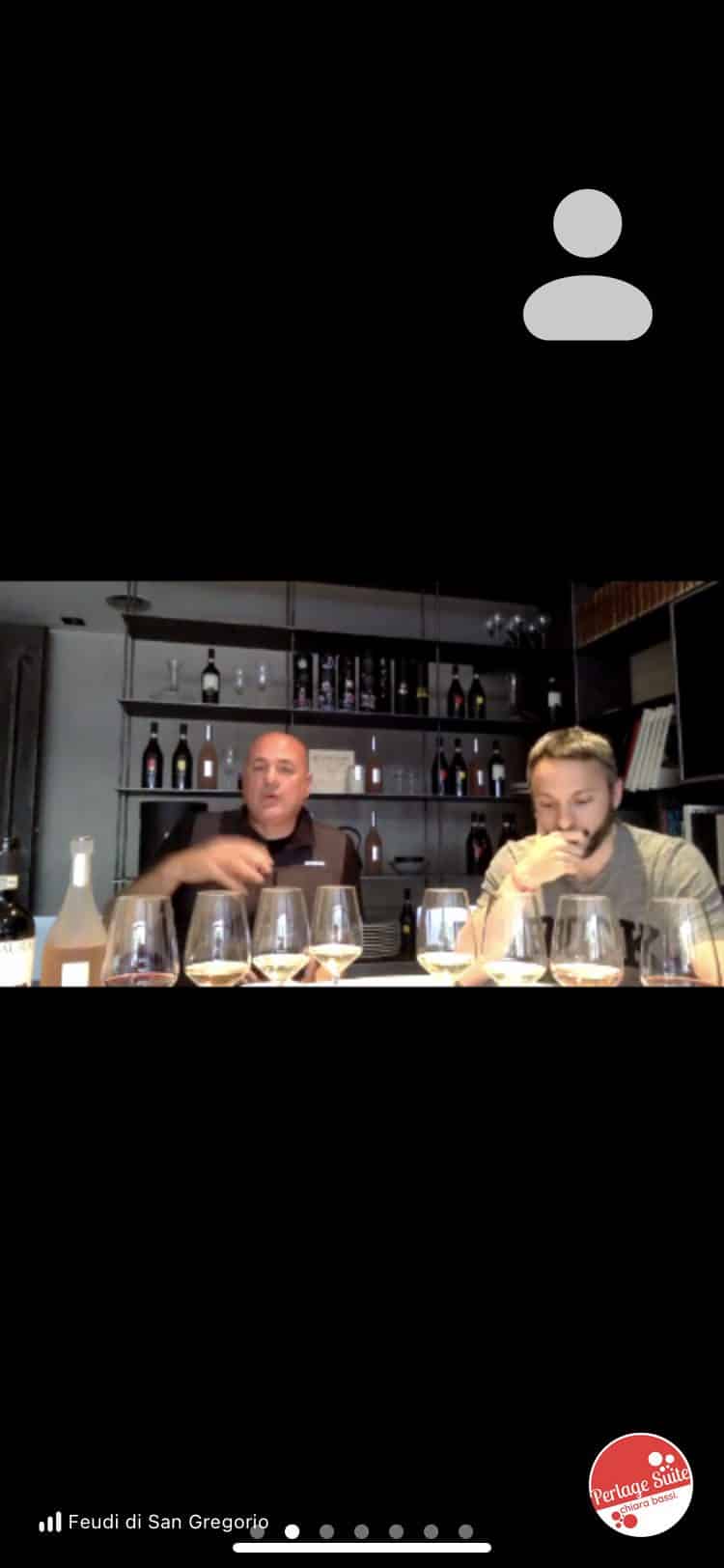 Feudi San Gregorio: Cutizzi 2020
Here is the gem, the Irpinia wine of Feudi San Gregorio that you should absolutely try!
.
Tasting notes:
Slightly more concentrated color than Fiano, intense and brilliant straw yellow. The nose is brackish, with notes of yellow peach, ripe pear, iodine, Mediterranean scrub, lime zest, chinotto, salted butter. In the mouth it is very fresh, extremely savory, warm, coherent, fascinating. Great persistence and great balance, it has a lot of potential for evolution in the bottle.
.
Company Notes:
Tufo is a town with particular soils and there are sulfur mines, mines that closed with the earthquake. The Greco di Tufo is savory and vertical. The plant expresses itself differently from area to area. The Greco di Tufo is here in Tufo, an area made up of 8 municipalities with grapes that behave differently depending on the terrain. The most vertical are those above the mines. The yields are low, around 40 quintals if all goes well. Greek is rich in catechins and tends to oxidize and we oxidize it even earlier, so it does not see sulfur.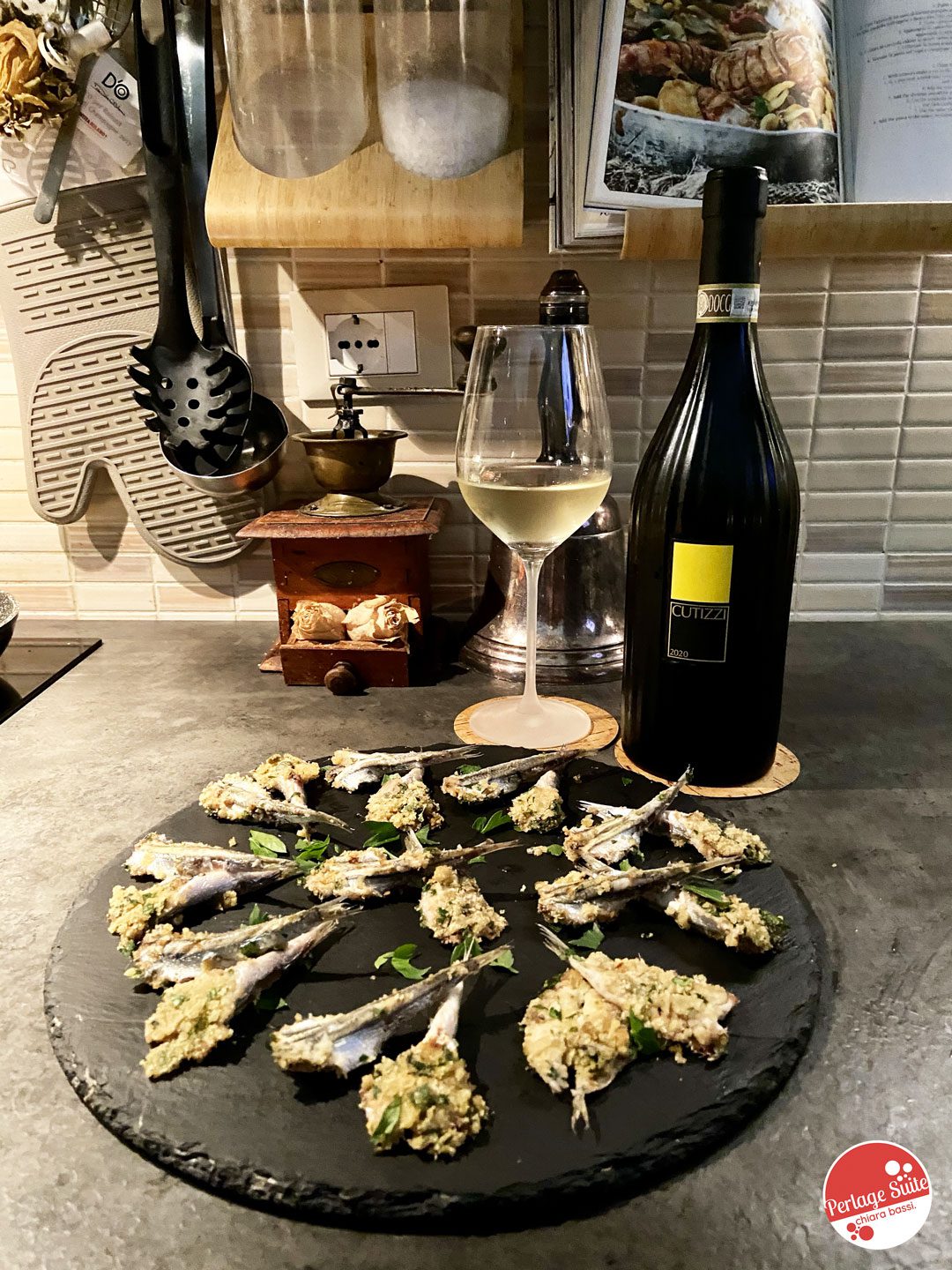 Feudi San Gregorio: Vision 2020
I found it a pleasant and delicate rosé wine, perfect for those who love the Provencal style. Be careful with pairings: this wine is closer to a fragrant white than to a rosé like many expect. The company claims to be inspired by Garda wines, but in my experience these are much more "charged" both on the nose and on the palate. Visione di Feudi San Gregorio goes very well with carpaccio and freshwater fish tartare.
Tasting notes:
Pale onion skin pink. The nose is extremely delicate with barely perceptible notes of rose, oregano flowers and orange peel that make it suitable for marrying very delicate dishes. In the mouth it is very savory, warm, fresh and mineral. Quite persistent, increases salivation for a long time.
Company Notes:
In producing an Aglianico rosé it is important to have vision, determination and courage. We care a lot because it reminds us where we come from and at the same time shows us the direction we should take. For us, rosé is not just a color, but an inspiration linked to the vocational characteristics of the territory. For us it has to be vertical, fresh and sour. Our rosé does not macerate, simply Aglianico is vinified as a white wine and this pale pink color is the color of the juice. We want to create rosé wines that can improve over time, not that last a few months. In Italy we are inspired by the rosés of Lake Garda, because in Irpinia the climate is mountainous.

Feudi San Gregorio: Taurasi 2016
Here is the wine that really did not convince me: the 2016 Taurasi. The nose for me has a hint of cooked that betrays a probably very hot vintage where the grapes were not picked in time. However, I anticipate that I was the only one to notice this scent and my colleagues have reserved much more enthusiastic comments than me so it is probably my nose at fault… anyway I used it for the braised meat and it came very well. Indeed if you taste it let me know what you think!
.
Tasting notes:
It has a deep ruby ​​red color, almost impenetrable. The nose has a hint of a little cooked fruit that lets me guess that 2016 was a vintage perhaps a little hot and that the harvest times were not exactly right, unless a note of overripe was sought. which at the preview confirmed that they had not tried. Don't get me wrong, it's still enjoyable and you can also drink it happily, but I wouldn't recommend buying this particular vintage. There are also notes of ripe cherry, black pepper and a coffee aftertaste. In the mouth it is warm, soft, acidulous, savory and structured, with a fairly long finish.
Company Notes:
Aglianico has a thin skin and for this reason it needs warm and dry climates and does not like rain: it is easily damaged. The style of Aglianico is changing: today we no longer try to "over-extract", but macerations are shorter than 15 days at the most. Furthermore, climate change favors these grapes which have overall more balanced frameworks. Viticulture is supporting change and freshness is not penalized by alcohol. The grape has a lot of acidity that enhances the tannin and for this it takes a long time to round. In any case, in the higher areas, Taurasi expresses itself better as the tannins become more silky and less coarse. In fact, despite the hot year, at 600 meters above sea level the grapes ripened later but in better condition.
Thanks to Feudi San Gregorio and in particular to Mariarita Fischetti for the pleasant experience!
Cheers
Chiara
How to become a sommelier
All my notes on wine and food in one book.
COMPLIMENTARY, only for those who buy my book on this blog, a copy of the First Collector's Edition of my Sparkling Wine Guide "500 Bubbles in 500", cover price € 25,30. [While stocks last]