A couple of Fridays ago I went with Francesco to visit a winery I had never heard of, despite being in the area where I live: Lake Iseo. Romantica Franciacorta is in Passirano, in the province of Brescia, in that area of ​​Italy that has become famous for its people classic method sparkling wines that by lapping tables around the world. Very little is said about this company, yet it is worth a visit to combine with the Piccola Corte restaurant. The Avanzi family, which I can't wait to visit also on Lake Garda, has been producing wine for over 80 years and has created this winery to be a small jewel, today a rough diamond that timidly asks to shine.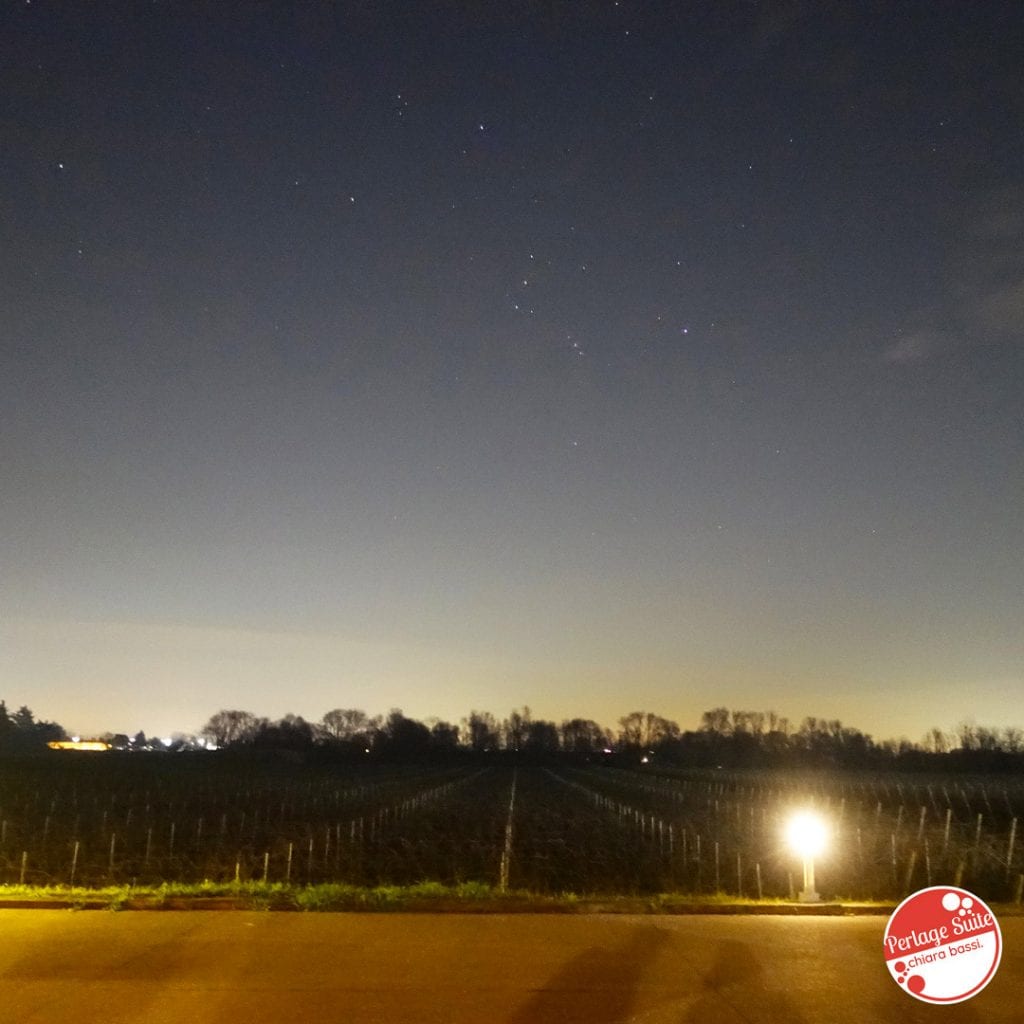 We arrived quite late (after 18:30), but thanks to my wonderful time Sony RX100M4 I managed to take this splendid night of the vineyards. I'm 10 hectares total of properties surrounding the cellar, of which 9 by chardonnay e 1 pinot noir. Surely having all the vineyards around the company is a privileged situation that allows you to monitor the situation with great meticulousness.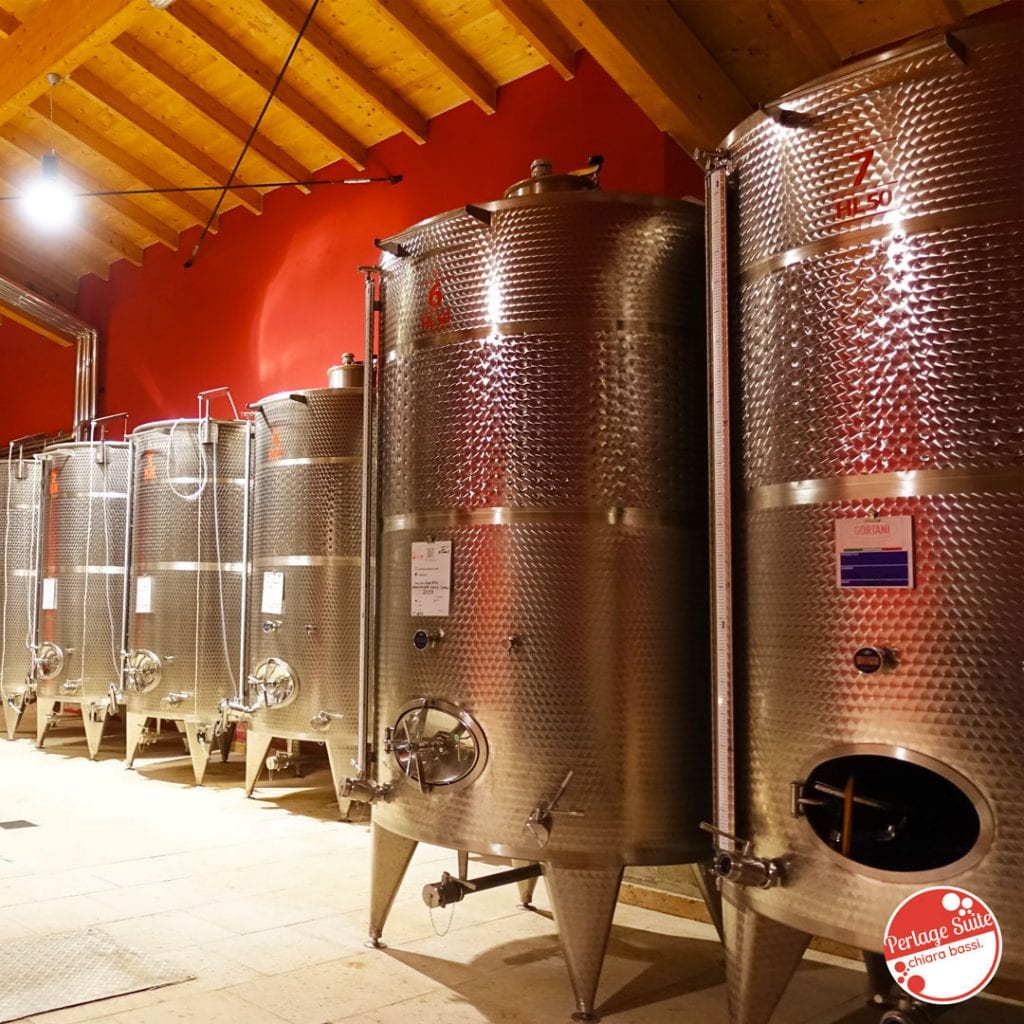 The cellar is on two floors, with the basement dedicated to refinement and the upper one dedicated to winemaking. The cellar is beautiful, very clean and well-kept… Even if the aspect that struck me most was the choice of interior design… which I confess to being my greatest passion! Yes, I admit it, the furniture is the only thing I love more than wine… I really liked both the choice of red on the walls and the supplies: from the LC3 sofas by Le Corbusier to the Mesmeri wall lamps by Artemide! Light plays a fundamental role by sculpting spaces and emphasizing environments.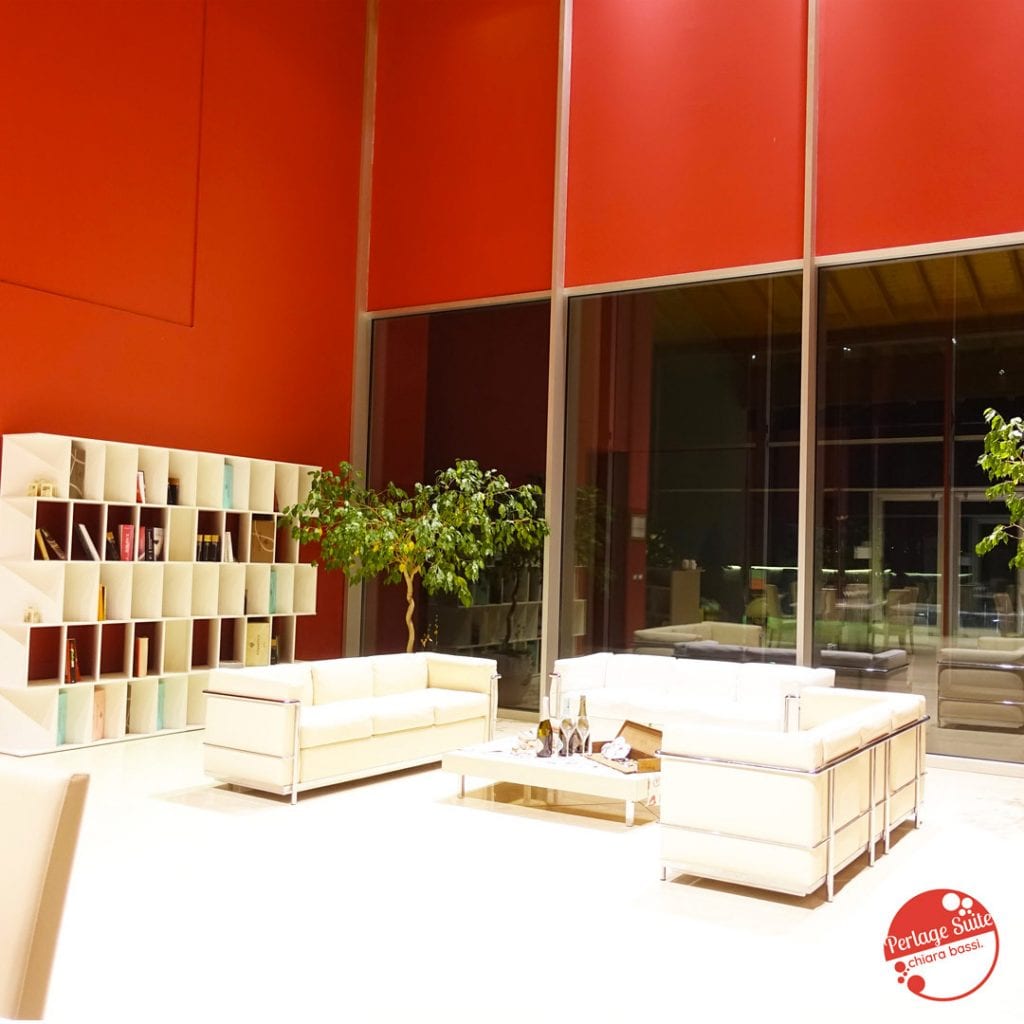 Entering the aging cellar is exciting thanks to the spectacular use of light! The cellar is small, but I am sure that the attention to detail will win you over ... also because it is the same care that is felt in every bottle of Franciacorta! The room reserved for the barriques is very charming!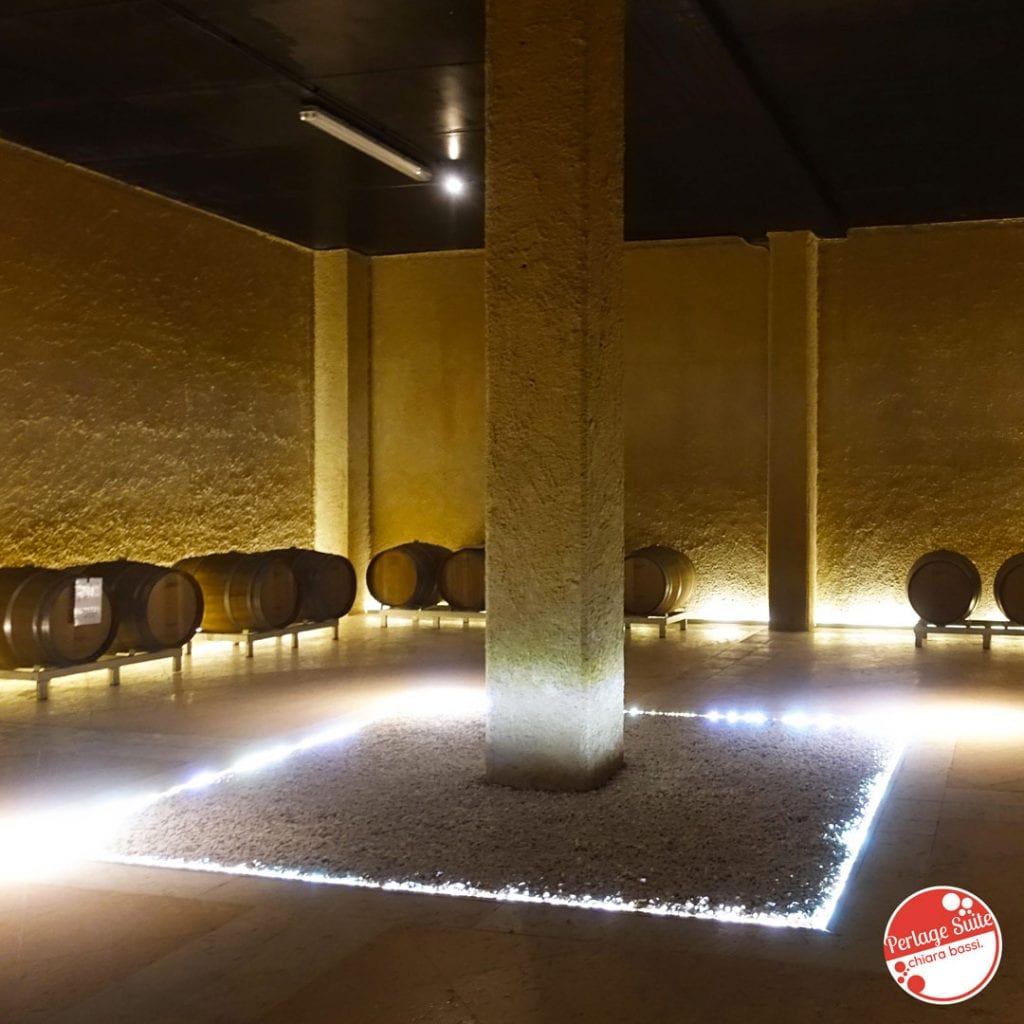 Walking through the basement doors open that catapult you into a contemporary museum thanks to the study of light. Before telling you what Romantica Franciacorta wines are like, do you know what remuage is? (Do you want to learn more about the magical world of wine? Buy my book How to become now Sommelier - II Edition HERE)
During the production of the classic method sparkling wine there is a particular phase called remuage which aims to avoid yeast deposits in the bottle, so it can be said that it is a "clarification" phase that is necessary if you want to market the wine in the same bottle. Remuage today is manual or mechanical, and, as you may imagine, manual remuage does not guarantee a higher quality (indeed, it is easier to obtain non-homogeneous batches) and at the same time is much more expensive both in terms of space and in terms of labor. . As you can guess from the (reduced) number of pupitres present in Romantica Franciacorta, the remuage is mostly mechanical.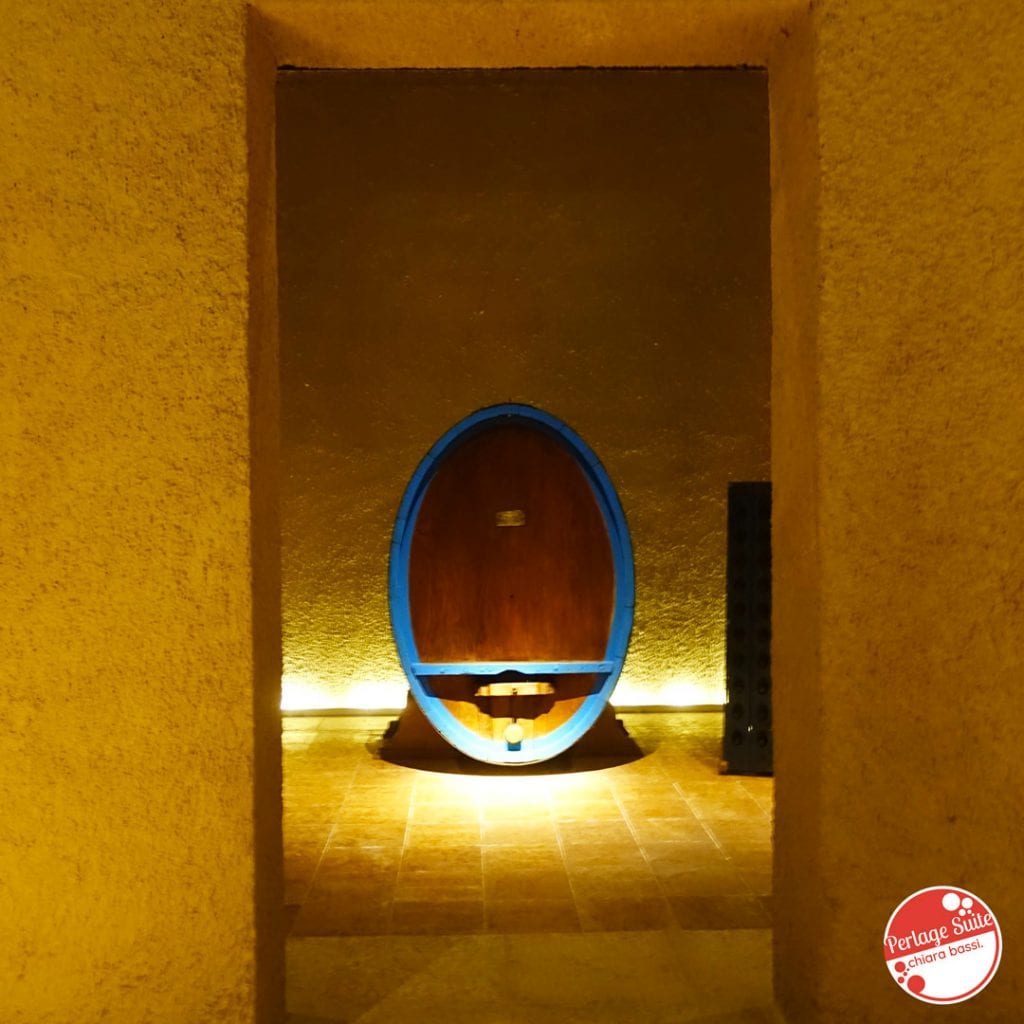 However, I always find pupitres extremely fascinating! Born in the early 1800s in Champagne, they are two wooden planks arranged in the shape of an inverted V with holes for arranging the bottles. For us today these are used to carry out manual remuage, but in reality when they were born they were a "refinement" of the manual remuage of the time, much less precise than that made possible by the use of pupitres. Before these, in fact, the bottles were taken from the shelf one after the other causing an inevitable and unwanted agitation of the wine. In the pupitres, on the other hand, the bottle remains stationary and they turn only 1/8 clockwise and counterclockwise and then place them in a more vertical direction so that the yeast deposits move more and more towards the cap.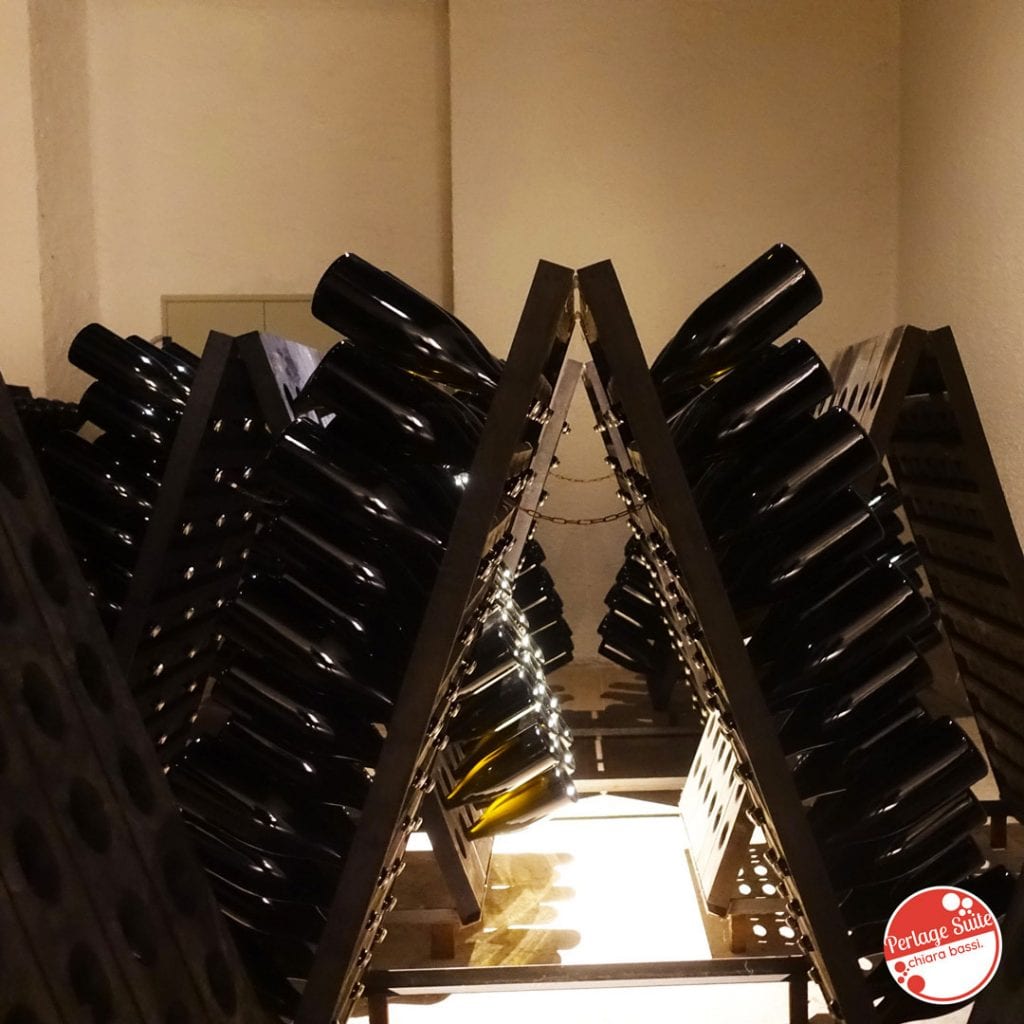 But now I want to tell you about the wines of Romantica Franciacorta! Although all are classified as "Brut" the dosage is not high: there are about 6 g / l of sugar (I remind you that to be called Brut there can be up to 12 g / l of sugar). The Franciacorta Brut, Brut Satén and Brut Millesimato are 100% chardonnay while the Franciacorta Brut Rosé is made from 90% pinot noir and the remaining 10% from chardonnay.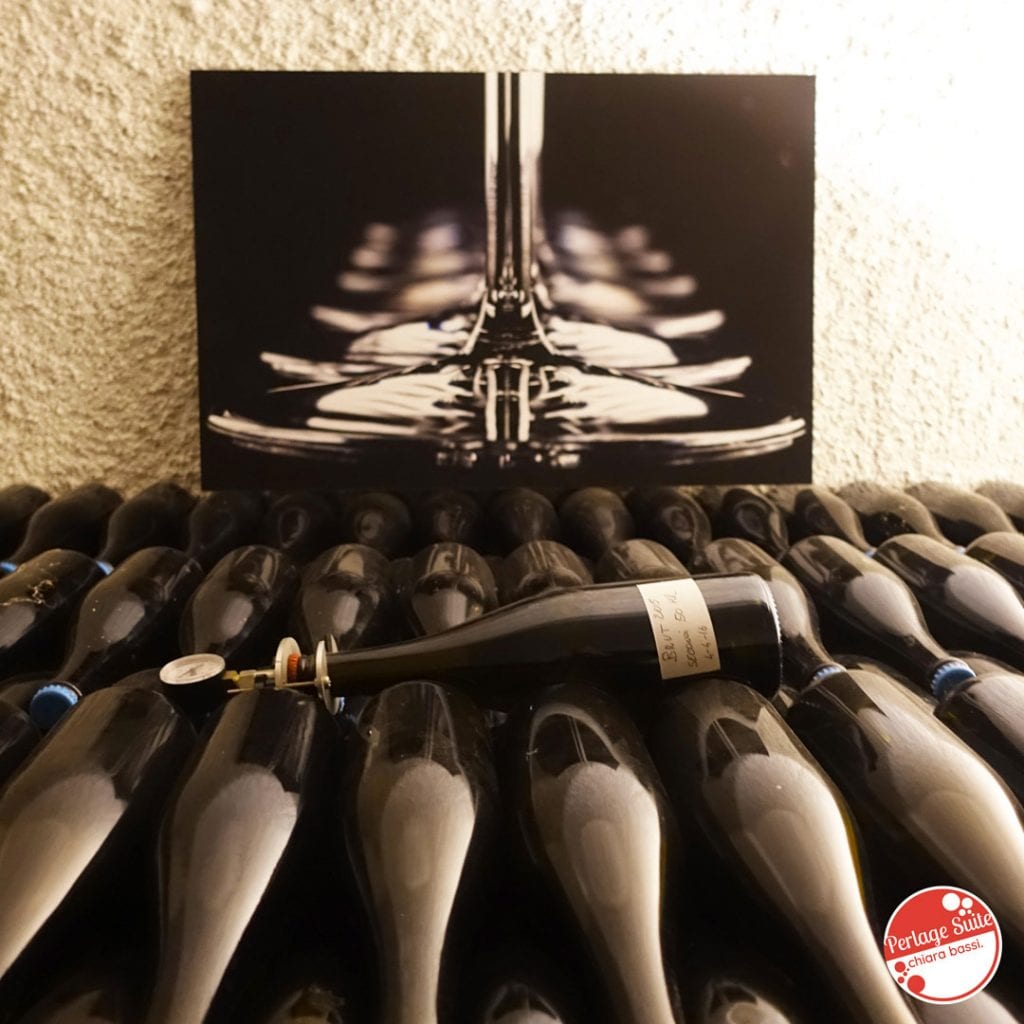 the tastings
The tasting went very well! The two wines I liked the most are Franciacorta Brut Millesimato 2015 and Franciacorta Brut Rosé, but I also liked Franciacorta Brut a lot. What convinced me less, as you can deduce, is the satén. It must be said that few Franciacorta Satén up to now have been in my hearts… very few!
Romantic Franciacorta Brut - disgorgement November 2019
It is aged for 30 months on the lees and it is perhaps, overall, the classic method sparkling wine that convinced me the most… even if a splendid match is played with Franciacorta Rosé. It has a beautiful bright straw yellow with a rather fine and quite numerous perlage that forms an evanescent foam. The nose is elegant and fine, with hints of yeast, white chocolate, candied cedar and lime blossom. In the mouth it is elegant and enjoys an excellent drink.
Romantic Franciacorta Brut Satén - disgorgement November 2019
A small% of the bases are aged in the barriques we saw in the splendid cellar… and you can feel it! In fact, the hints are more shifted to sweet spices and, compared to Brut, it has a creamier bubble and a less acidic and softer mouth.
Romantica Franciacorta Brut Millesimato 2015 - disgorgement March 2019
It has a beautiful bright straw yellow color, slightly more intense than the previous two! The nose is intense, fine and elegant with notes of white chocolate, pink pepper, cream and freshly baked brioche bread. In the mouth it is very creamy, with a very fine bubble. Gently persistent.
Romantic Franciacorta Brut Rosé - disgorging November 2019
It has a beautiful pink bright onion skin with a fine and numerous perlage. Delicate and fine nose with aromas of cinnamon, vanilla, hibiscus flowers, pastries with strawberries, jelly and cream. In the mouth it is elegant and confirms a creamy bubble. Persistent.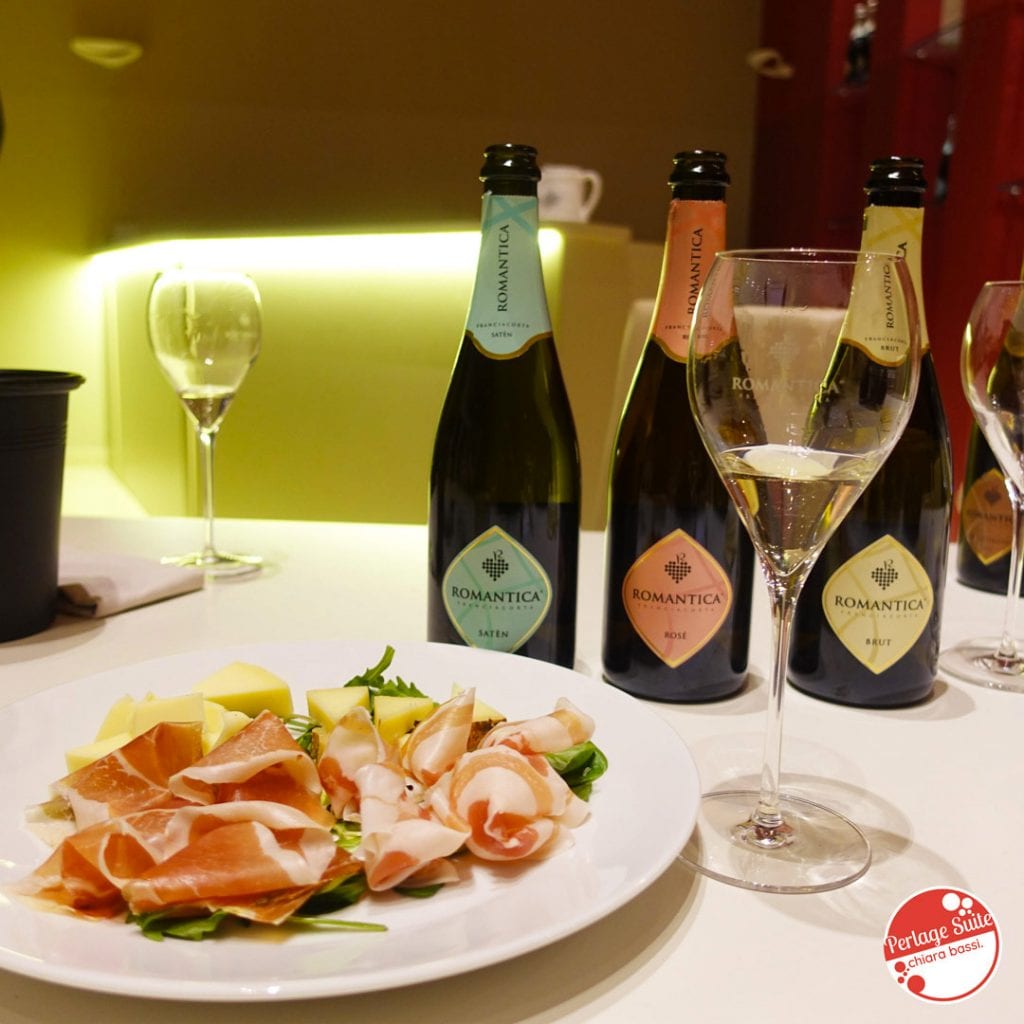 Dinner at the Piccola Corte restaurant
The restaurant is very nice and suitable for a romantic evening, like the one Francesco and I spent. Management and cooking are the work of two young and very, very gifted boys that, I am convinced, together they can go a long way. The menu is interesting and mixes traditional elements with bold interpretations. Another very popular note: the ladies' menu without prices! As a woman I struggle to swallow the idea of ​​offering dinner to my man or, horror, to divide in half and I find it very elegant not knowing the cost of the evening. In a couple the woman can do her part in a thousand ways, come on, let's not lose even a bit of gallantry!
How wonderful these noodles with gorgonzola, pears and coffee! I probably don't have to explain that cheese and pears are a divine combination, but I found this dish particularly tasty! The cooking of the noodles was perfect and the flavors well balanced. The aesthetics of the dish are also beautiful. I have chosen to preview another product from Avanzi family: the craft beer! I LOVE craft beer! Manerba Brewery it's a micro brewery on Lake Garda opened in 1999 I hope to talk to you soon. Fiordalisa blanche beer is divine, with vibrant citrus notes that intertwine with a rich bouquet of aromatic herbs and spices.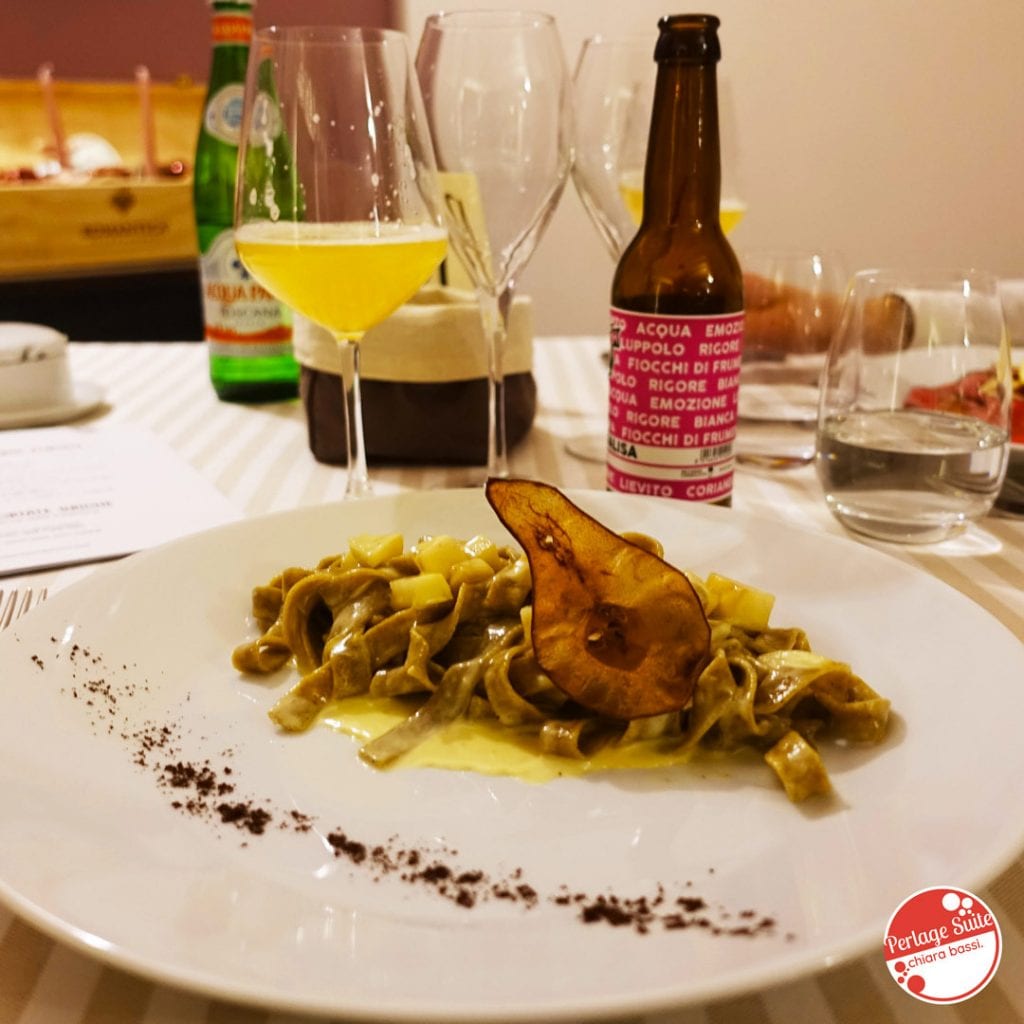 The second best dish was undoubtedly the braised meat, but I still find the guinea fowl more interesting. This is the dish that "you don't expect", or that at least a Romagna woman like me doesn't expect because we traditionally have a concept of guinea fowl completely different. The cooking of the meat is perfect and enhanced by a licorice sauce that accompanies it perfectly. I love sauteed chicory and this was masterfully prepared, however I found the strong flavor of chicory too challenging for licorice guinea fowl in the sense that it covers up its mild taste a little. Perfect pairing with Romantica Franciacorta Brut sparkling wine.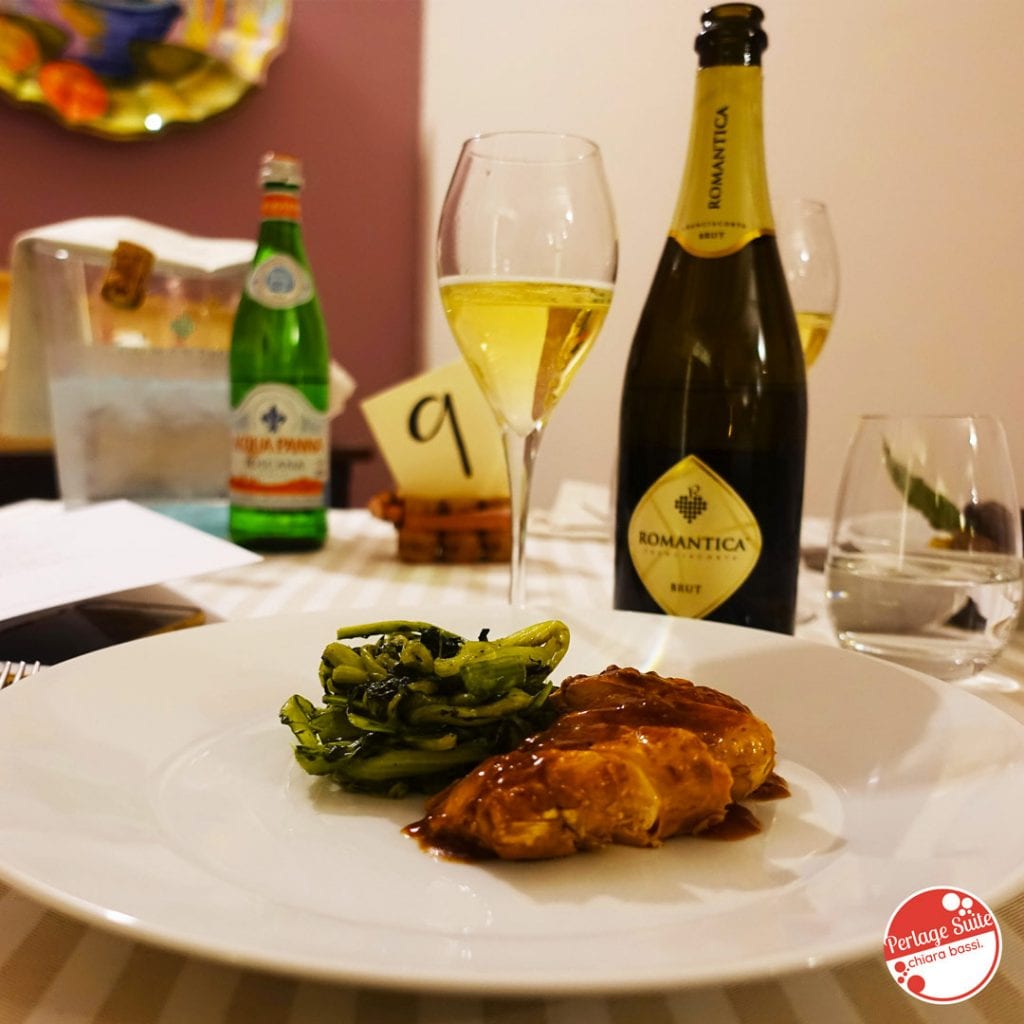 In summary I find Romantica Franciacorta and the Piccola Corte Restaurant two excellences that are worth discovering. The passion is great, and there is a great desire to do, transmit, grow. Combining these two experiences with a dinner at a restaurant is necessary to understand the nuances of a project that makes quality its keystone. The care of the raw material embraces both aspects: to make a wine like this you need to have worked well in the vineyard ... and I will never forget the roast beef I ate at the Piccola Corte!
Valentine's day the Piccola Corte Restaurant offers, for only € 150 per couple, an intelligent 3-course dinner with à la carte menu, a visit to the cellar, a toast with rosé sparkling wine and a night in a suite (Info & reservations at this link).
Cheers 😎 😍
Chiara
How to become a sommelier
All my notes on wine and food in one book.
COMPLIMENTARY, only for those who buy my book on this blog, a copy of the First Collector's Edition of my Sparkling Wine Guide "500 Bubbles in 500", cover price € 25,30. [While stocks last]