Slow Food it brings out another delicious event perfect for an audience of "novice" winelovers. The Island of Maddalena in Sardinia becomes the dream setting for 4 events June Slow organized to be experienced in person or at a distance thanks to the very comfortable tasting kits sent by Sardinian Tellus, an association that promotes Sardinian culture in the world. I want to publicly congratulate them for the care of the packaging: despite the heat and the bad manners of some couriers everything has arrived perfect! 🤩
June Slow was born to tell the partnership between man, island and a particular plant, the Vine. I participated in 2 streaming taste workshops, A thousand bubbles and Blue e Sea nectars. The latter in particular was a mystical experience! Fantastic!
A thousand bubbles and Blue started on Saturday 10 July 2021 at 19 pm Sardinia, with its Birbante Rosé sparkling wine from Tenuta Asinara, met the island of Salina which presented itself with the Ruffiano Brut di Malvasia from Cantina Virgona. In combination in the kit I found:
1 clove of guttiau bread of the Isola Sarda Bakery
1 clove of bread carasau of the Isola Sarda Bakery
1 form of Pecorino Canestrato Bantu from Lacesa
1 jar of Antunna mushrooms
1 jar of wild thistles
Honestly, I didn't understand the choice of wild thistles: too much vinegar, too much structure, too much spiciness… they were really impossible to combine! Other than that all the products were great. I especially loved the guttiau bread and antunna mushrooms!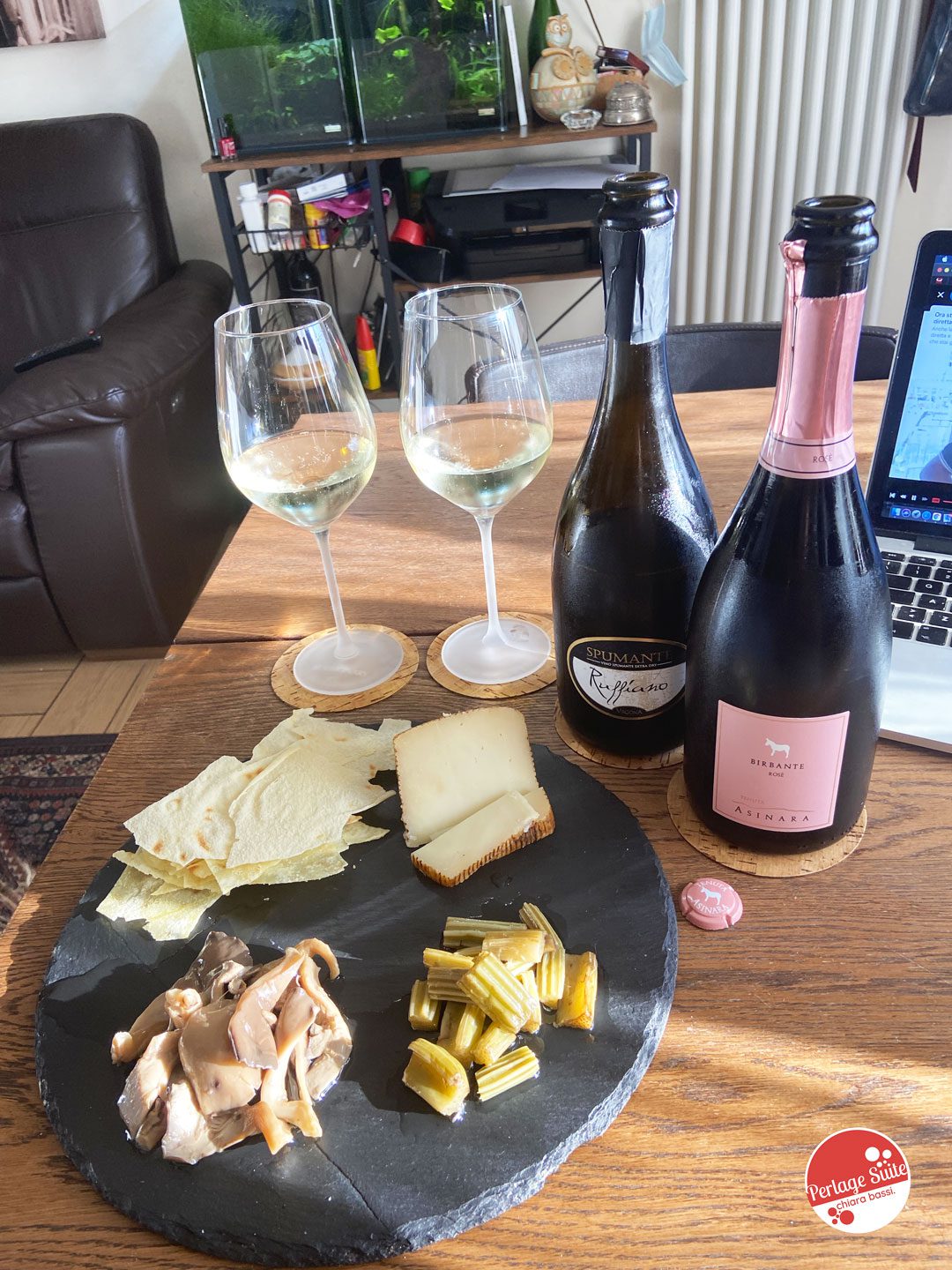 June Slow - A Thousand Bubbles and Blue, Saturday 10 July 2021
It has a bright straw yellow color with a fine, numerous and persistent perlage which forms an abundant and evanescent foam when poured. On the nose the Malvasia is not characterized as in the mouth, but it is still pleasant. Notes of honey, pineapple and lime blossom fade into a brackish finish. In the mouth it feels that it is made from Malvasia grapes, but it is not totally consistent with the nose. The drink is simple, but pleasant and is perfect for a disengaged aperitif. It went very well with antunna mushrooms, guttiau bread and pecorino canestrato, badly with the thistles that totally preyed on it.
This Aeolian sparkling wine deserves to be tasted: it is a still successful exercise in style. Of course in this Charmat method version it struggles to totally satisfy a palate that is used to something more structured (By the way, you already bought my Sparkling Wines Guide collectible?), but it can still be pleasant in combination with an aperitif full of fragrant foods. And then I remain a great lover of Malvasia! Do you remember the wonderful days I spent in the kingdom of malvasia al Val Tidone Wine Fest?
Now you can subscribe to my newsletter or scroll down the page to continue reading the article! 😉
For being a charmat method they worked a miracle! I understand why it was chosen by Slow Food for this taste laboratory! It has a beautiful bright onion skin pink with a fine, very numerous and persistent perlage. The nose is very vanilla with notes of small red fruits, iodine and strawberry yogurt. In the mouth it is consistent, fresh, soft, with a certain residual sugar, good structure and good flavor. You really enjoy drinking! It paired very well with the pecorino canestrato and the thistle (as far as possible given as I said the difficulty of this), while the mushrooms covered them.
June Slow - Sea Nectars, Saturday 17 July 2021
Malvasia delle Lipari is simply a myth. I got to know her very closely with my former partner, the historical name of the island of Salina. It is definitely one of my favorite Italian dessert wines, so I thank Slow Food for reminding me!
It has a beautiful bright and consistent intense amber color. Intense and complex nose with notes of acacia honey, macadamia nut, caramelized fig. In the mouth it is mellow, consistent, fresh, very savory, with a well-balanced sweetness. It goes very well with Ignazio Cabras' delicious almond sweets and Fiore Sardo Bussu PDO, while Ovinforth totally covers it.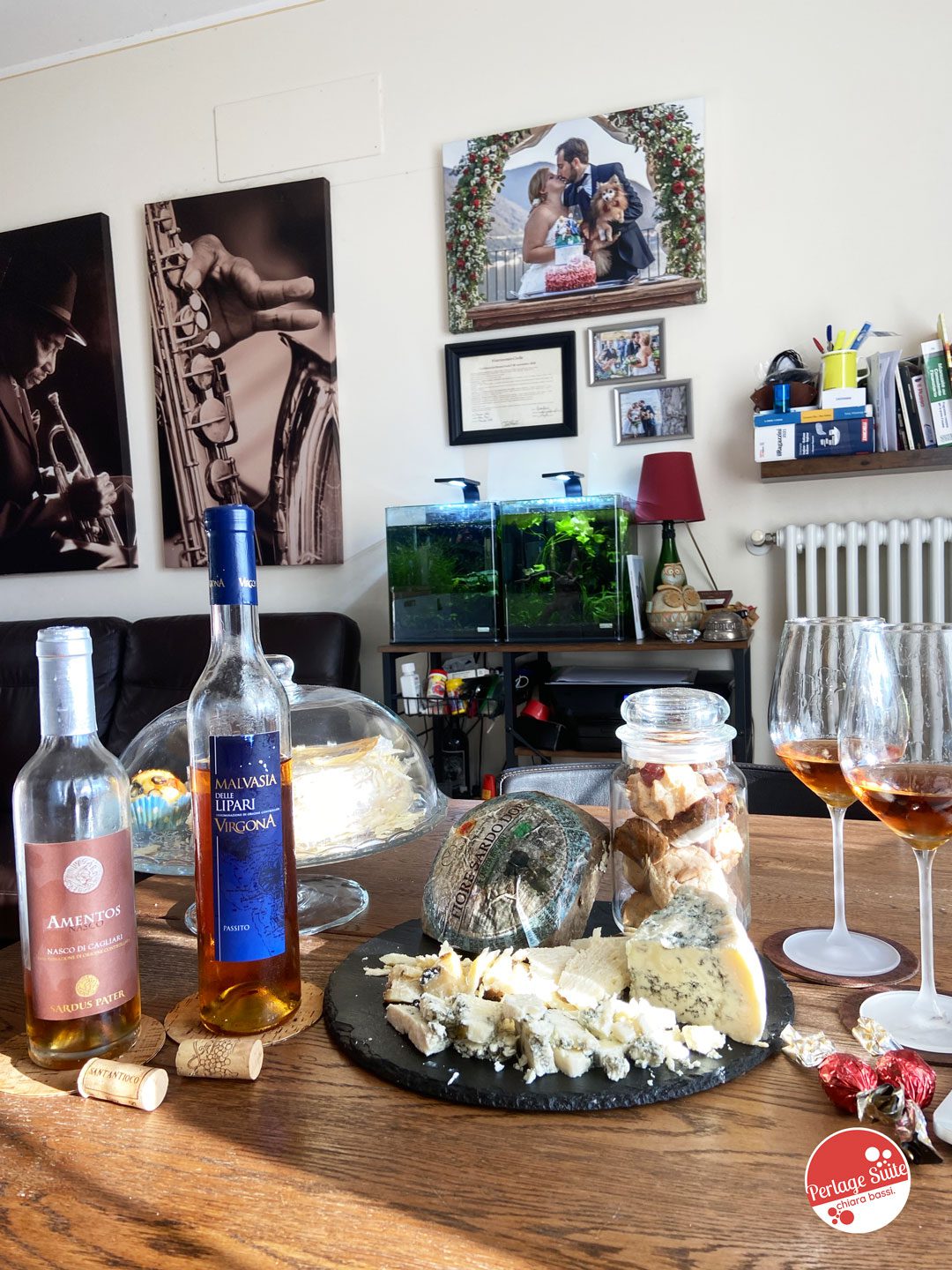 "Amentos di Nasco" Born in Cagliari DOC Passito, Sardus Pater 2011
I knew the grape variety from Cagliari only in name, still studied at the time ofais exam. It has a beautiful bright, consistent dark amber color. The nose is broad and intense, orgasmic, perfect for sherry lovers. Notes of caramelized fig, apricot jam, fresh date, cherries in alcohol, crunchy almonds, chestnut honey and fermented tobacco are harmoniously combined in a splendid bouquet. In the mouth it is coherent, harmonious, viscous, soft, with exceptional almost Marsalate notes. Long almond finish. It is excellently paired with Ovinforth, pleasantly with Fiore Sardo DOP and magnificently with Ignazio Cabras' papassinus sweets.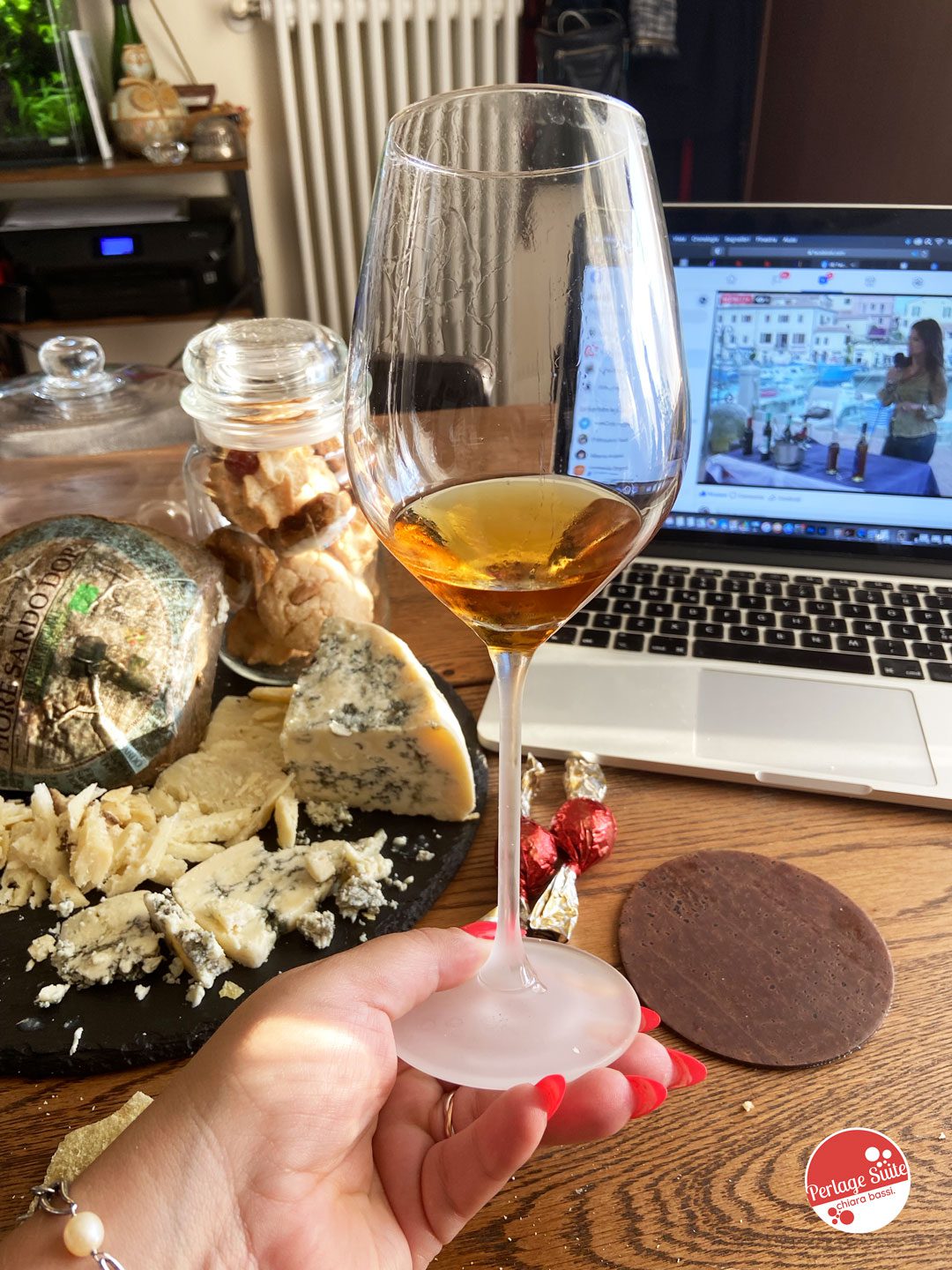 Even if the workshop is finished, I recommend that you buy it Sea Nectars tasting box because it is wonderful. Slow Food and Sarda Tellus have really done a wonderful job with June Slow and I can't wait to participate again next year… I hope in attendance with my husband! We really need a vacation and we love Sardinia. He even went around the island on a bicycle, unbelievable! I, on the other hand, was the first time on the Costa Smeralda in a hotel that overlooked the Romazzino beach, of which I have an incredible memory. The second time, however, I was in a beautiful village in southern Sardinia, at Capo Boi in Villasimius. Sardinia is magical, like its products, its men, its wines.
Cheers
Chiara
How to become a sommelier
All my notes on wine and food in one book.
COMPLIMENTARY, only for those who buy my book on this blog, a copy of the First Collector's Edition of my Sparkling Wine Guide "500 Bubbles in 500", cover price € 25,30. [While stocks last]