On Friday afternoon I received a beautiful package from Tuscany from the Caiarossa winery which contained, among the various wines, a jar of fresh tomato sauce, durum wheat spaghetti from the biodynamic organic farm "Il Cerreto" by Carlo Boni Brivio, extra virgin olive oil from Caiarossa and a delicious cardboard with the prescription by Irene. So, even though I had already planned on cooking something else for dinner, I decided to make my own spaghetti with tomato sauce and uncork a Tuscan wine Caiarossa 2016 (to scream) because I want to tell you something that I studied at the university for the examination of the History of Enogastronomy on the tomato.
Subscribe to my newsletter or scroll the page to continue reading the article. 😉
The tomato sauce? An aphrodisiac delight of Aztec cuisine.
All of us, if we think of the tomato, I am sure that we believe it to be a symbol of Italian cuisine. In our mind, spaghetti with tomato sauce are an emblem of our tradition. Yet pasta was born and has gone through the centuries without this fruit. Just think of that the tomato arrived in Europe and in particular in Italy after the discovery of America in 1492. So if we want to consider the traditional tomato sauce for a people we must think of the Aztecs, who even considered it aphrodisiac. So that Sir Robert Raleigh, English navigator and poet and lover of Queen Elizabeth I, gave them - returning from the discovery of the coasts of North America that he himself baptized Virginia in his honor - precisely a tomato plant loaded with these red and fleshy fruits that he called apples of love. This name traveled around Europe and arrived in France and Italy, so much so that even today in some areas of Sicily it is still called pùma d'amùri.
And perhaps - I assume - it is also thanks toopposed love story between Sir Robert Raleigh and the Virgin Queen that over the centuries red has become the color of passion, love and danger. She, Elizabeth I, decided to remain single - officially a virgin - to save her head. He, Sir Robert, contented himself with having his lady-in-waiting as his bride, but he lost his head anyway after her death, when he fell into disgrace.

Tomato: from ornamental plant to gastronomic symbol
If in its homeland in modern times it did not have great success due to its acidulous juice and its color that recalled blood almost a symbol of a hostile nature, in Italy its history traditionally begins in Pisa in 1548 when Cosimo de 'Medici receives a basket of tomatoes. In fact it had already arrived in Europe for 8 years imported by the Spanish leader Hernan Cortes and he had landed in Sicily - under direct Spanish domination - a few years earlier e when in Tuscany it was still used as a decorative plant, it was already cooked here. Merit of Spanish physician and botanist Nicolás Monardes and in his book Things brought from the West Indies relevant to the use of medicine (1565-1574) he proposed it as a pharmacological and gastronomic plant. The combination of pasta and tomato sauce therefore begins in Sicily at the end of the 1500s.
For many years, however, cultivation as an ornamental plant prevailed because of its often gold-colored fruits and was given by nobles to their ladies. The red color was selected in the Nocerino countryside between the 600th and 700th centuries until it became the prevailing one.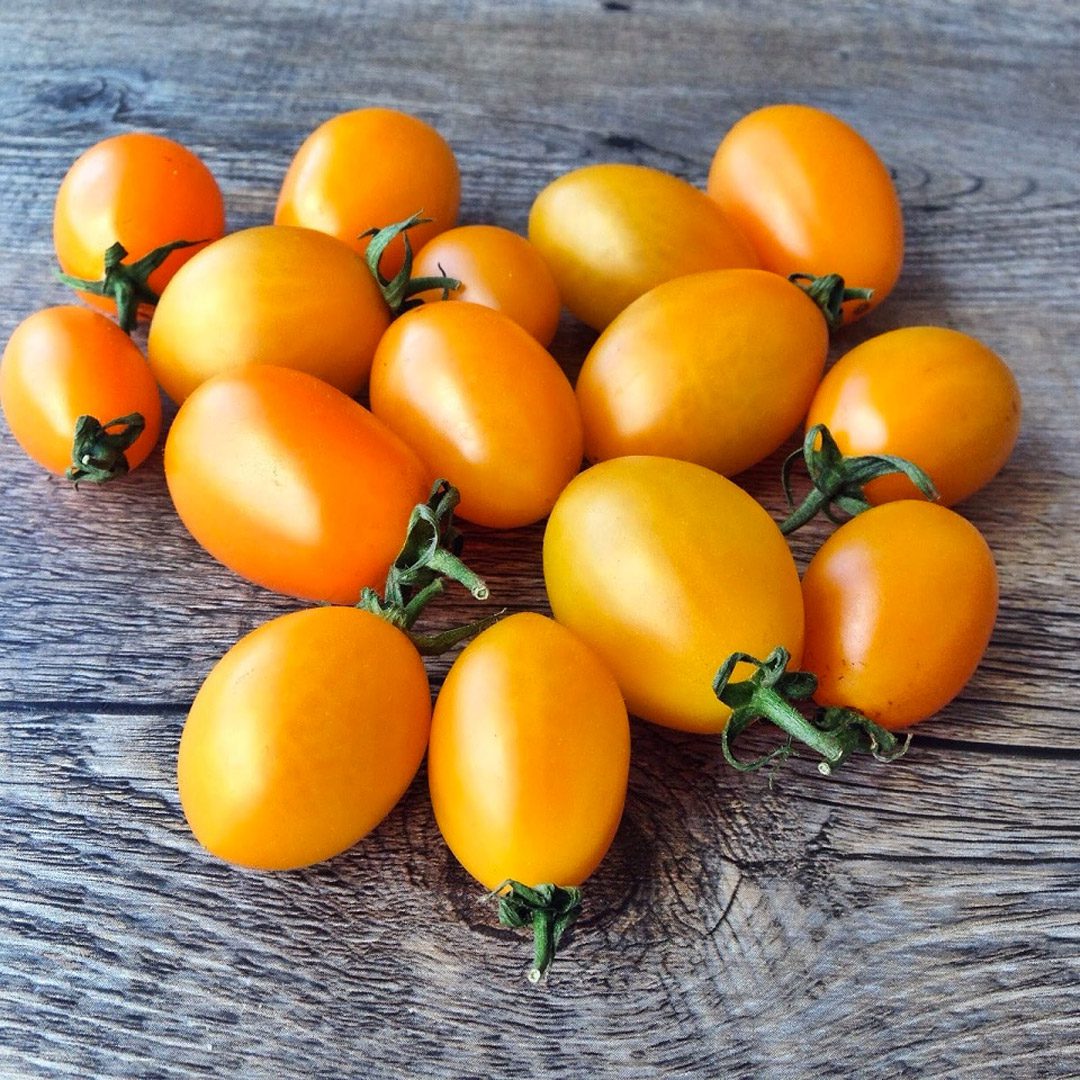 He gives us the first traces of the use of tomato sauce in Italy the cook Antonio Latini in his book "Lo scalco alla Moderna" by 1692 where describes the recipe of Spanish-style tomato sauce widespread in Neapolitan cuisine. The biologist Lazzaro Spallanzani in 1762 instead he was the first to notice how the tomato extract boiled and stored in a closed container remained intact for a long time defining the first conservation technique.
And so it was that the tomato moved from the female garden to the male field and began to be grown everywhere, albeit it was only three centuries later, at the end of 1800, in the sunny Po Valley, that the tomato began to have a great importance in nutrition, playing a leading role in the then widespread cooking sauces. We must remember that cooking was not so much a culinary process but a fundamental sanitization process necessary to make up for the lack of suitable means of conservation.
Around 1850 in the Parma countryside the so-called black breads were produced using the pulp dried in the sun. From 1865 Professor Rognoni contributed to the spread of cultivation techniques which he had personally experienced in his own pederi. Ten years later Francesco Cirio created the first Italian canning industry dedicated to tomatoes and 30 years later, in 1905, the Parma industry imported an equipment for the condensation of vacuum-packed tomato concentrate that literally made the Italian tomato take flight.
The combination of pasta and tomato sauce was an invention of the Romagna Pellegrino Artusi capable of imposing this recipe by the Roman chef Francesco Leonardi as a characteristic of all Italian cuisine.. Francesco Leonardi published in 1807 the second edition of his book Apicio Moderno in which the recipe for pasta with tomato appears for the first time. This sauce he invented was made by frying onions, celery and carrots in extra virgin olive oil, then adding garlic and seedless tomatoes and simmering everything for a long time, then completing with fresh basil. In 1891 Artusi self-published Science in the kitchen and the art of eating well, a cookbook of 790 recipes that came mainly from the central-northern regions, in which he also included Leonardi's recipe. In a short time, the macaroni with tomato, a name that indicated a long or short tube-shaped pasta format depending on how it was cut, first conquered all the Italian aristocratic families, then when illiteracy decreased and well-being increased, in the after World War II, all Italians.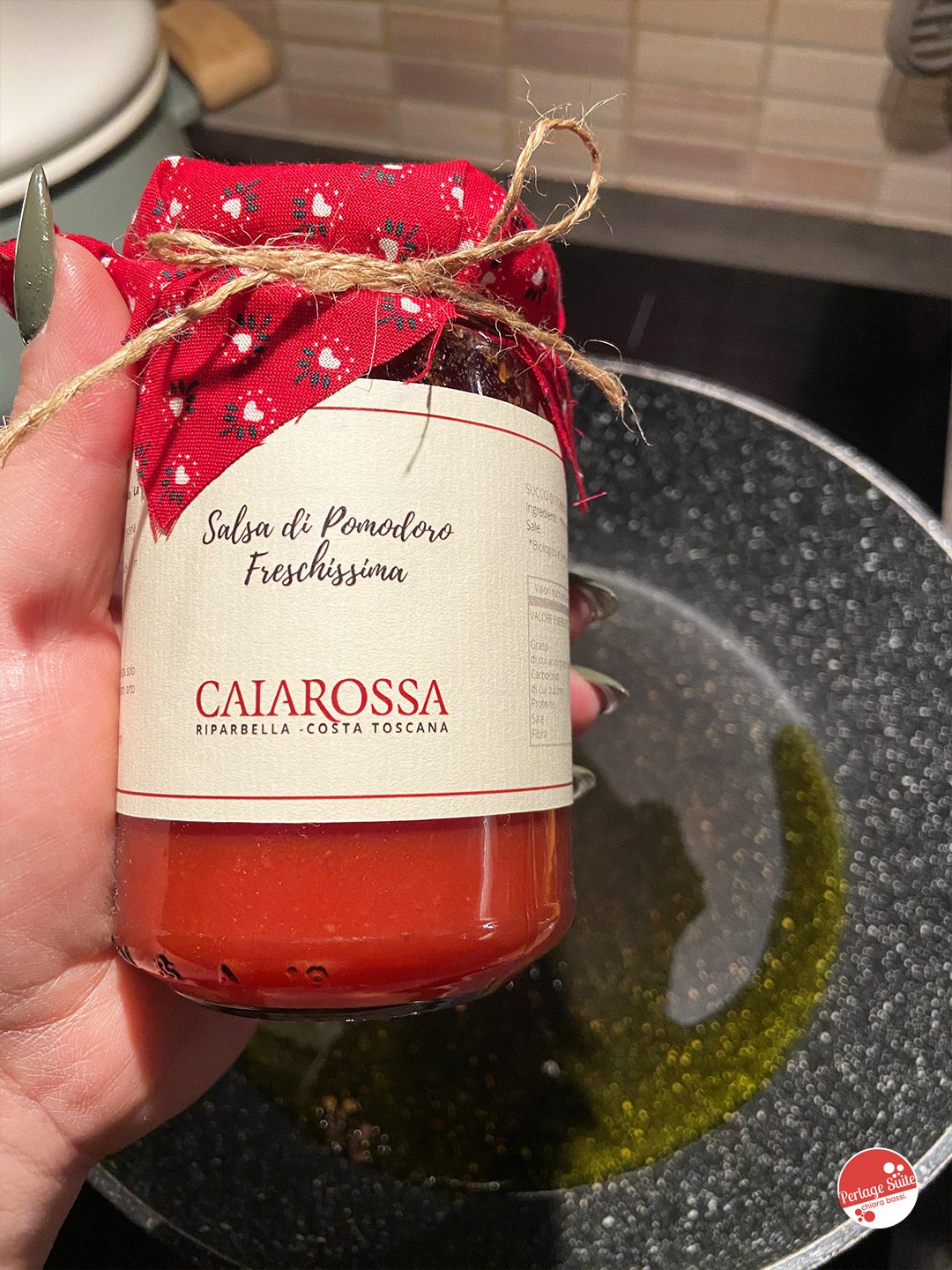 Spaghetti with tomato sauce: Caiarossa's products
Returning to the present day, Caiarossa has selected a special pasta producer, Il Cerreto, which uses certified biodynamic durum wheat, to give us a product made by someone who follows their own agricultural philosophy.
The very fresh Caiarossa tomato sauce is made with tomatoes that grow in their synergistic garden.
The extra virgin olive oil is produced exclusively with the olives of the 1000 olive trees scattered within the Caiarossa property. The varieties used are the classic Tuscan ones: Frantoio, Leccino and Moraiolo.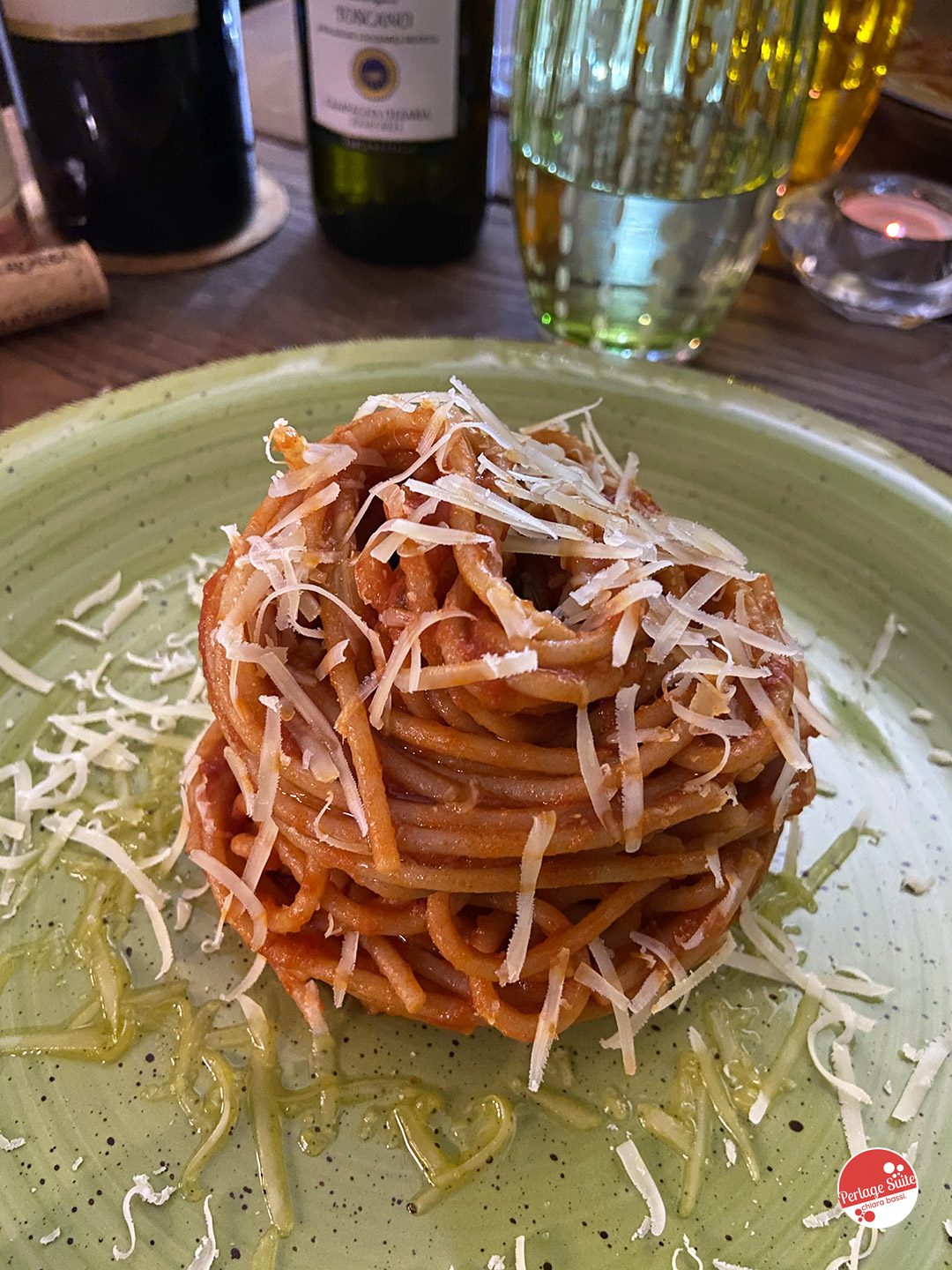 Spaghetti al pomodoro: Irene's recipe interpreted by me
Bring the water to a boil, add the salt and pour in 250g of Il Cerreto spaghetti. Cook for 5 minutes.
In a non-stick pan put 3 tablespoons of Caiarossa extra virgin olive oil, a pinch of salt, a few flakes of red pepper and a crushed clove of garlic.
As soon as the oil is hot pour the whole jar of fresh tomato sauce and let it cook over low heat.
Remove the spaghetti from the water directly with tongs and place them in the pan with the tomato sauce. Add a ladle of cooking water and cook until the sauce has thickened to the right point and the pasta is al dente, however for about 3/4 minutes over medium heat.
With the help of the ladle and a fork, place it on the plate, creating a nest. Complete with a drizzle of Caiarossa extra virgin olive oil, a grating of cheese and a basil leaf if it's in season.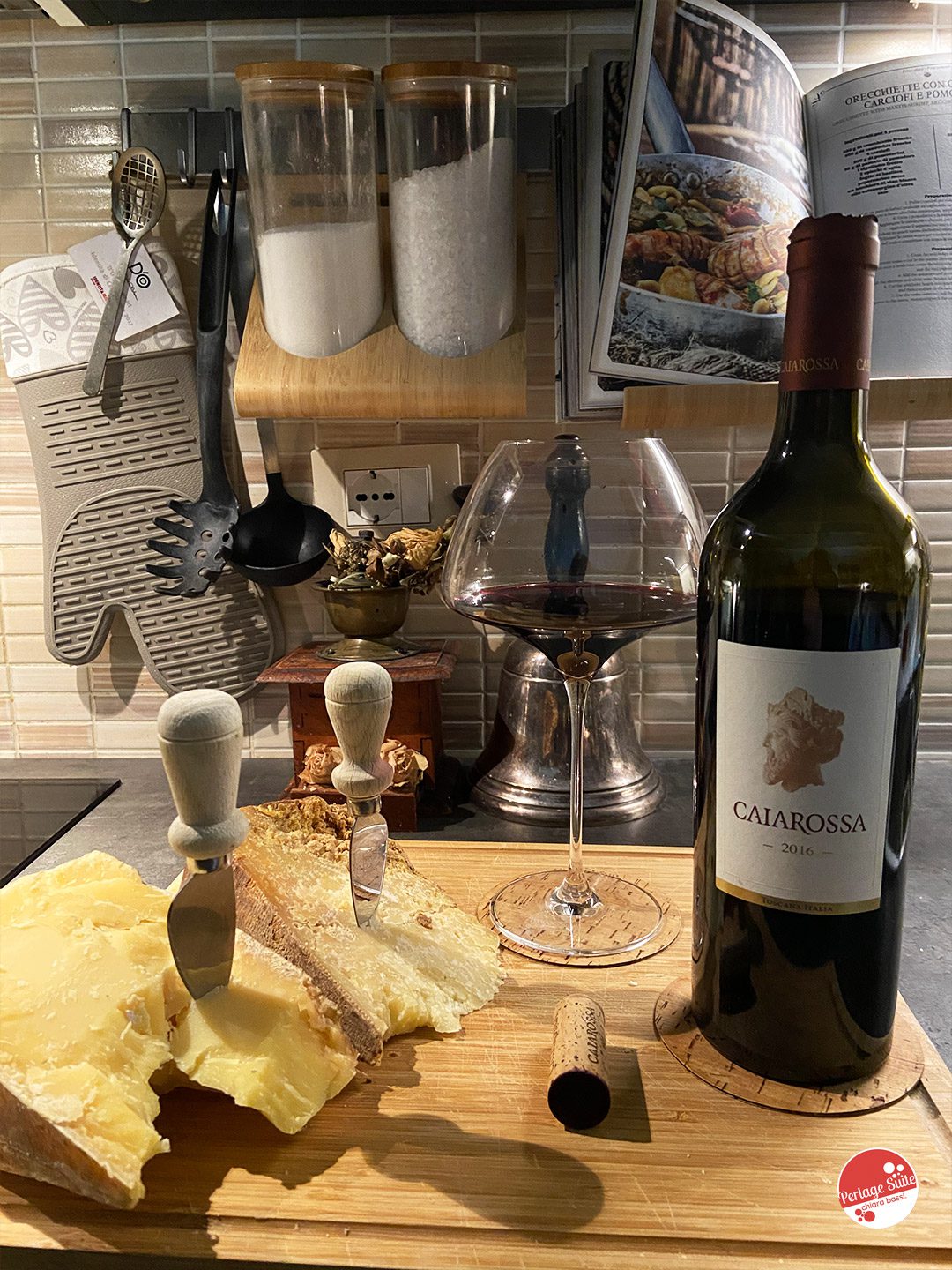 Caiarossa 2016
It is made from 42% cabernet franc, 25% merlot, 15% syrah, 6% cabernet sauvignon, 6% petit verdot, 5% sangiovese, 1% alicante grapes from Podere di Serra all'Olio. The grapes are harvested by hand for about six weeks between late August and early October. The selection of the grapes takes place in three phases: in the vineyard and on the sorting belt before and after destemming. The pre-fermentation maceration lasts from 2 to 4 days, then a maceration on the skins takes place for others 20-30 days depending on the variety and terroir.
The alcoholic fermentation of each variety takes place separately in concrete and wood tanks of various sizes, from 10 to 80 hectoliters, without the addition of selected yeasts. Pumping over and manual breaking of the cap are performed twice a day for about 9-12 days, then one pumping over per day until the end of maceration. The malolactic fermentation takes place in concrete or wooden tanks. Aging takes place in tonneaux and new, second and third passage barriques using about 30% of new wood. The period varies from 11 months for the more delicate grapes, such as Alicante, up to 20 months for the more robust ones, such as Petit Verdot and Cabernet Sauvignon. Afterwards it refines another 6 months in concrete tanks before bottling.
My tasting. It has an intense and impenetrable ruby ​​red. The nose is complex and elegant with notes of red fruits in jam, cinnamon, cocoa, refermented tobacco, violet, wood. In the mouth it is soft, savory, very fresh, balanced, but with a tannin that still asks for time. Structured and very long. Great potential for bottle aging.
A pleasant discovery this Tuscan wine and I can't wait to get to know them and also taste the rest of the wines that I received in videoconference with their winemaker next Wednesday. These are the visits to the company at the time of Covid ...
Cheers 🍷❤️
Chiara
How to become a sommelier
All my notes on wine and food in one book.
COMPLIMENTARY, only for those who buy my book on this blog, a copy of the First Collector's Edition of my Sparkling Wine Guide "500 Bubbles in 500", cover price € 25,30. [While stocks last]