I chose this cover photo to tell you about two really nice days I spent as a guest of the Cellar Vinchio Vaglio between Nizza Monferrato e Asti. Certainly the very pleasant company contributed to this experience among the piedmontese wines in an even more beautiful way. With this article, therefore, I hope to give you some insights into the territory of the barbera wine and savour all the flavour it has to offer.
Before I tell you about the delicious wines I tasted, the fabulous food I ate and all that went with them, however, I want to say a few words to tell you that I loved the spirit of social winery of Vinchio Vaglio. Let me explain: over the years I have come to know various realities like this one, but I have always found them different. Some were more 'business-like', some more 'aesthete-like'... but this family spirit that I have perceived at Vinchio Vaglio I really had never felt before. Of course, a company is a company and must behave as such, but here you breathe a different interest in the people who work there. I really enjoyed it.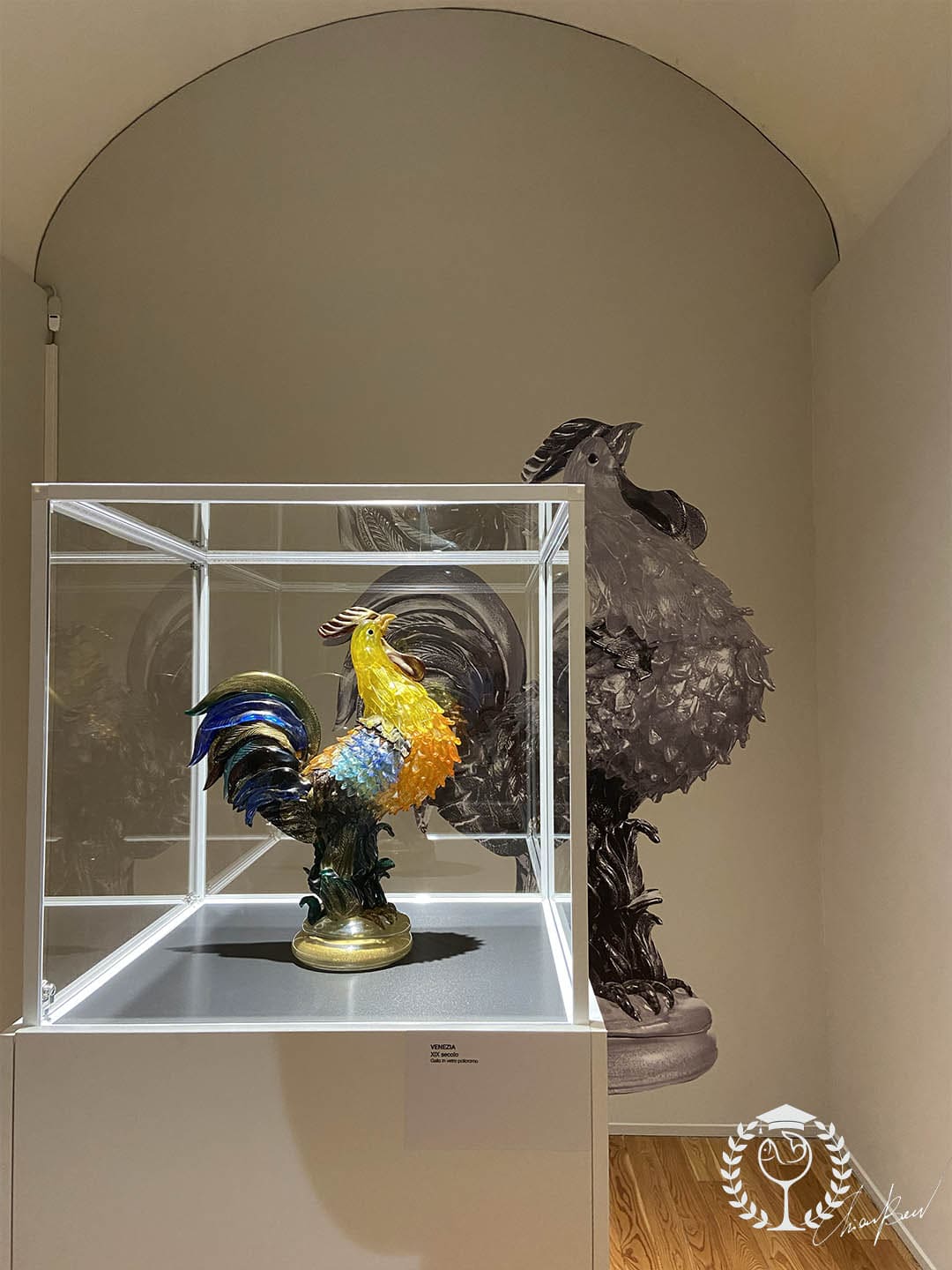 As soon as we arrived in Asti, in what for some was a journey of hope coming from Rome and Salerno (but even I from Monte Isola did not joke), we ate something and headed to Mazzetti Palacewhich I had already visited when I was a guest of the Moscato d'Asti consortium during the Douja d'Or. At that time, there was an exhibition of tapestries that had not particularly fascinated me, even though tapestry is an important tradition for Asti that should definitely be enhanced. This time, on the other hand, we had a much more beautiful tour and I saw works of art of great value that satisfied my love for art, in fact it was like diving back into the years when I attended the Liceo Artistico and visited many museums with the school. The most interesting part, however, was the glass exhibition, a theme chosen because the UN has declared 2022 the International Year of Glass. For us sommeliers and winelovers, glass is in itself something we are attached to as the container of choice in which we refine the wines we love. Although there was also a Lalique, an Art Nouveau designer for whom I am kind of sick in the head, so much so that I went crazy to buy a vintage scarf from 1992 depicting one of my favourite jewels, the thing I liked the most was the rooster of Asti.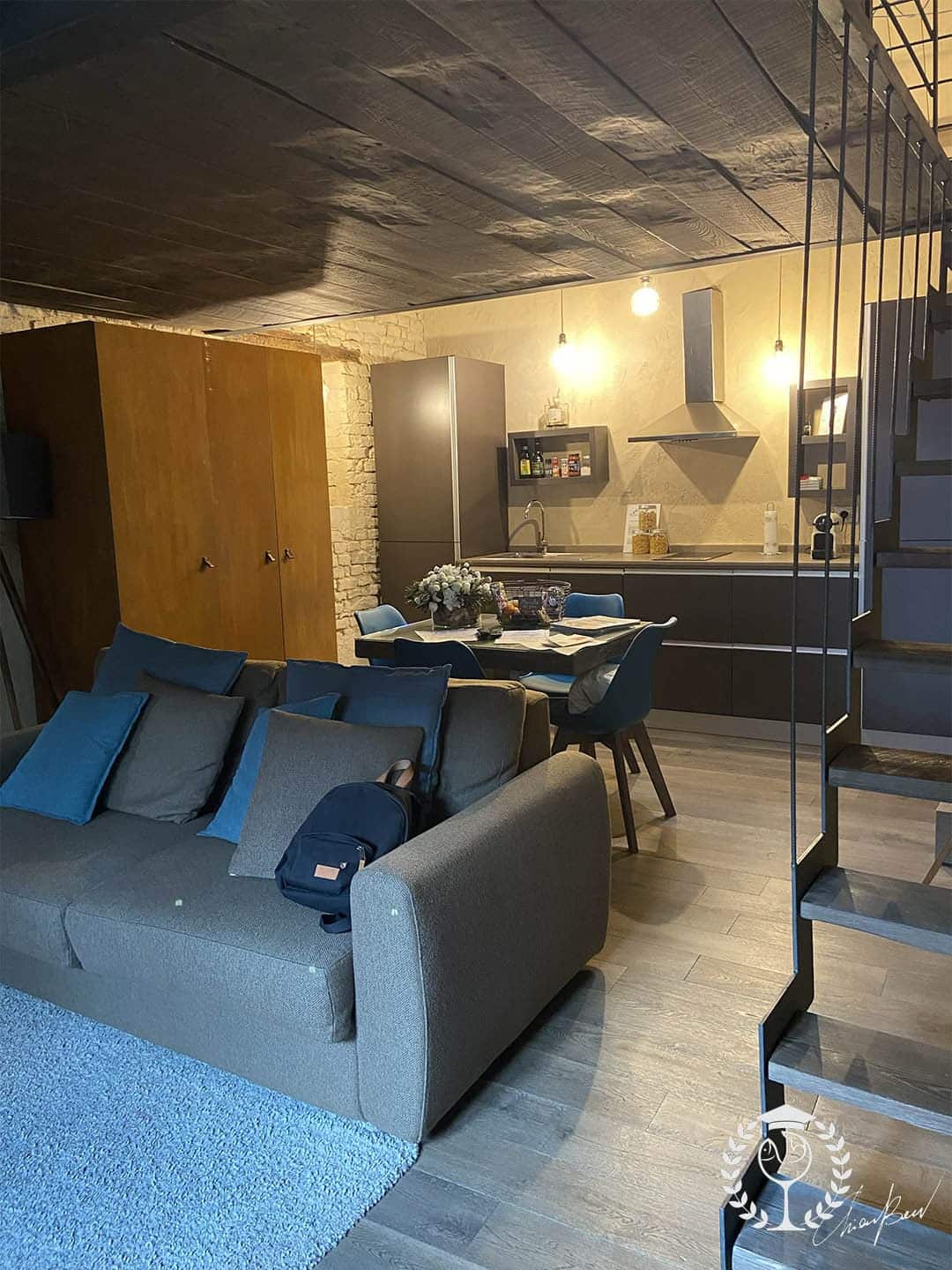 Vinchio Vaglio: La Canonica Resort
From Asti, we set off for Nizza Monferrato, a big town located between Asti, Alessandria and Alba in the heart of Piedmontese wine. Here we booked in La Canonica Resort, an 18th-century building that used to be the rectory of the church of San Siro and now houses nine lodgings with names inspired by religious roles. Mine, the deluxe studio Arciprete, was really lovely. The furniture is distinctive, new and eye-catching, and has a style that is hard to pin down, perfectly enhancing the architecture of the room. The bed on the mezzanine was also nice, although I admit that I tried to move as little as possible because it made uncomfortable noises and I woke up at 7 in the morning because I was gasping from the heat. This, however, is my fault: I hate air conditioning and turn it on as little as possible.
Vinchio Vaglio: dinner at Terzo Tempo Osteria Moderna
For dinner we went to a spectacular place, with value for money that I can hardly believe: Third Time Modern Osteria. I can hardly believe that they are always full: if I lived in Nizza Monferrato I swear I would make a sort of subscription with them to eat there almost daily. And then it is located on the edge of the historic centre right in front of a huge car park!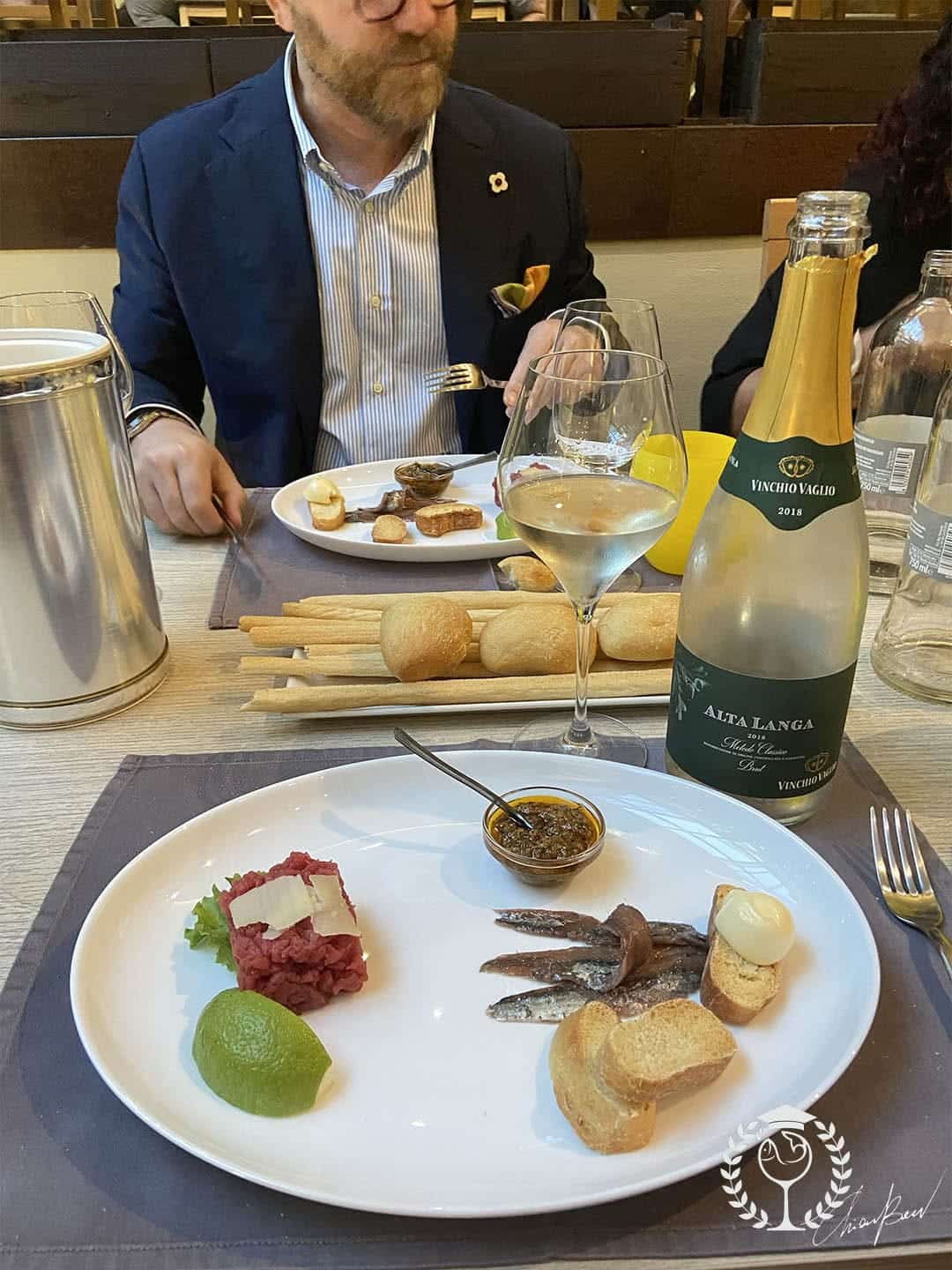 Vinchio Vaglio sparkling wine to start...
We started with a mouth-watering encore of appetisers: knife-beaten Piedmontese Fassona thigh raw meat (€8) and 'Red Spanish' anchovies from the Cantabrian Sea with rustic puffs and alpine butter (€8). We paired it with theAlta Langa DOCG 2018 by Vinchio Vaglio which I must say was a real surprise! Despite its too recent disgorgement, I still managed to enjoy it very much. It has a beautiful bright straw yellow colour with a very fine, numerous and persistent perlage. On the nose, notes of flowers, butter, herbs and lemon zest. In the mouth it is very pleasant, very fresh, crisp and with a bubble present, but not intrusive. Quite long and very drinkable.
Vinchio Vaglio: the Barbera wine
At this point with the wine, we started to ride in earnest, thanks to the 'living wine list' that carefully preserved many old vintages, including Vinchio Vaglio barbera wine.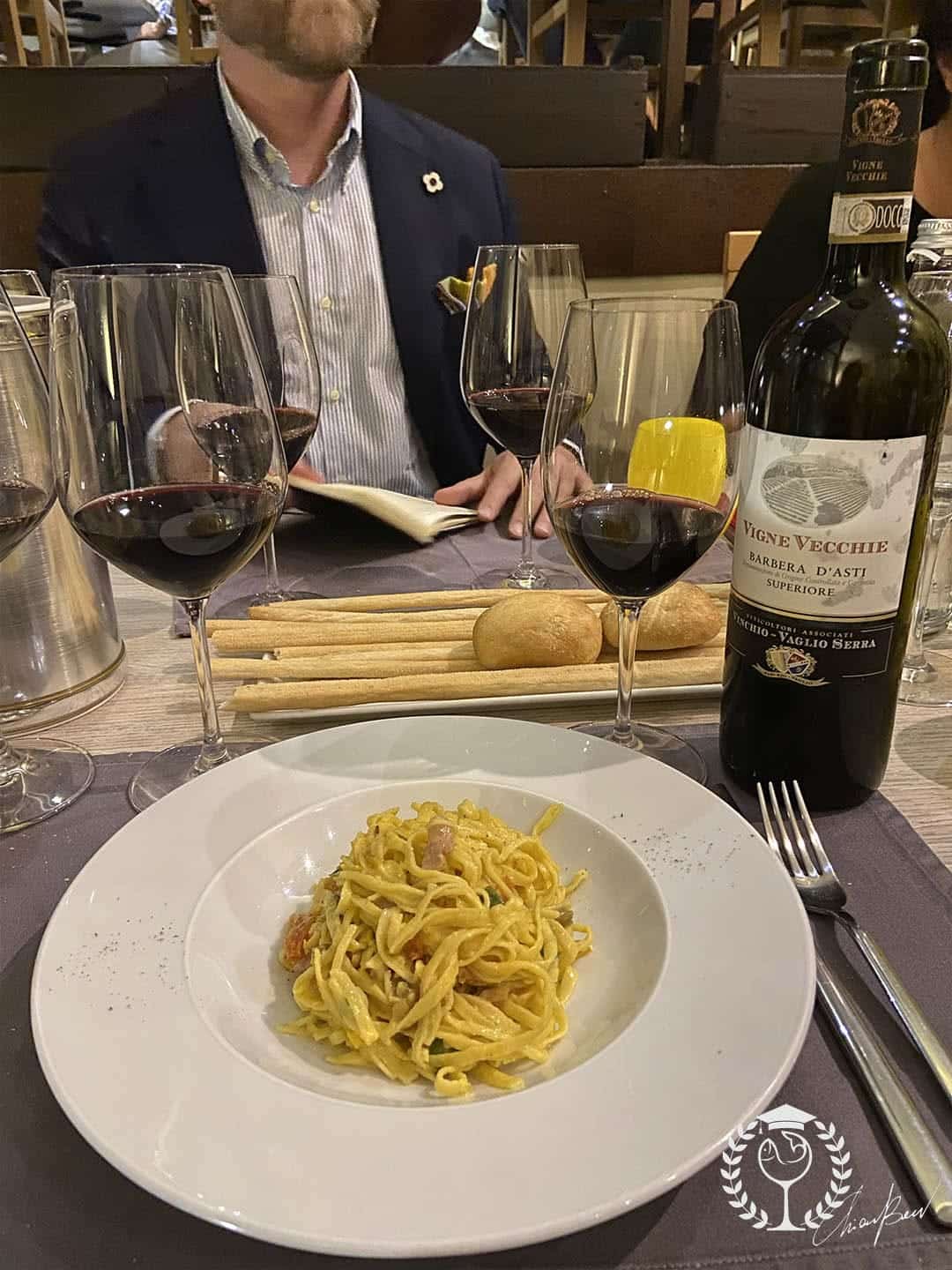 As a first course it is impossible in Piedmont not to have tajarin and in this case I dressed them with carbonara monferrina (9 €). I liked them, but I prefer other condiments such as roast sauce or butter and truffle. However, this is just a personal taste because they were really good! We paired them with the Old Vineyards 2011 that is a lot of stuff! It has a beautiful concentrated and impenetrable ruby red colour, very consistent. On the nose there are intense notes of fresh and jammy red fruits, marasca cherries under spirits, milk chocolate, liquorice. In the mouth it is fresh, soft, warm, structured, tannic and very balanced. The finish is long with a delicious taste of Mon Chéri chocolate.
You can now subscribe to my newsletter or scroll down the page to continue reading the article!
The second course with its food and wine pairing for me was the highlight of the dinner. I made a magnificent choice: the Piedmontese black pork cheek slow-cooked (36 hours) with herbs, mustard and honey melted in the mouth and had a very well-balanced flavour. The potatoes were more common, but still good. The wine, however, really moved me. If I had to give a purely technical verdict the Old Vineyards 2011 was indeed perfect, but theInsynthesis 2004 was much more fascinating. It has an almost impenetrable, intense ruby red colour. The nose has notes of sweet spices, underbrush, rhubarb, sweetened coffee, bitter herb, criollo chocolate, dried rose. In the mouth it is soft, very fresh, consistent, quite warm, with extraordinary tannin and lots of structure. Very long chocolate finish.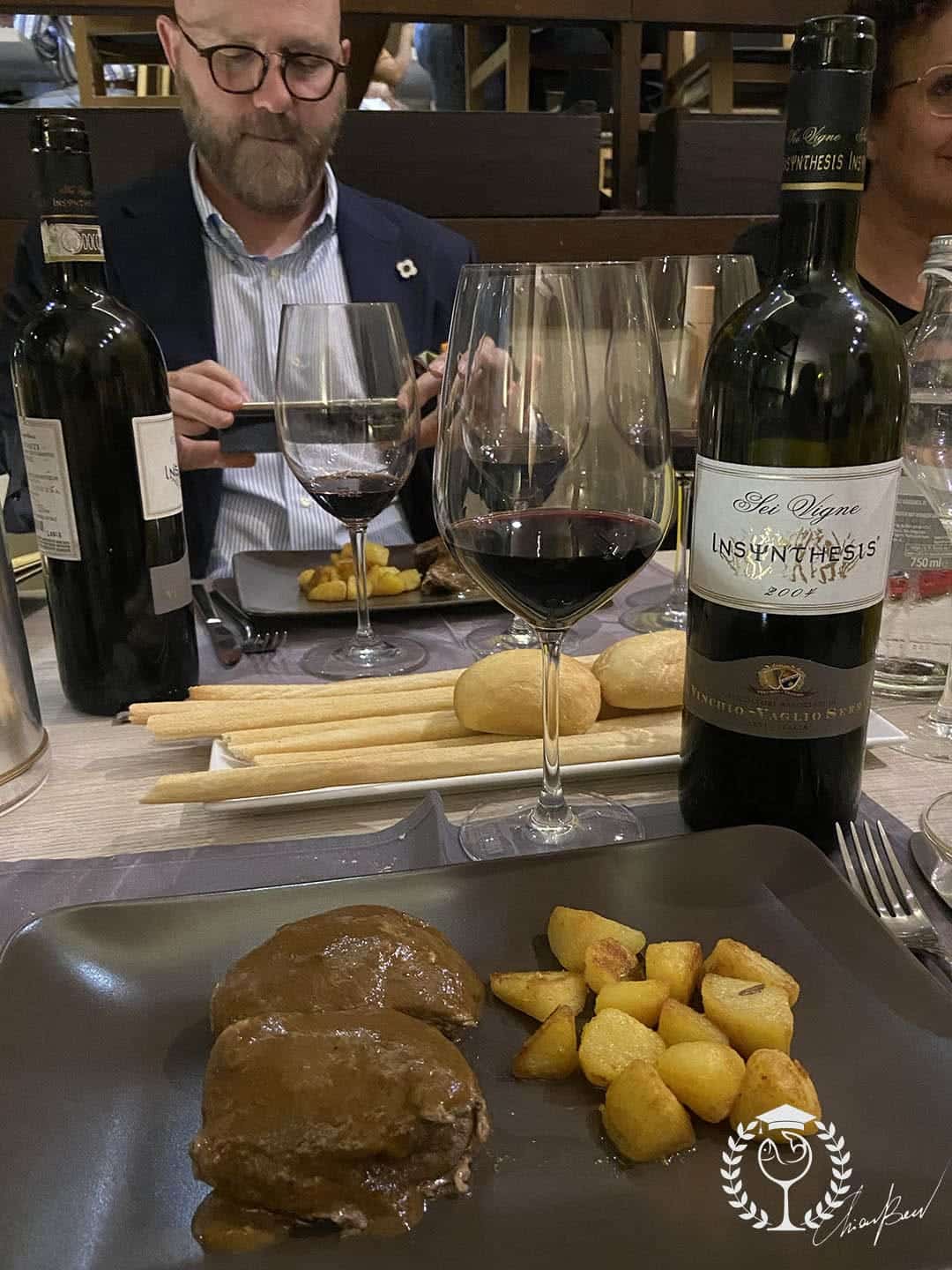 Although I realised I liked the Insynthesis line more than the Vigne Vecchie line, of the two 2011 vintages I preferred the latter. Let it be clear that even Insynthesis 2011 I enjoyed it very much, but found it slightly more 'sedate' in the mouth than the others. It has a beautiful, impenetrable, intense ruby red colour. The nose has intense notes of spices, lavender, vanilla, cocoa, and porcini mushroom. In the mouth it is much less fresh, with a slightly rough tannin, very soft and structured. Long finish of coffee powder.
As a dessert, it is impossible not to choose the Amaretto Bonèt, very good! Too bad I couldn't finish it because I was really exhausted!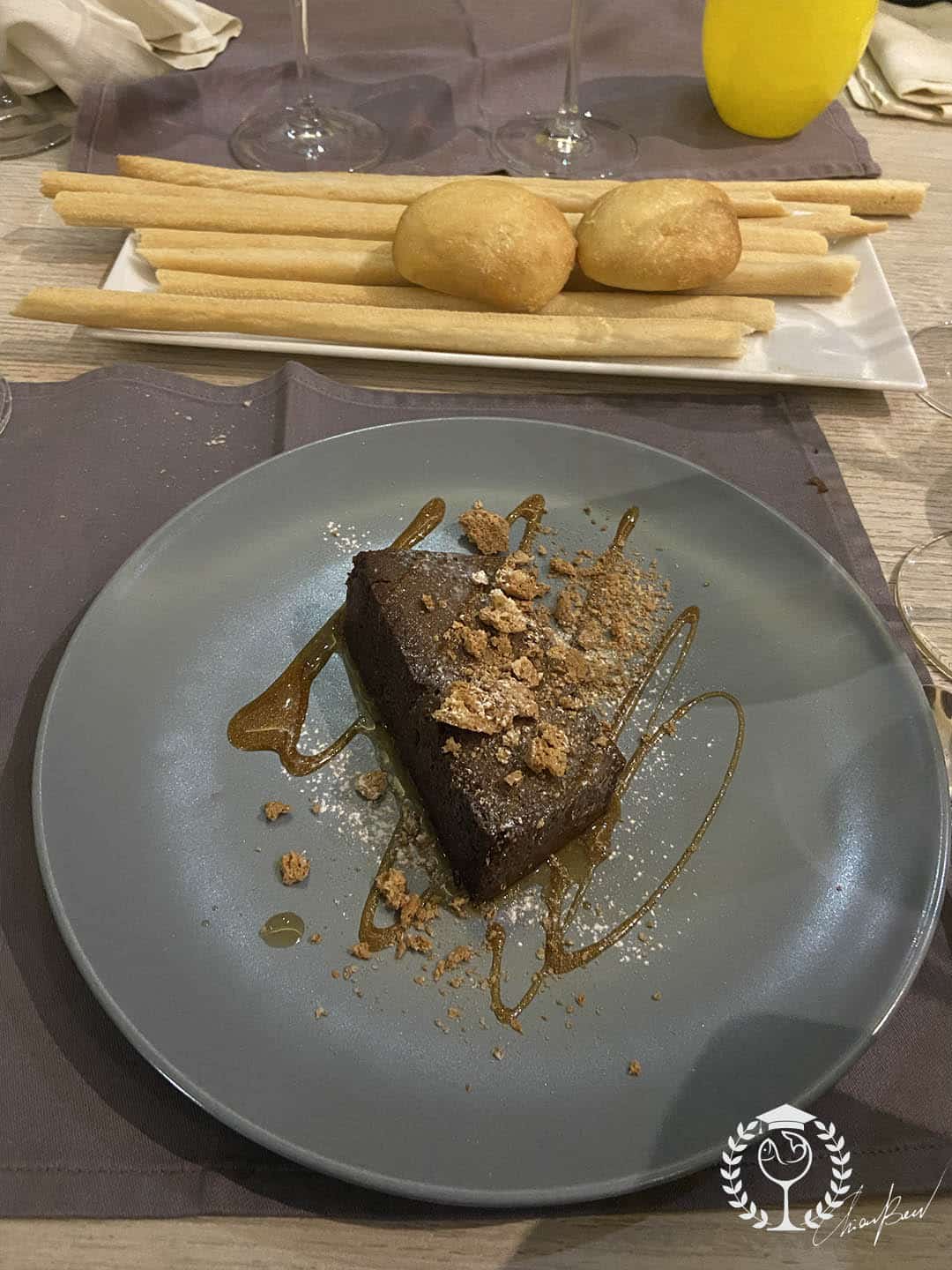 I wanted to pair this Muscat with bonèt, but it was so extraordinary that I practically drank it all apart. And when I say the whole thing... I mean almost the whole bottle, in the pleasant company of Luca Grippo! Unfortunately, Moscato d'Asti DOCG is a wine that is the victim of enormous ignorance... the fault of the now traditional pairing with panettone and the producers' habit of selling vintage wines. I, on the other hand, am in love with this wine and, when it starts to have between 5 and 10 years on its shoulders, it becomes spectacular. Spectacular, a real gem! In my experience there are two strands of 'âgé' Muscat: some tend to develop balsamic and menthol notes, others are towards saffron and pastry. I like them both, but I must say that the former still tell me something more. Well, this Moscato d'Asti DOCG Sant'Ilario Ca d'Gal 2014 is simply a masterpiece.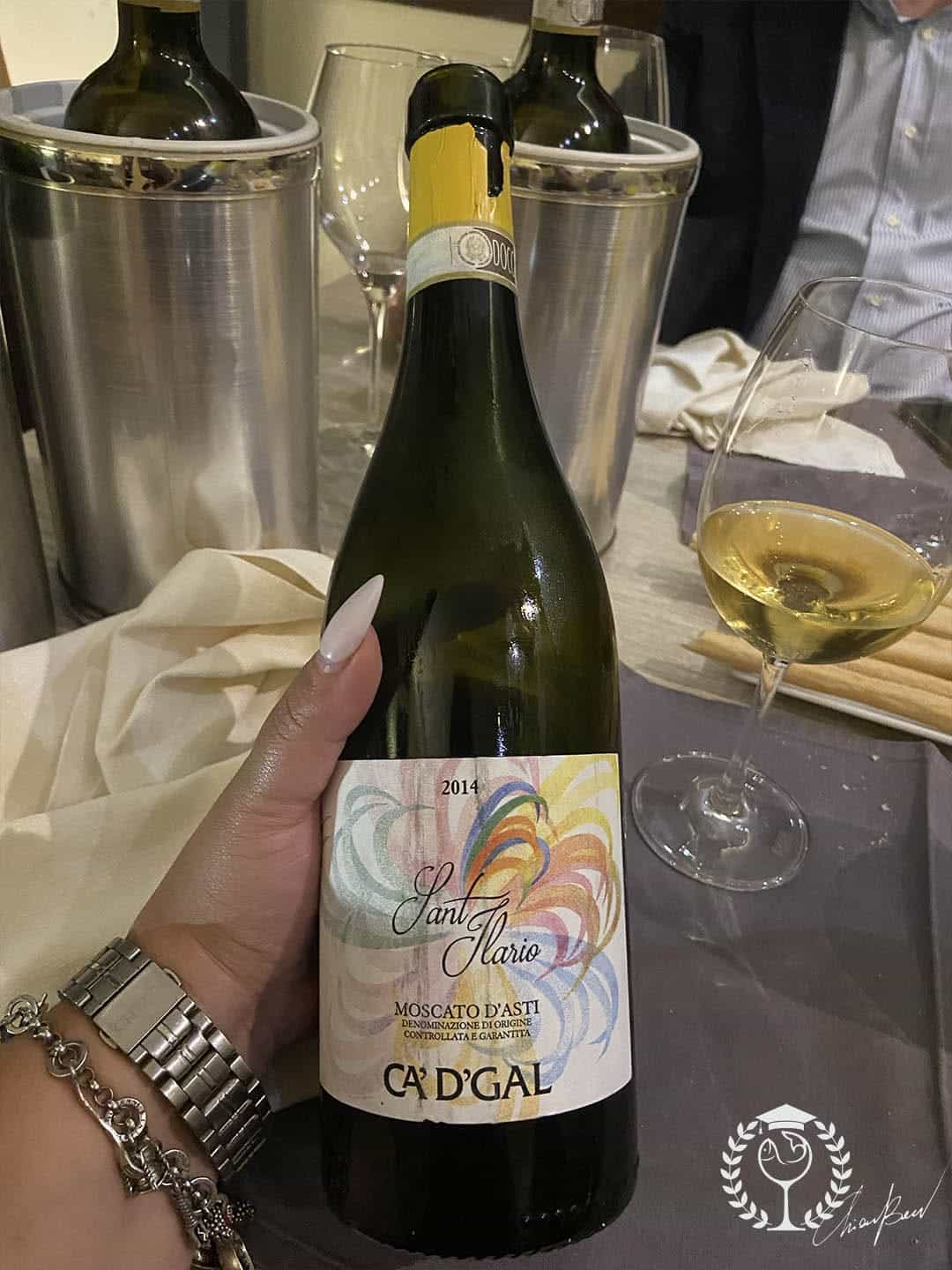 Vinchio vaglio: a stroll through the vineyards
When they told us they were taking us to see the vineyards, I really got worried. Don't get me wrong: I love walking in the vineyard! But these days it is 40 °C and my aptitude for walking in the sun is zero! So imagine my joy to 'stroll' by car, stopping at the most beautiful spots to take photos!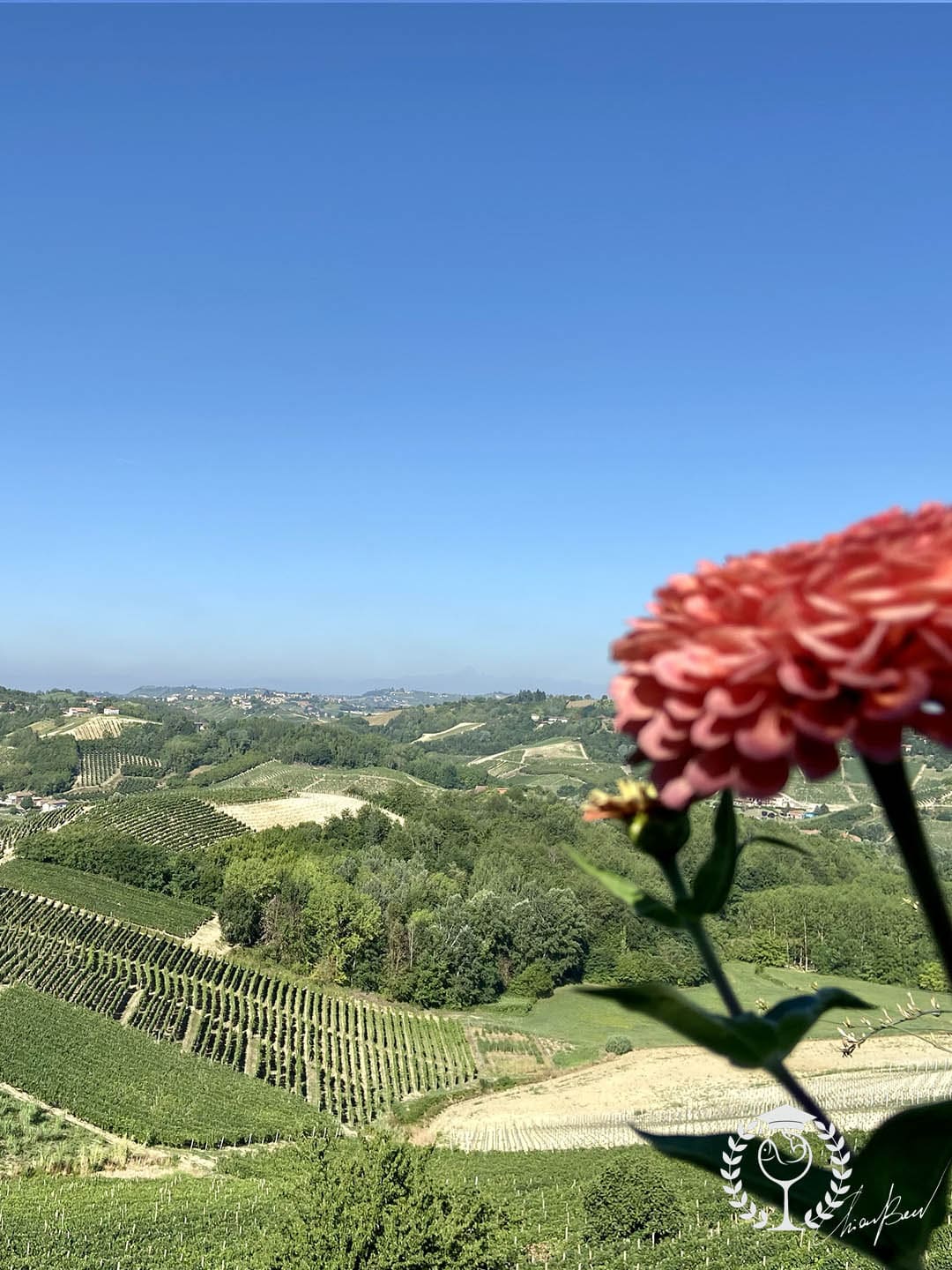 The President of Vinchio Vaglio Lorenzo Giordano is a very pleasant person. When we were on our way to the nest he saw us hot and thirsty and pulled out the sparkling wine Castel del Mago Piedmont DOC from a delightful little house perfect for grilling in the vineyard. I have to say that this charmat method from chardonnay and pinot noir is really pleasant: a very fresh wine with an unusually fine perlage for this method and a sugar dosage that is present, but restrained. Well then when the president also brought out the salami and hazelnuts....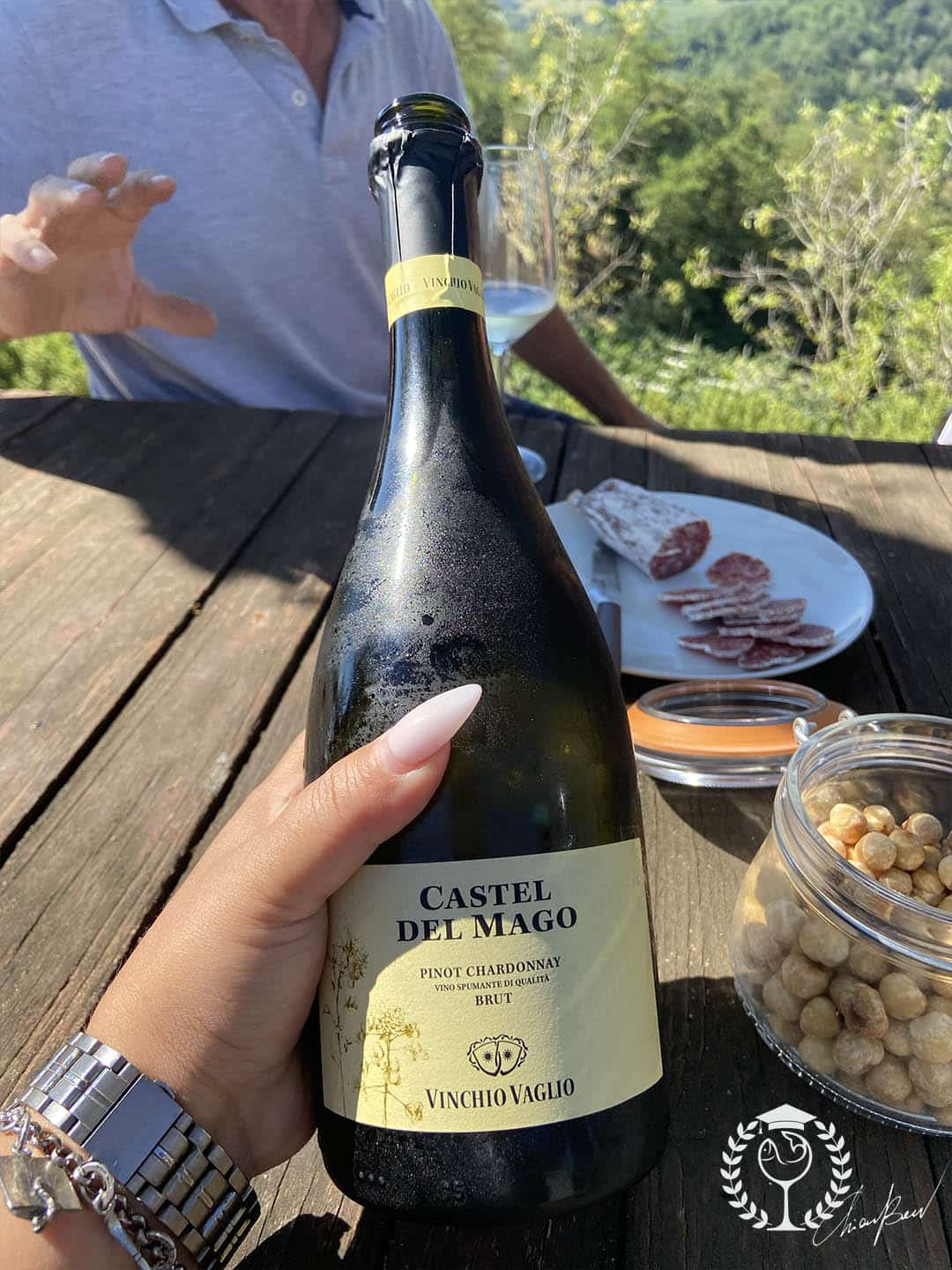 You can now buy my book Sommelier: the illustrated manual or scroll down the page to continue reading the article!
Book 'Sommelier: the Illustrated Manual' Special Edition 2022
All my notes on wine and food in one book.
In stock (can be backordered)
The nests are a delightful thought! They are hand-bent willow structures that protect a table with two benches from the sun and wind. Granted that as soon as I saw them I wondered if they had a socket for charging devices because I am an electricity addict, I imagined myself there writing and/or reading in total relaxation with a good glass of wine. Also perfect for an intimate picnic in contact with nature in these beautiful UNESCO World Heritage hills.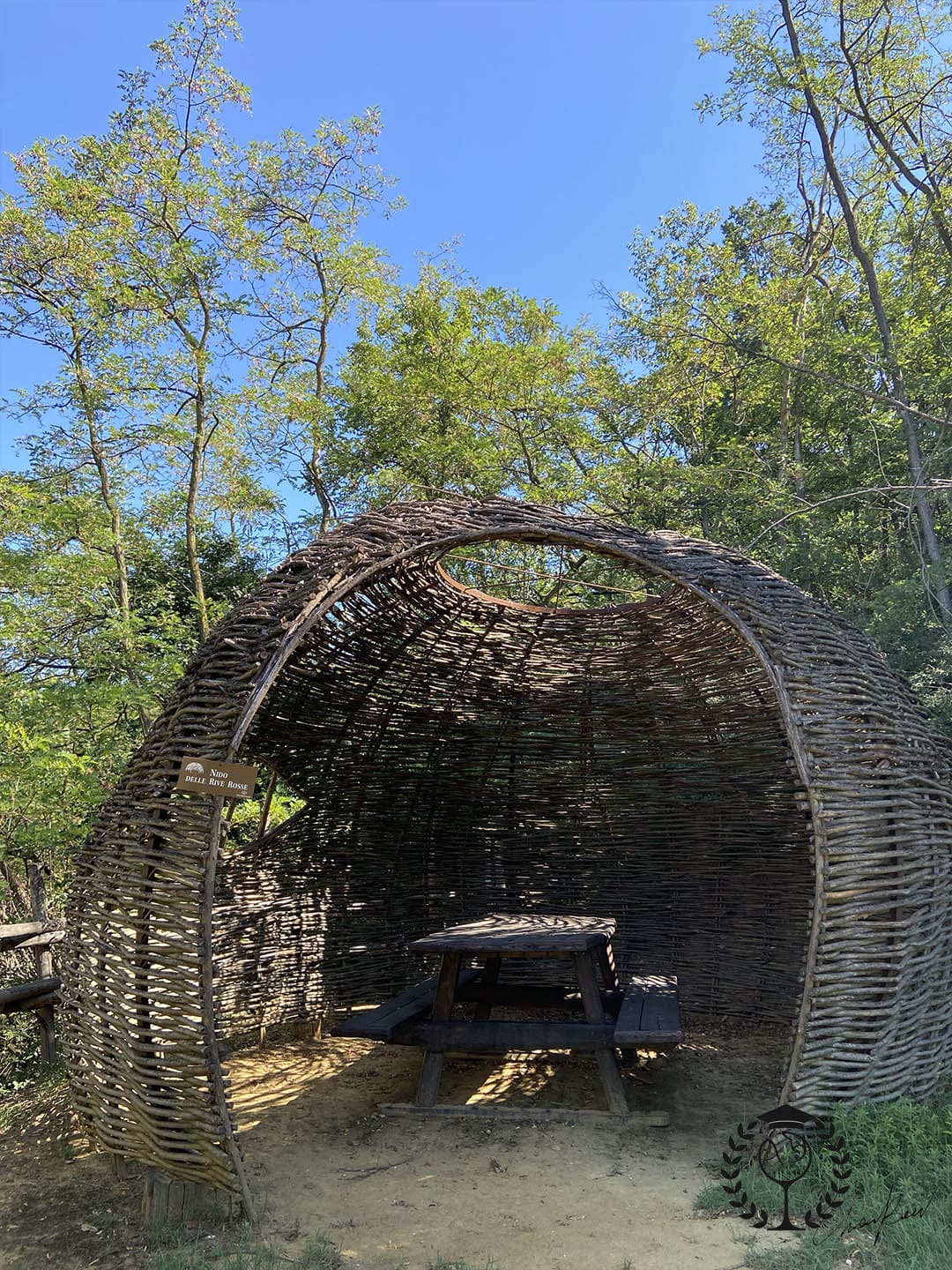 Vinchio Vaglio: lunch at the Piazza Crova 3 restaurant in Vaglio Serra
Nothing, I'm not linking the website because I refuse for a professional business to show up with a piece of crap on Wix in 2022. The restaurant, however, I would recommend: there is a wonderful panoramic terrace where there is an incredible breeze and the food is very good. The waiter is also exquisite.
I found the Fassona meat very good. I also liked the idea of breaking up the tartare into 4 flavours, although one had a problem: the yolk was drowned in the egg white and I struggled to eat it also because I can't stand the consistency of raw egg white. The onion one could have been done better, perhaps chopping the onion very finely and mixing it with the meat. The aged grappa I honestly didn't smell... and I'm a truffle dog who can smell anything. So I would dare a bit more with the seasonings... the raw material is there and so are the ideas!
Lo classic method sparkling wine Alta Langa DOCG Vinchio Vaglio it matched perfectly!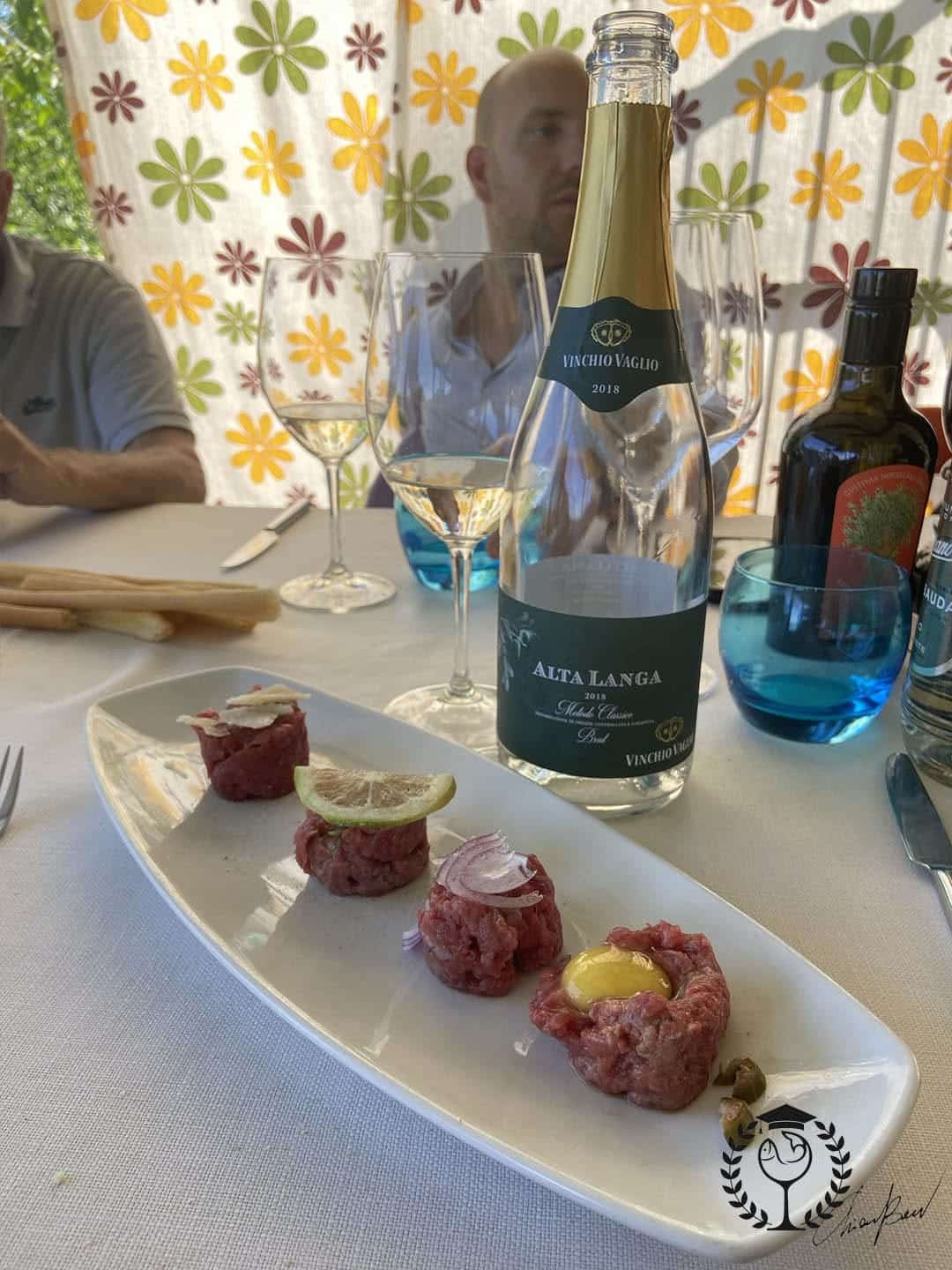 Yes, I know... I'm not exactly feminine in taste. But it's not my fault: even in primary schools, between sewing doll clothes with my grandmother and sanding antique furniture with my grandfather. I grew up in my father's image and have only male friends... what do you expect? I am the woman who never irons, but I plaster walls, assemble furniture, drill walls... and this is also reflected in my favourite foods. Among these are innards, of any kind. I remember that even as a child I loved the calf's brains fritters that my grandmother used to cook for me: it was really a feast for me to eat them! Today I love the Piedmontese financier, a dish that owes its name to the ceremonial jackets worn by representatives of Turin's finance industry on special occasions when it was served. It consists of offal from cockerels, capons and cattle interpreted differently depending on the area. In this restaurant, it consists of pieces of meat, entrails, wattles and brains with vegetables and porcini mushrooms blended with Marsala wine. Paired with a wine that I wouldn't give a fart about and instead the oenologist was right: la Briccona, Barbera del Monferrato DOC sparklingserved chilled in summer, is very pleasant and degreases this not-so-summery dish.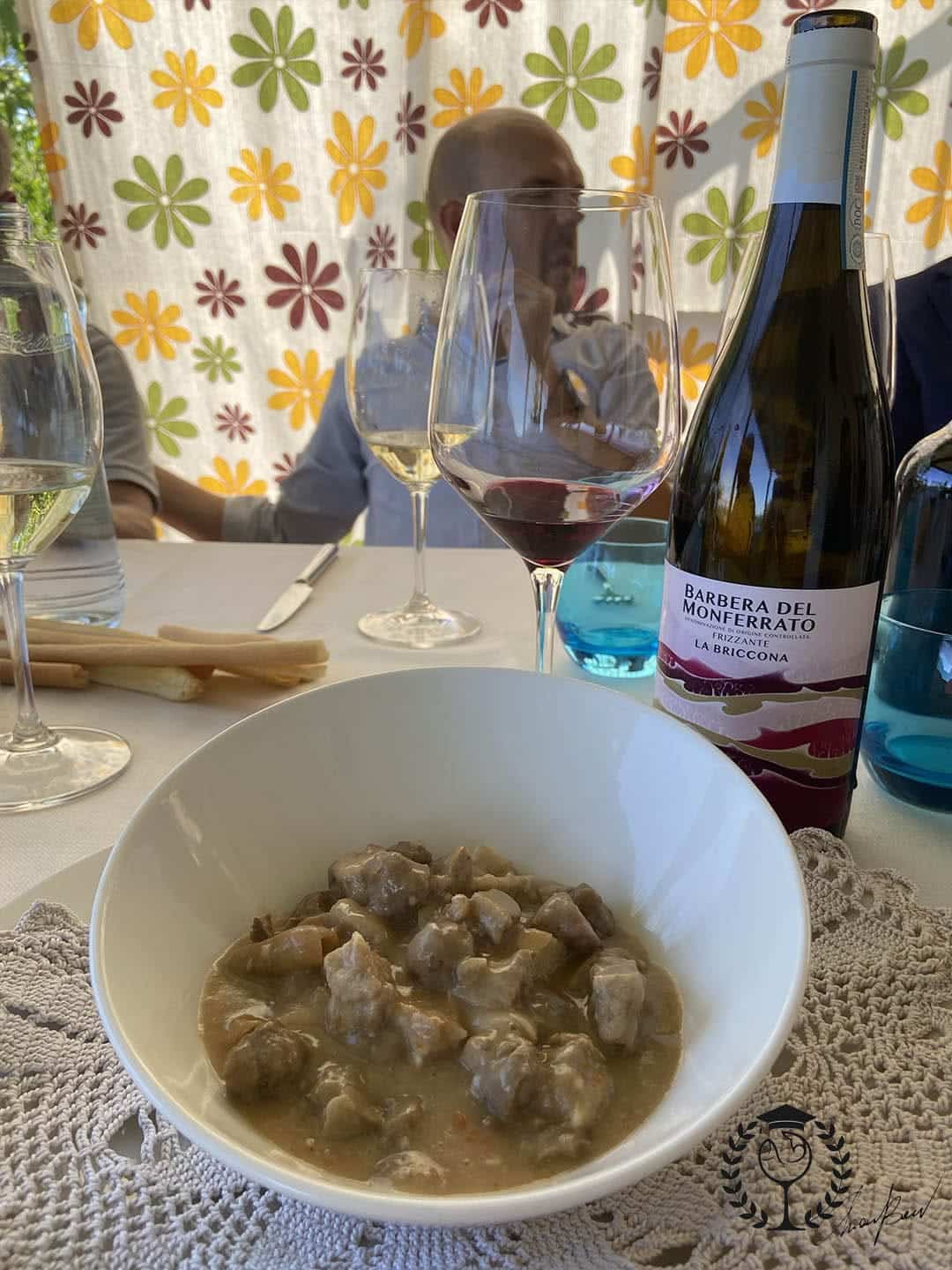 Mine Vinchio Vaglio Experience It ends here... but I think we will see each other again in Vinchio Vaglio because we had too much fun. Thanks Tessa for the company and Maddalena for the invitation!
As always, I hope I have inspired you with a trip, a taste or simply a happy memory!
Cheers 🍷
Chiara