Il merlot è un vitigno a bacca nera.
Synonyms and clones
Synonyms: (Italy) merlò; (Francia) bigney, plant Medoc, vitraille.
Merlot: caratteristiche
... of the plant
Appearance: leaf pentagonale di grandezza media, trilobata e quinquelobata con seno peziolare a U largo. La pagina superiore è glabra e di colore verde-chiaro, mentre la pagina inferiore è aracnoidea e di colore verde-oliva. Petiole medio, sottile e glabro.
Maturation: fine settembre, primi di ottobre. Bunch medio, alato con 1 o 2 ali e di media compattezza. Grape medio, sferico o lievemente schiacciato e regolare. Peel di media consistenza, pruinosa e di colore blu-nero. Pulp molle con un sapore neutro, dolce, poco acido e appena erbaceo.
Productivity: abbondante e costante.
Vigour: Notevole.
Resistance to adversity: resiste bene al marciume, si comporta normalmente con i parassiti, ma è particolarmente sensibile alla peronospora.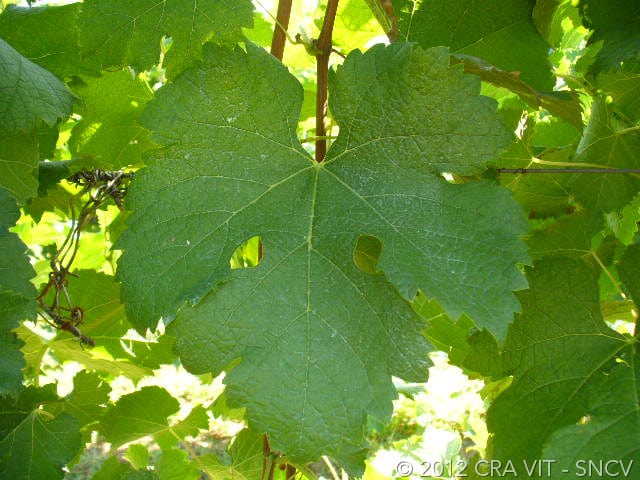 ... of wine produced
Visual examination: rosso rubino con sfumature violacee molto profonde.
Olfactory examination: intenso, fruttato e vegetale.
Taste-olfactory examination: morbido e con una buona pseudocalorica, con media freschezza e tannicità discreta. Persistenza aromatica piuttosto lunga.
Cultivation zones
Italy: (zone idonee e consigliate) Friuli-Venezia Giulia, Piemonte, Puglia, Sardegna e Veneto; (zone idonee) tutte le altre regioni.
World (in order of quantity): Francia (Bordeaux); Italy; Stati Uniti (California; Washington); Spagna (Castilla-La Mancha; Catalonia; Navarra); Romania (Muntenia-Oltenia; Sud-ovest); Bulgaria (Mar Nero; Valle del Danubio). Piccole coltivazioni anche in Cile, Australia, Moldavia, Sudafrica, Cina, Argentina.
Merlot: vini italiani DOCG e DOC dove è ammesso
DOCG: Colli di Conegliano, Montello Rosso o Montello, Suvereto, Terre Tollesi o Tullum, Val di Cornia Rosso o Val di Cornia.
DOC: Alcamo, Alto Adige o dell'Alto Adige, Amelia, Aprilia, Arcole, Assisi, Atina, Bagnoli di Sopra o Bagnoli, Bolgheri, Bosco Eliceo, Breganze, Candia dei Colli Apuani, Capriano del Colle, Carso o Carso-Kras, Casteller, Castelli Romani, Cerveteri, Circeo, Colli Berici, Colli Bolognesi, Colli del Trasimeno o Trasimeno, Colli di Faenza, Colli di Parma, Colli Etruschi Viterbesi o Tuscia, Colli Euganei, Colli Lanuvini, Colli Maceratesi, Colli Martani, Colli Pesaresi, Colli Romagna Centrale, Colli Tortonesi, Colline Lucchesi, Collio Goriziano o Collio, Contessa Entellina, Controguerra, Corti Benedettine del Padovano, Cortona, Curtefranca, Delia Nivolelli, Erice, Friuli Aquileia, Friuli-Annia, Friuli Colli Orientali, Friuli Grave, Friuli Isonzo o Isonzo del Friuli, Friuli Latisana, Garda, Garda Colli Mantovani, Grance Senesi, Lago di Corbara, Langhe, Lison-Pramaggiore, Maremma Toscana, Matera, Menfi, Merlara, Molise o del Molise, Monreale, Montecarlo, Montello-Colli Asolani, Montescudaio, Nettuno, Parrina, Piave, Piemonte, Pomino, Reggiano, Riesi, Riviera del Brenta, Rosso Orvietano o Orvietano Rosso, Salaparuta, Sambuca di Sicilia, San Gimignano, San Ginesio, San Severo, Sant'Antimo, Sciacca, Sicilia, Sovana, Terratico di Bibbona, Terre del Colleoni o Colleoni, Terre dell'Alta Val d'Agri, Terre di Cosenza, Terre di Pisa, Todi, Torgiano, Trentino, Val d'Arno di Sopra o Valdarno di Sopra, Val di Cornia, Valcalepio.
Sources:
© Ministry of Agricultural Food and Forestry Policies, National Catalogue of Vine Varieties.
© Bassi C., Sommelier: the illustrated manual, Cammeo DiVino, Monte Isola, 2022, pp. 157-158