La ribolla gialla è un vitigno a bacca bianca caratteristico del Friuli-Venezia Giulia da cui si produce l'omonimo vino.
Synonyms and clones
Synonyms: rebula, ribolla, ribuele (ufficiali). Altri: rabuèle, raibola, ràbola, rebolla, ribolla bianca, ribolla gialla di Rosazzo, ribollat, ribuèle…
Ribolla gialla: caratteristiche
... of the plant
Appearance: leaf media, quasi intera o con tre lobi accennati, rotondeggiante, seno peziolare a V aperto e seni laterali accennati o assenti. Sia la pagina superiore sia quella inferiore sono glabre e verde chiaro. Petiole corto.
Maturation: seconda e terza decade di settembre. Bunch molto piccolo, cilindrico-piramidale e compatto. Grape medio e leggermente discoide. Peel sottile, pruinosa, punteggiata e di color giallo alabastrino. Pulp sciolta di sapore neutro, dolce e leggermente astringente.
Productivity: buona e costante.
Vigour: buona.
Resistance to adversity: sensibile al marciume e a colatura. Resiste bene alle gelate primaverili grazie al suo germogliamento tardivo.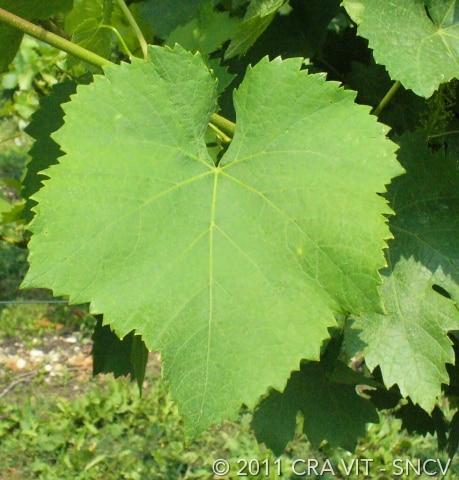 ... of wine produced
Visual examination: giallo paglierino intenso e brillante che tende al dorato.
Olfactory examination: intenso, floreale e fruttato.
Taste-olfactory examination: fresco, morbido, di corpo leggero, ottima bevibilità e un finale di mandorla piuttosto lungo.
Cultivation zones
Italy: (zone idonee e consigliate) province di Pordenone e Udine.
World (in order of quantity): Italy; Slovenia; Grecia.
Ribolla gialla: vini italiani DOCG e DOC dove è ammesso
DOCG: Rosazzo.
DOC: Collio Goriziano o Collio, Friuli o Friuli Venezia Giulia (in lingua slovena Slovena Furlanjia o Furlanjia Juliska Krajna), Friuli Colli Orientali.
Sources:
© Ministry of Agricultural Food and Forestry Policies, National Catalogue of Vine Varieties.
© Bassi C., Sommelier: the illustrated manual, Cammeo DiVino, Monte Isola, 2022, p. 170