Ribolla Gialla is a white grape variety characteristic of Friuli-Venezia Giulia from which the homonymous wine is produced.
Synonyms and clones
Synonyms: rebula, ribolla, ribuele (officers). Others: rabuèle, raibola, ràbola, rebolla, white ribolla, yellow ribolla from Rosazzo, ribollat, ribuèle ...
Ribolla giallo: characteristics
… Of the plant
Appearance: leaf medium, almost whole or with three lobes indicated, rounded, open V-shaped petiole sinus and lateral sinuses indicated or absent. Both the upper and lower pages are hairless and light green. Petiole short.
maturation: second and third decade of September. Bunch very small, cylindrical-pyramidal and compact. Acino medium and slightly discoid. Peel thin, pruinose, dotted and alabaster yellow in color. Pulp dissolved with a neutral, sweet and slightly astringent flavor.
Productivity: good and constant.
Vigor: good.
Resistance to adversity: sensitive to rot and leaking. It resists spring frosts well thanks to its late bud break.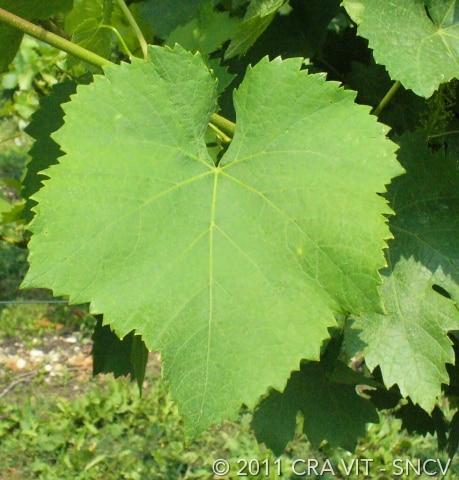 … Of the wine produced
Visual exam: intense and brilliant straw yellow tending to golden.
Olfactory exam: intense, floral and fruity.
Taste-olfactory examination: fresh, soft, light-bodied, excellent drinkability and a rather long almond finish.
Cultivation areas
Italy: (suitable and recommended areas) provinces of Pordenone and Udine.
World (in order of quantity): Italy; Slovenia; Greece.
Ribolla giallo: Italian DOCG and DOC wines where it is admitted
DOCG: Rosazzo.
DOC: Collio Goriziano or Collio, Friuli or Friuli Venezia Giulia (in Slovenian language Furlanjia or Furlanjia Juliska Krajna), Friuli Colli Orientali.
Sources:
© Ministry of Agricultural, Food and Forestry Policies, National catalog of vine varieties.
© Bassi C., Sommelier: the illustrated manual, Cameo DiVino, Monte Isola, 2022, p. 170