I decided to stop everything I was doing because I wasn't really doing anything seriously, since since XNUMX am tonight my thoughts are constantly on the fact that today is my father's first birthday I pass without you dad since I was born. A continuous cry lulled by the sound of rain on the roof until I fell asleep for just a couple of hours at the crack of dawn. Last night I realized that I have lost my lighthouse and I am sailing on sight in an ocean of pain and, although it has been almost a year since you passed away, I realize that every day is worse than the last, that the pain does not subside but it grows. I don't think I have done more than two consecutive hours this year without crying at least a minute, even if I tried not to show it because there are a thousand things to do and paths to complete. The awareness that you have always done so much to help me pushes me to want to cross the finish line, because you first deserve that I succeed. I have not been perfect about anything, neither in my personal relationships, nor in my work. I accepted unacceptable behaviors from those around me for fear of facing this pain alone, only to understand that I was not alone because mum and Fabrizio were beside me every second. And not just them. I've tried to find the meaning of my life, but I honestly don't see the meaning if I can't share it with you. The love I feel for you, dad, is something so unique and all-encompassing that, forgive my presumption, I believe few can understand. This is why I have now decided to open a good bottle of wine and throw out everything I have inside. Since this is "Amarone week" for me, which started with Garbole at the Tre Cristi Restaurant in Milan, continued in Verona with Pietro Zardini and finished tomorrow by Massimago, I decided to tell you aboutAmarone della Valpolicella Riserva that struck me the most during a gala dinner organized in Milan by the le Historical Families of Amarone: Musella Reserve 2012. You dad loved Amarone and, in general, dry passito wines so I know that today I couldn't uncork a better bottle.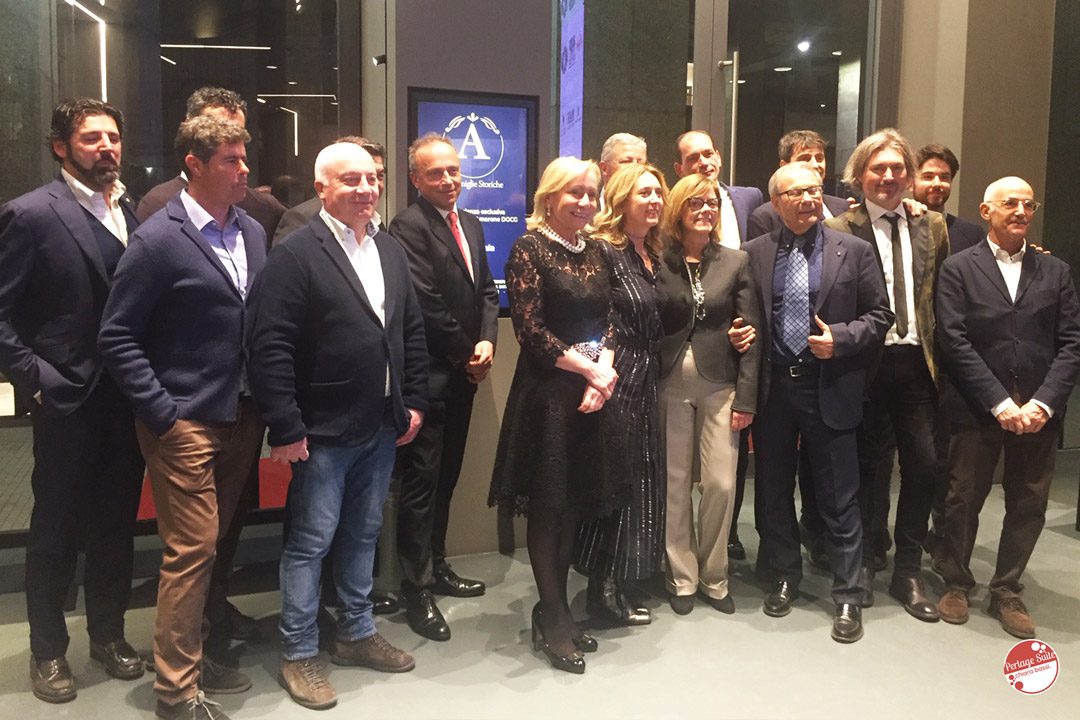 Why did I use a Napoleon cup?
Probably my choice to use a Cognac glass intrigued you, but personally I recommend it "a trick" that you should write down when you decide to taste a great red on the spot and you don't want to wait for the oxygenation time, and you don't have another one at home. particularly large glass. Just these days I was interviewed by Alma for the January issue of "Cose di Casa" magazine (you can find it on newsstands from the end of December, remember to buy it and let me know if you like the piece!) and we talked about wine glasses. In particular, he asked me how to cover the greatest number of wines with the least type of glasses. Of course the Napoleon is one of those that I recommend you have! This glass is also perfect for oxygenating challenging red wines such as Amarone della Valpolicella Riserva! I advise you to buy the Bormioli Michelangelo Masterpiece in pack of 4 pieces that you find on Amazon at this link.
Amarone ella Valpolicella Riserva, Musella 2012: Characteristics & vinification
The bunches are carefully chosen and, after being collected manually in boxes, are placed in a special ventilated room to dry. The grapes lose at least 35% of their initial weight in a process of concentration of sugars, noble tannins and aromatic substances. In January the soft pressing takes place and the fermentation starts at low temperature. The wine remains 24 months partly in French oak tonneau and partly in large barrels (700, 1500 and 3000 liters). After bottling it refines at least one year in the bottle before being put on the market.
Amarone ella Valpolicella Riserva, Musella 2012: Tasting
Amarone is a wine that needs time, a lot of time. This 2012 is a young man that promises very very well, but I reserve the right to taste the second bottle I have in the cellar in about ten years! What I particularly liked about this amarone is its finesse, both in the nose and in the mouth. It has a beautiful semi-transparent ruby ​​red color. By swirling the glass it shows all its consistency. On the nose a delicate scent of wet bark, porcini mushroom, nutmeg, chocolate and cherry in alcohol. In the mouth it is coherent, fresh, soft, with a tannin that has yet to round off and demonstrates its full aging potential. Alcoholic and powerful with a long finish.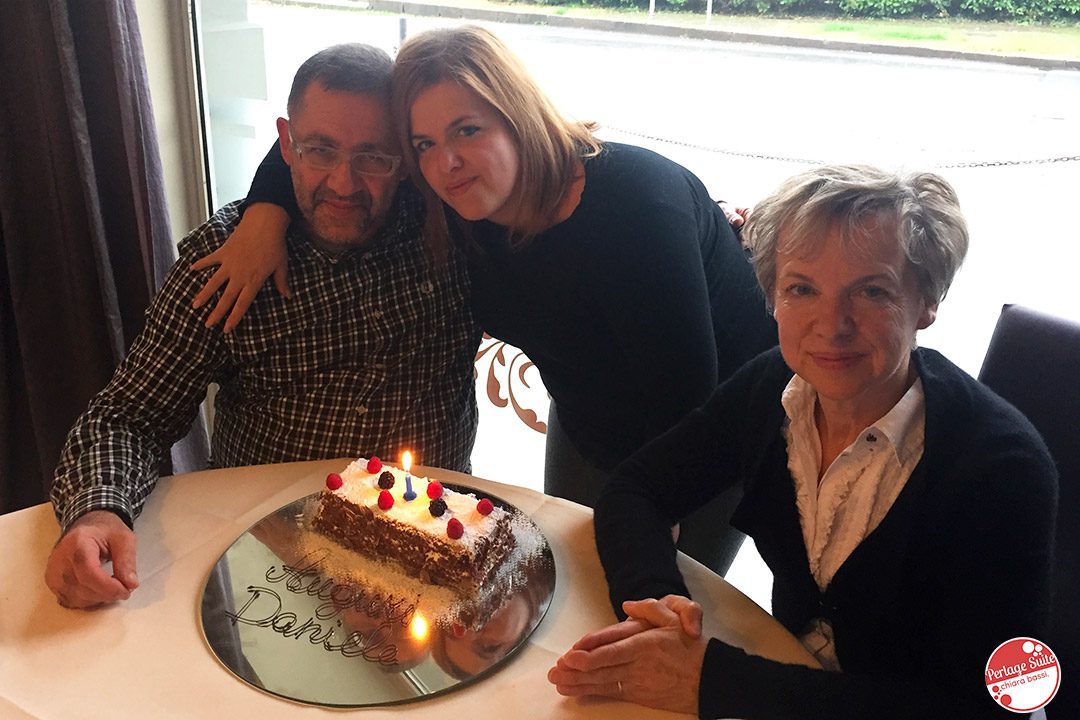 Dear Dad, if you had been here with me and mom we would have been eating at Tentazioni restaurant in Costa Volpino as with all your last birthdays. Instead I had lunch there alone. As in this photo, for your 60th birthday, the last birthday we celebrated without the disease. We would have uncorked a good Amarone della Valpolicella Riserva and you would have eaten the gnocchi that Sandro makes and that you liked so much, while Giacomo would have pampered us with a thousand attentions. Then we would have taken a walk in Lovere. Instead, the gift for your birthday I gave to mom, a splendid one Paphiopedilum spicerianum directly from our site gardening blog Blossom Suite. Not the same, but they say orchids are medicine for the soul.
Dear dad, I hope that on your next birthday, November 6, 2020, I will be able to take a trip to Argentina and stay a week in Buenos Aires tasting great wines in your homeland. THE Argentine wines they are wonderful. And I hope to eat the real asado. It was a journey that we had promised ourselves to do together, but which I will take alone in the hope of finding some peace.
Now that I have "vented" I can go back to work.
But today I'm off-line for everyone, sorry.
Cheers 🌹🍷
Chiara
PS This book is so important to me because it is the last project we did together. I will never forget the month of October 2018 when while you were having a chemotherapy that killed you and by now you had also lost your sight you tried to correct the draft of this book. You were in and out of the hospital in a continuous emergency. As soon as the book was ready they hospitalized you for good. As if I had given my all and then ran out of resources to fight. I know there are some mistakes, but I have chosen not to touch this first edition which remains the most beautiful and important, the most human. For me it was essential that it went out like this, on your birthday last year ... because giving you this satisfaction was the last gift I could give you.
How to become a sommelier
Everything you need to know about wine in one book. The manual is designed for all aspiring sommeliers, but it is also very useful for "already sommeliers" who want to revise, for winelovers who want to start giving concrete foundations to their passion and for sector operators who want to earn more by learning both managing the cellar of their restaurant and selling the right bottle to their customers.
III Edition: September 8, 2021 - 15,24 x 22,86 cm format, 544 black and white pages, ISBN 978-88-943070-6-1 [PRE-SALE: BOOKS WILL BE PREORDERABLE FROM 6/09/2021 AND SHIPPED IN PURCHASE ORDER FROM 30/09/2021]
II Edition: 1 December 2019 - format 16,5 x 24 cm, 430 black and white pages, ISBN 978-88-943070-8-5
I Edition: 31 October 2018, format 16,5 x 24 cm, 300 black and white pages - ISBN 978-88-943070-1-6