Once upon a time there was a little girl who lived in a small town in Romagna on the border with Emilia and had a grandmother with whom she prepared fresh pasta at home every day and a grandfather with whom she drank sweet albana between a hammer and the other (he was a restorer of period furniture)… they were carefree days, when dad and mom were at work and I grew up with that ancient culture of respect for values ​​and love for tradition for which I will never thank my grandparents enough. Living 21 years with them was wonderful, a fortune that few have in life. How many pranks combined with grandmother's complicity! Here, when I returned from Romagna I stopped in the splendid Val Tidone at the invitation of Antonio della Cellar Valtidone and we went to Danila's Ristorante Le Proposte for lunch, I took a dip into the past, between emotion, expectation and melancholy. Danila reminded me so much of my grandmother, when she taught me to close the cappelletti with white apron and hands dirty with flour. So first of all I want to thank Antonio for this beautiful proposal arrived on a hot afternoon between July and August.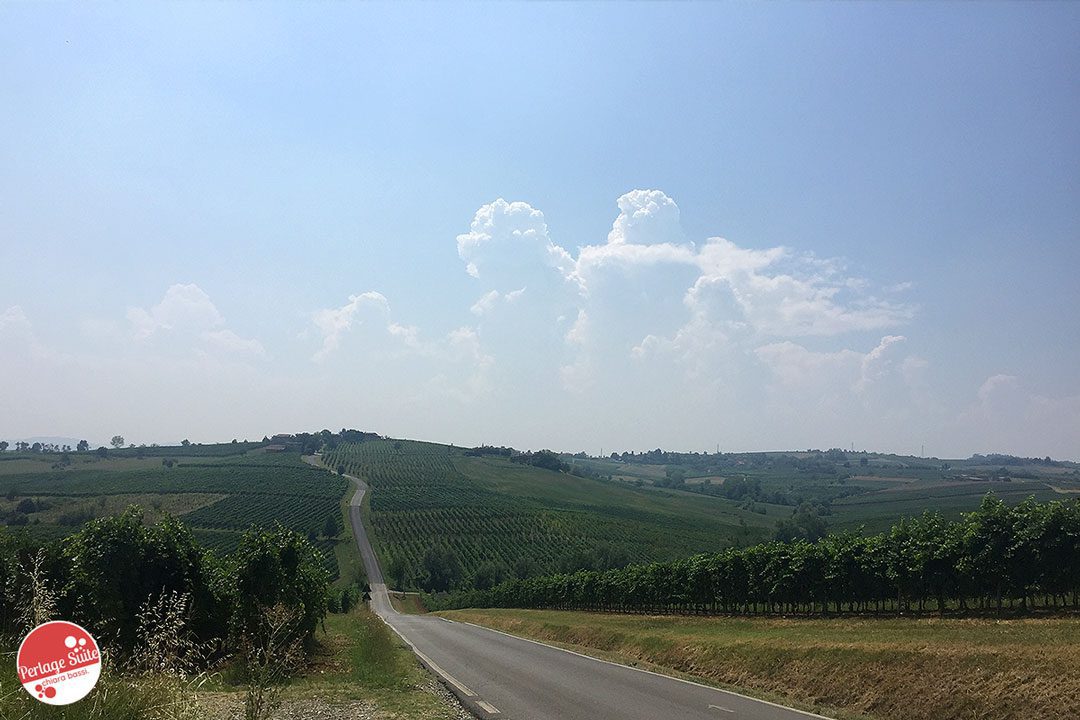 From the Cantina Valtidone to Le Proposte the journey is short, but Antonio had the idea of ​​escaping the Fiat500 and we took the sun on his head with 40 degrees in the shade! I practically melted! I envied the Eskimos for less than 2 seconds, then I remembered that they eat raw whale liver and bye, next time even with 45 degrees I'll be super operational! However, how beautiful the rolling hills of Val Tidone! The landscape looked like a postcard!
The restaurant is located in a rural building and enjoys a beautiful view and convenient parking, unfortunately in full sun. Inside there is a familiar atmosphere and everything is taken care of without being pretentious. From the direction they tell me that the wine list is very well stocked, we obviously drink the wines of the Cantina Valtidone!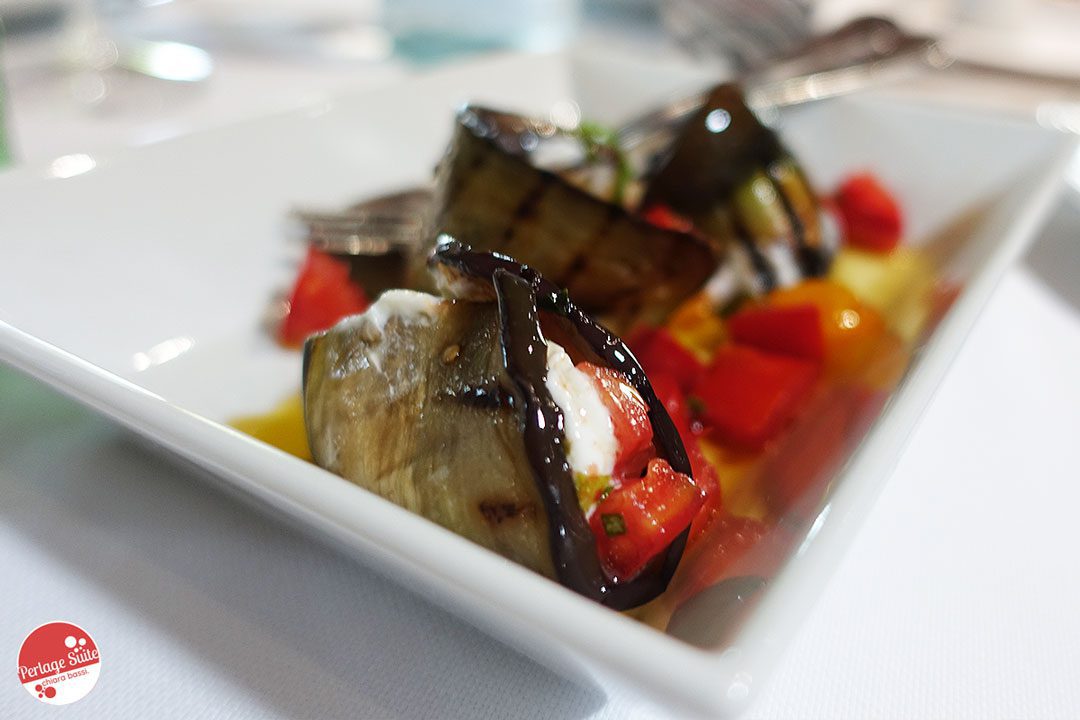 The debut was with mixed starters: the cold cuts are seasoned directly by Danila's husband and I found the Piacenza coppa and salami particularly good, but I don't remember the type. The savory pie was something absolutely delicious: the thin and fragrant dough melted in the mouth and the filling was very balanced. Antonio put the flea in my ear with the escarole… and now he has to invite me again to let me taste it! 😄 The fried vegetables are also delicious with a batter that reminded me of tempura for its lightness and in any case really dry. I don't tolerate fried foods very much and I don't even love them very much, but I must say that it didn't bother me at all! I found the combination with the new Perlage perfect, especially on cold cuts and eggplant stuffed with burrata which was the starter that, of all, I preferred. Danila has undoubtedly "knows her stuff" in the kitchen!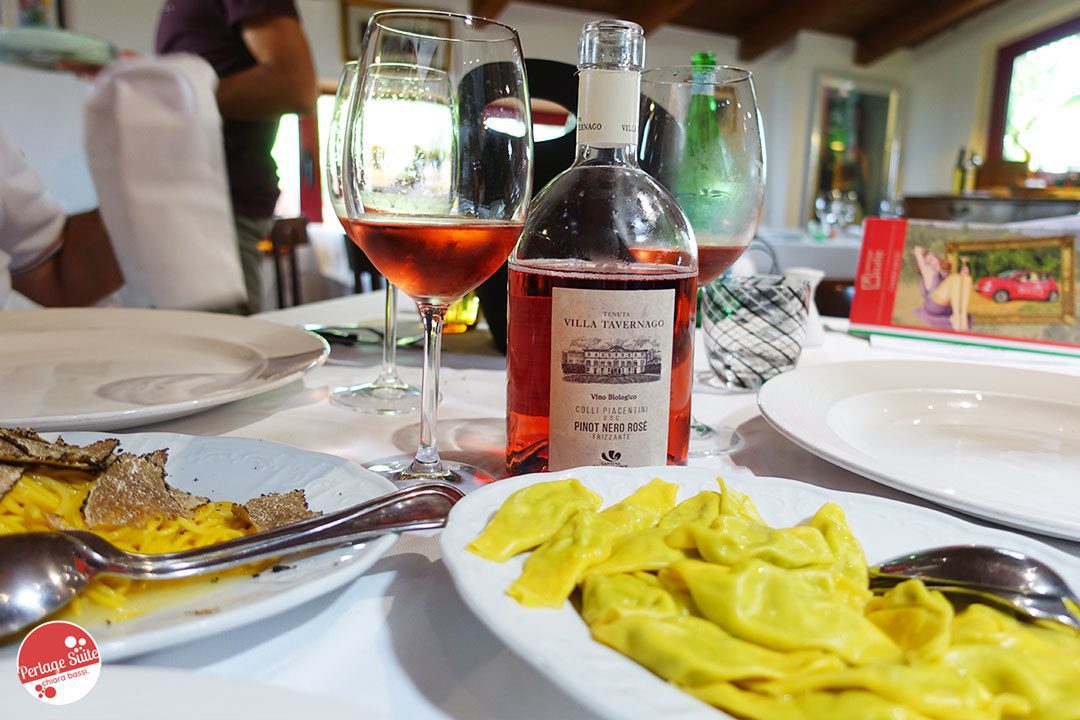 Danila certainly excels with fresh pasta! The ravioli are very good, tasty and with a sheet made to perfection for thickness and elasticity, but the tagliolini are certainly at a higher level. Everything perfect, from the pasta to the sauce based on truffles, butter and ham. The food and wine pairing here is a rare and well done orgasm that is easier to find with food than in other situations. But why am I so sensitive to the pleasures of life? Because? Because? I ask myself this every Monday morning in front of the scale, but she doesn't answer me and looks at me wrong and then she has to eat a croissant to console me ... 😄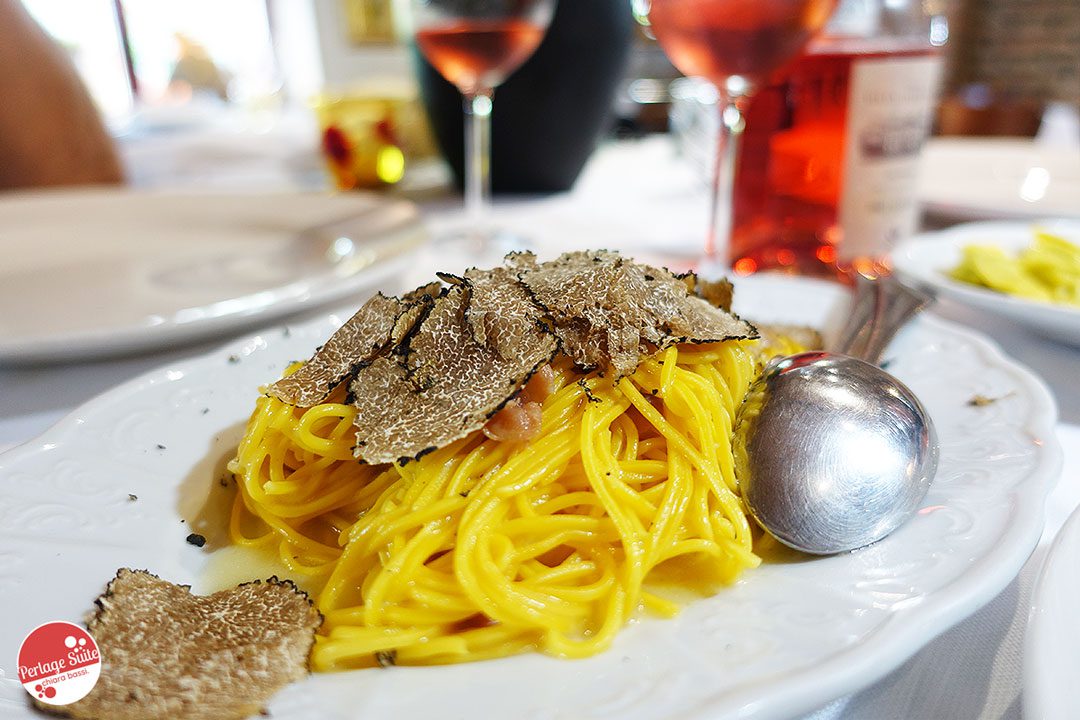 In combination with the Colli Piacentini DOC Pinot Nero Rosé Frizzante by Villa Tavernago. Villa Tavernago is a splendid neoclassical villa which today, as in the past, is the home of splendid receptions and romantic dreams. As an estate it has 32 hectares under organic farming and a hunting reserve. This wine is simple but very pleasant and frank in its aromas: it fully reflects the vine of origin. The nose is a succession of wild strawberries, raspberries and dandelion flowers. The taste has a great acidity, a fine and creamy bubble and an excellent drinkability. On such a hot day, thanks to the perfect serving temperature, it was a perfect partner for Danila's delicious fresh pasta! Oh my God just thinking about it made me want to ... 😍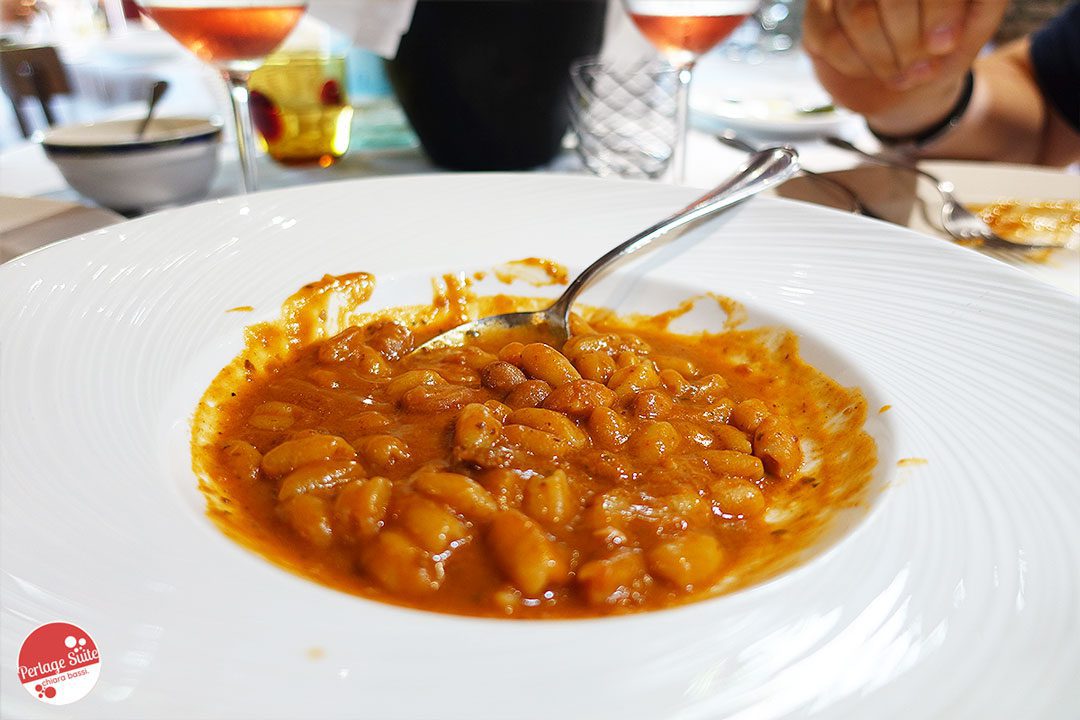 I know, I know ... I told you at least 3 times that it was terrifyingly hot and it was 40 degrees and you don't understand why in this photo there is something very very similar to pasta and beans! Trust me, I didn't understand it either… then I tasted it (just a spoon, you know! 😄)… and I fell in love! The correct name is "Pisarei e fasö" and is a light saucer perfect for the hottest summers: they are small dumplings of flour and breadcrumbs topped with a sauce made from beans, lard, onion and tomato. Always paired with the Rosé of Villa Tavernago they proved to be a pleasant taste despite the temperature ... but there it helped to be in the internal room where it was great! I just didn't understand the people on the veranda with 40 degrees in the shade, but do you still believe the story "let's go eat in the hills it's cool!"?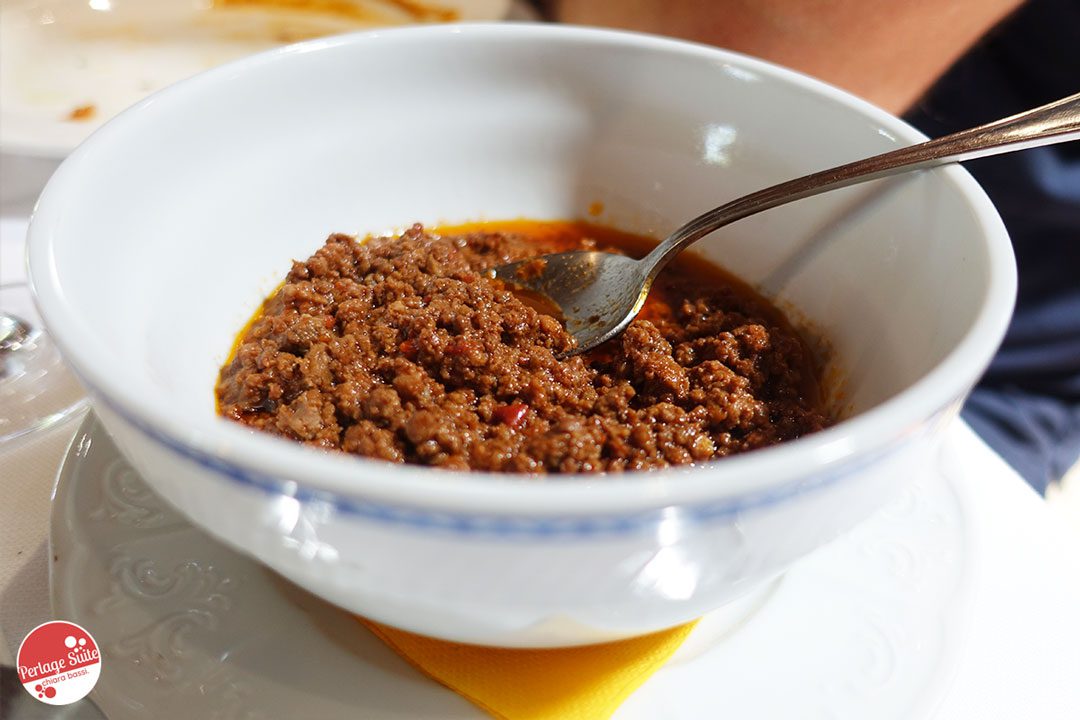 No oh well, I didn't have to publish it ... it wasn't expected ... but ... I'm from Romagna: I have the ragù in my blood! I love to prepare it on Sunday mornings, especially in winter, when the whole kitchen heats up with steam and its scent masters the air with lively delight. Obviously we are in Piacenza and the ragù is very different from that prepared in the province of Ravenna, where the pig is the protagonist. However splendid, it was Paco's lunch. Practically Mario and Antonio understood that it was not an ornament but a real fox when the bowl of meat sauce arrived!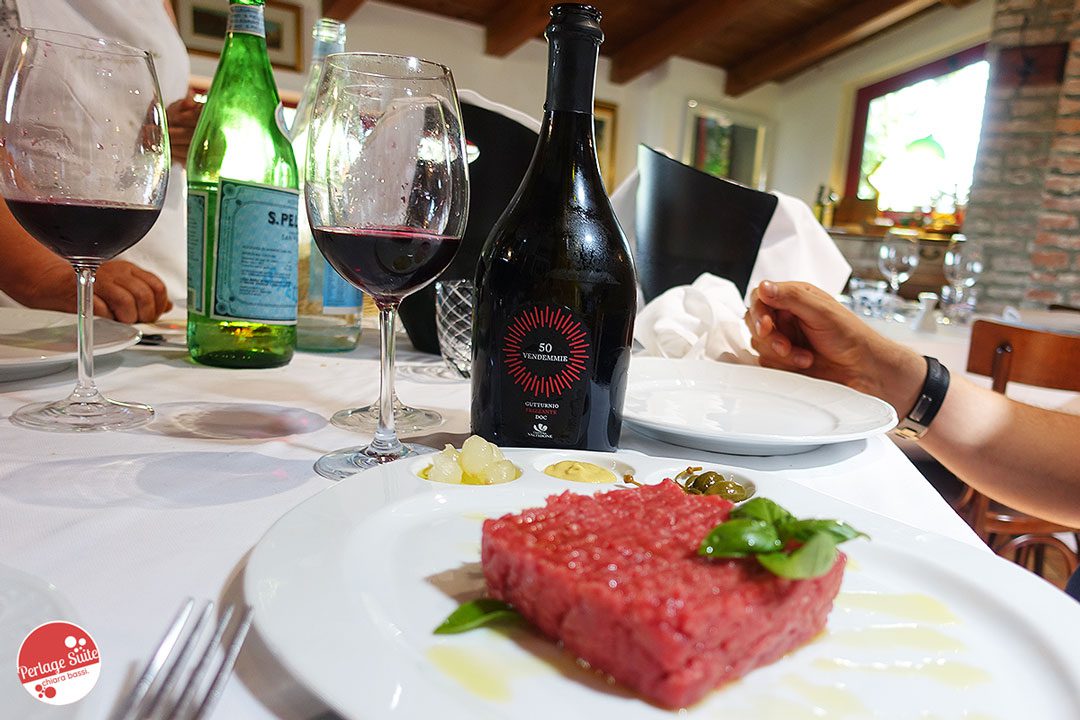 I was full like a turkey on Thanksgiving Day, luckily it was summer or Danila would turn on the fireplace and put me there to brown with an apple in my mouth ... ah no wait, this step is usually not done with turkey ... the idea! In the moment that I said "let's move on to dessert" at the next table they bring a meat tartare ... ah but then you do it on purpose eh! I told you I'm on a diet, can't you see? Huh? Huh? 👿 As a great lover of meat and raw fish (I confess that I would only eat those except for pasta, pizza, croissants or hot cream donuts ...) I couldn't resist! Very good! Then we matched the Sparkling Gutturnio from the 50 line Grapes from Cantina Valtidone which for me was a revelation! I am not basically a great lover of the genre, but I found it done very well and of a moving pleasure combined with first choice meat dressed with mustard, caper flowers, extra virgin oil and summer heat.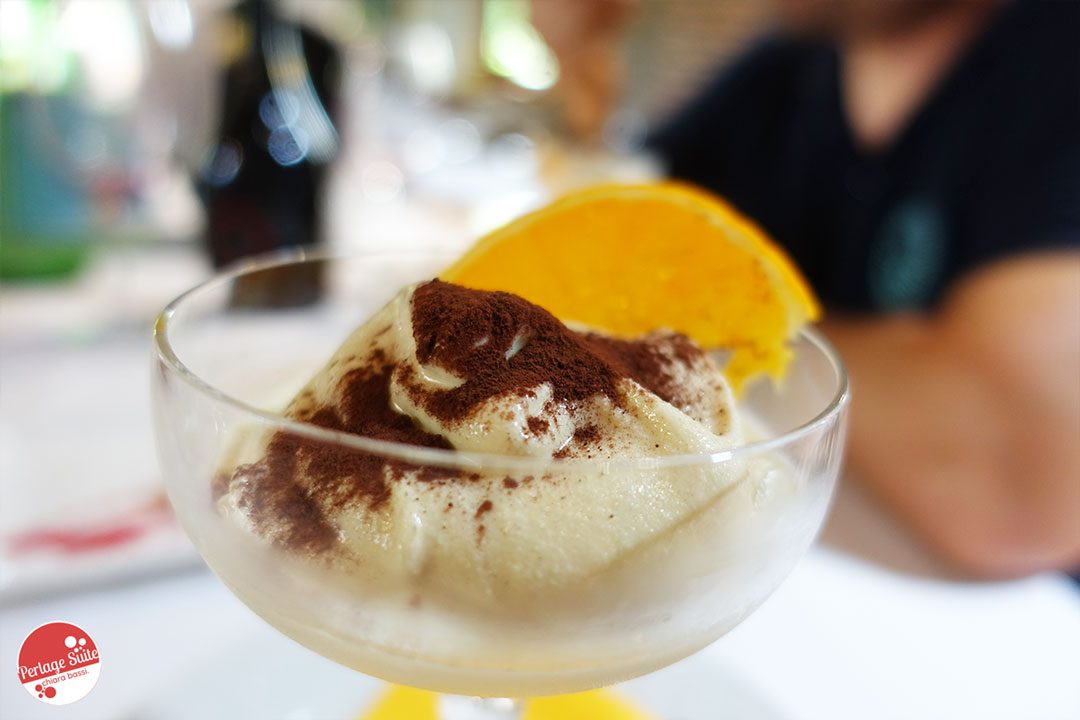 Now stop eating, let's move on to sweets. Wait a minute! Did you use the plural ... sweets? Who developed the theory that sweets end up in a separate stomach and are not eaten but enter our body by radiation and that's why they instantly turn into flab ... well he was definitely an enlightened one and used me as a guinea pig in my life previous one! The Braulio Riserva sorbet is divine, I finished it without realizing it! Braulio Riserva is a bitter based on mountain herbs that takes a long time in small Slavonian oak barrels and has an intense, toasted, herbaceous and spicy, harmonious and delicate taste. I had never tried it in sorbet and I loved it, both for the taste and for the texture! Danila is very keen to specify that it is Braulio Riserva because the normal one is tasteless compared to this ... and I can only agree with you!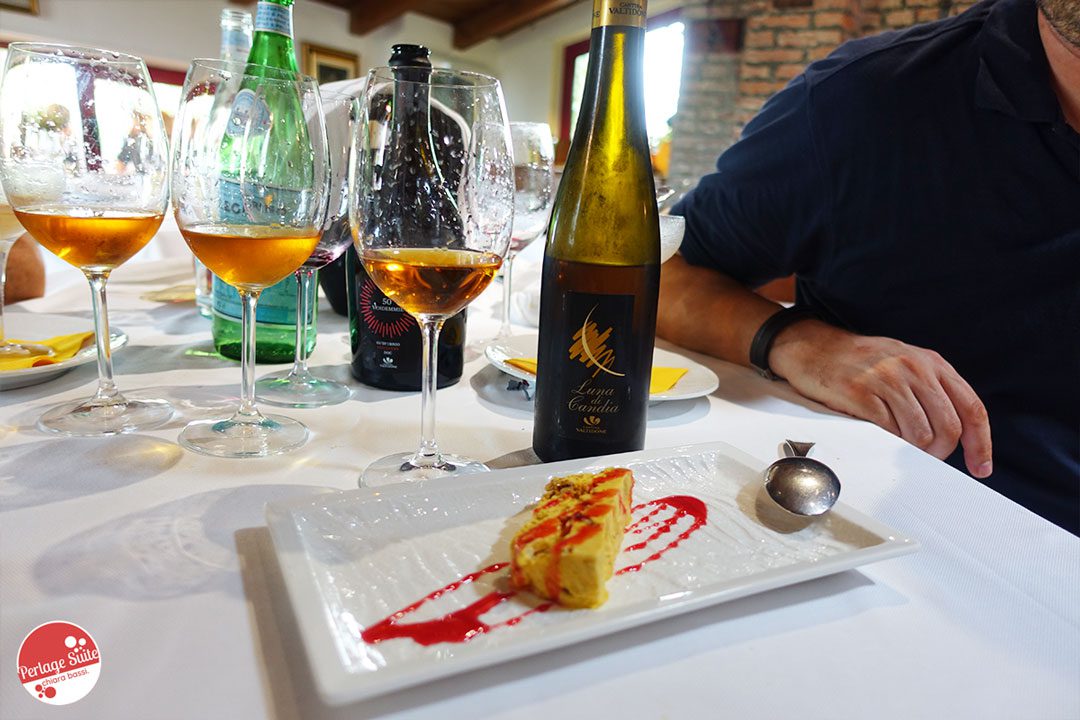 Oh mom che good the zabaglione semifreddo with nougat! But wasn't I full? The passito also good, the Moon of Candia, even if the combination was a bit too opulent! I preferred the Luna di Candia at home, with my coffee pannacotta with fresh blueberries! A whole different story! With Danila's semifreddo, the perfect companion is Malvasia Spumante Venus by Cantina Valtidone… seeing is believing! Actually no wait, I'm not sure ... to be sure I would have to taste a portion again and match it live ... which then I don't want to give you wrong advice! 😄😄😄
After lunch I was happy, but I must say that I heard the last glass of wine loud and clear: luckily I went back to Valtidone driving Antonio ... There after a tour in the cellar (and having reset myself), that I found it very tidy and clean, the new oenologist Francesco Fissore from Alba was waiting for me, who I must say has renewed the bubbles of Valtidone with great capacity! He inverted the% of Chardonnay and Pinot Noir to obtain a Perlage with great structure and acid potential. I had the pleasure of previewing the two new versions of Perlage: Extra Brut and Pas Dosé which came out last December... the latter in particular I found it with a lot of potential! 80% Pinot Noir and 20% Chardonnay of the 2015 vintage come together in a brilliant straw yellow wine with a very fine bubble, quite numerous and persistent. On the nose pleasant evolved notes of cocoa beans, fresh cherries and in alcohol, strawberry yogurt. What a difference with the Brut which is all about fruit, especially the pear! In the mouth it is fresh, creamy, sour, intense, crunchy, savory and persistent. A light oxidized note that I find with pleasure in many Pas Dosé make it perfect for marrying hard and semi-hard cheeses with a little fat.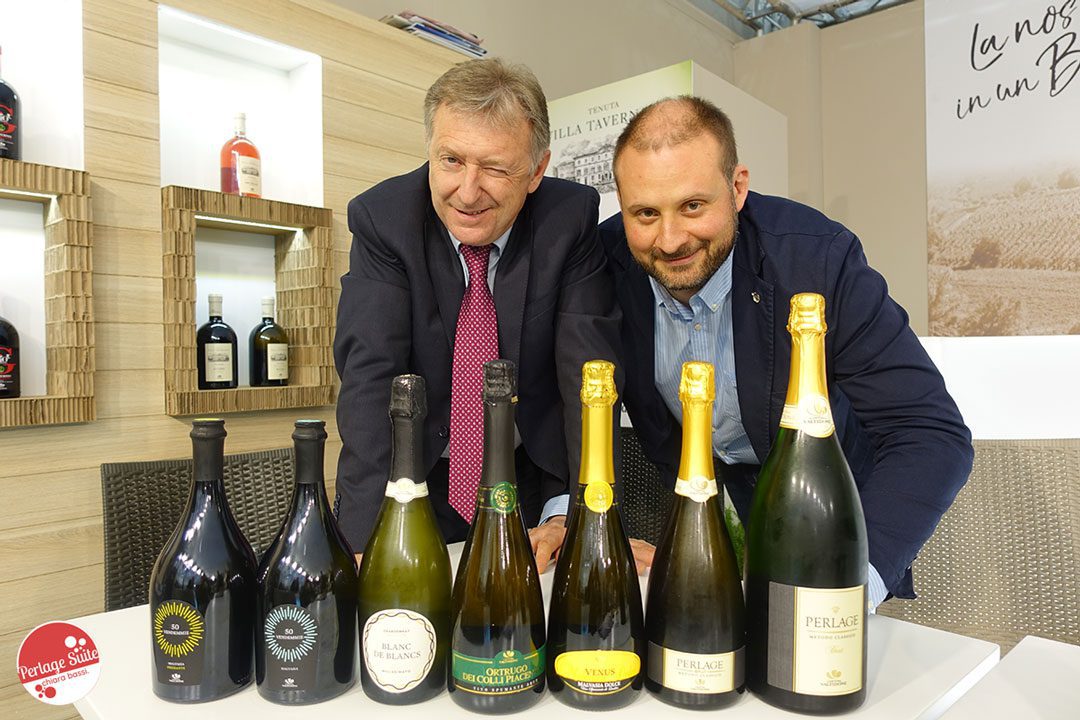 I close with this photo taken at Vinitaly this year, where Mauro and Antonio pampered me without reserve! Indeed, a real pleasure to meet Mauro Fontana, who is really very nice and a really smart sales manager! Thanks also to Mario for the pleasant company at lunch, and to Antonella for being so kind to Paco!
Actually no, there is one last photo to see: Paco who commands the shopping cart that they lent me to Crai di Sulzano (thanks thanks thanks!) To bring just 22 samples of wine in duplicate to Monte Isola ... luck that Paolo was able to load everything in the car including the trolley !!
See you soon,
Chiara
PS As always, I thank you Sony e Photo Universe for that gem of a RX100M4 camera with which I take the beautiful photos here on the blog! 😍