Tonight I tasted a wine so good it upsets my editorial calendar. So here I am, talking to you about my Romagna and amazed because a few kilometers from where I was born and where I lived for 30 years, there is a crazy wine that I was totally unaware of! And since I've created a magical food wine pairing - by the way, follow me on Spotify and already listen to my podcast "Does Red (not) go with everything?"- I also want to share a super easy, super cheap and super tasty recipe perfect even if you don't know how to cook mullet!
"ViVi" Hills of Rimini DOC Rebola 2018, Valentine's Day
I begin with: it is good to stay dry! It has a beautiful deep straw yellow with green gold reflections, consistent. On the nose, hints that immediately remind me of riesling, instead it is 100% gentle grechetto. The scent is intense, mineral and fine, absolutely delicious. An intertwining of citrus, salt and hydrocarbon that fades into mint and inspired me the mullet in the recipe that I write to you later. In the mouth it is coherent, elegant, fat, soft, fresh, structured and with a pseudocaloric managed very well despite the 14% vol. Long finish of orange peel with white chocolate and vanilla.

I looked at how much the bottle costs, roughly it is around 20 €. My thoughts? Proposing a Romagna white wine for € 20 is not easy, but in a blind tasting, in another region it would easily cost € 30, or even more. So for me it really has an excellent value for money and I am proud that my land is capable of churning out similar pearls (remember that even if I live in Lombardy, a Faenza heart will always beat❤️).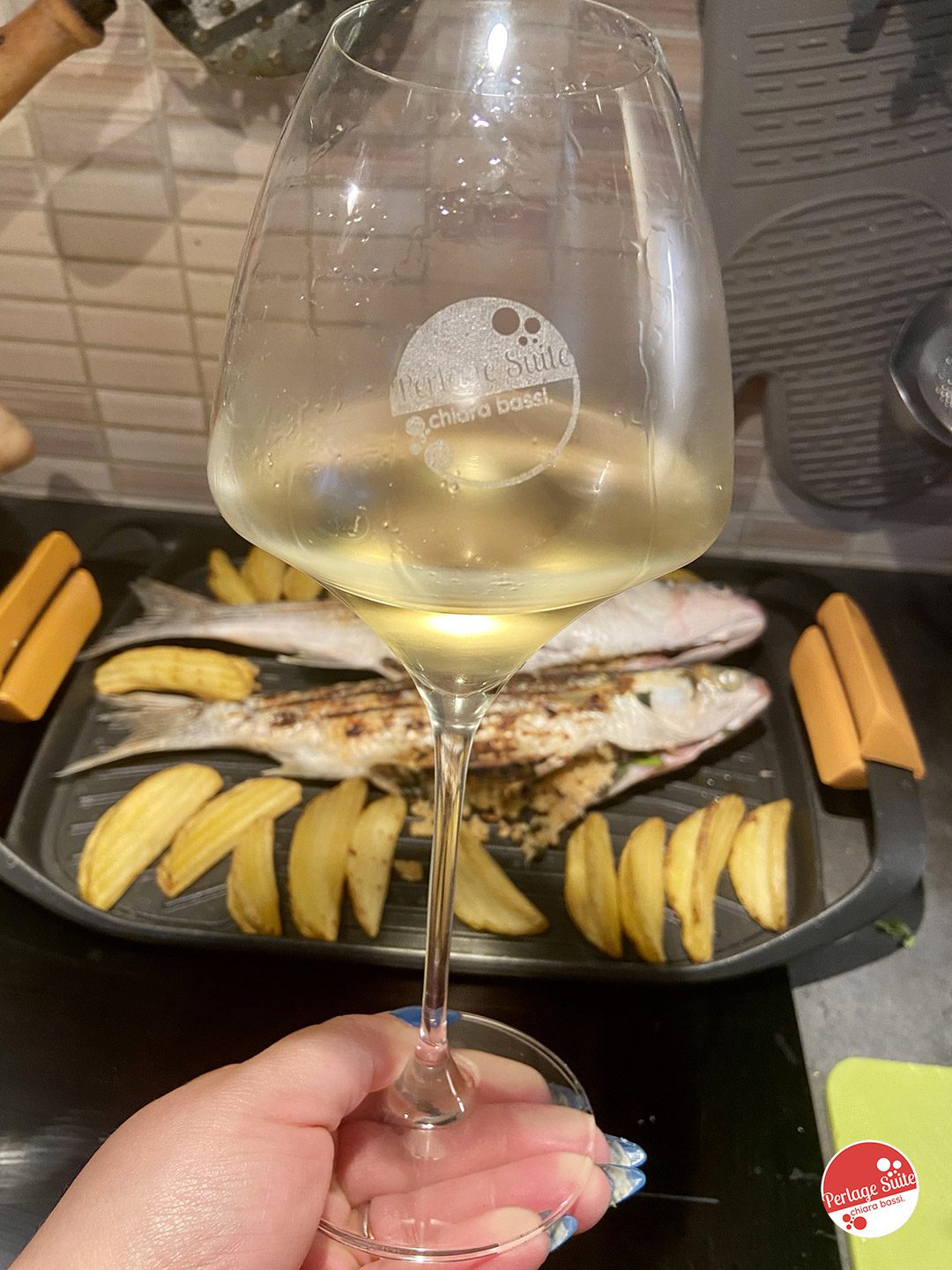 Mullet with mint and lemon: super easy recipe
Mullet: ingredients for two people
2 fresh mullets of about 400g each (clean)
5 generous tablespoons of coarse breadcrumbs
3 tablespoons of extra virgin olive oil
14 fresh mint leaves
1 lemon with edible peel
Mullet: preparation on the plate
Wash the mullet in cold running water and pat it dry with a paper towel.
Put the plate to heat, I in the induction ranging from 1 to 9 I put it at 7, so I would say on high heat! As a plate I use the corrugated grill of Tescoma that my cousin Marco gave me for Christmas and without which I could no longer live: I love it! Perfect both in the oven and for induction, you can buy it on Amazon at this link.
In a bowl put the oil, the grated lemon peel and the lemon juice and emulsify (beat) with a whisk (fork). Add the chopped mint with your hands and the breadcrumbs and mix thoroughly.
Fill each mullet - in the area where they removed the entrails - with half of the mixture and place it on the hot plate.
After 10/12 minutes, flip the mullet to the other side and cook for another 10/12 minutes. Serve it hot, possibly accompanied by potatoes for a perfect fish & chips.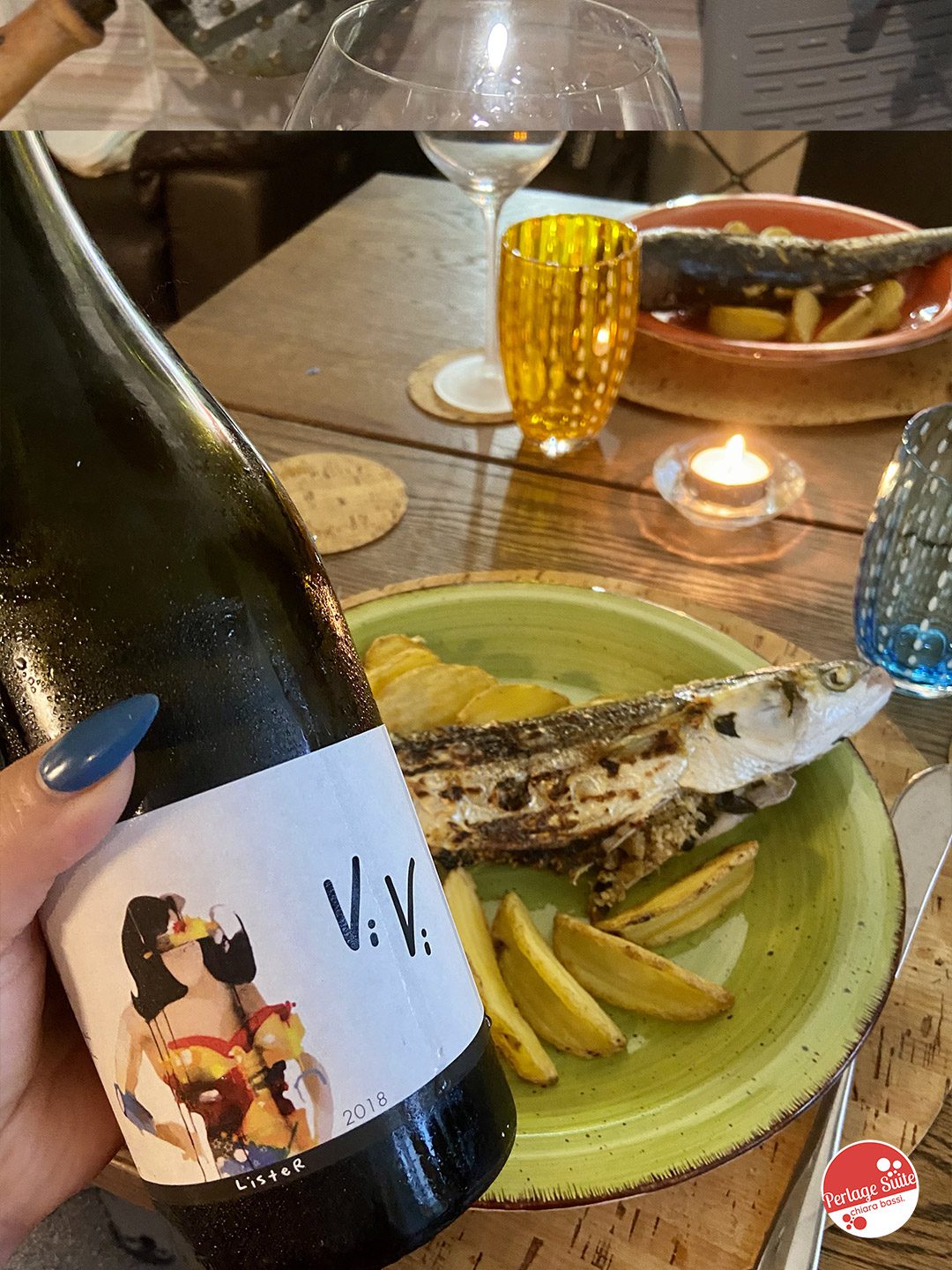 Mullet with mint and lemon and Vi Vi Colli di Rimini DOC Rebola 2018: perfection is served!
A truly delicious and unexpected dinner, which you can prepare for a loved one with a few euros and extreme ease to experience a very special evening at home. Do you know that I paid only € 2,80 for the two mullets? If you have already drank this wine or you know this company, scroll down the page and write me a comment ... I only anticipate that I drank another Cru, the Conte di Cavigliano Sangiovese Riserva Colli di Rimini DOC and I loved it even though the 2017 vintage was particularly difficult (do you remember the frost that I told you in this article?).
Subscribe to my newsletter or scroll down the page to continue reading the article! 😉
"Vi Vi" 2018 Valentine's Day: but is it made from Grechetto or Pignoletto grapes?
One last curiosity for the "non-Romagna": la rebola is the name that the white pignoletto assumes in Rimini and is also called grechetto there. In reality, pignoletto and grechetto, although similar, are two different varieties and therefore it would be more correct to correct the technical sheet with the name pignoletto. I also point out that those hints of riesling that I felt on the nose are more than correct as the white pignoletto has been repeatedly confused with the italic riesling to the point that this has become a "wrong synonym". I understand that the San Valentino company feels closer to the Grechetto: in the collective imagination the pignoletto is a semi-sparkling or sparkling wine almost always of little or very little value vinified in Emilia ... better to resort to the Umbrian synonym for marketing ...
Cheers 🍷
Chiara
How to become a sommelier
All my notes on wine and food in one book.
COMPLIMENTARY, only for those who buy my book on this blog, a copy of the First Collector's Edition of my Sparkling Wine Guide "500 Bubbles in 500", cover price € 25,30. [While stocks last]