Today I am writing to you to share a very special emotion ... Laura and I passed the AIS exam on 11 March 2015, but the ceremony of delivery of AIS Sommelier diploma there was only last Friday 27 November! And so… I'm finally a sommelier! If you are still studying (read this article to the end, because I have put extraordinary resources to pass the AIS exam and become a sommelier that will help you a lot ... but if you really are in a hurry and don't feel like reading everything I write ... SEE THE GREAT GUIDE TO BECOME SOMMELIER NOW! I put the link that opens in a new web page, in case you ever get interested in my gossip about the fantastic AIS ceremony 😝 )
In the first photo my travel companions during the journey to become a sommelier: Iacopo, Kristian (practically Franciacorta origins moved to Ravenna… but how do you do it? 😝 I'm fine here!), Stefano, Thomas ... and of course me and Laura! But a special thanks goes to everyone, in particular to Carla who is the most extraordinary woman and sommelier you can meet on your path! And to Mirko, who if it wasn't for him that led me astray at 18 maybe I wasn't so passionate about wine… to Roberto and Cristina… in short, thanks to everyone! 😍
The first thing I want to tell you is that not everything in life that seems negative is really negative, and that sometimes things happen that show you that it really is not, you just need to have the patience that "the wheel turns". If there is one thing that I have always thought, since I was little more than a child, it is that there is a kind of higher justice that "adjusts" the game of things that happen in people's lives. Then of course, it doesn't fix everything… but maybe a little something yes. This is why I firmly believe that if a person is good at heart and does his best, sooner or later he will get what he deserves. Here, it can be said that I firmly believe in MERITOCRACY (but if you are a graduate in Italy, shut your ears! 😉 ) Why all this preamble? At the beginning the fact that they had postponed the date of the traditional ceremony in Franciacorta compared to May / June as from the first communication had bothered me you don't know how much! But instead thanks to this delay I was able to share this day with Francesco… so I couldn't wish for anything better! [NDR. This Francesco is my ex-boyfriend ... 😉]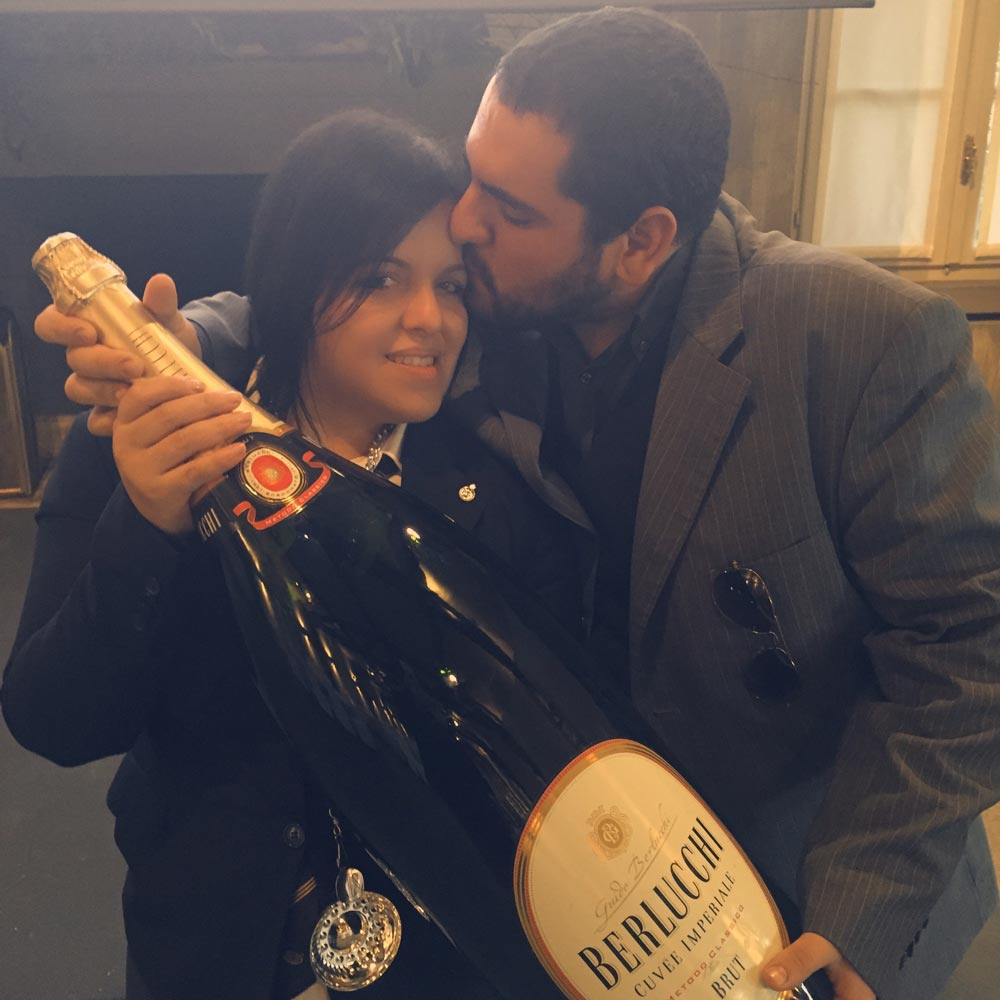 But let's go in order ... the program is to be at 11 from Guido Berlucchi's cellars in Franciacorta… You must know that it is now a consolidated tradition for all AIS sommeliers in Italy to spend the day in Franciacorta drinking Berlucchi wines and for us too (luckily because it is a really good experience) it was like this. The appointment expected to be all in AIS official uniform… and of course I didn't have a skirt until a few days before… which I ordered in Milan during the 49th AIS congress and the presentation of the Vitae Guide! I just gave a preview of this topic because otherwise the blog became monothematic ... so I'll talk about the guide in a few days ... so much is the 2016 guide and we are still in December 2015! I'm sure you won't die waiting ... and that you understand me why I'm not there wine blogger standard that either publishes the wine magazine-style press release, or drinks, drinks, drinks and tells you the emotions of everything he drinks (sooner or later I will hear a wine lover say "What do I care?" emotions are always subjective, so I think it is more correct to tell the experiences lived around that wine rather than inform you of its highly laxative or fornicating effect! 😅 Come on of course I'm kidding, let's get back to us and our beautiful day of Sommelier diploma delivery AIS!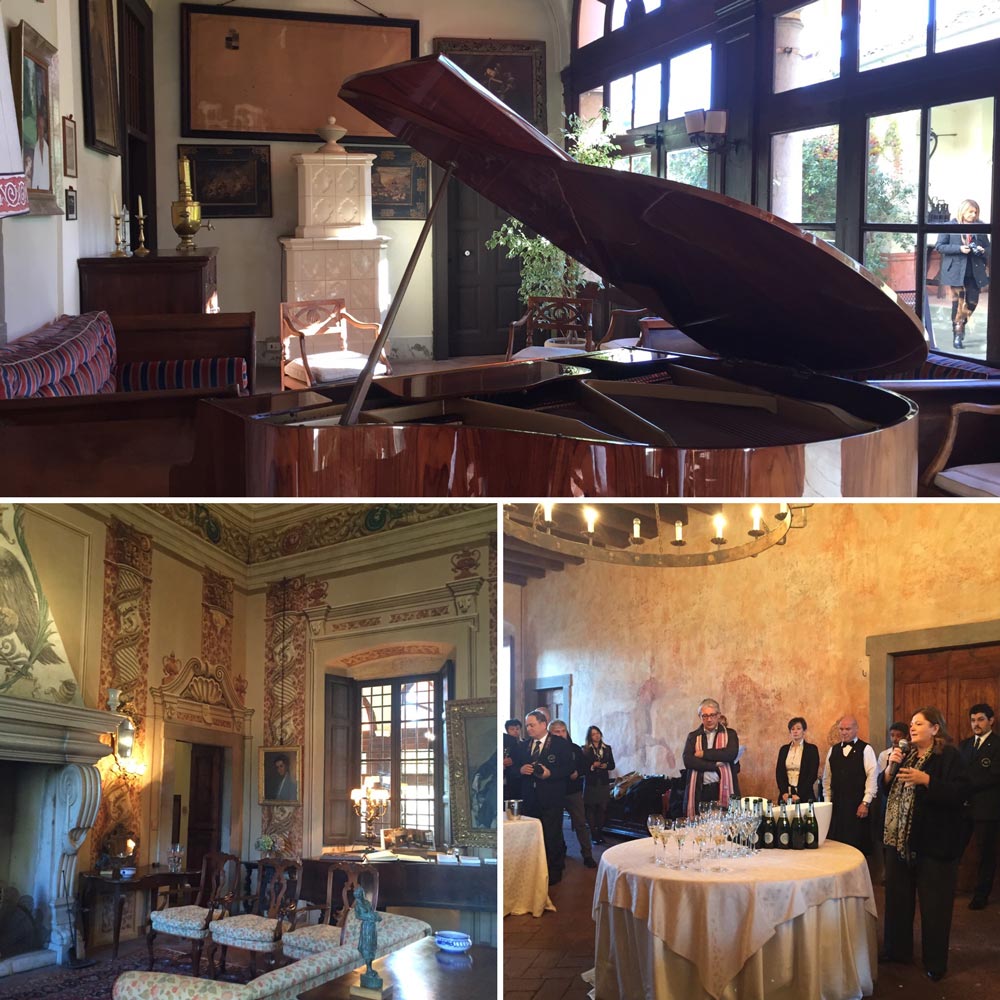 In short, after a week of a strict diet, more or less the jacket closes (but there are those who say that the door is open so as not to look in a cast ... excellent excuse that I share with you!), The buttons of the shirt hold up (but there are those who says that the squeezed buttons on the breast are sexy ... this is also a great excuse you can use!), my father-in-law tied my tie to me (because I tried the scarf that women usually use but I just don't know what towards turning it around so in the end I decided to buy that) and the skirt magically enters and it is a slow thread ... the only problem is the 10 heel décolleté that I was so stupid to wear ... but luckily the caravan after the visit to the historic Berlucchi cellar does not she realized that we stopped because that saint of my boyfriend ran in the car to get me a couple of dancers (he knows me well 😀)… we are ready! I'm not going to re-tell you how beautiful Berlucchi's historic cellar is, if you follow this blog you have read everything you need after my visit during the Franciacorta Festival ... if you haven't read the article ... READ IT HERE!) The Berlucchi winery really deserves a visit ... partly because it was there that the first Franciacorta was born, partly because I am beating all the cellars of Franciacorta and for now it is among the most beautiful ... partly because the hospitality is excellent… and partly because there is also Palazzo Lana there! Cristina Ziliani, daughter of art (her father Franco Ziliani made the history of the classic method in Franciacorta with Guido Berlucchi) was an exceptional "hostess" who took us to Palazzo Lana to make a toast ... Palazzo Lana is beautiful on the ground floor ... the room with a fireplace and the entrance with the piano are wonderful, but the room on the first floor where the toast took place did not impress me! But you absolutely must come and visit it, perhaps at the next Franciacorta Festival! Thanks for offering us a toast of Palazzo Lana Franciacorta DOCG Riserva Satén 2006… I must say that here the barrique feels a lot and has a nose of butter smeared with lightly toasted bread crust beautiful!
We continued at Relais Franciacorta, the real heart of the ceremony where we would be given the diploma, the tastevin and the pin would be stitched (what a thrill! Even if Andrea had already given it to me ... great absentee of the day and not only for the business trip to Shanghai ... I was very sorry not to have him with us that day ... after all he helped us along the way by drinking excellent bottles with us😅 ) The Relais Franciacorta, for what little I saw it in the general confusion of the day, is very nice and beautiful! When we arrived they were making a Christmas tree using bottles of wine… expertly composed according to color to create the "festoon" effect. Very good! Francesco called it (not wrongly) a little exaggerated… but I'm sure all #winelover will appreciate! At the Relais Franciacorta a simple menu awaited us, paired with Berlucchi wines, which I report to you:
Menu for the delivery of AIS diplomas in Faenza and Ravenna, 27 November 2015
Whitefish strudel with tomato water - Berlucchi '61 Franciacorta Rosé
Risotto with Franciacorta - Berlucchi '61 Franciacorta Brut
Guinea fowl breast with bacon, potato royale, glossy vegetables - Cellarius Franciacorta Brut 2008
Almond and apple pie with corn cream - Cuvée Imperiale Franciacorta Demi-Sec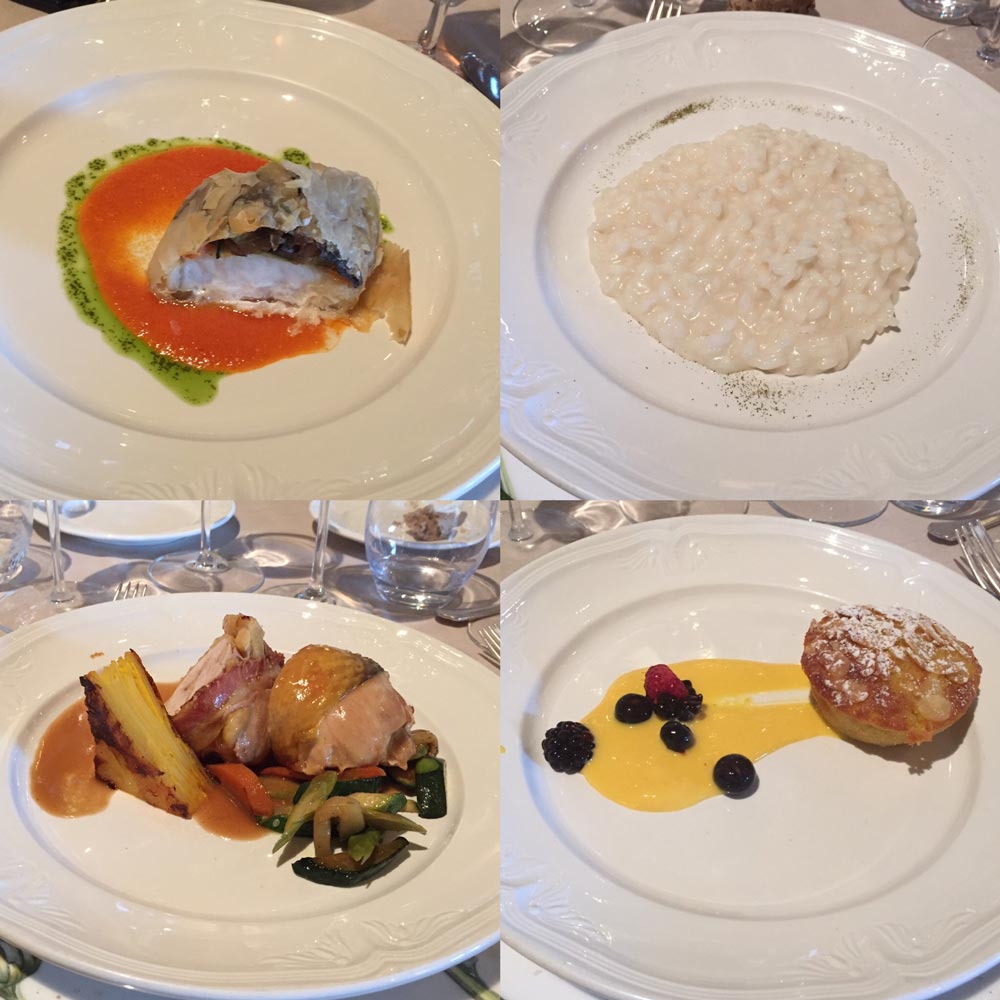 Whitefish… what is it? It is actually called Lavarello and it is a lake fish ... which obviously abounds in Lake Iseo! I understand that in a slightly high-sounding menu to write Lavarello it was bad 😀 Nice dish, the Whitefish is tasty and tasty and I really liked the local menu! I would have added a drizzle of raw oil on top and a grating of pepper, but overall valid! The risotto al Franciacorta was almost perfect… I prefer it more "on the wave" and therefore a tight hair, but really good, tasty and well creamed! The guinea fowl was tender and tasty thanks also to the fat in the bacon, the vegetables were very good and the potato royale was a kind of layered "cake" ... perhaps the least appropriate thing, with a pretentious name I expected more! The almond and apple pie is very good, it's a pity that Francesco ate almost all of it ... but after all I had stolen his appetizer since he is phobia of barbed fish (which he eats only if he does not know that it is barbed 😅 )
And here we are at the moment of the ceremony: exciting! They called us on stage, one from Ravenna and one from Faenza. This was fair but I was a little sorry, we were alone we from Faenza I would have gone on stage with Laura (they called in alphabetical order… Amadei - Bassi is now a must!). When Roberto pinned me the pin with the tastevin symbol of the AIS I got a little excited ... both because it is always nice to achieve a result you care about, and because I love AIS and I love wine ... and for how long there will always be gossips in this world ... or speeches pass me the term "fucking" like those I heard during my journey like "I don't become a sommelier because then I would become biased" ... it's all bullshit! But biased for what? Becoming an AIS sommelier is a beautiful journey, made up of a lot of study and sacrifice (because those who have done it know what it means to go at least 2 evenings a week from 20pm to 15pm after you've worked all day to hear the speaker that talks about oenology, terpenes, anthocyanins etc etc ... in any weather condition and maybe even far from home like me and Laura!), it is a demanding training experience both from a time and an economic point of view ... but it's really worth it! And anyone who claims otherwise ... I invite him to take the course first, then to speak! Because if he talks after having done all 23 courses I accept him, but whoever criticizes AIS without having done the courses would throw him a good kick!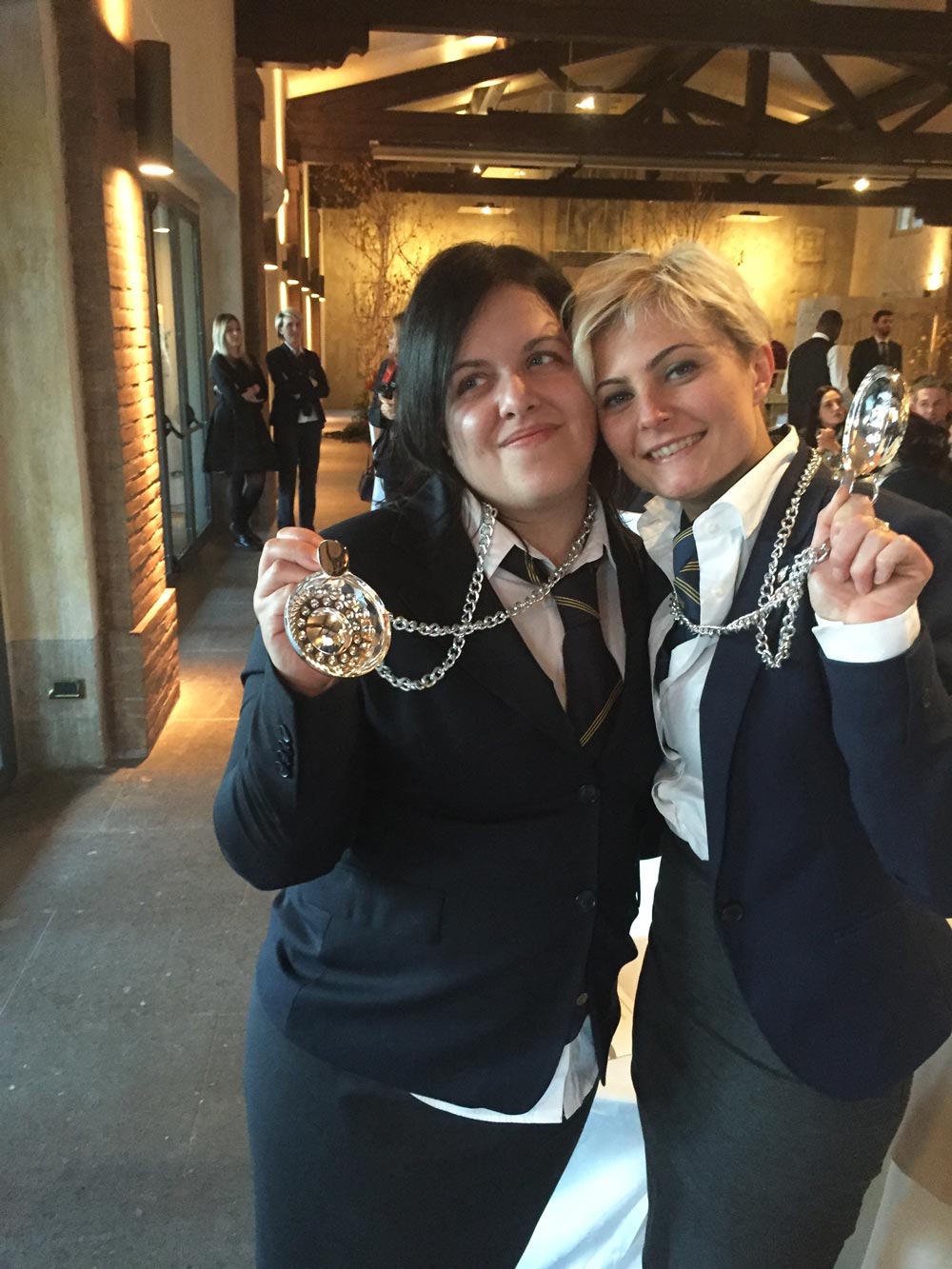 And with our dear classmates and our boyfriends, Laura and I ended the day with a visit with tasting in La Montina ... where Alceo, as always, surpassed himself even though I called him 2 hours before arriving to warn me that I was passing ... but who knows me knows that La Montina it is in my heart… and now also in the heart of Francis! 😍
Good delivery of AIS sommelier diploma to all of you aspiring sommeliers, and heartfelt thanks to all of you dear colleagues who have accompanied me on this journey.
A hug,
Chiara
PS I greet you with some useful resources to pass the exam!
And please, if you are within exam range ... consult THE GREAT GUIDE TO BECOME SOMMELIER!
Hoping to have given you some emotion and helped to reach your goal ... as always I remind you not to let the wolf die but to get him drunk!
And you? Do you still have to graduate? Have you already graduated? What memories do you have of the graduation ceremony? What happened after? Leave me a comment <3
How to become a sommelier
All my notes on wine and food in one book.
COMPLIMENTARY, only for those who buy my book on this blog, a copy of the First Collector's Edition of my Sparkling Wine Guide "500 Bubbles in 500", cover price € 25,30. [While stocks last]