I'm going a little off-topic tonight, I know. But a blog, by definition, is also the author's diary. So tonight, before I tell you about the tasting of the historic cru Nautilus, a classic method sparkling wine made only from red grapes and aged for 24 months in the depths of Lake Iseo, I will tell you something about myself. I chose this wine because it comes from vineyards in front of my lake and is aged in its own waters at a depth of 40 metres. I found it, even before tasting it, absolutely perfect for the evening, and for a reflection born of a sentence from ''I am a wine that is a wine for me''.Eat Pray Love"the film I am (more or less) watching.
Destruction is the path to transformation.
In fact, one of the things I perhaps most admire about myself is my ability to create and destroy, if not fully satisfied. Ever since I was a young girl, from love to life, from study to work, I have never been afraid to experiment, to fail, to start again. Even as a child I had a dream: to write. I used to spend entire days writing anything. And of course, being able to write about subjects you love is a great privilege. This wine blog was born out of my love for writing, for wine and for the web. W³ I like to call it, from Wine Web Writing. If I had not destroyed my life twice I would never have been able to do my dream job and I would have settled for something that I might have liked, but did not really make me fulfilled. Similarly, if I had been afraid to leave my home town of Castel Bolognese (RA) and then move to Ravenna for 9 long years, and had not left Ravenna again to come and live in Solto (BG), I would never have realised my childhood dream: to live in a house on the lake.
[Tweet ""Only one thing makes a dream impossible: the fear of failure." Paulo Coelho"]
This premise to tell you to never be afraid to fail. Dare to dream, dare to try, dare to fail. Create, enjoy, destroy, cry. Transform your life, always, until you are happy. But above all, don't forget to transform yourself. The greatest of failures is the inability to change your ideas, to grow. That is the only real failure for me.
"We all want things to stay the same, we accept to live in unhappiness because we are afraid of change, of things falling apart, but I looked at this place, the chaos it has endured, the way it has been used, burnt, plundered, then returned to itself, and I felt reassured.

Perhaps my life has not been so chaotic, it is the world that is chaotic, and the only real trap is to stick to everything.
Ruins are a gift. Destruction is the path to transformation."

"Eat Pray Love" Elizabeth Gilbert
Sometimes it is amazing how the universe sends us hidden messages. Tonight, while writing the Perlage Suite Book [everything you need to know about wine in less than 280 pages], I am watching the film adaptation of a beautiful book, 'Eat, Pray, Love', an autobiographical story by Elizabeth Gilbert. It may be that I am almost 32 years old like the main character, it may be that I too, in my own way, am a writer, it may be that I too have finished a great love story that left a big wound in my heart... I really feel the need for a year to unplug and find myself again. Well, on Friday I start my journey in stages for my sparkling wine guide 500 bubbles in 500 which will touch every corner of Italy, and I think I will indulge in the pleasures of good food and wine. Afterwards I will actually have to pray for a while... and I think I will take a week's holiday in Fontainbleu-Avon, on the outskirts of Paris. Here, on the le Prieuré estate, the Armenian mystic Gurdjieff founded in 1922 a large House of Studies where artists, writers, painters, mathematicians, philosophers, architects, musicians lived and worked alongside him... committed to a serious and profound inner quest. In this place, a totally independent community of intellectuals was born with pastures, cultivations and various activities created to do intense work on oneself, thanks to movements and sacred dances taught by Gurdjieff himself. From the age of fourteen I devoured all of Gurdjieff's teachings related to the Fourth Way. I am not a religious person. I consider the Fourth Way a philosophy, a way of life. Thanks to Gurdjieff I got to know the work of what I consider my Maestro, Franco Battiato. His music has inspired much of who I am. So I think I will spend my 'prayer' period there.
"Eat Pray Love"It also presupposes a final chapter about love. But that, right now, I don't feel like planning it. But another place where I have always wanted to live, if only for a few months, is Portugal. Maybe I will take a month's holiday there next summer, who knows.
Eat Pray Love... but actually for tonight I am just drinking, dreaming, creating. As a companion I have chosen Nautilus, Wines of the Camonica Valley. My neighbours, in short.
Biodiversity, challenge and innovation in a nutshell the guidelines that drove us to make this 'bubbly'. Old roots and historical stocks, this is where we started; plants up to the century, only red grapes from local biotypes or varieties. The result is a Traditional Method, Blanc de Noirs, no Cuvée, only one year's harvest. 30 months on the lees, 24 of which in the depths of Lake Iseo. A necessity since we had no suitable cellar, a method that proved to be 'ecological' in order to keep the bottles at constant temperature and pressure. The balance achieved allowed us to make a Pas Dosè, without added sugar; absolutely without compromise.

Alex Belingheri, Azienda Agricola Vallecamonica
Well I love Brut Nature, and they are my quintessential sparkling wines.
It is an intense straw yellow with golden hues. The perlage is crazy: I have never uncorked any classic method sparkling wine with so many bubbles. They are very fine, creamy, enveloping, persistent. They never get tired of rising in the glass. I am totally fascinated by them. The nose is very elegant, quite intense, complex, with notes capable of getting into your head. Besides a distinct note of butter and bread crust, there is also acacia honey, apricot, confit tomato, biscuit, sage. In the mouth it is intense and creamy, soft, quite warm, quite fresh and particularly savoury, with a good structure, great finesse and persistence. Overall harmonious. Food pairings? More than as an aperitif, I see it as suitable for relaxing after dinner, perhaps with a toma piemontese, a hard cheese similar to Grana Padano, but fatter and with a marked tendency towards sweetness. There is something in the mouth that distinguishes it... perhaps these very numerous bubbles so fine as to be barely perceptible.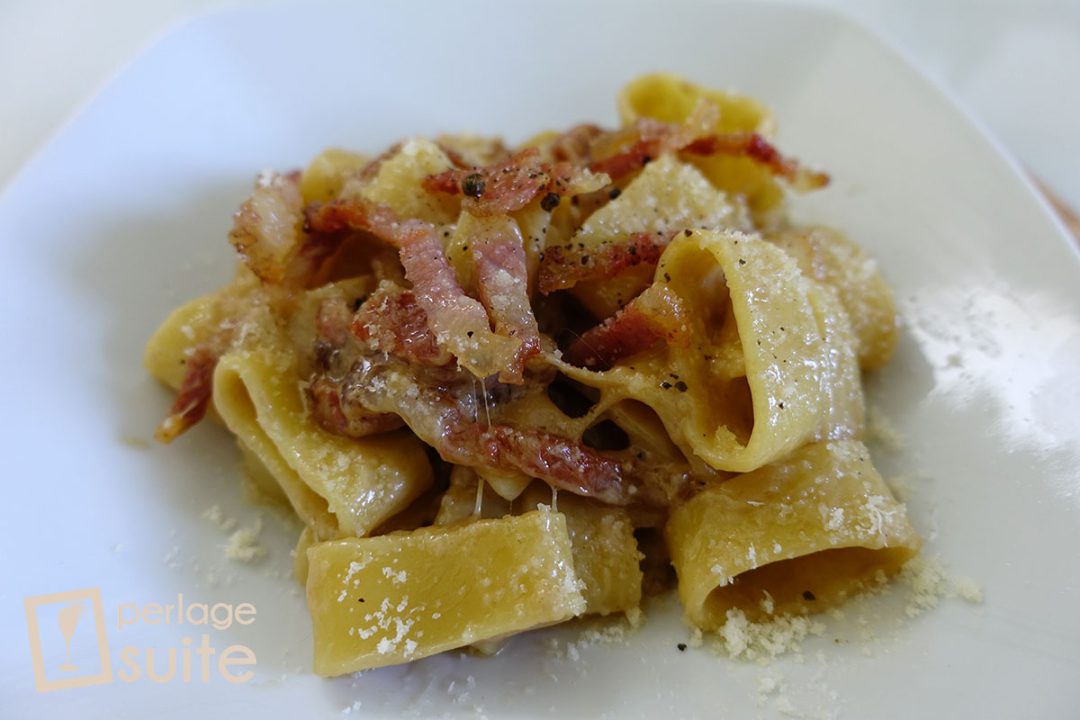 Mmmh it would also have been interesting pairing with this calamarata porcini, guanciale and pecorino cheese that I cooked myself for lunch today... I must try it soon! ??
The packaging is very neat, fine and elegant like the wine itself, with colours ranging from silver to tiffany. I also really liked the tiffany card with the white cord and the black text saying:
Spumante Metodo Tradizionale Millesimato made only from red grapes, historic strains. The result of experimentation in the waters of Lake Iseo in front of Monte Isola, 24 months on the lees at a depth of 40 metres with constant temperature and pressure. Total darkness. Disgorged Pas Dosé using the same wine, no added sugar, absolutely no compromise. In drinking this sparkling wine I wish you all the same emotions that year after year I am lucky enough to experience by making Nautilus. - 4000 Bottles, 50 Magnums and 20 Jéroboams.
Extraordinary value for money: 27 € for a wine that is certainly capable of stirring emotions... especially when drunk on the lake's jetty whose waters have guarded its resting place, and where under starry skies it has enjoyed total darkness for two years, with currents capable of gently cradling its yeasts in a natural bâtonnage (stirring of the lees deposited at the bottom of the wine to bring them back into suspension).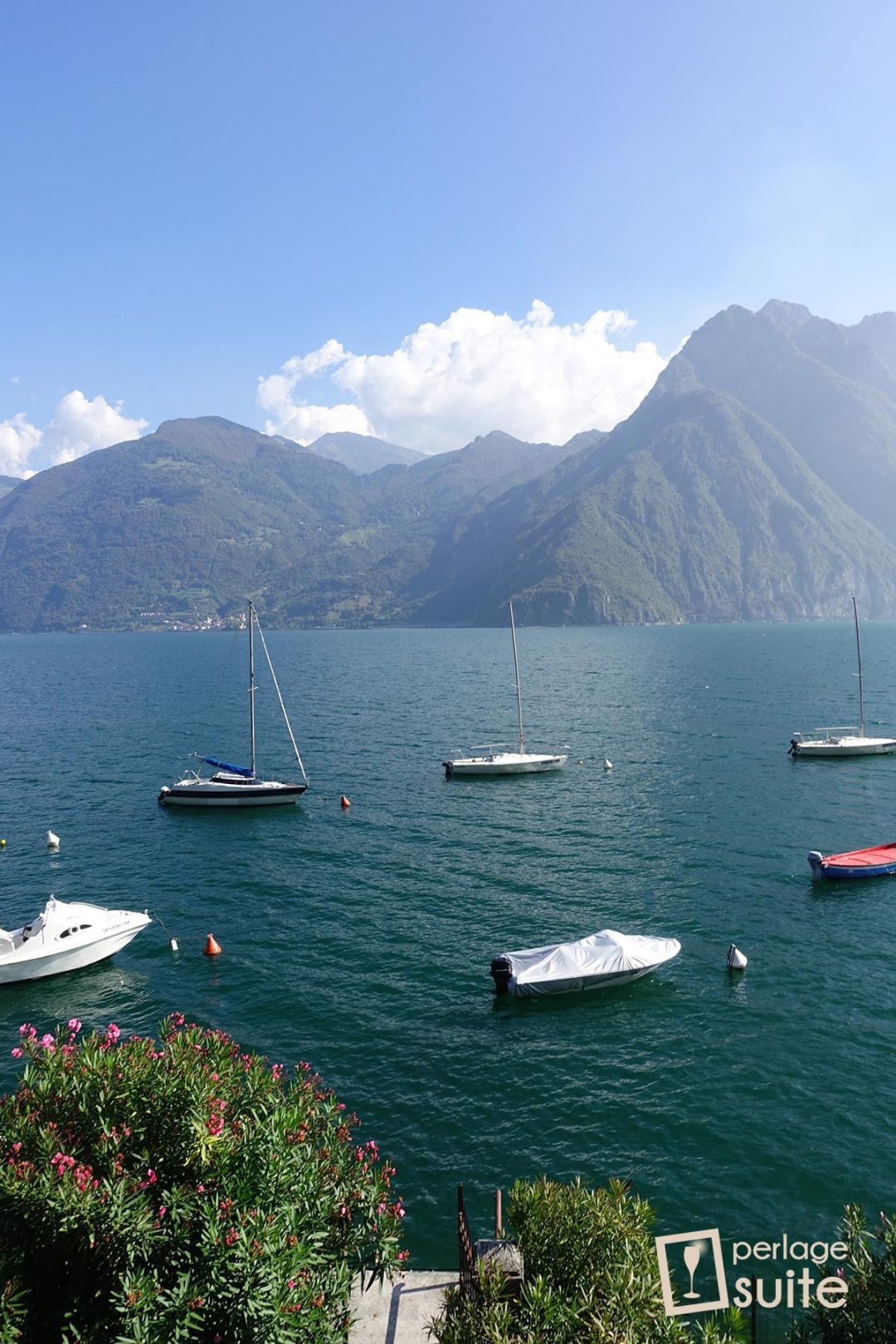 I guess I will do that tomorrow night.
Congratulations Alex, really.
Here, maybe my Eat Pray Love is really Drink, dream, create.
Sweet dreams,
Chiara
PS If you have never seen this film, I recommend you buy it on Amazon by clicking HERE! To me the book Eat Pray Love But I liked it even more than the film, even though Julia Roberts is extraordinary as always!