I arrived at Milan shortly before the appointment, and I admit that, after a 'frantic' search for a parking space, there was theHic wine shop... a small shop window hiding a small vault in Via Lorenzo Spallanzani 12. The event, objectively organised on a somewhat 'complicated' day due to the concurrence with Identità Golose, from dear Claudia Bondi of Pearls & Perlage had an interesting objective: (re)introduce Champagne Gardet to the Italian public thanks to French wine importer Sergio Bruno of Emozioni oltre il Gusto. As a great lover of France and Champagne and with the profound esteem I have for Claudia's work, I decided to make a short stop in Milan during a week in which I travelled over 1500 km for work and which also allowed me to spend a couple of days with Dad and Mum. Before even talking about the Champagnes presented during #heRoses🌹 I would like to make a small reflection precisely on Champagne.
Champagne: it's different in Italy
Why does the Champagne that arrives in Italy taste completely different from that drunk in France? Not all of them of course, but a good percentage. Thinking about it, I think this really depends on how we are used to drinking in Italy, especially when it comes to bubbles. Sparkling wines in Italy are a thorny topic, yet one that I love madly. By the way, you have already bought your copy of 500 Bubbles in 500 Italian Sparkling Wines Guide? Buy it now, I promise you a world of different and always intriguing bubbles from every part of Italy will open up to you!

Returning to the subject of Champagne, In Italy, unfortunately, there is a shocking lack of education when it comes to sparkling wine. Yes, you may be able to argue with me that it's a bit like that throughout the wine world... but personally I see a lot more ignorance in the world of bubbles. Partly because knowing the different sparkling wine methods is the basis for understanding what to ask for when buying any type of sparkling wineand it is quite different from being able to distinguish a red, rosé or white wine that a slightly below-average consumer stops at. Or perhaps average, is to be further investigated. Asking in a restaurant for a 'Prosecco' or a 'Franciacorta' (forgive me the easy generalisation... but it stems from an indecent wine list I saw a few days ago that listed them both under the category 'Frizzante' 😈) already requires an extra brain if you do it with awareness! This is why perhaps I should not be surprised if the Champagnes that are commonly offered to the Italian public are, pass me the term, more like the 'taste' of Franciacorta than Champagne. Or perhaps it is the other way around? Perhaps it is some Franciacorta producers who try to ape certain types of Champagne? I leave the discussion open...
Gardet Champagne: a good choice to import it into Italy!
When I tasted 2 Champagnes (Blanc de Noirs and Rosé) out of 3 from Maison Gardet, I thought they were 'Champagne di Franciacorta', or 'Franciacorta di Champagne', as you prefer. Products really suited to the Italian taste. They are not the Champagne you would expect to be served in France, but they are exactly the Champagne you would expect to be served in Italy. This is why, from the point of view of pure importation, I find it a really strategic choice for the Italian public. Then there's the fact that the catalogue of this Maison is so vast that I'm sure they can pull a Champagne-Champagne out of their hat, and the Brut Reserve confirmed this idea for me! I therefore invite you to CLICK HERE to discover the entire collection of Gardet Champagne labels imported by Sergio Bruno... that something interesting I have already seen! 😍
Gardet Champagne: The tastings
I would like to say that the tastings were marred by glasses that were not only unsuitable for tasting any form of bubbles, but that due to washing sometimes dislodged the perlage so much that it was difficult to make an accurate assessment. But I changed glasses several times... and still found someone on which the bubble worked.
Gardet Brut Premier Cru Blanc de Noirs: an easy drinking Champagne.
Blanc de Noir, for 40% Pinot Noir and 60% Pinot Meunier. Ageing is done in stainless steel, while the stay on the lees is at least 4 years. The dosage is 8 g/l. The nose has pleasant notes of strawberry yoghurt, pineapple, bergamot, cocoa butter, lemon thyme, vanilla and an almost chalky finish. In the mouth, it is very fresh and has that 'mature' hint typical of certain Champagnes. Great balance despite a marked acidity. The bubbles are creamy, the finish is not long, but leaves the mouth very clean. For aperitifs and raw fish.
Gardet Brut Réserve Premier Cru: a Champagne-Champagne at last!
Couvée 33 % Pinot Noir, 33% Pinot Meunier, 33% Pinot Blanc. The special feature is that the 25% is aged in wood, in large barrels. It has 6 g/l of well-balanced sugar. It is a much stronger yellow than its predecessor with a beautiful golden hue. The perlage is fine and continuous. On the nose the first thing I thought was "here we go". It has an array of ripe notes of dried fig, jammy red fruits, white chocolate, chickpea hummus, Bourbon vanilla, fresh rose, candied pear and a rhubarb finish. The nose has an unctuous, fruity note that reminds me of a good olive oil. In the mouth it is overall fresh, structured, a 'ripe' taste as I like to say, a great sapidity that awakens my salivation in a very pleasant way. Great intensity. The finish is long and persistent. From sliced duck, or foie gras... in fact, I found myself thinking of the delicious one I ate in the company of the Boss of Chateau Suduiraut... whose family, before intriguing us with Sauternes, produced an excellent artisanal foie gras! (Click here to read the article on Chateau Suduiraut's exquisite vertical Sauternes dinner made right in their delightful little restaurant attached to the Maison in Preignac)!
Gardet Brut Rosé: simply rude.
Pinot Noir, Pinot Maunier and 10% Vin Rouge. Matured for 24 - 36 months. The vignette is fine and creamy. On the nose, notes of lemon sorbet, lime, black pepper, maracuja. Not particularly smooth, great acidity, very fresh. I did not like it much, especially in the mouth. If the nose is discreet, the palate is inappropriate. Too acid despite the 8 g/l, at times it gave me the impression of a grape not picked at the right moment of phenolic ripeness. I did not find it at all in line with the concept of proposing a Champagne that is emblematic of the Montagne de Reims... and if this Champagne was, we would not be there at all. However, other guests at the tasting liked it....
Gardet Champagne: Conclusions
Too often in Italian restaurants, Champagne is a recurring gripe. Champagne is a product that even restaurateurs understand little about, even if you go to restaurants with a high ticket price. With the premise that I have no idea of the costs, if these are in line with the product, I find it is the Blanc de Noir and Brut Réserve two Champagnes that are worth adding to the list, also and above all for their ability to cover a renge of heterogeneous proposals that makes them precisely suited to very different audiences and dishes. After all, Champagne Gardet was born in 1895 from the dream of one man, Charles Gardet, and was for years a family-run business, until reaching the 2 million bottles of today... the differences are at home here! What to say finally? Emotions beyond Taste has several offerings from this company... you can really try to find out whether the other labels have a more international or more traditional flavour!
Shall we set off for the Montagne de Reims then?
Cheers ❤
Chiara
P.S. A compliment to Hic Enoteche for the delicious fingerfoods on offer!
P.P.S. Finally, a few words on another non-Campagne wine imported from Emotions Beyond Taste: Chateau Pigoudet Classic Coteaux Aix-en-Provence which we were kindly presented with at the end of the day. Tasted at home, at leisure, first on its own and then in combination with a spaghettone with pesto alla genovese. I found it delicious! It reminded me of my last trip to discover the Rosés de Provence... and I must say that it was one of the ones I enjoyed the most!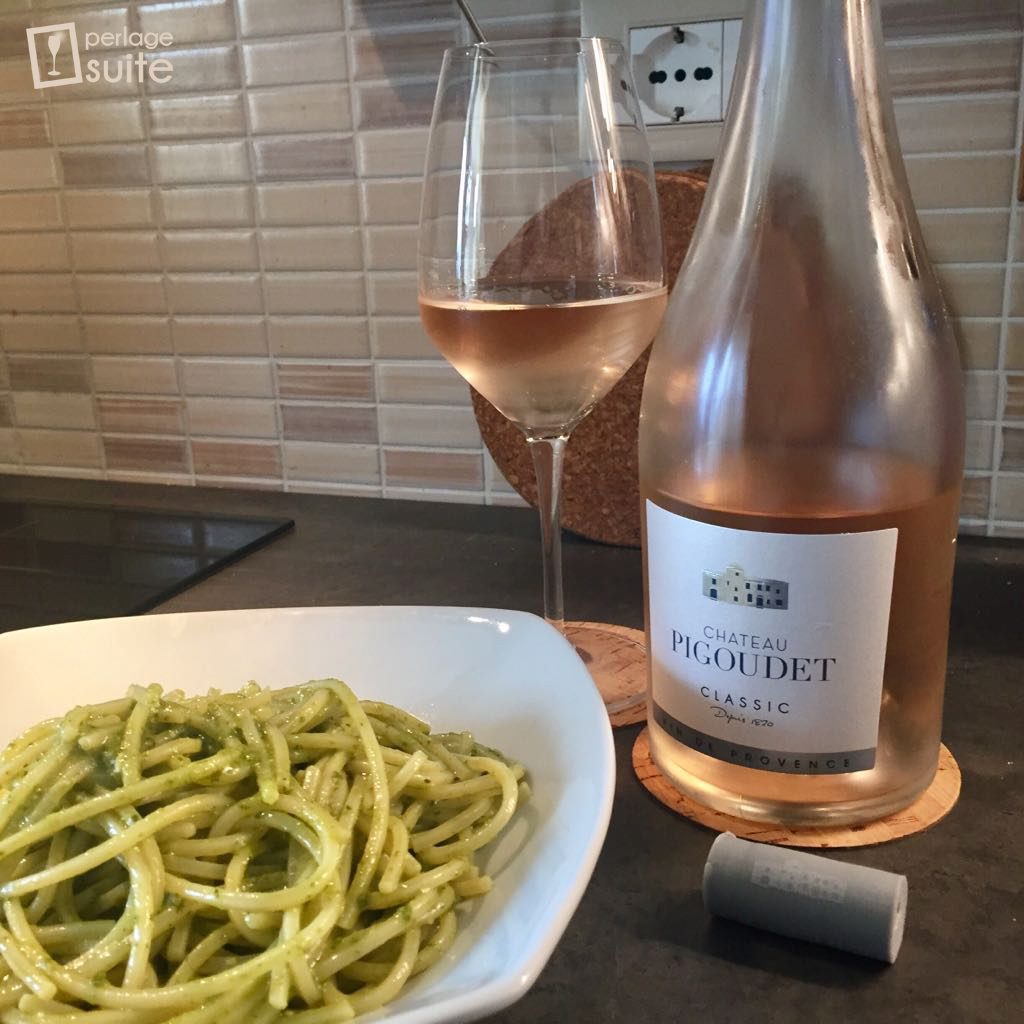 An enchanting soft pink, it seems incredible but it really smells of Provence: the nose is floral, with notes of rose, lavender, chalk, wild herbs, cumin, white pepper and reminded me of endless walks among the vineyards around Hyères and Porquerolles... with that perfume of aromatic herbs that fades into an almost brackish note. In the mouth it is splendid: very fresh, savoury and elegant, it is just as suitable as an aperitif as it is for pairing with vegetable-based first courses and risottos. Thank you for letting me discover it! 🌹