Wow, it was June 23, 2021 when we shot the documentary "L'isola del lago" with director Gioacchino Castiglione per Geo and Geo (or is it just called Geo?) by Rai 3. I admit that by now I was - almost - forgotten… so imagine what a pleasure I had to discover that it would be on the air on September 15th at 17:00 pm (a lot!)! I must say that it was beautiful to watch it and I also found the length to be perfect: 16 minutes are perfect to make you fall in love with our beautiful Monte Isola, its landscapes, its products and its traditions.
Well, the backstage was great and we did a mountain of extra footage for the final cut, which I have to say, I loved it! I also liked the voiceover that told everything in an engaging way (and above all it hid my usual shyness, even if I know it would not be!). For me it was absolutely challenging: if you follow me you will see that I hardly ever make videos on social media because I don't like being the center of attention and I prefer a bottle of wine, food or my book to "speak for me". I therefore considered participating in this documentary a first step to overcome my limits. And then the director of Geo and Geo and the whole crew were so delightful!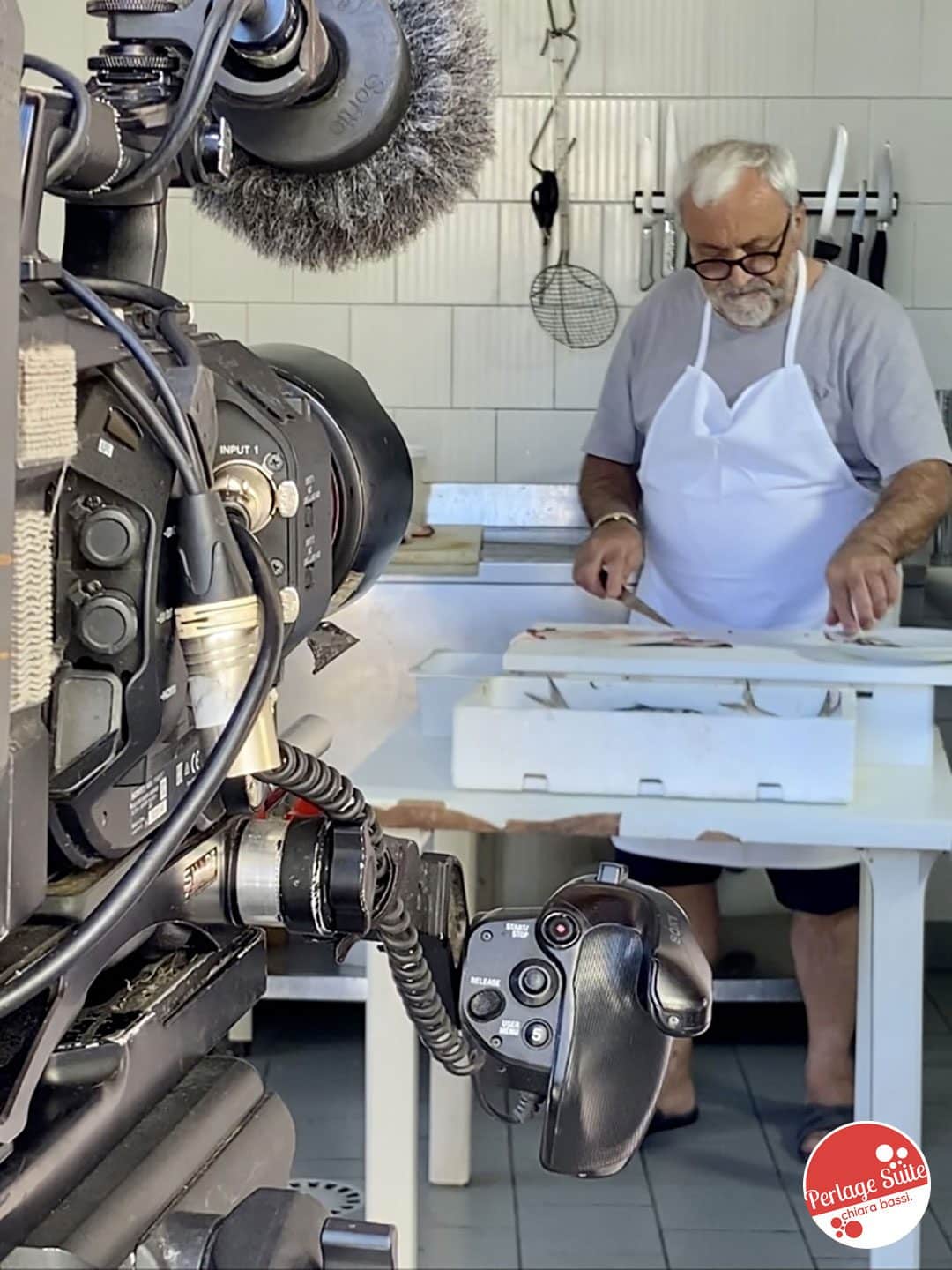 For those unfamiliar with it, Geo e Geo is a documentary television program that is a year older than me: the first episode dates back to 1984! Currently the broadcast has two conductors, Sveva Sagramola and Emanuele Biggi and airs on Rai 3 from 17:10 pm to 18:55 pm. Obviously I didn't understand it and I connected at 16:00 as I was told… well I admit that the previous documentary did not appeal to me, but since I was preparing the shipments of the books, time has passed anyway! 😅
Before inviting you to see The island of the lake, or Monte Isola, I want to tell you: help! I will have prepared I don't know how much fresh pasta in my life… and closed - without exaggerating - thousands of cappelletti… but the television times are all different! I had made some preparations before and I say: luckily! Or we would have eaten some cappelletti ... oops casoncelli with sardine / agone of a completely different invoice! All this to say "Bravissimi!" to all those who cook on TV! I promise that from now on when I look at Masterchef I will have only words of appreciation for you! 😄
Now you can subscribe to my newsletter or scroll down the page to continue reading the article!
The recipe I created for this episode of Geo and Geo is really easy and delicious: fresh and dried casoncelli all'agone with mascarpone and saffron butter. In particular, I made a mascarpone and fresh agone cream for the filling and I sautéed the casoncelli in saffron butter flavored with dried agone as a condiment. To find out more about the Monte Isola sardine and in particular about the agone, this particular and delicious lake fish, consult this article.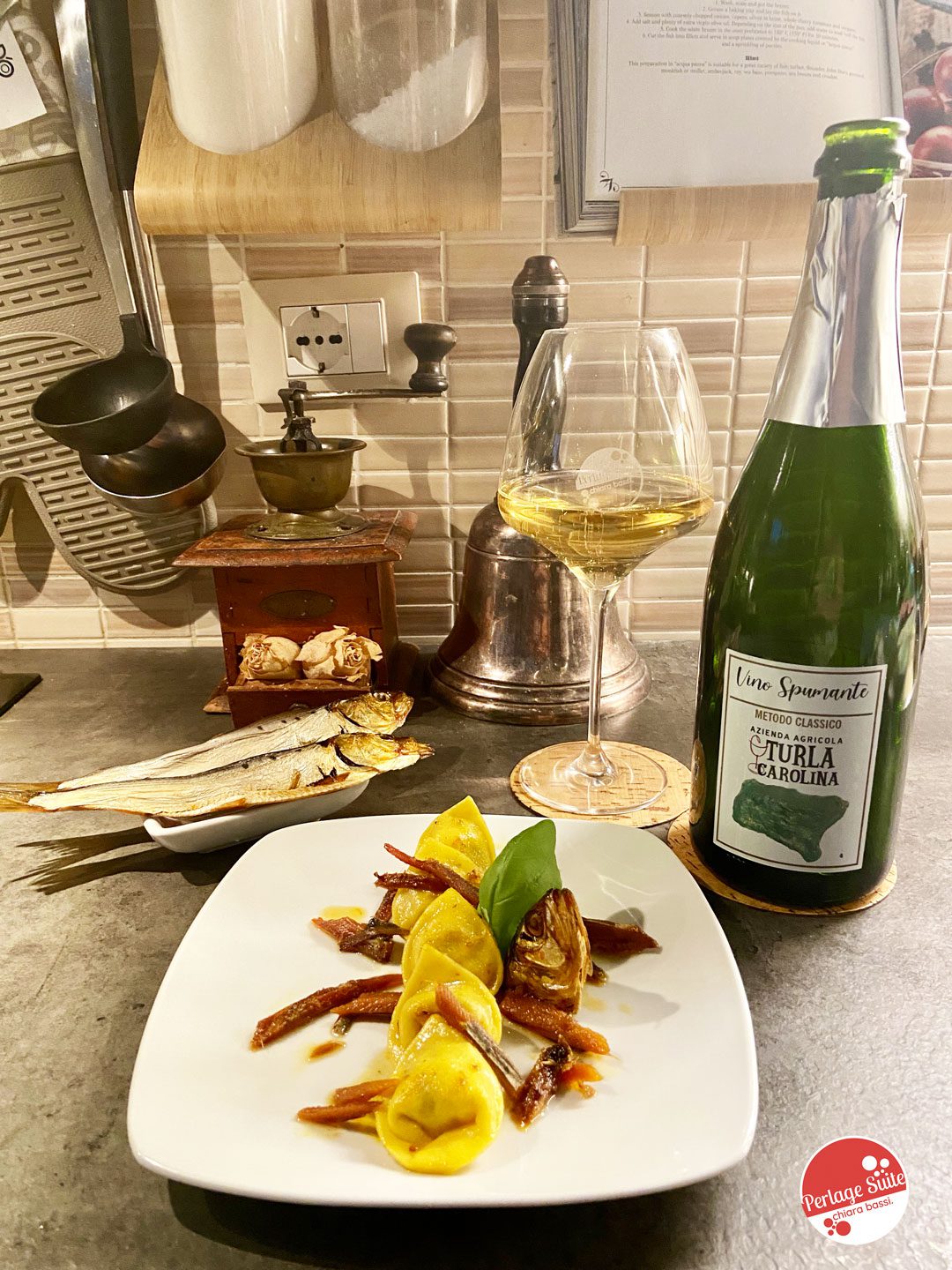 Now you can buy my Sommelier book: the illustrated manual or scroll down the page to continue reading the article!
Book "Sommelier: the Illustrated Manual" Special Edition 2022
All my notes on wine and food in one book.
COMPLIMENTARY, only for those who buy my book on this blog, a copy of the First Collector's Edition of my Sparkling Wine Guide "500 Bubbles in 500", cover price € 25,30. [While stocks last]
Click here or on the photo below to watch the documentary directly on the Rai Play website! 🤩
I hope you enjoyed this documentary and my beautiful island! If you want to try making my casoncelli (or should I say cappelletti? 😄) you can try your hand at my recipe by reading this article.
Cheers
Chiara