Friday evening, after months of seclusion for the drafting of the new edition of my book, I decided to spend a special evening with my husband to celebrate the end of this immense work. So I went to my favorite restaurant, the only restaurant capable of exceeding my always high expectations: Temptations Restaurant in Costa Volpino (BG). After a perfect dinner, a reflection spontaneously came to me, which I will now try to put "black and white" to share it with you, with the wish to trigger an interesting debate (as little controversial as possible) on Michelin guide and on starred restaurants.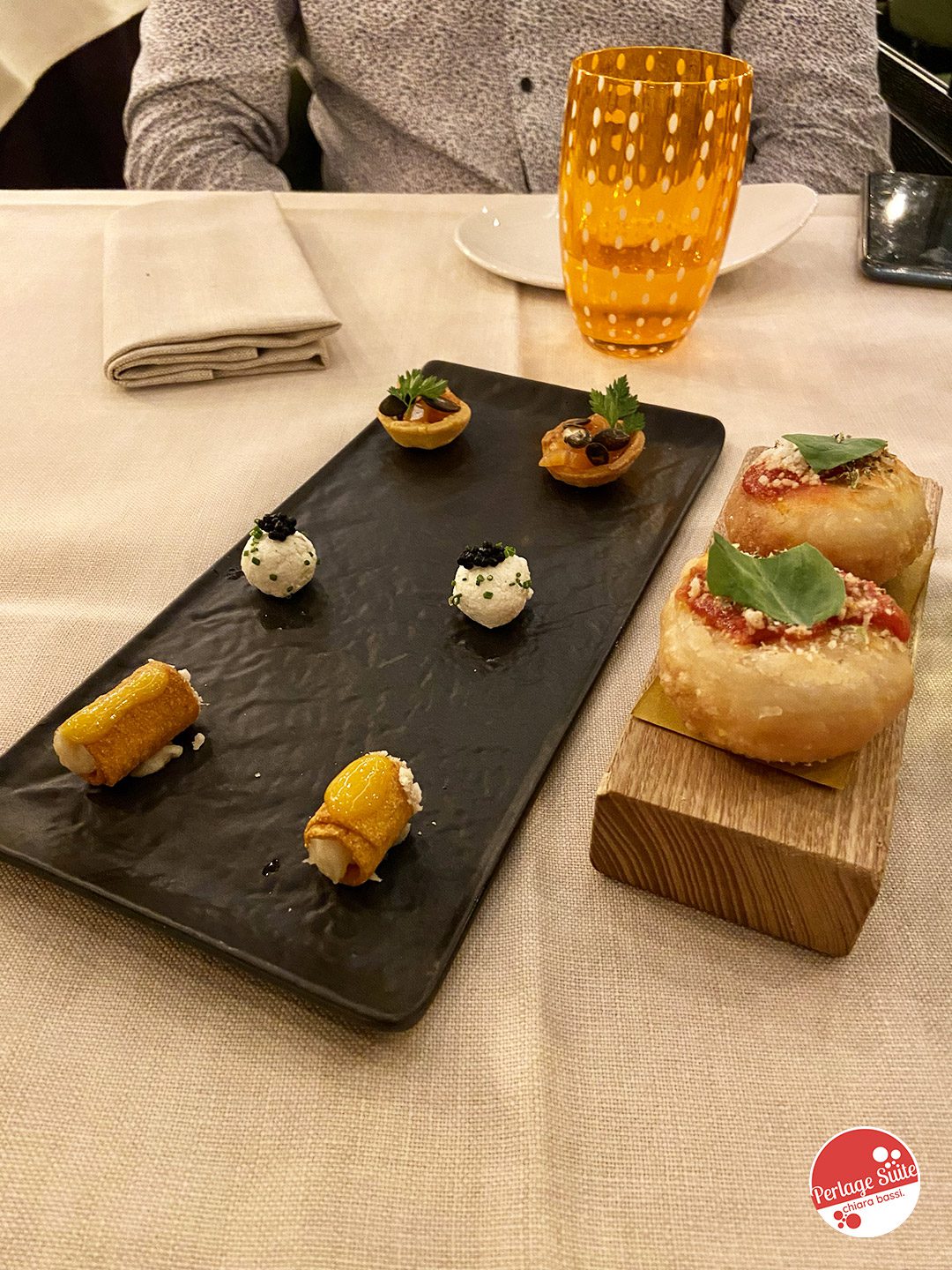 Thanks to my work as a wine blogger, I had the privilege of tasting dishes by Gordon Ramsay **, Antonino Cannavacciuolo **, Carlo Cracco *, Heinz Beck ***, Davide Oldani *, Igles Corelli *, Tommaso Arrigoni *, Marco Sacco * *, Alessandro Gavagna *, Isa Mazzocchi *, Herbert Hintner *, Gian Piero Vivalda **, Luigi Pomata *, Christian Costardi *, Chicco Cerea ***, Enrico Crippa ***, Enrico Bartolini **, Niko Romito *** … And a whole slew of restaurants listed in the Michelin Guide throughout Italy. So, when on Friday evening I had another perfect evening in a restaurant that, despite being open for some years, is not listed in the Michelin Guide, I asked myself a few questions.
Yes, because among the names I mentioned - and I am sure I missed some - there are chefs who have excited me and others who have not impressed me, on the contrary: I confess that if I paid for dinner I would also be pissed off.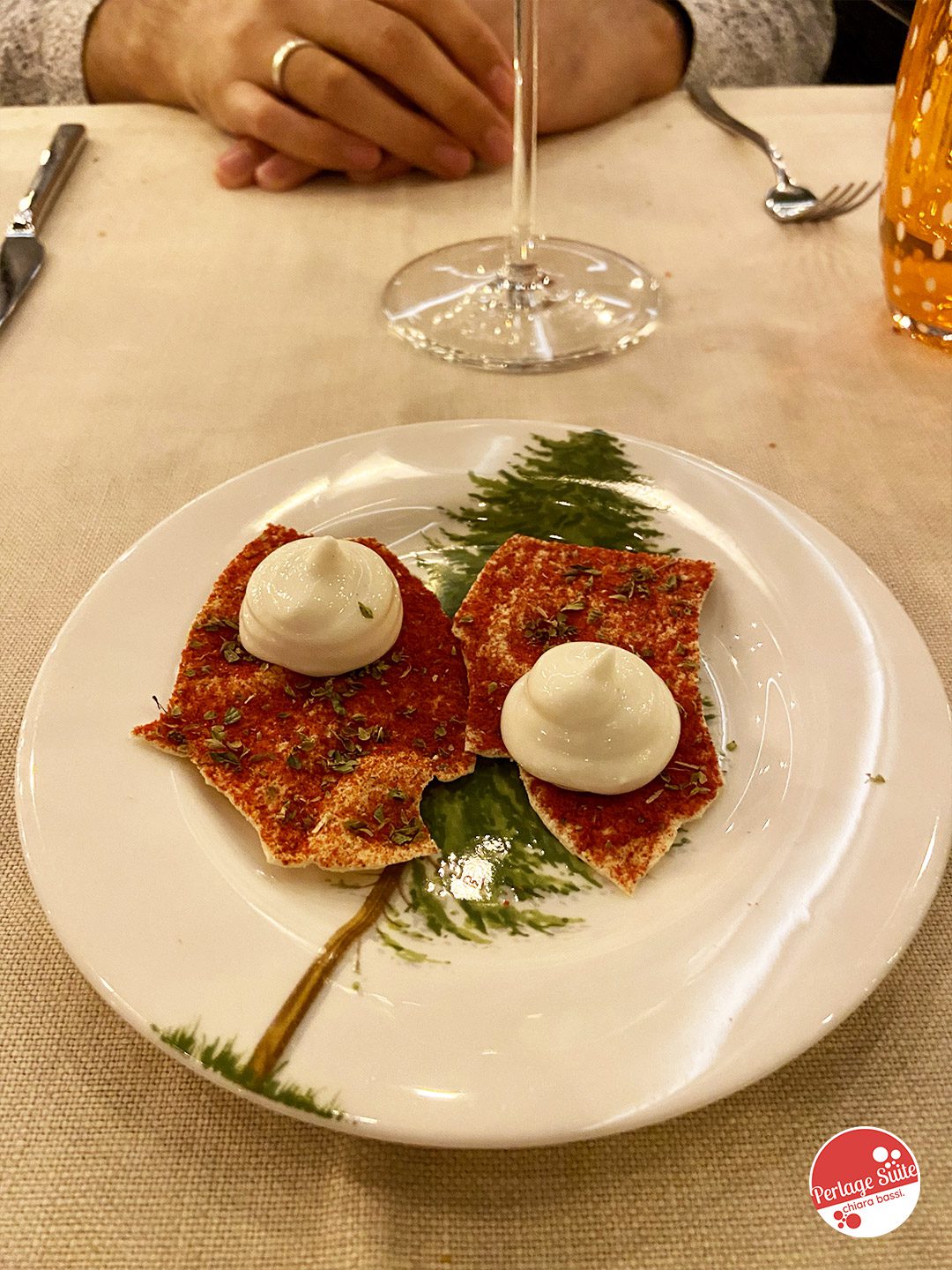 Michelin assigns stars based on the quality of the ingredients used, the mastery of flavor control and cooking techniques, the personality of the Chef within his kitchen, the value and consistency of the dishes' proposals.. Therefore, after yet another dinner capable of getting me drunk with pleasure and happiness, I cannot not ask myself what the problem is. Surely behind the Michelin Guide there is an aura of mystery that the various attempts at alleged transparency have never managed to fade. I am sure that you too have a restaurant of your heart, which deserves the trip and which is not listed in the Michelin Guide. Because?
It is said that the scoring systems used by the inspectors are a closely guarded secret. I honestly not only dislike this, but it is also scary. When a source is authoritative it MUST be transparent. The lack of transparency makes me doubt the authoritativeness of the source itself. For example, if you taste a wine to assign a score, the AIS points card has well-defined evaluation criteria that are accessible to anyone. First of all, this gives wine producers the opportunity to have a check list to use to grow, then reassures the final consumer on how the scores are attributed.
We faithful consultants of the Michelin Guide, on the other hand, have only blind faith in our hands towards a Guide born over 100 years ago which, in the vast majority of cases, makes us live extraordinary experiences.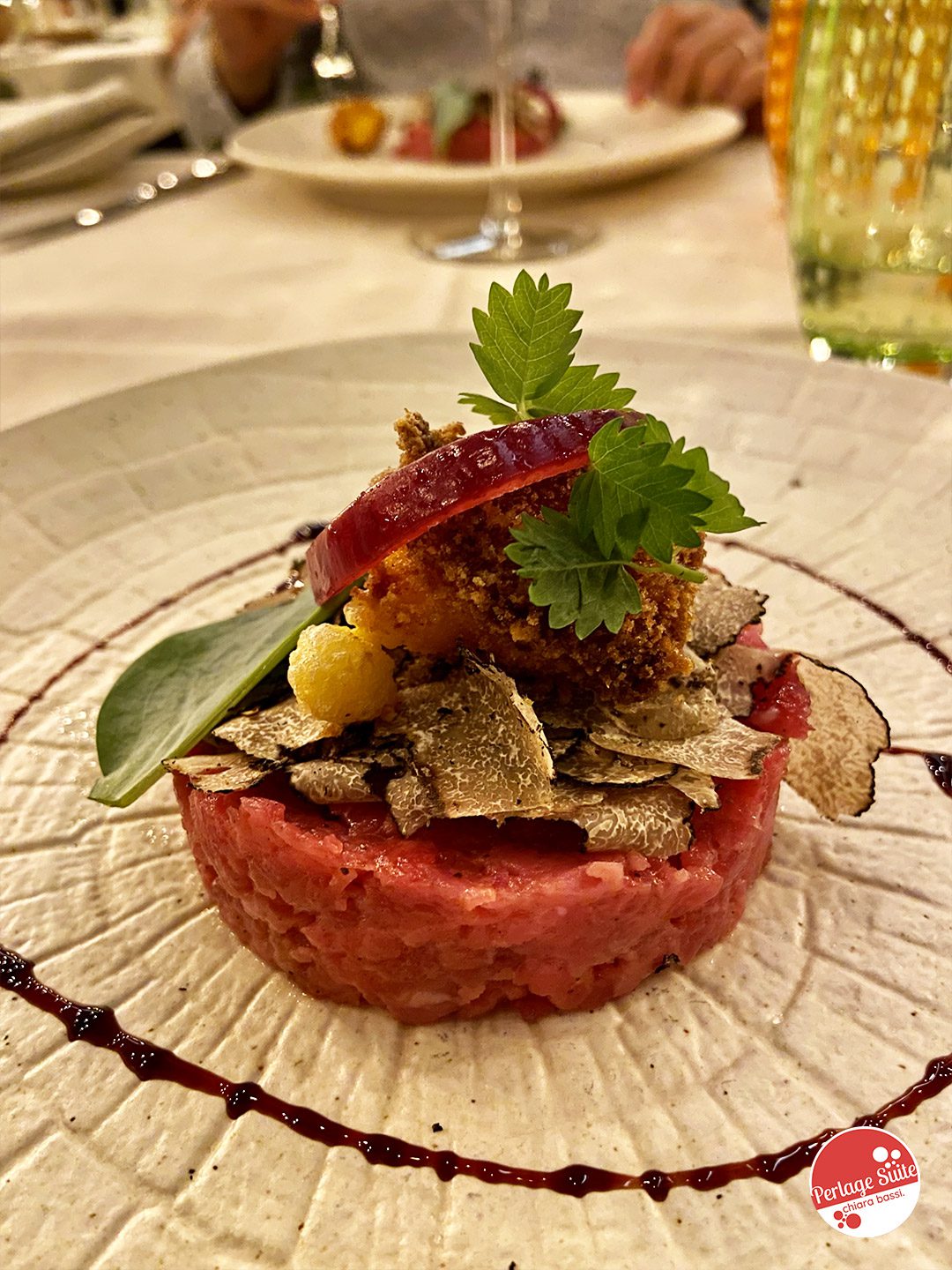 The Michelin Guide certainly rewards restaurants of great value and I always consult it if I want to treat myself to a special evening. However, after yet another perfect evening at the Restaurant Temptations I wonder… how submerged is there? How many valuable restaurants are there out there that aren't mentioned in any guidebook and in particular aren't on Michelin? How are stars attributed? I am not a Michelin inspector, but from my humble experience Tentazioni Ristorante di Giacomo and Sandro Pittelli should have MINIMUM one recommendation, more correctly a Michelin star. Not just to reward their talent, but their entire team from the kitchen to the dining room.
But now let's talk about what I ate ... so maybe you decide to make a stop (*), a detour (**) or even think that this restaurant on Lake Iseo is worth the trip (***)!
We took the "Your free hand" tasting menu which, inexplicably, costs only € 50 with 3 courses chosen from the menu that must be the same for the whole table, the dessert that everyone can choose freely, water and coffee. Cover charge costs incredibly little (3 €) if you consider that it includes breadsticks, homemade bread, crispy waffles, welcome pizzas, finger food.
The first dish I chose had teased me the week before on Instagram, in the face of those who say that this channel does not work: I basically choose everything I eat in my feed. Instagram knows what I like to eat more accurately than my mom. Here she is Piedmontese fassona tartare, anchovy sauce, hazelnut butter and fried egg yolk: the best of my life. No need to add anything else, I think the photo speaks for itself. Apparently not easy to combine ingredients that danced in perfect harmony for me.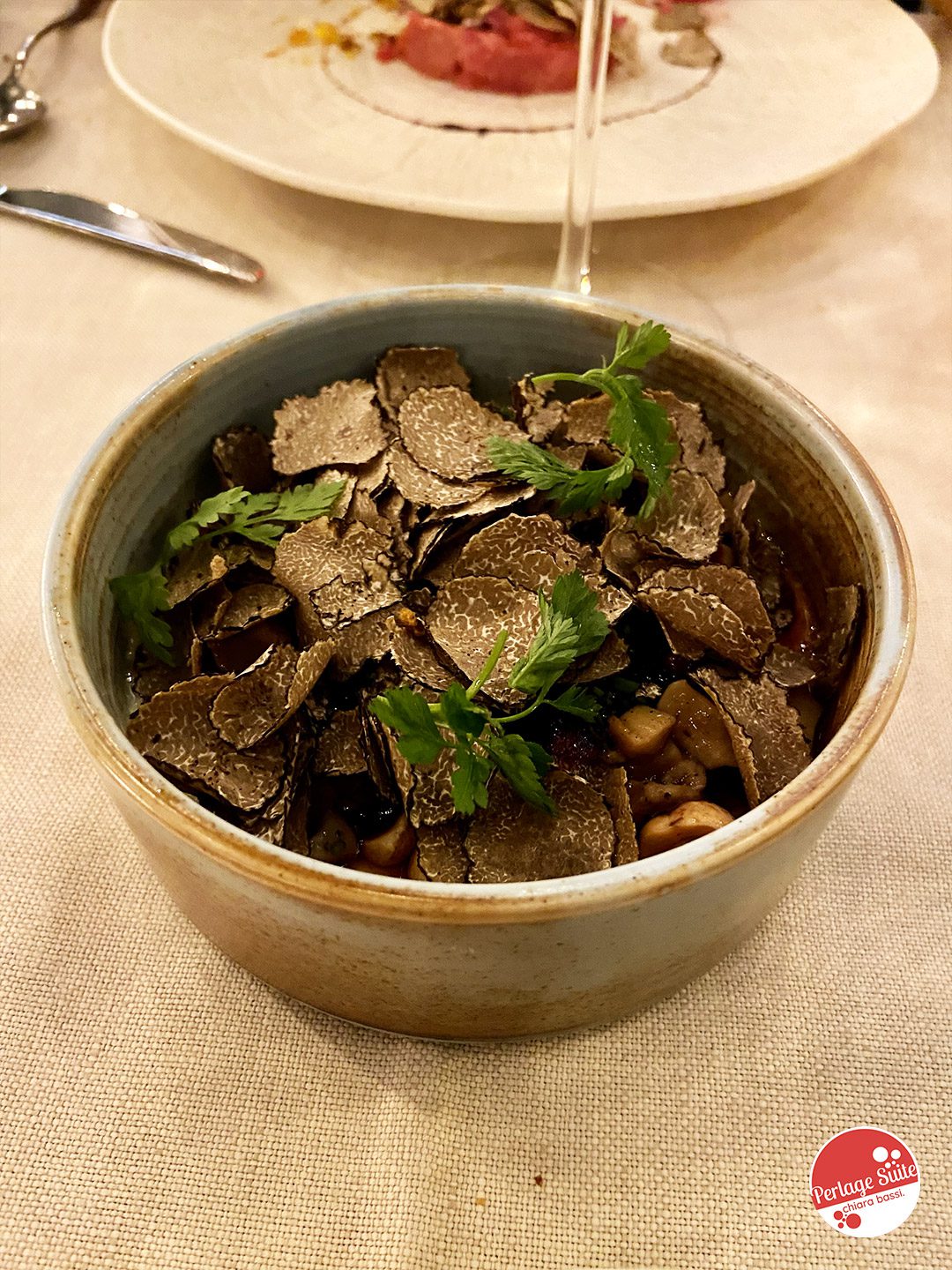 The next two dishes were off the menu worth talking about. Above the Royal with parmesan, hazelnuts, porcini mushrooms, blueberry extract and black truffle. I think the most amazing thing I have eaten in the last 9 months. I never thought blueberry could pair so well with parmesan cream and black truffle. The chopped hazelnut has given a touch of crunchiness to a dish that is born very creamy and I struggle to fit into a course: I consider it a moment of incredible pleasure. Royal sauce is also used to prepare the famous Quiche Lorraine, would you like to try my recipe?

Below the Carnaroli rice risotto, porcini mushrooms, Fatulì della Val Saviore, grilled vegetable powder, another delicious dish. As I have already told you I am not a lover of risottos, but those of Sandro Pittelli always manage to amaze me for their mastery of execution and combination of flavors, even if my favorite will always remain the risotto with emulsion of tomato, sour butter and red prawn tartare, amberjack and Mediterranean tuna that has stolen my heart forever. By the way, I take this opportunity to make a special request to Sandro: next time I come, can you prepare it for me? 😍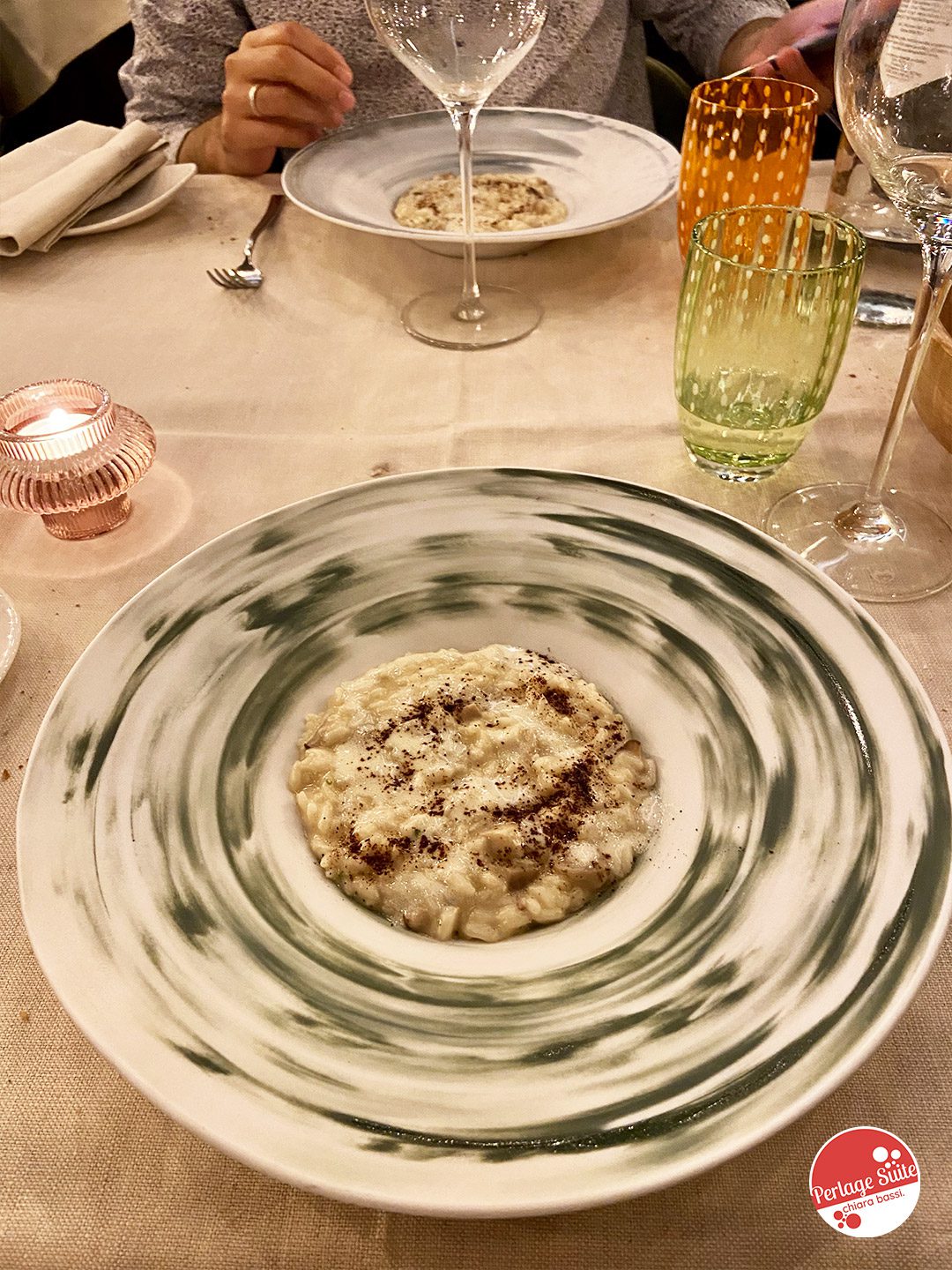 Now you can subscribe to my Newsletter or scroll down the page to continue reading the article
Let me be clear, I do not want to question the work of the inspectors, nor doubt that a restaurant is visited several times before receiving a star. What I would like to sincerely understand is whether these inspectors have ever been to the Ristorante Tentazioni in Costa Volpino and if so, how many times have they been there and if not, why don't they set foot there. I know perfectly well that there are many restaurants in Italy, but the Michelin Guide is so prestigious and so much money revolves around it that I have no doubt that it can pay any extra inspectors, if needed. The pandemic has kept restaurants closed for months, creating incredible damage to the sector that food outlets will never be able to compensate. This is because, even if they were sufficient to cover expenses, they would not be able to cope with the damage caused by the change in people's habits. Of course, there are places like Sandro and Giacomo Pittelli's that are so excellent that they are always full, but the focus remains. I believe that the work of the Michelin Guide today is to bring in new restaurants to give them the opportunity to promote themselves in front of a wider group of potential customers, moreover customers capable of really giving satisfaction to a talented chef.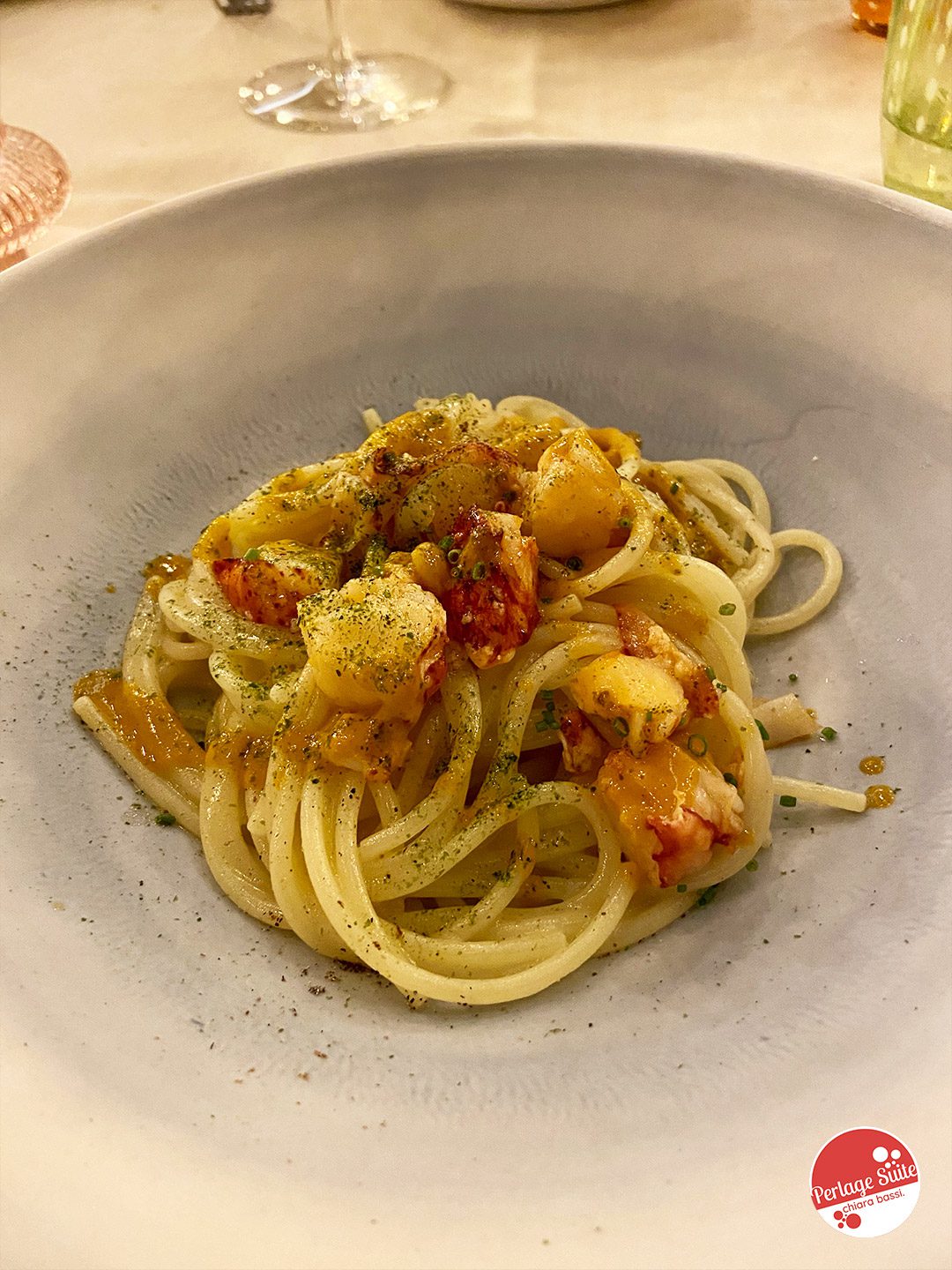 But now let's go back to dinner ...
Among all the proposals, the spaghetti, black cardamom oil, marinated lobster and crustacean broth it was the one I preferred. The rightly salted butter, the thick shellfish soup like a bisque that gave a bitter and balanced twist to the sweet butter trend, and the beautifully marinated lobster were a culinary orgasm. With this dish, the riesling was perfect.
Speaking of Riesling, they have changed the cellar and I must admit that I like this less. Not because it is not good, but because it has a style entirely shifted to citrus fruits and grapefruit in particular. On the other hand, I love Rieslings loaded with hydrocarbons. It will mean that next time I will give myself to a certain Chardonnay from Burgundy ...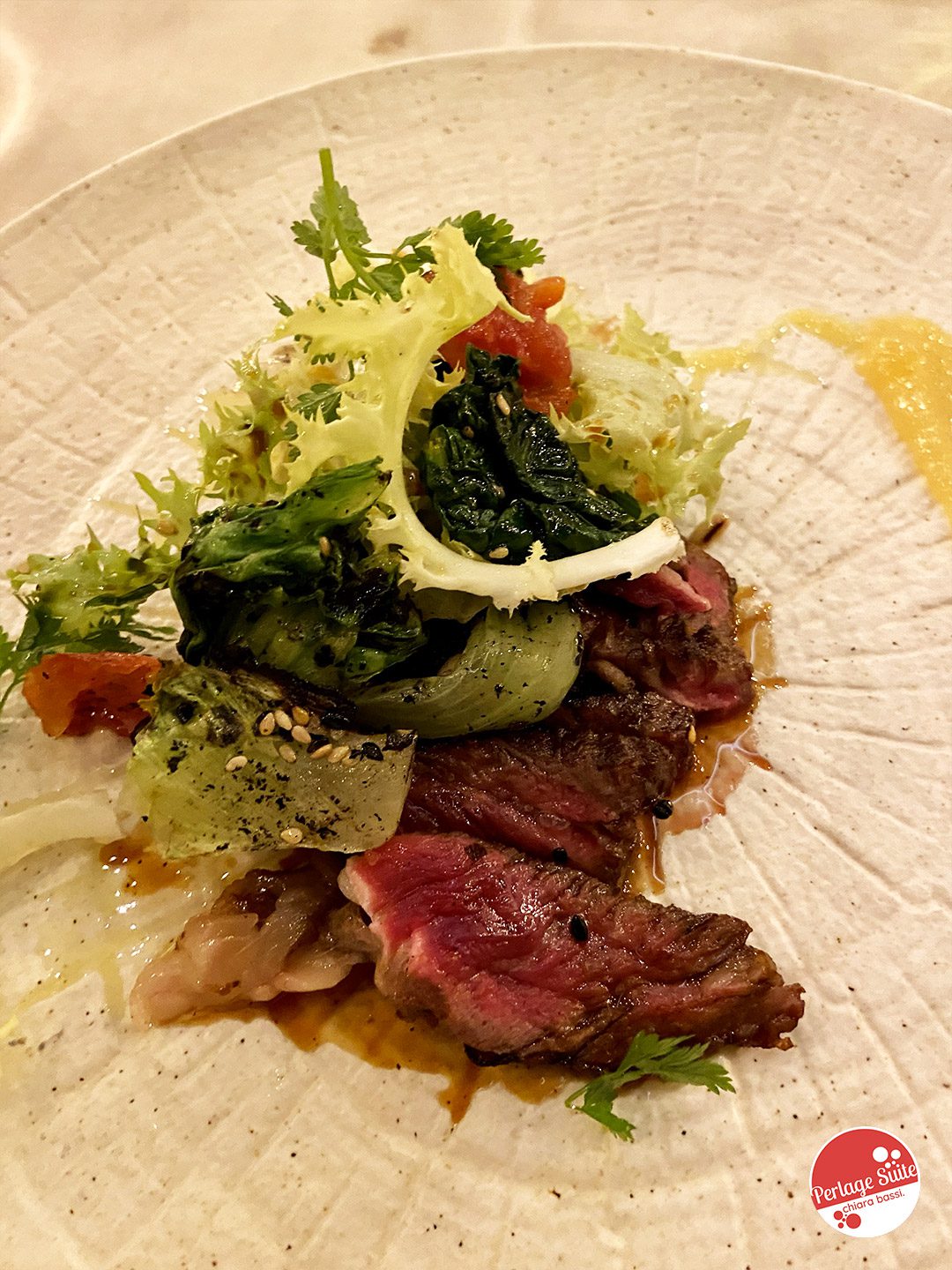 Argentine Rib-eye beef and grilled lettuce, clementine mustard it is a delicious dish. I am deeply carnivorous and love blue meat. Argentine beef is delicious and the Rib-eye cut is the rib eye steak, so named for a piece of fat that appears to form an eye. It is not at all trivial to find it so tender: unlike the fillet it contains a part of muscle that could be hard in cooking. This was perfect, cooked to perfection and with a perfectly executed Maillard Reaction despite the very short cooking that had given all those delicious aromas of freshly baked bread, hazelnuts and toasted coffee. I also loved the choice of soy, but it was the clementine mustard that did the real job. I think it contained horseradish and not mustard because it reminded me of wasabi, in any case it was magnificent. I would have eaten a quintal!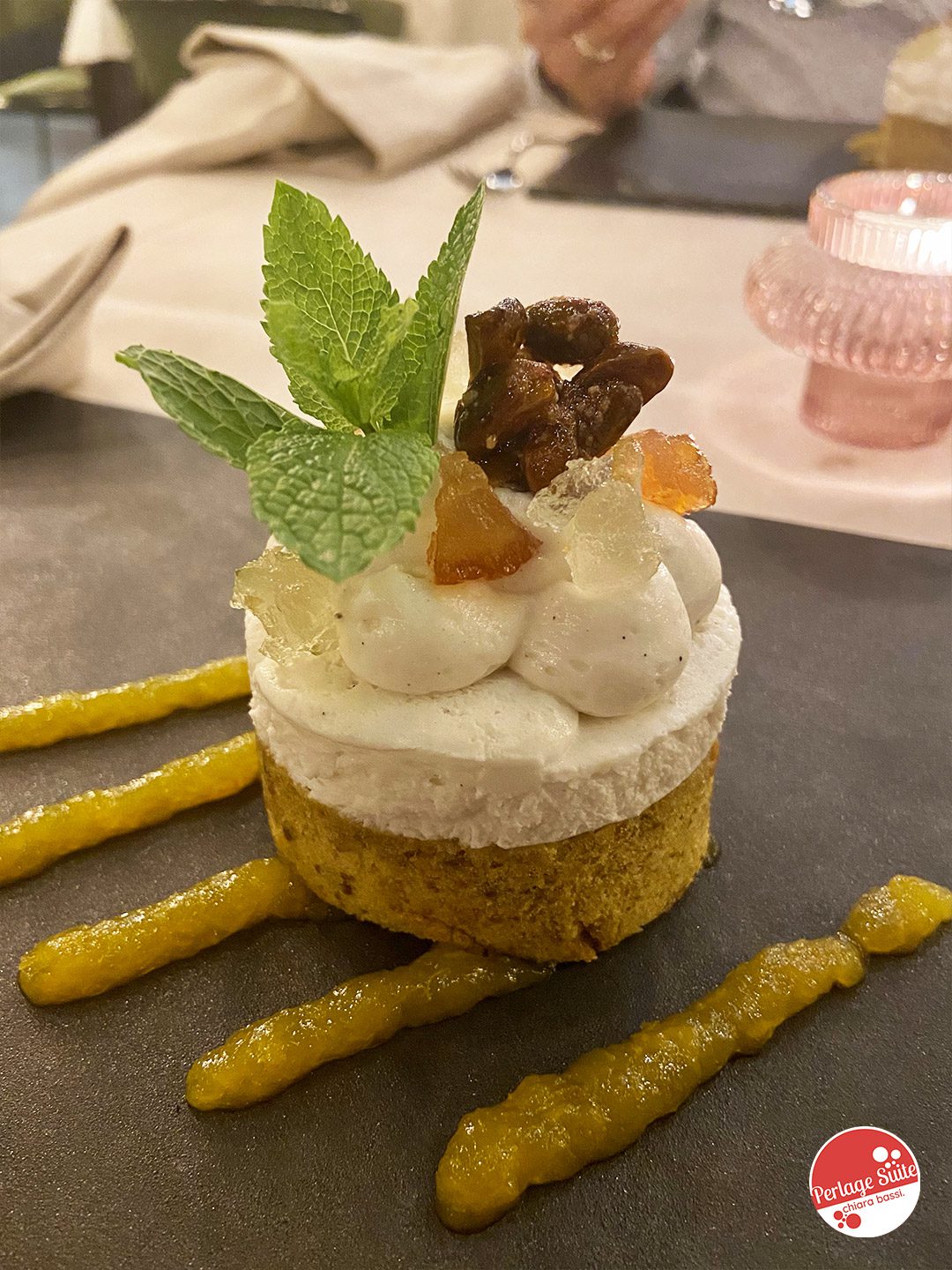 The dessert really moved me: one Sicilian cassata revisited (my favorite dessert ever!) with a buffalo ricotta cream played on two textures. The first, internal, more like a semifreddo, has the classic consistency of the cream of the cassata filling. The second, the single-portion topper, is very soft, almost silky. The crunchy is also delicious. The presentation is very nice, it just asks for a little more precision in the drafting above to be absolutely perfect. The pairing suggested by the waiter Giovanni, who knows me well, was the Riesling Passito Benaco Bresciano IGT Cascina San Giovanni from an (almost) local company: Pasini. Well, I liked it so much that I will visit them asap!
The coffee is good, which is absolutely rare in a restaurant of any level. And the small pastry that accompanies it is simply divine: the cannoncino was the best of my life! Freshly filled, peeled well and heavily caramelized, it created a splendid sweet and bitter contrast with the cream.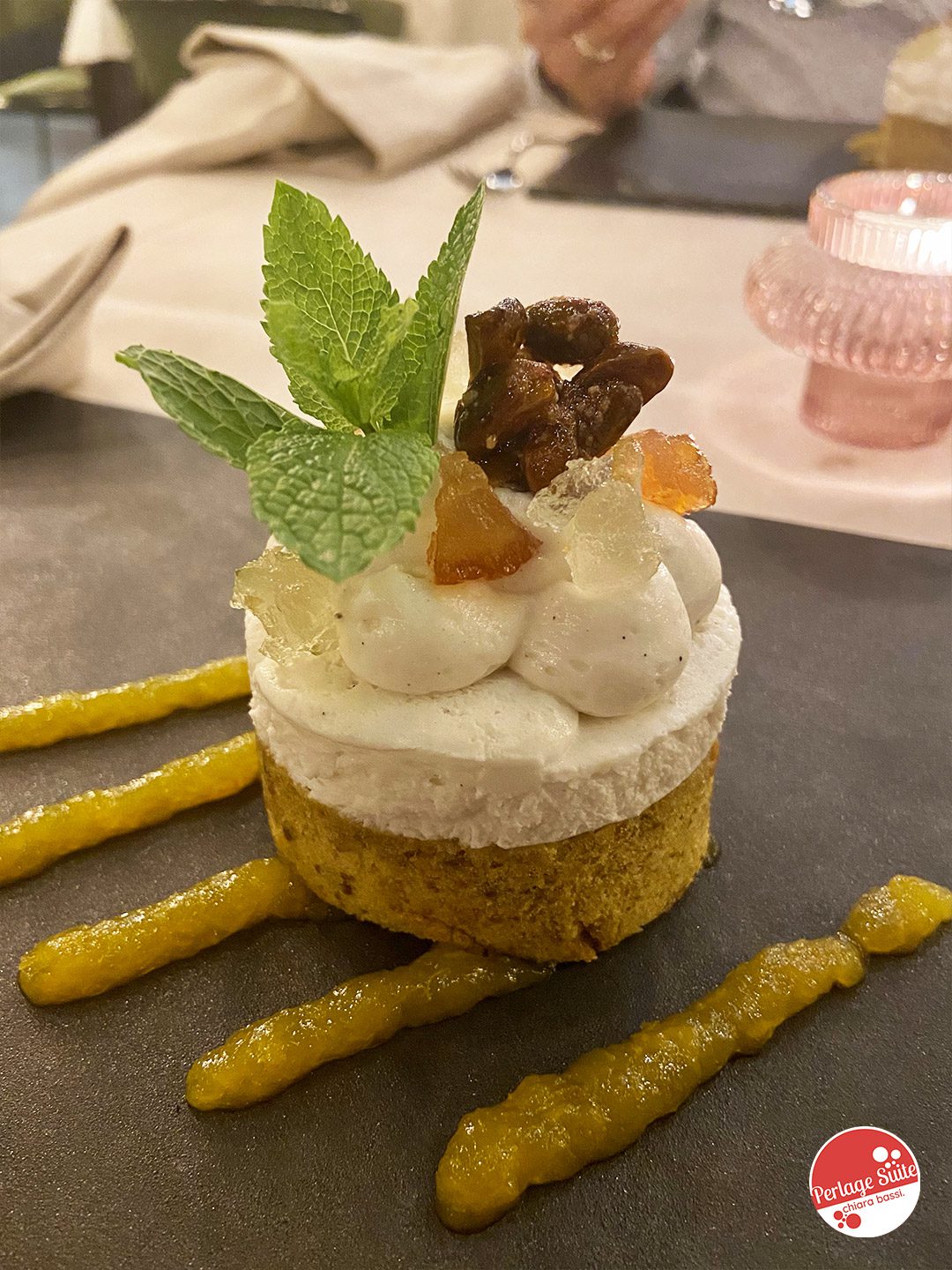 I already mentioned Sandro and Giacomo Pittelli once to Michelin years ago, and I'm going to send them this article as well to see if they send an inspector. I expect to see Tentazioni Ristorante massimo in the 2023 Guide and at least with a fork, if not with a star: the restaurant is moreover of a disarming beauty and care, a thousand times better than many other restaurants I have seen in the guide, sometimes with furnishings very dated.
Michelin has now become the consecration of a Chef. For me, however, the real consecration is a restaurant full of happy customers eager to return, as Francesco and I were on Friday night.
Cheers
Chiara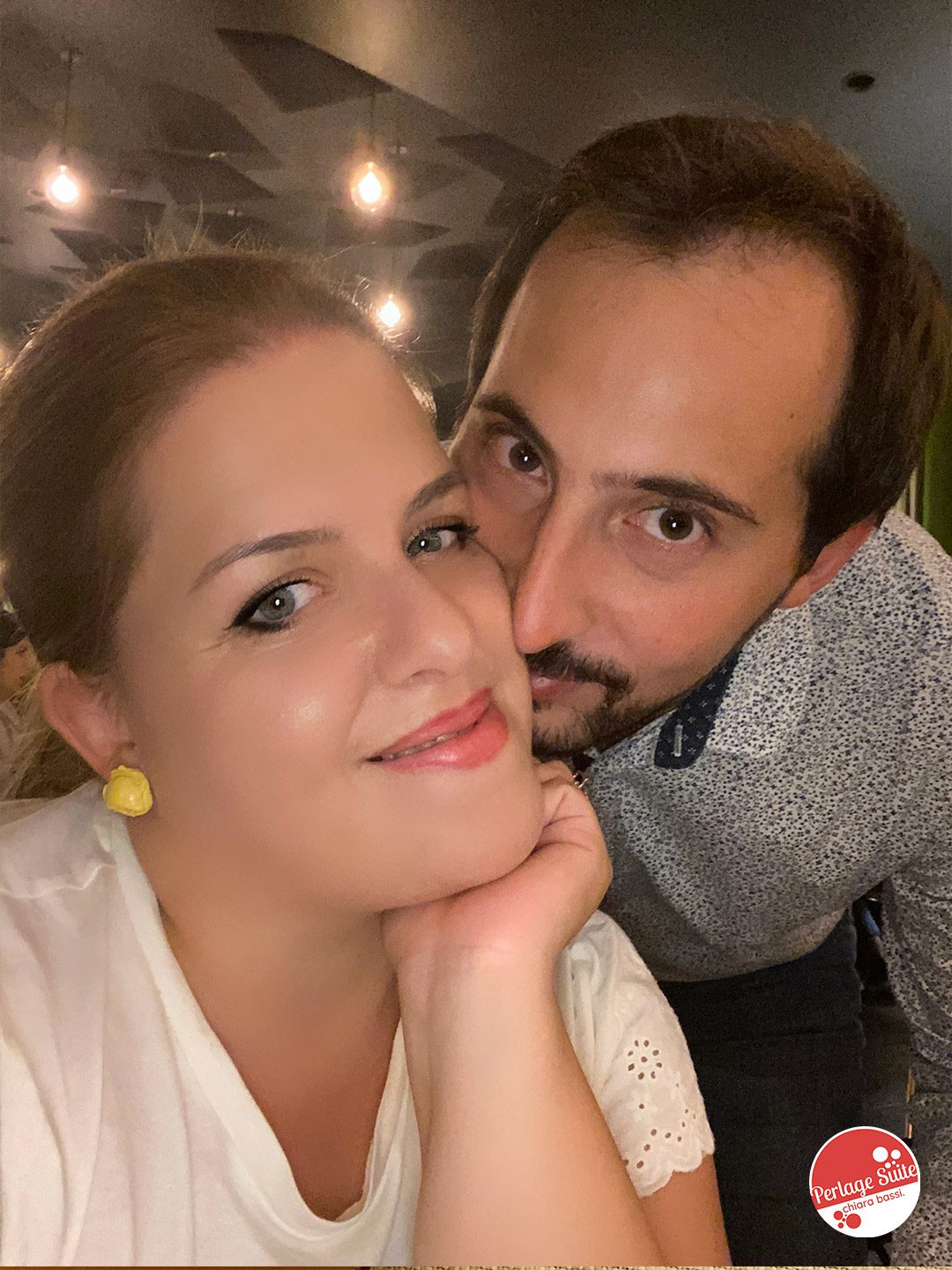 Book "Sommelier: the Illustrated Manual" Ed. 2021
All my notes on wine and food in one book.
COMPLIMENTARY, only for those who buy my book on this blog, a copy of the First Collector's Edition of my Sparkling Wine Guide "500 Bubbles in 500", cover price € 25,30. [While stocks last]