A quick thought for my dad who turned 60 today. Today I spent a nice day with my family at the Tentazioni Restaurant in Pisogneand I asked Sandro and Giacomo the kindness of bringing a bottle from home for Dad. When I was in South Tyrol for my sparkling wine guide 500 bubbles in 500 and visited Lorenz Martini's cellar after selecting his 2011 Comitissa for guidance, I drank with him a bottle of Comitissa Gold 2002 and I fell in love with it. So when Lorenz kindly presented me with a bottle, I immediately thought I wanted to uncork it for Dad's birthday!
Well those who know me know how much I adore my father, he is my permanent centre of gravity, my reference point, my only certainty. Since I was a child I have always been one with him and I have millions of memories of our life together where he taught me how to do so many things. Let's just say that I am a portrait of him, even if he has more patience than me (and I have a lot of patience anyway)! Dad taught me to believe in my dreams, he stimulated my intelligence and my emotions. And I'd like to tell you how much I love him but I'd have to write a very long article and then I'd bore you 😉
My parents were here on Lake Iseo for the weekend, of course they stayed at the Hotel Capovilla in Pisogne which they like so much (and actually from what I've seen it's really nice!) in a nice room overlooking the lake. The weather wasn't great today, but we practically ate all day at the Tentazioni Restaurant in Pisogne (which is just below the Hotel Capovilla).
Sandro and Giacomo Pittelli were very nice as always, and since they had their birthday a few days ago (30 October) I took the opportunity to bring them a bottle that I love: the Full PS of Le Vigne di Alice... which remains my most beautiful discovery of Vinitaly 2016. For my dad, as I mentioned earlier, I brought the bubbly that moved me the most on my last trip to Alto Adige... or rather... perhaps I would venture to say one of the bubblies that moved me the most this 2016 (and I tasted a lot of them, just think of my sparkling wine guide 500 bubbles in 500): l'Alto Adige Brut Gran Reserva Comitissa Gold 2002 - Lorenz Martini. If I had to describe it in just two words, I would call it a spectacle for the nose and a pleasure for the palate. Lorenz Martini has been producing sparkling wines since 1985 (a very good year for sparkling wines: I was born!) from Chardonnay and Pinot Bianco grapes, just 2 hectares under vine for a total of just over 16 thousand bottles. In 2002, in a vintage that most of Italy described as 'forgettable', Lorenz Martini dared to make a Gran Riserva that rests on the lees for as long as 10 years (and here I am already beginning to enjoy it...). Half Chardonnay and half Pinot Blanc for this Blanc de Blanc that I found superior to all the wines tasted during my South Tyrolean stopover in 500 bubbles in 500.
The colour is a straw yellow with beautiful golden reflections, the perlage is very fine and persistent. The nose is intense and elegant, with notes of candied citron, toasted hazelnuts, brioche, flint, peach, white chocolate, acacia flowers. In the mouth it is incredibly fresh, vertical, with a marked acidity despite its age, very savoury, with a pleasant, creamy bubble. Fine, soft, persistent and harmonious... its savouriness goes perfectly with the crudités I have eaten which are mainly based on shellfish (which are characterised by a marked tendency towards sweetness). I also found it perfect with meats such as goose and duck... and I also enjoyed it very much with the potato, caciocavallo, rabbit and carrot gnocchi that Dad took.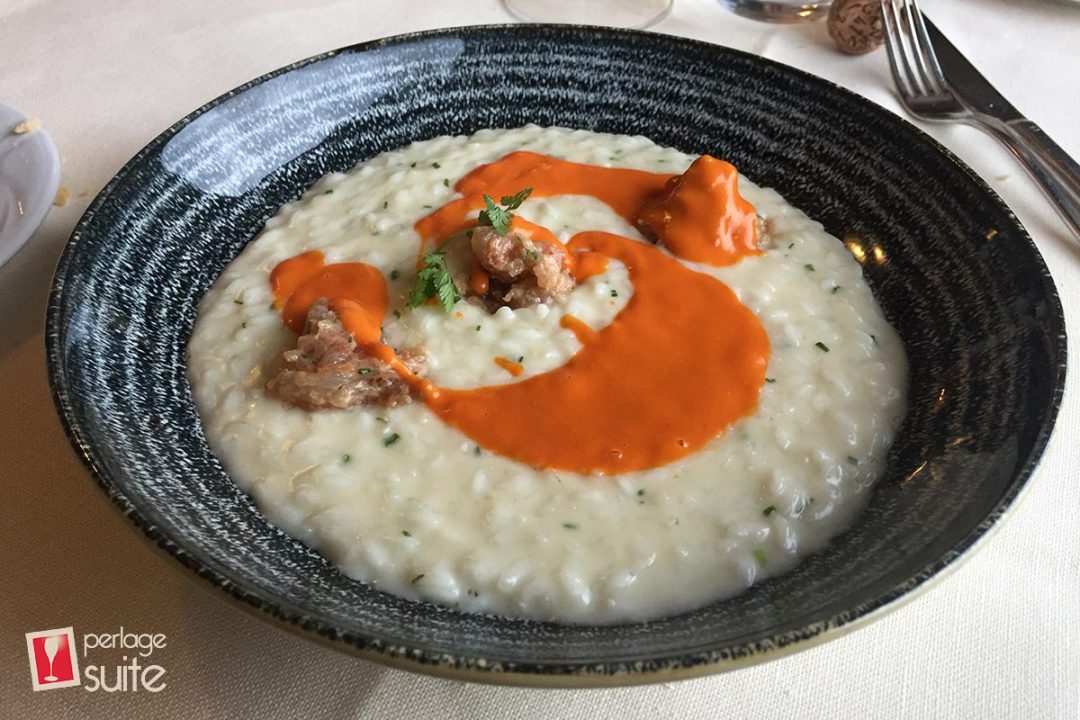 Perfect wine... paired with delicious dishes! I would just like to say a word about the carnaroli rice with sour butter, tomato emulsion and raw fish: I am not a risotto lover, but this is absolutely the best I have ever had in my entire life! Perfect cooking of the rice, perfect mantecatura... the tomato emulsion was delicious, and the three small tartare of red prawns, amberjack and Mediterranean tuna also really suited us because their sweetness contrasted with the acidity of the butter and tomato. Also perfect was the pairing with Lorenz Martini's Gran Riserva Comitissa Gold 2002! Let's say that if Sandro prepares it for me anyway, even if I go alone, I'll be back soon... also because I have an unfinished account with the warm apple, almond and cinnamon cake with vanilla ice cream that I had my eye on the other day on the menu, but didn't take because for dad's birthday there was a mille-feuille cake!
We left Ristorante Tentazioni very late... it was after four o'clock... wanting to take a little walk, but it was raining! I had to go and see Daniel at Costa Volpino... where he was presenting his Cascina Lorenzo wines (and daje, I love his marzemino Foppello 18, I think I've already said so!) under the porticoes... which was much appreciated on a rainy day.
Happy birthday again Dad, and many thanks to Sandro and Giacomo Pittelli who gave us a wonderful day ?
See you soon,
Chiara
PS do you want to know what the real pride of Romagna is? Getting up at four o'clock from the table and saying: I still have some filling to make cappelletti to finish... will you close them tonight daddy? (And then they say about people from the south...) ?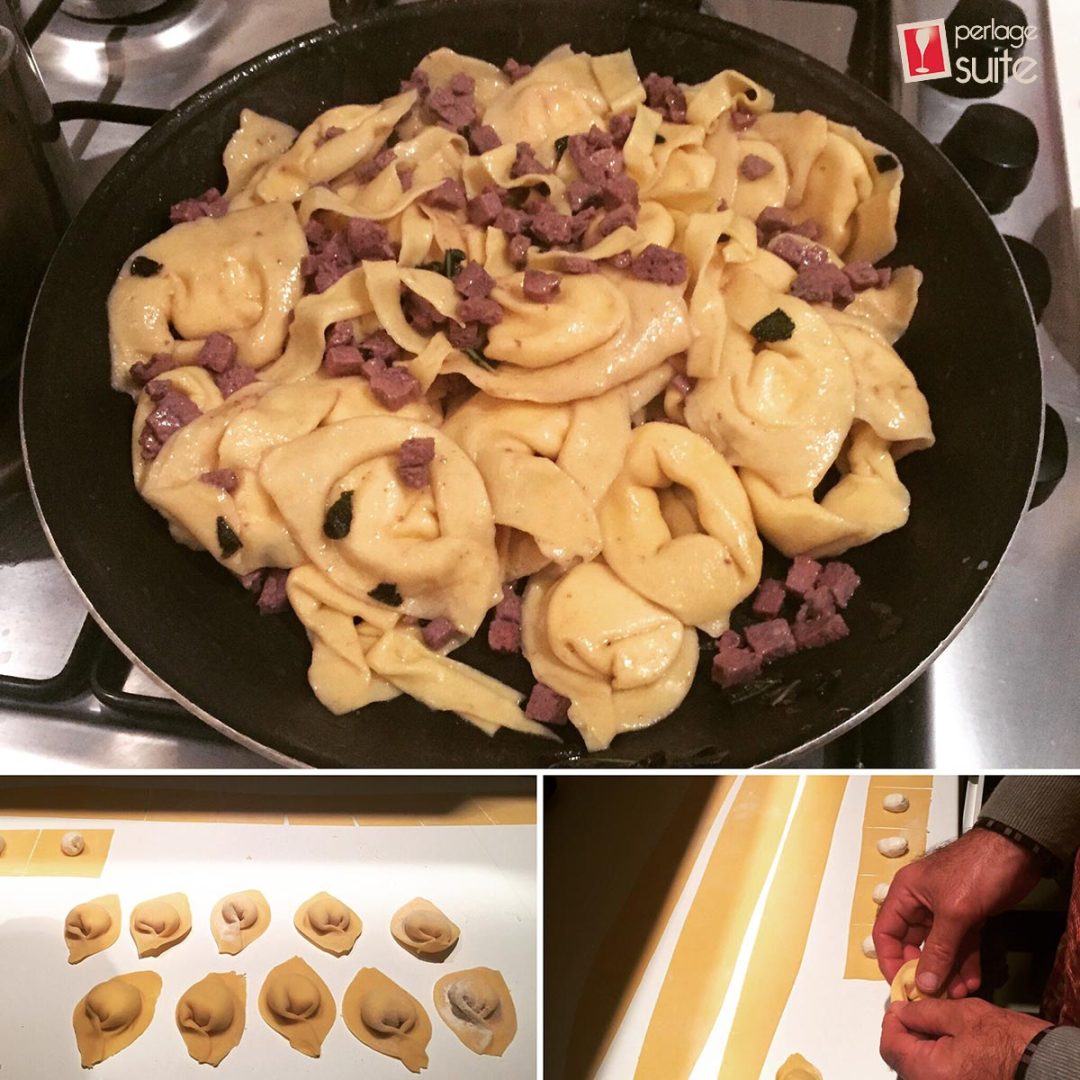 Since my personal culture is that I never throw anything away, especially leftover food, which I always try to reuse (it seems an insult to throw food away when so many people in the world are starving), I seasoned it with the mutton sausage I had prepared the day before, which I washed down with a coffee cup of red wine (the now famous Marzemino Foppello 18, Cascina Lorenzo... we drank the rest, of course... by the way, thank you Daniel! ).
A kiss to all and have a good evening!
Chiara