On a quiet afternoon in mid-December I receive an invitation from theIntercontinental Bordeaux Le Grand Hôtel... and so it is that instantly my mind goes back to France and my wonderful stay at this wonderful hotel opposite the Opéra in Bordeaux. I had already mentioned the Intercontinental Bordeaux Le Grand Hôtel in my other articles dedicated to the Millésima Blog Awards... but I decided to spend a nostalgic evening reminiscing about these beautiful days while drinking a glass of red wine (to be exact the Tenuta Capri's Barbera d'Asti 2014).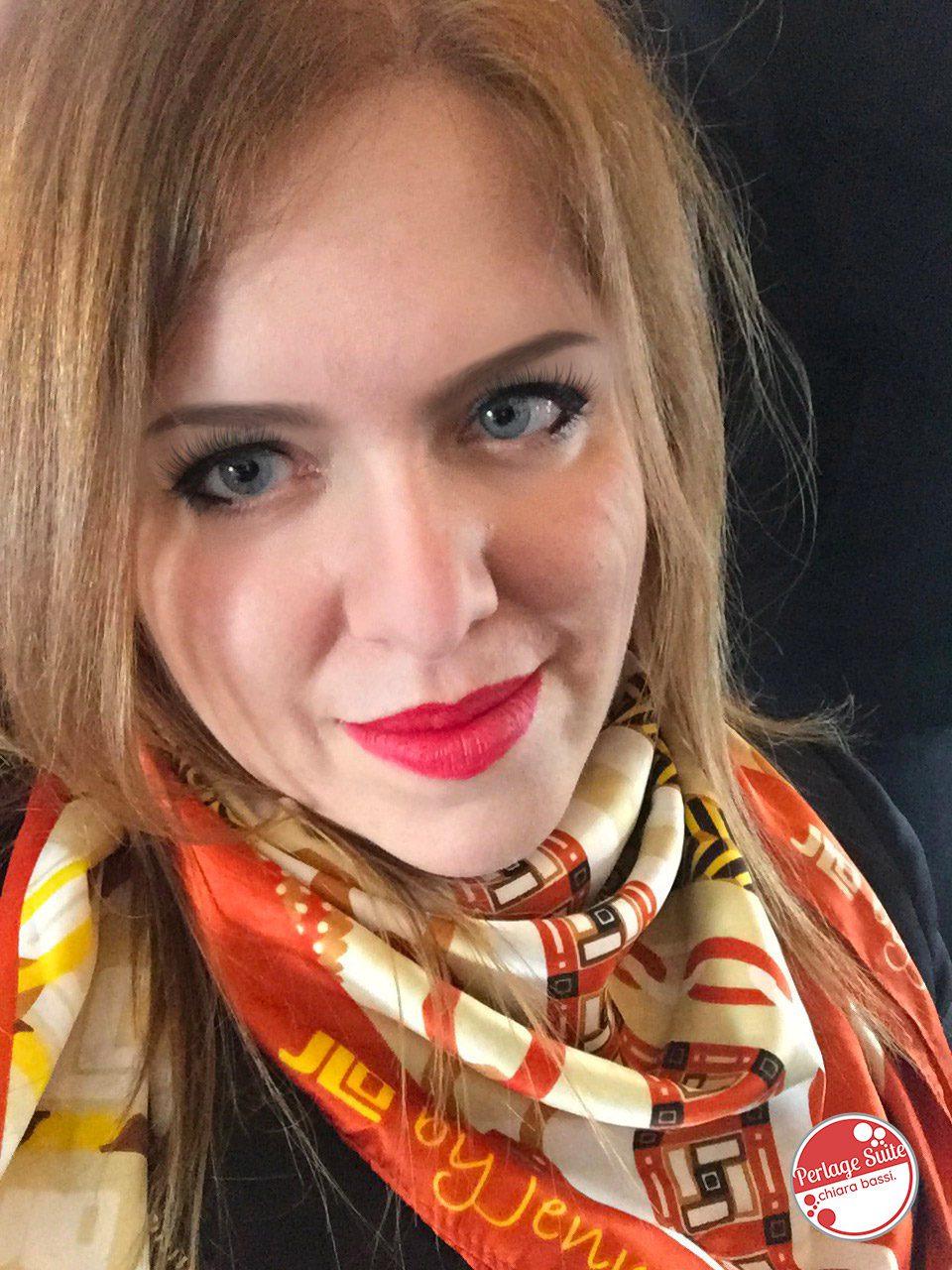 Let's start with this photo that I really like! I took it at theairport Paris-Charles de Gaulle while waiting for my connecting flight to Bordeaux. I also did my make-up at a lovely little green table, while eating an exquisite lilac macaroon with lavender essential oil. I adore lavender, few things relax me like its scent, and I always keep a scented bag of it on my pillow to lull me to sleep.
So many different emotions in just half an hour! I have always thought of myself as someone with very little patience, and in fact in the past I have ended friendship and love relationships very quickly precisely because of this character trait of mine. I did not know how to wait, perhaps because I did not know how to appreciate the path that separated me from the desired result. Then I grew up, now those who know me well describe me as having 'stoic' patience. In reality I have simply learnt to pause and observe the course very carefully, and to love it sometimes more than the result itself. Perhaps it is just that sense of expectation that I love most about hotel rooms. When I am there, I am always waiting for something. Whether it is an event, an important evening, an award, a business appointment... I wait, and then I wait some more. I stand like the leaves on the trees, waiting to fly away at any moment, with a glass of Champagne in my hands and my cerulean-grey eyes resting beyond the evening. At the Intercontinental Bordeaux Le Grand Hôtel it was exactly the same. I found myself wearing only an air force blue dressing gown, on the dormeuse, sipping Champagne while watching the Opéra and watching shows that never existed projected only for me by my imagination.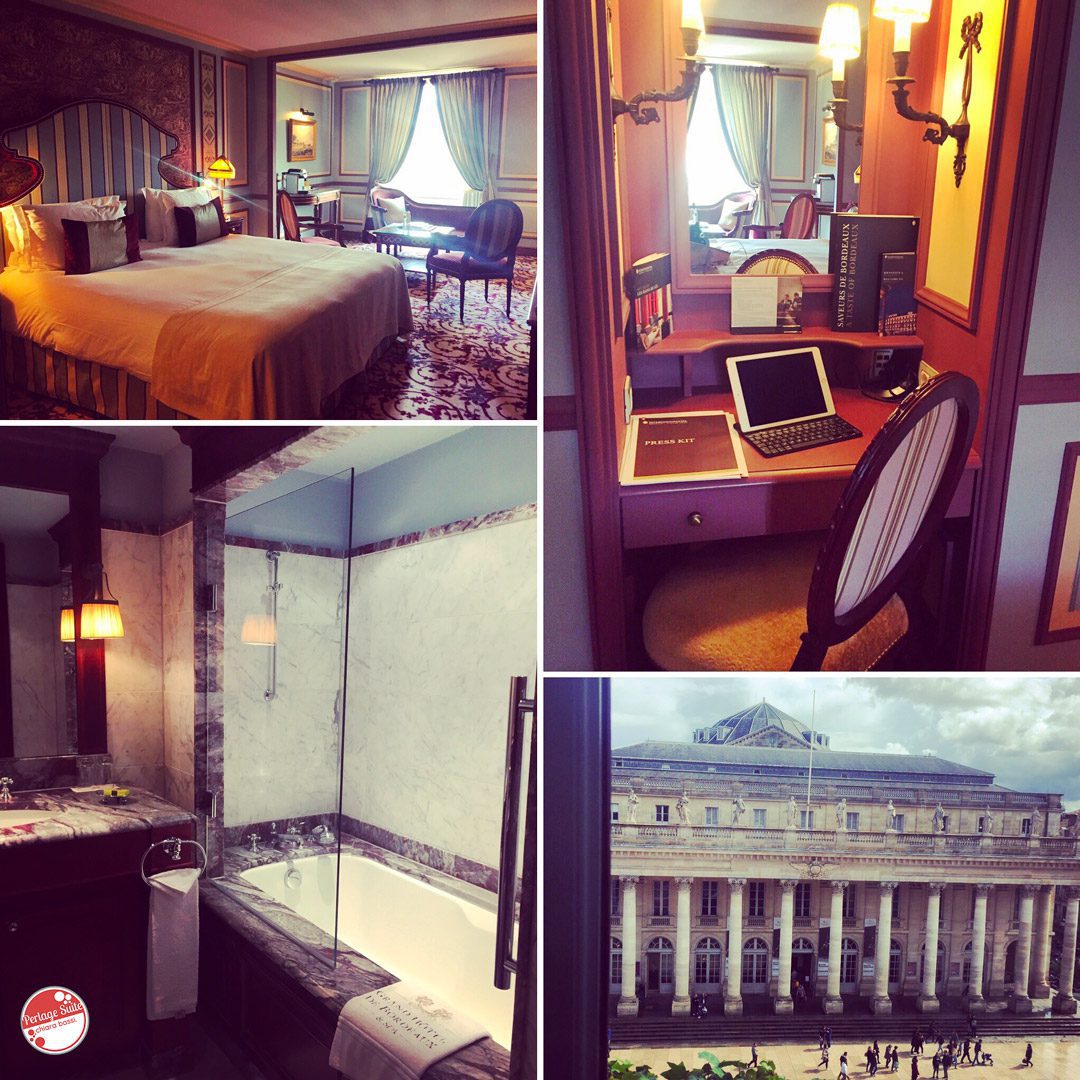 The Intercontinental Bordeaux Le Grand Hôtel is simply beautiful. My room was larger than my flat in the centre of Ravenna, and directly overlooked on the Place de l'Opéra. As soon as I arrived I prepared a hot bathbecause even though it was April it was quite cool and it was raining hard.
I love beauty, cleanliness and attention to detail. I am an aesthete in my every thought and gesture. Every day I have decided to carve out an hour to take care of my body, because I have realised how sacred and important this is to guard the beauty of my mind. The SPA at the Intercontinental Bordeaux is the ideal place to reconnect one's mental and physical dimensions.
After my bath, I quickly put on my dressing gown and unwrapped the gifts the hotel left me. I downloaded the first photos on my iPad, blogged about them. Then I waited for the time when I would meet my fellow adventurers. In the evening I would dine in the Gordon Ramsay's Bistroand I would have wondered for the umpteenth time if he really is as sketchy as he shows on TV or is that a character created ad hoc to satisfy the TV audience.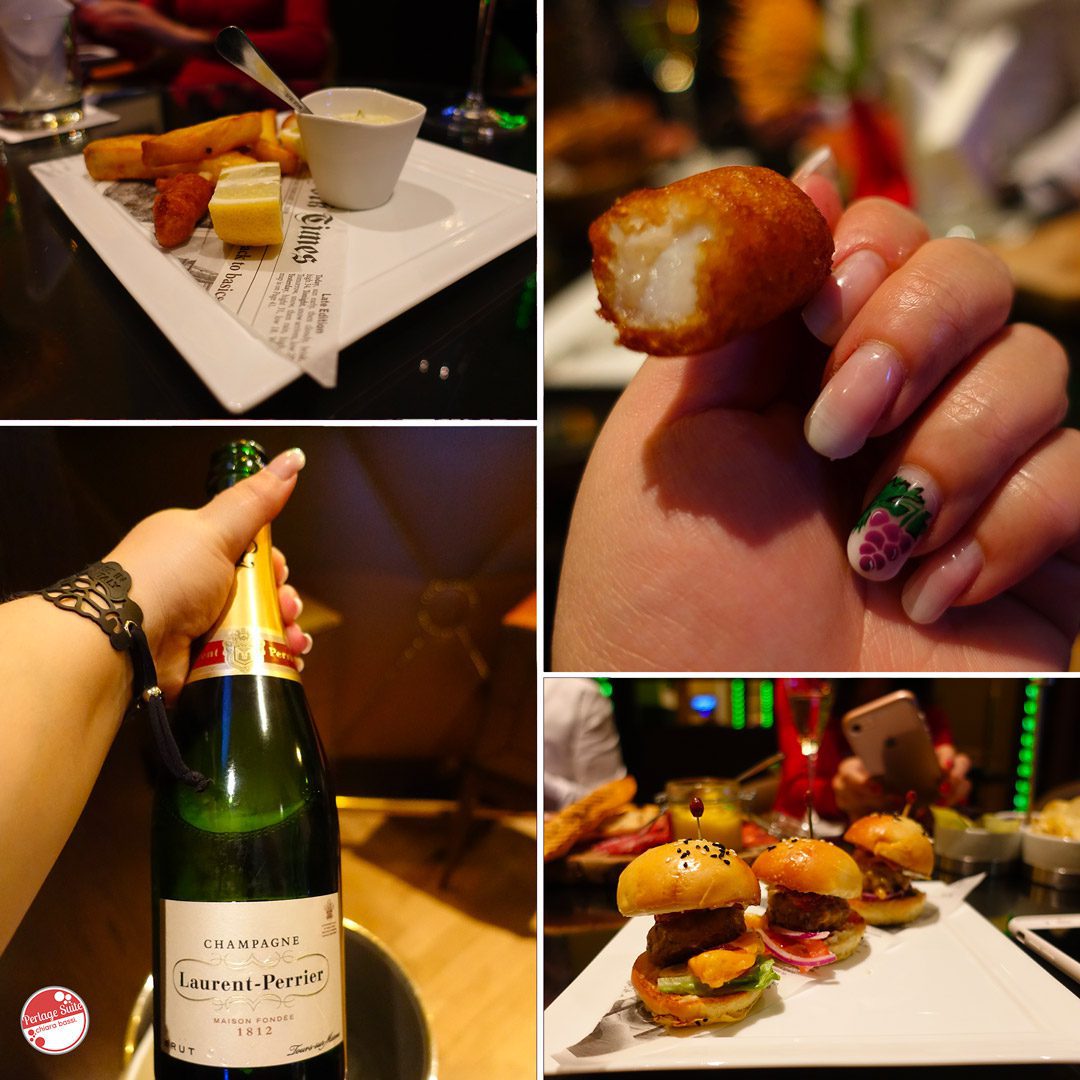 In one week in Bordeaux I drank so much Champagne that I lost my mind. I expected to drink mainly the big Bordeaux reds - and indeed I tasted all the wines presented at Primeur - but Champagne also had a huge space, to my very pleasant surprise. The aperitif in the Victor Bar at the Intercontinental Bordeaux Le Grand Hôtel prepared by Gordon Ramsay's staff was simply perfectwith a special note of merit for the "Fish & chips"served in the Times paper. Then this was the moment where I met everyone! Lisa Denning, who while working at the New York Times fell in love with cooking to the point of dropping everything and studying it at the French Culinary Institute, and then working for Sherry-Lehmann - Wine & Spirits Merchant since 1934 in NYC and also land today in Grape Collective, a company that sells wine from the Upper Weast Side to every part of America. Lisa and I won the same prize, only Lisa won it for America and I won it for Europe. Then I met Ágnes Németh, of Hungarian origin and now living in Barcelona, editor-in-chief in Hungary of the British magazine Decanter, VinCE Magazine and founder of the VinCE Budapest Wine Show. Ágnes also visited me on Lake Iseo and introduced me to extraordinary Hungarian wines and gave me a book of really delicious Hungarian recipes!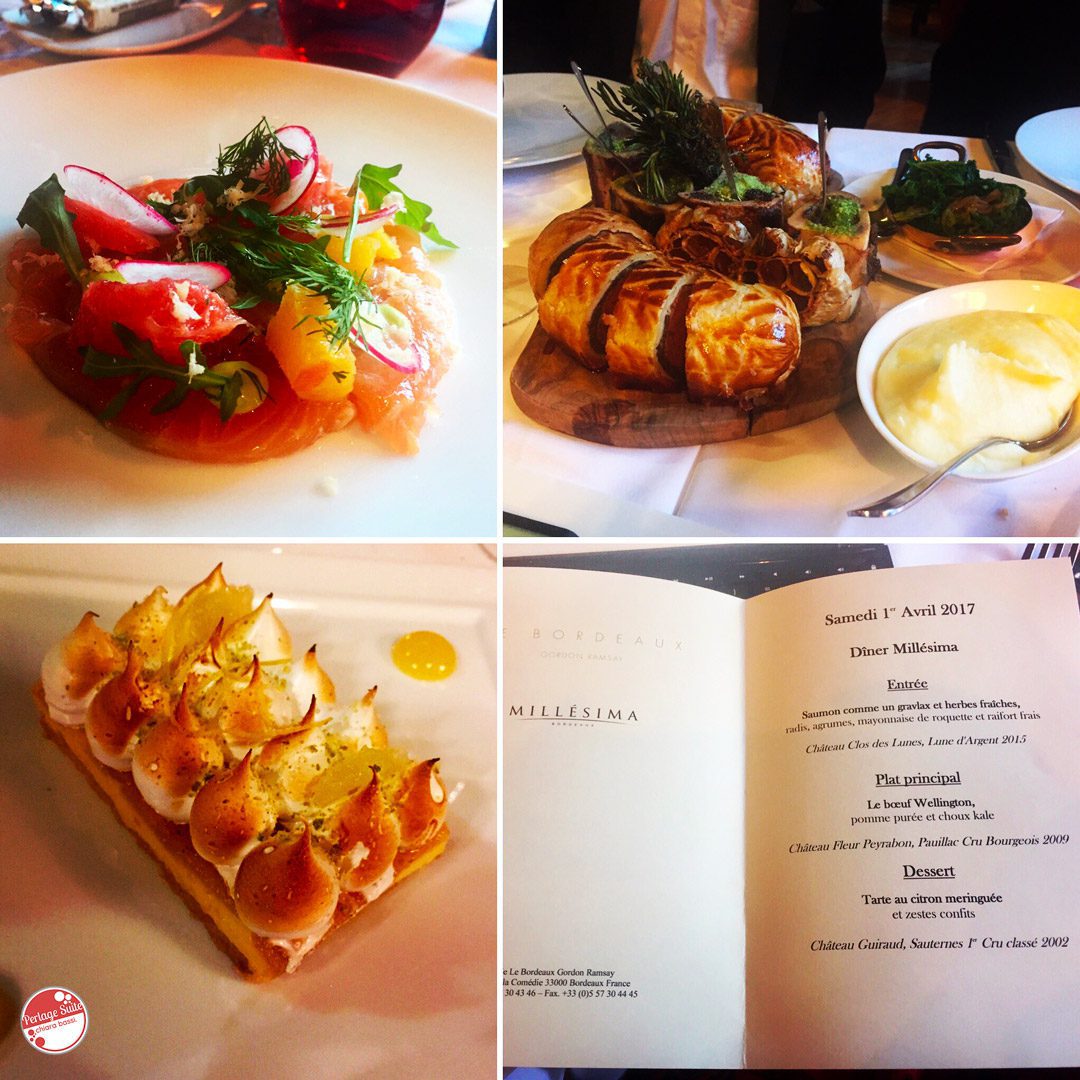 And while I'm introducing you to the dinner in the Gordon Ramsay Bistro, I'll also introduce you to our 3 knights, winners of the Millésima Blog Awards 2017 like us in their respective categories. Enchanted by noble manners Daniel Ercseyco-author of the Great Hungarian Wine Atlas, permanent judge at major international competitions including the Concours Mondial de Bruxelles and co-founder and editor-in-chief of a wonderful blog, WineSofa! Then how can one not adore Rob Frish? I imagine him living his European turtleneck life studying German and reviewing the best restaurants for a Chicago weekly! And finally there is Jeff Burrows, WSET from Minnesotawho took wonderful photos throughout his stay... not surprisingly, he won the prize in the 'Wine Reporter' category!
Dinner was delicious, with a special mention for the boeuf Wellington, accompanied by bones stuffed with marrow and pistachios. The wine pairing, the Château la Fleur de Peyrabon, Puillac Cru Bourgeois from 2009, on sale in the Millésima wine shop was truly a discovery! The service was perfect, both in terms of timing and manner. We chatted pleasantly throughout dinner, while Manuela Picot and Marcus Din Mbedi of Millésima explained the programme to us!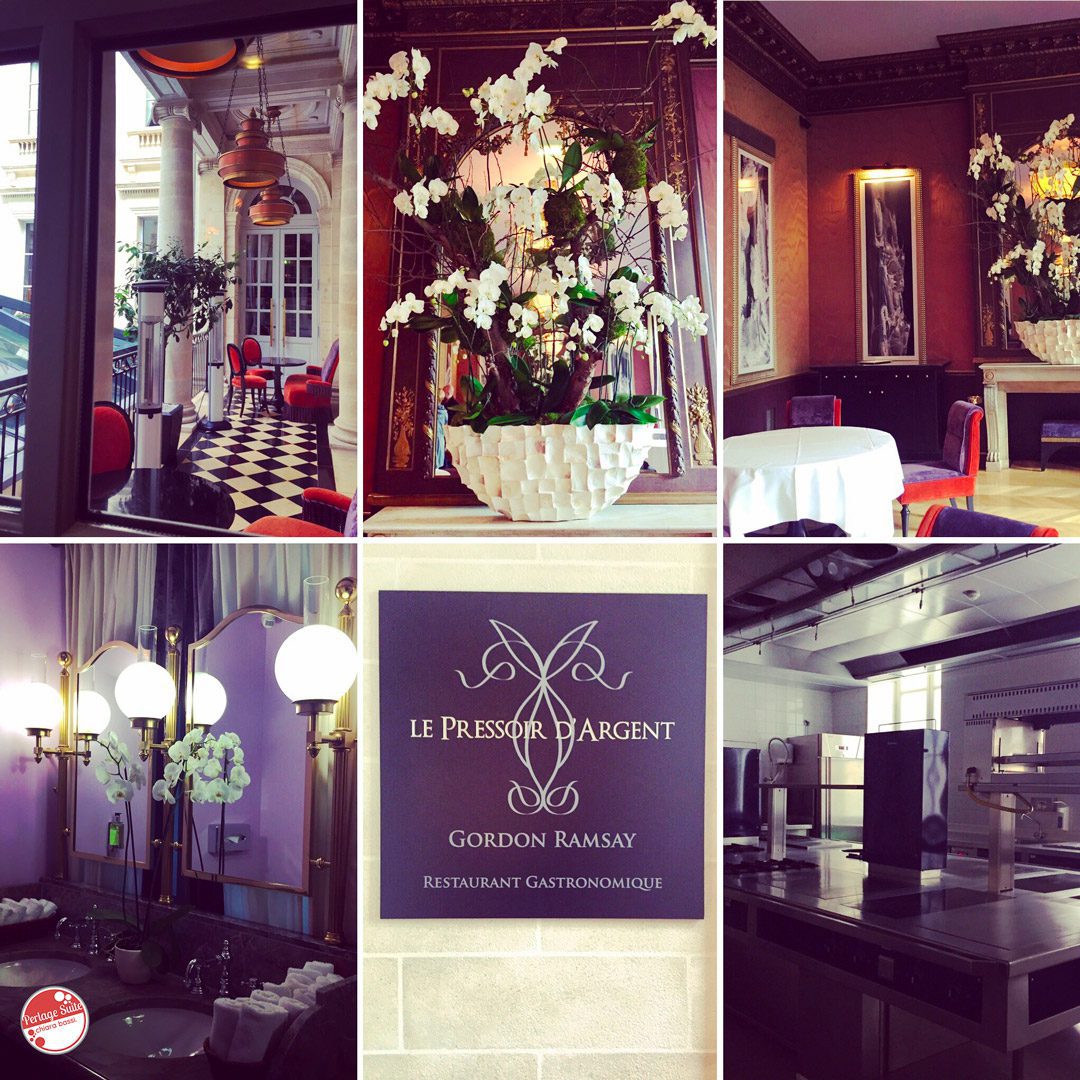 The Intercontinental Bordeaux Le Grand Hôtel also houses Le Pressor d'Argent, Gordon Ramsay's 2 Michelin-starred restaurant. When I entered, the first thing that struck me were the orchids: there are orchids everywhere, all strictly white phalaenopsis. The room is very elegant but still very cosy, and the whole ambience is very well cared for. Gordon Ramsay's kitchen is a real gem, he's almost right to get worked up when he sees some of the restaurant rubbish on TV in his famous 'Nightmare Kitchens' format. I was just a little impressed by the lobsters and lobsters, crammed like not even a cattle wagon in an aquarium too small for the number it contained. As an aquarist in love with the underwater world, these are things I inevitably notice! Curious that the name of the restaurant comes from a rare Christofle solid silver lobster pressused as the centrepiece of the dining room - there are only five in the world! These crustaceans are also the symbol of the restaurant's cuisine, where chef Gilad Peled enchants his guests with a "Native lobster from the 'press' cooked with lemon leaves, sweetcorn, courgette and girolles' that is a 'native of the press' lobster steamed with lemon leaves, corn, courgettes and coral and lemongrass bisque. I, however, became enchanted looking at the wine list....
And after experiencing this wonderful memory, I can go back to rolling under the duvet! I salute you with this splendid retrospective video of the wonderful week spent in Bordeaux during the Millésima Blog Awards!
Now I also recommend you read these articles written for Millésima:
As always, I thank Sony Italy and
UniversoFoto.com
for the beautiful RX100M4 with which I took all the photos in this article! Cheers 🍷❤ Chiara