In this article I am happy to share with you a small extract from the second edition of my book "How to become a Sommelier"dedicated to the wines from Lombardy. Although my beating heart is and always will be in Romagna, Lombardy is the region that has 'adopted' me and where I love living. The new edition of my book dedicated to aspiring sommeliers who have to pass theAIS examination or any other association is much richer than the previous edition. In addition to adding very useful images, such as this one Lombardy wine mapcontains all the notes from my free course 52VITIGNI (which if you don't know yet I invite you to discover HERE).
Italian wines: Lombardy
from page 179 to page 181 of my book How to become a Sommelier - Second Edition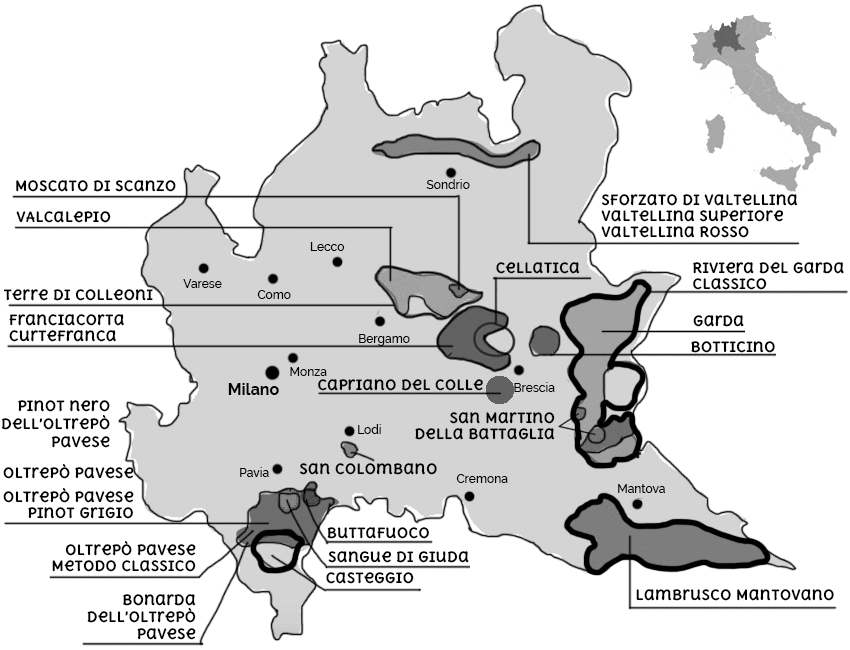 4.2.5.1 Lombardy wines: the climate of Lombardy
Temperatures = Climate tended to continentalbut actually varied due to the presence on the one hand of large lakes that mitigate temperatures, creating a Mediterranean climate in their surroundings,

 

e

 

on the other of very high elevations that cause cooler summers and cold winters typical of the alpine climate.. In the lowlands there are considerable annual temperature ranges.
Rainfall = Abundant in the Pre-Alps (about 2000 mm/year) and moderate in the lowlands (about 700 mm/year). It rains on average 80 days a year: the winter months are dry, while in summer there are very frequent strong and short thunderstorms.
Winds = In winter, northerly or easterly winds that bring cold and dry. At the highest points the altitude blows the Foehnfall wind that causes sudden temperature rises with destabilisation of the snow and risk of avalanches.
4.2.5.2 Wines of Lombardy: the soils of Lombardy
The soils of the lowlands, especially in the moraine amphitheatres (such as Franciacorta) are very permeable and characterised by resurgent waters.

In Valcalepio, the soils are more or less deep clay-limestone.
4.2.5.3 Wines of Lombardy: the grape varieties of Lombardy
White berry = Chardonnaywhite manzoni, riesling italico, riesling renano, sauvignon.
Black berry = Barberacabernet franc, cabernet sauvignon, croatina, groppello gentile, crossroads no. 1, marzemino, merlot, nebbiolo, pignola valtellinese, pinot noir, rossola, schiava gentile, uva rara, vespolina.
4.2.5.4 Wines of Lombardy: key areas & wines of Lombardy
Botticino

= red wine of the same name made from marzemino, barbera and schiava gentile grapes.

Capriano del Colle

= Wonderful classic method sparkling wines with hints of saffron; interesting red wines from pure Marzemino from an indigenous clone.

Franciacorta

= Chardonnay and Pinot Noir give us the famous Franciacorta sparkling wine. Production also of still wines: Curtefranca white and Curtefranca red.

Garda

= Groppello is expressed in Rosso and Chiaretto. White wine: Lugana.

Mantuan

= Famous Lambrusco.

Oltrepò Pavese

= Oltrepò Pavese Metodo Classico bianco or Cruasé.

Sebino

&

valcalepio
Valtellina

= Here, nebbiolo is called chiavennasca and Sforzato di Valtellina and Rosso di Valtellina are made from it).
4.2.5.5 Lombardy wines: sub-areas, DOC & DOCG of Lombardy
[R] = Red; [B] = White; [T] = Rosé; [S] = Sparkling or Semi-sparkling; [*] = In progress
DOCG

= Franciacorta [S], Oltrepò Pavese Metodo Classico [S], Scanzo or Moscato di Scanzo [R], Sforzato di Valtellina or Sfursat di Valtellina [R], Valtellina Superiore [R] (Grumello, Inferno, Maroggia, Sassella, Valgella).

DOC

= Bonarda dell'Oltrepò Pavese [R,S], Botticino [R], Buttafuoco dell'Oltrepò Pavese or Buttafuoco [R], Capriano del Colle [R,B,S], Casteggio [R], Cellatica [R], Curtefranca [R,B], Garda [R,B,T,S], Garda Colli Mantovani [R,B,T], Lambrusco Mantovano [R,T], Lugana [B], Oltrepò Pavese [R,B,T,S], Oltrepò Pavese Pinot Grigio [B,S], Pinot Nero dell'Oltrepò Pavese [R], Riviera del Garda Classico [R,B,T], San Colombano al Lambro or San Colombano [R,B,S], San Martino della Battaglia [B], Sangue di Giuda dell'Oltrepò Pavese or Sangue di Giuda [R,S], Terre di Colleoni or Colleoni [R,B,S], Valcalepio [R,B], Valtellina Rosso or Rosso di Valtellina [R].
4.2.5.6 Lombard wines: 
typical dishes & wine-food pairings
Sciatt della Valtellina = These are small round buckwheat pancakes filled with cheese and served on a bed of raw chicory. They are served with a structured red wine as the Valtellina Red.

 

Risotto Milanese style = Very famous risotto prepared with marrow and saffron that goes beautifully with a soft classic method sparkling wine from chardonnay grapes as a Franciacorta Satén.
Tench with polenta = A typical dish from Lake Iseo that consists of cooking tench stuffed with breadcrumbs, parmesan cheese, extra virgin olive oil, bay leaves, parsley, garlic and nutmeg in the oven for a couple of hours and serving it accompanied by polenta. A very tasty dish that goes well with both a structured white wine and a light, fresh red wine as a Marzemino di Capriano del Colle.
💪I sincerely hope that this little review will help you to study effectively! ✌️
Cheers 🥂
Chiara 
Book 'Sommelier: the Illustrated Manual' Special Edition 2022
All my notes on wine and food in one book. The handbook is designed for all aspiring sommeliers, but is also very useful for 'already sommeliers' who want to brush up, for winelovers who want to start putting their passion on a firm footing, and for professionals who want to earn more money by learning both how to manage their restaurant cellar and how to sell the right bottle to their customers.
Special Edition: 8 June 2022 - format 15 x 21 cm, 592 black and white pages printed on Crush Uva paper, ISBN 978-88-943070-3-0 [2nd Reprint April 2023].
Good study... I confess I can't wait for you to hold the book in your hand and leave me your invaluable feedback: I am too proud of my work!
Cheers 🍷
Chiara