"If since childhood your parents make you feel special you will feel special all your life". With this thought I enjoyed every drop of it Champagne Crème Extra Brut by Jean-Philippe Trousset. This champagne makes me feel special, so it is special itself. Today is the last day of the year and I decided to end with a flourish, with one of the bubbles that I enjoyed most this year. Heck, what a difficult year 2020 has been! Yet, if on the one hand I didn't get what I wanted professionally, it was still a year of unimaginable growth.
In January my relationship with Francesco was "made official".
In February, Francesco and I started living together.
In March the quarantine began here in Lombardy and my life and my habits have changed.
In April I "resigned" that all the fairs in the world of wine and events this year would be skipped.
In May Francesco asked me to marry him.
In June the house where I lived in Monte Isola became ours.
In July I tried on my wedding dress for the first time.
In August I chose the menu and the 6 wines of our wedding.
In September, Francesco and I got married.
In October I started blogging a lot.
In November I enrolled in the university of gastronomy with a specialization in enology and viticulture.
In December I spent the first Christmas away from my mom.
In short, this is the context in which I tasted, drop by drop, this champagne.
Champagne Trousset, Taillet and Rochet-Bocart by Massucco Champagne
Jean-Philippe Trousset he is a heartthrob vigneron: I shared his Champagne Crème Extra Brut during one evening with my husband Francesco and my neighbor Maurizio (who makes a splendid lake oil that you can discover HERE) and we all fell madly in love with it! Here, this is the bottle that I absolutely recommend you to buy: I think it is almost impossible to find a better quality-price ratio in all champagne! So I am very grateful to Massucco Champagne for making me discover this producer and this particular champagne.
A few days ago I told you about two champagnes that I liked very much by Eric Taillet (discover the descriptions of the wines and a delicious recipe to combine them with!). The tasting that Alberto Massucco made me do was particularly intelligent because it presented me with 3 vignerons with 3 completely different styles, in which Jean-Philippe Trousset is halfway between the oxidation of Eric Taillet and the exuberant freshness of Rochet-Bocart. Trousset has that ripe and oxidized note and at the same time it is very fresh, a real magic.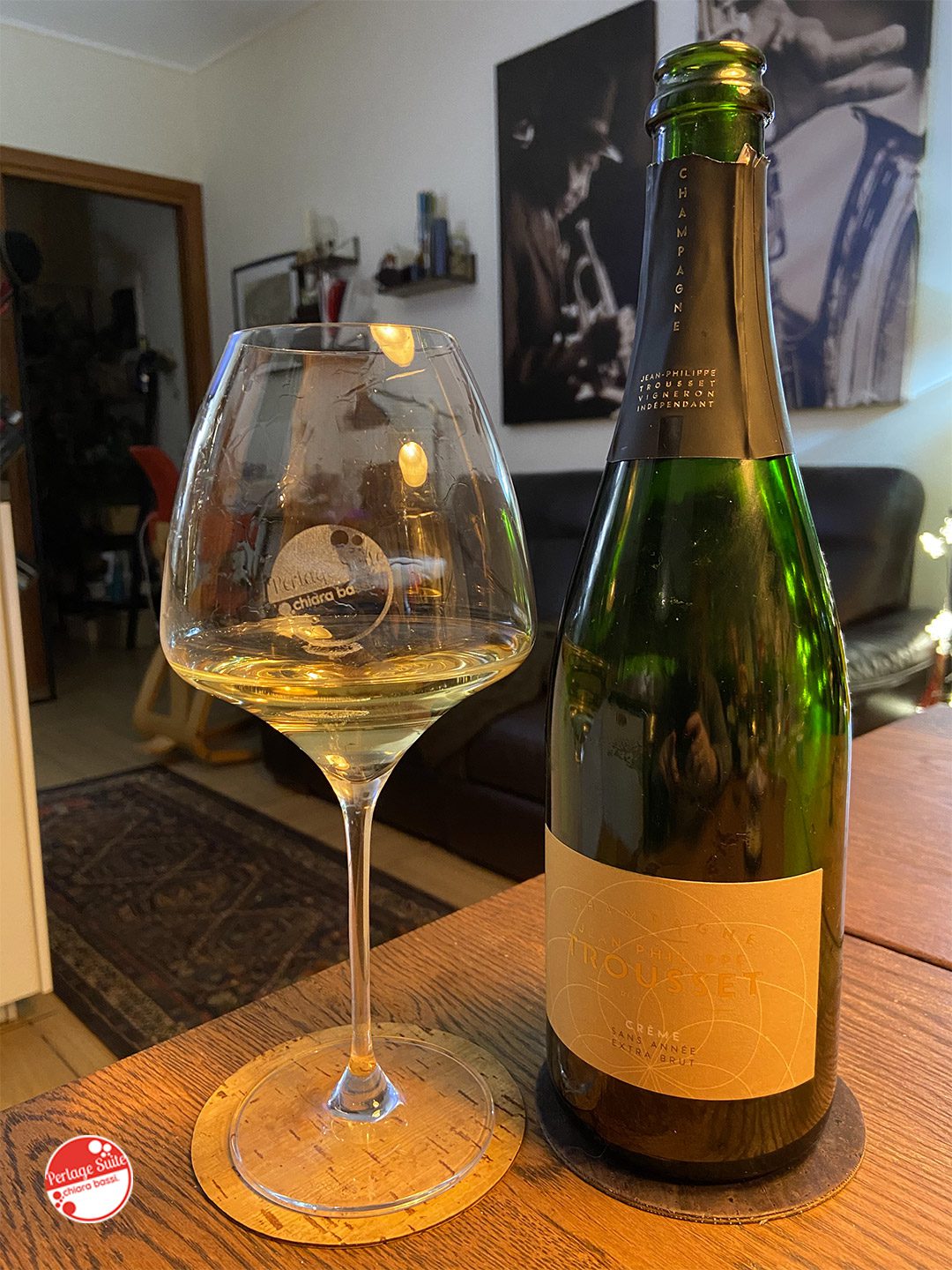 Jean-Philippe Trousset: the vigneron and the domaine
Jean-Philippe is a small indépendants champagne vigneron located in the Reims Mountains. His family has been rooted in Sacy since the 1958th century. Subsequently, in 72.000, the Domaine Trousset-Guillemart was born which today produces about 7,6 bottles a year. Only XNUMX hectares divided into three Premier Cru villages: Les Mesneux, Sacy and Villedommange. Recently Jean-Philippe and his wife Karine built a modern and efficient headquarter with a Coquard inclined plate press, computer controlled stainless steel thermoregulated vats and a room underground for vinification in wood (tonneaux and 10 hl barrels) and the maturation of champagne bottles. The plants, which have an average age of 25 years, have their roots in a clayey-calcareous and sandy soil. The vineyards are marked by viticulture development thanks to the mechanical diservation and biological treatments. After soft pressing, only the first pressing is vinified partly in steel and partly in wood. Before bottling, the wines are cold decanted and filtered very lightly. Once the tirage has been made, the champagnes mature on the lees from about 2 years up to 5. Finally, the dosages range from 3,5 g / l maximum to zero.
Jean-Philippe Trousset: Créme Extra Brut
It is made from grapes (50% pinot noir, 31% pinot meunier, 19% chardonnay) from the last harvest with 45% vins de réserve from the two previous vintages. 10% is vinified in tonneaux. Dosage 3,5 g / l.
It has an intense golden yellow with a very fine and numerous perlage. The nose is intense, elegant, complex with characterizing oxidative accents. There are notes of pastry, bread crust, butter cream, mascarpone, white pepper, candied mandarin. In the mouth it is creamy, fresh, savory, developed on oxidized notes and very persistent.
Wonderful, wonderful, wonderful!
Jean-Philippe Trousset: Le Rosé Extra Brut
It is made from grapes (50% pinot noir of which 8,5% in red, 35% chardonnay and 15% pinot meunier) from the last harvest with 45% vins de réserve from the two previous years. Dosage 4g / l.
Let's make a premise: it is more difficult to conquer me with a rosé champagne because I find that there are very few memorable ones ... This Le Rosé certainly promises very well, even if in my opinion it had to rest a few more years on the lees to become exceptional! If Créme Extra Brut is perfect to really please everyone, Le Rosé I recommend it only to sommeliers accustomed to drinking rosé champagne. Then you will not find the sly fruit of his other colleagues… rather the pleasant notes of blood orange which, intertwined with its savory freshness and the "satin" bubble will make this champagne very enjoyable, easy and "aperitif". Here you will not find oxidation, but a lot of freshness and a slightly muted verticality.
A further note of merit for the talking back labels: honestly it really bothers me when disgorgement is not indicated ...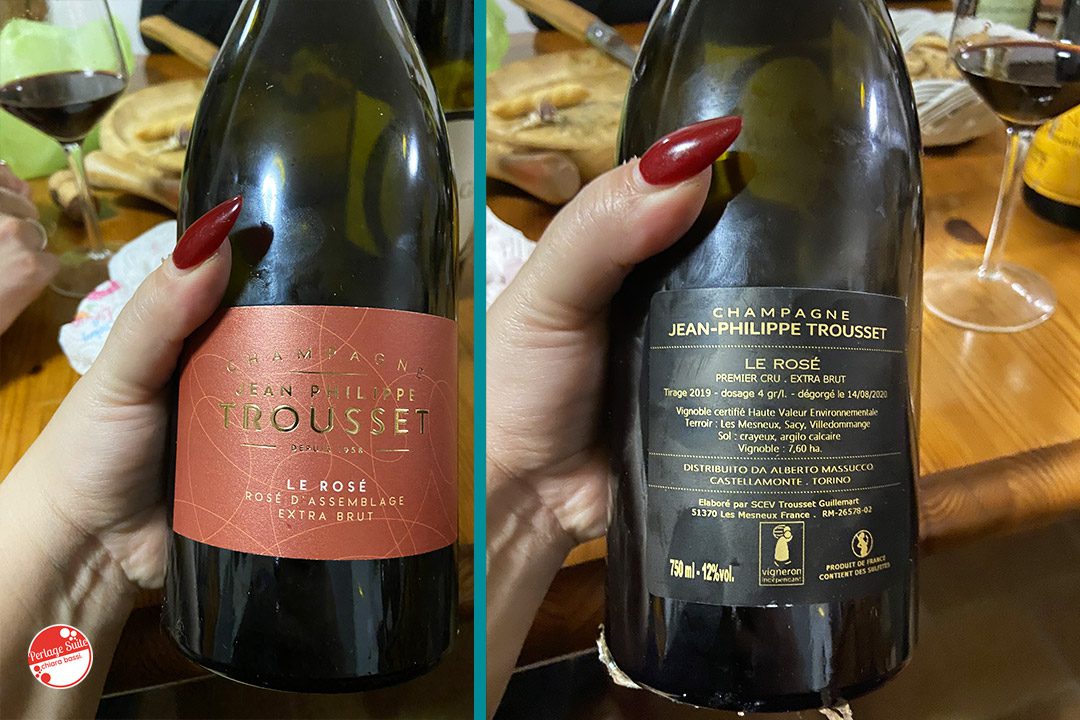 How to become a sommelier
All my notes on wine and food in one book.
COMPLIMENTARY, only for those who buy my book on this blog, a copy of the First Collector's Edition of my Sparkling Wine Guide "500 Bubbles in 500", cover price € 25,30. [While stocks last]